Using the Instant Pot to make crab legs is so quick and easy! This fancy, no-hassle seafood dinner can be made at home in just a few minutes with only three ingredients!
Crab legs are the ultimate "treat yourself" food! They're great for special occasions like anniversaries, birthdays, and Valentine's Day.
You may be used to ordering them at a restaurant, but have you ever tried cooking them at home? Don't be intimidated, they're one of the easiest things you could possibly make, virtually fool-proof! And you don't need many ingredients at all – just crab legs, water, and butter.
If you just can't get enough crab like us, be sure to check out our other recipes like our Nashville Hot Soft-Shell Crab and Corn & Crab Chowder with Mini Old Bay Chips!
Ingredients
Crab Legs – You can use any kind of crab legs – snow crab and King crab are the most popular.
Butter – I recommend melting salted butter to dip the cooked crab legs in.
Lemon – A squeeze of fresh lemon really brightens up the butter, but it is totally optional.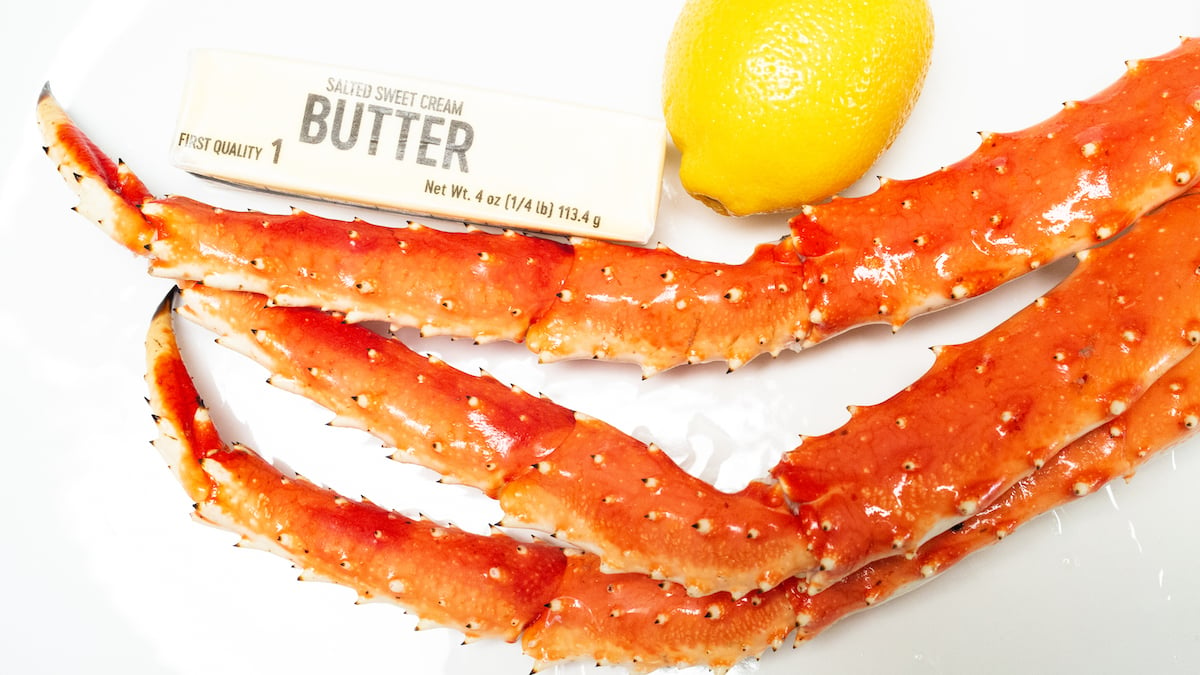 How do you cook crab legs in a pressure cooker?
Cooking crab legs in a pressure cooker is really simple. Just add one cup of water to the pot, then add the trivet and arrange your crab legs on top. It's fine to stack them up. Put the lid on, lock it in place, then turn the vent to "sealed".
How long you cook the crab legs in your pressure cooker will depend on what kind of crab legs you are using. Snow crab legs cook for 2 minutes, while larger king crab legs cook for 4 minutes. The cooking time will remain the same whether your crab legs are fresh or frozen.
Tips
If you have really large crab legs, thaw them before trying to fit them in your Instant Pot. This way, you can easily bend the legs to fit.
Worried about your house smelling like seafood? Set up your Instant Pot to cook outside and release the steam out there.
Want a more flavorful dipping sauce? Add 1 teaspoon of Old Bay to your butter.
When ready to eat, use a crab cracker to break the shells, or use a sharp pair of kitchen shears to cut down the side of the shell and expose the meat.
FAQs
What crab legs are the best?
King crab legs are generally considered top tier. They have thick pieces of juicy meat. They are also the most expensive crab leg, usually priced $25-$35/lb. If you're on a budget, go for snow crab legs which cost around $10/lb.
Can they be reheated?
Yes, you can reheat crab legs. The best way is to re-steam them for a few minutes in the IP.
Can they be refrozen?
It is not ideal to refreeze crab legs. When done commercially, they are rapidly frozen which preserves the integrity of the meat. Your home freezer will freeze the meat slowly, which can cause ice crystals to form and degrade the crab meat.
If you do plan on refreezing your crab legs, make sure they were safely thawed in the refrigerator the first time. Crab legs that were thawed by sitting at room temperature or by running under water are not safe to refreeze.
How much per person?
When served as a main dish, 1 pound of crab legs is a serving for one person. If you are doing surf and turf or serving them as an appetizer, you can plan on 1/2 lb per person.
How long will crab legs last in the fridge and freezer?
Cooked crab legs will be okay stored in the fridge in an airtight container for 3-4 days. They can be stored in the freezer for up to 6 months.
Crab Legs Dinner Sides
More Instant Pot Recipes
Print
Instant Pot Crab Legs
Easy steamed crab legs in the Instant Pot pressure cooker.
Author: Jessica Pinney
Prep Time: 0 Minutes
Cook Time: 4 Minutes
Total Time: 4 minutes
Yield: 2 1x
Category: Main Dish
Cuisine: American
Ingredients
1 Cup Water
2lbs Crab Legs
3 Tablespoons Butter
Lemon, (optional)
Instructions
Place water in the bottom of your Instant Pot. Add the trivet, then place your crab legs on top. Seal the lid shut and make sure that the vent is set to "sealing".
Cook crab legs on high pressure. 4 minutes for king crab legs, 2 minutes for snow crab.
Once cooking is complete, perform a quick release. Once the pressure has been released, open the Instant Pot and remove the crab legs.
Melt the butter on the stovetop or in the microwave. Add a squeeze of lemon, if desired.
Serve crab legs with the butter dipping sauce and enjoy!
Nutrition
Serving Size: 1
Calories: 350
Fat: 20
Protein: 45