Save money by making your own pumpkin spice frappuccinos at home. This copycat recipe can be blended together in minutes and tastes even better than Starbucks!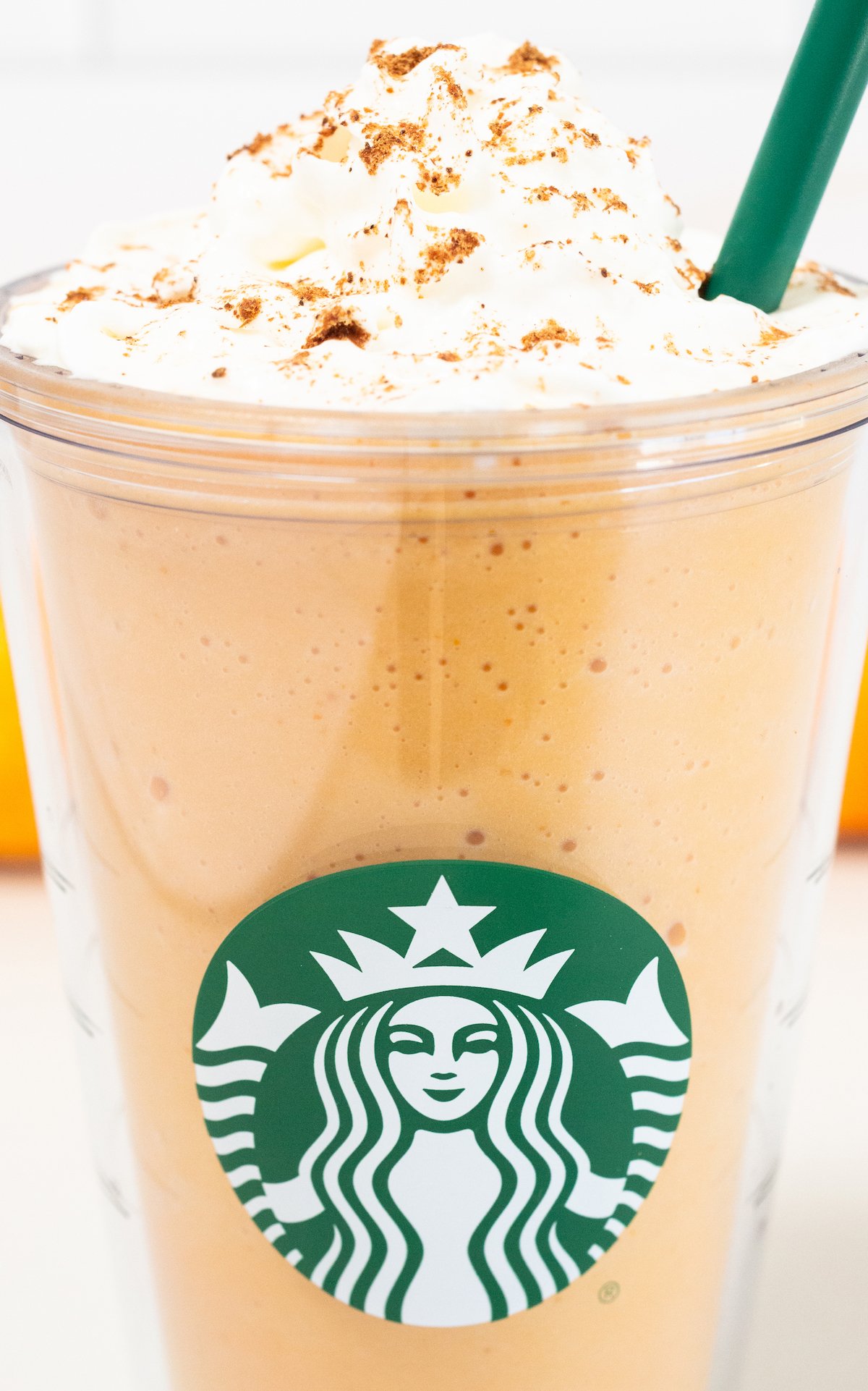 I've been drinking allllll the pumpkin spice coffee drinks since whipping up a few bottles of our homemade pumpkin spice syrup earlier this month.
One of my favorites is a fall classic – the pumpkin spice frappuccino.
Drinking on one of these takes me right back to my high school days when we would sip them outside by the mall (the coolest place to hang in the early 00s!). I was never really into the PSL, but put some pumpkin spice in a frappe and I simply can not resist!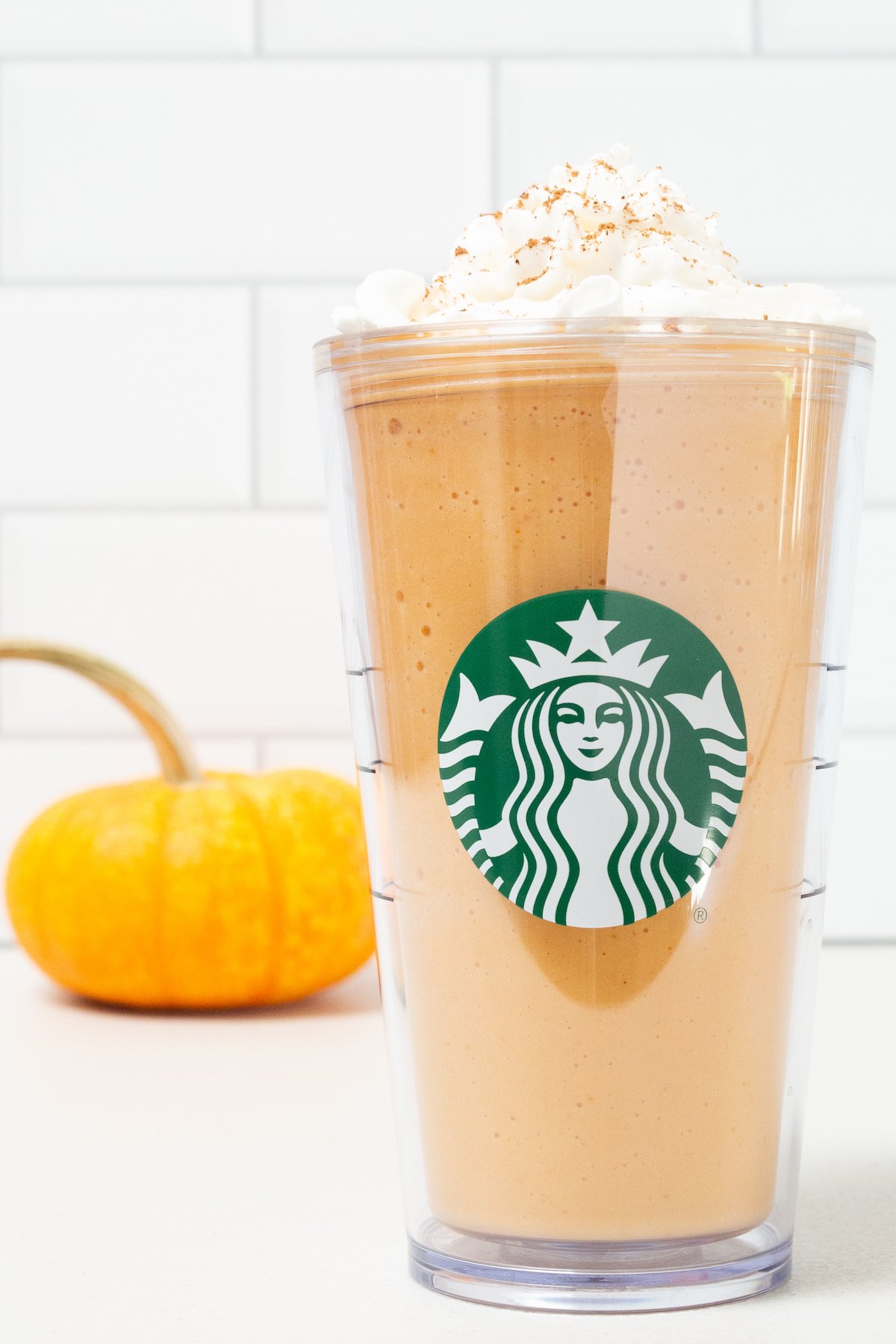 What does it taste like?
PS Frappuccinos taste like you're drinking a liquified pumpkin pie with extra whipped cream – yum!
Does it have coffee?
Yes, it does contain coffee. Starbucks uses a coffee frappuccino syrup to theirs. In this homemade version, we simply add strongly brewed coffee or espresso.
Ingredients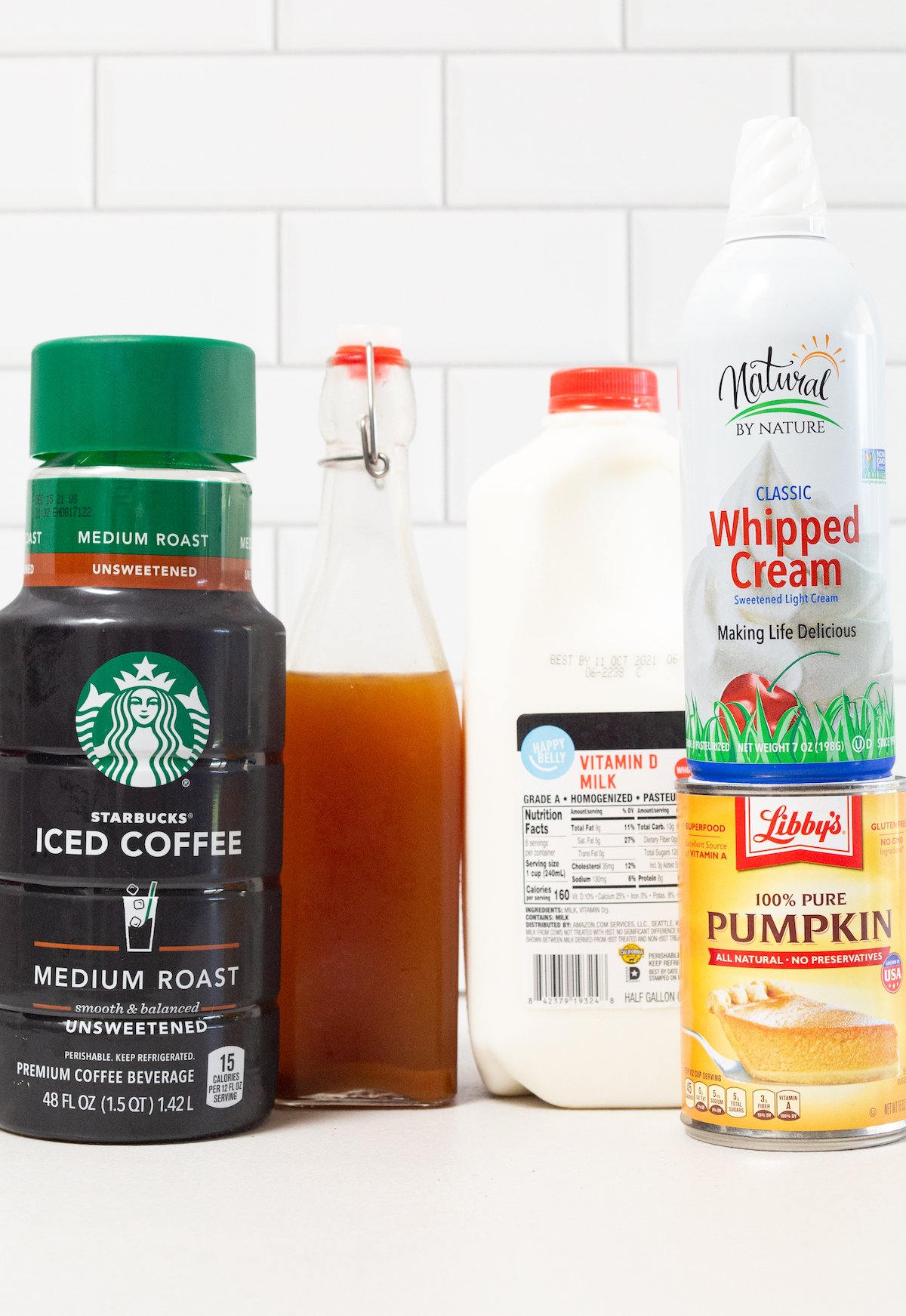 This post contains affiliate links (when you buy we make a little money at no cost to you). See our disclosure for more information.
Coffee – You can use espresso, cold brew, or strongly brewed coffee that has cooled to room temperature.
Milk – Any milk you prefer will work. I use whole milk.
Pumpkin Spice Syrup – I used a homemade syrup, but you can also use a store-bought version.
Pumpkin Puree – Be sure to use 100% pure canned pumpkin puree, not pumpkin pie filling.
Whipped Cream – Canned whipped cream is used for the topping on frappuccinos. You can leave it out if you'd prefer.
Pumpkin Spice – A little sprinkle of pumpkin spice on top of the whipped cream adds an extra touch of flavor, but can be left out.
Tips
Need it sweeter? Add simple syrup or vanilla syrup until the drink is at your desired level of sweetness.
Want a creamier drink? Use half and half in place of the milk or add in some whipped cream before blending.
More Starbucks Recipes
Print
Pumpkin Spice Frappuccino
A creamy iced blended coffee drink that tastes like pumpkin pie.
Author: Jessica Pinney
Prep Time: 10 minutes
Total Time: 10 minutes
Yield: 2 1x
Category: Drink
Cuisine: American
Ingredients
3/4 Cup Coffee or Espresso (cooled)
1 Cup Whole Milk
1/3 Cup Pumpkin Spice Syrup
2 Tablespoons Pumpkin Puree
1 1/2 Cups Ice
Whipped Cream
Pinch of Pumpkin Spice
Instructions
Add the coffee, milk, pumpkin puree, pumpkin spice syrup, and ice to your blender and blend until well combined.
Pour into two cups, then top with whipped cream and a pinch of pumpkin spice. Enjoy!