Have you tried smoking hamburgers and hot dogs yet? It's one of the easiest ways to make them for a crowd!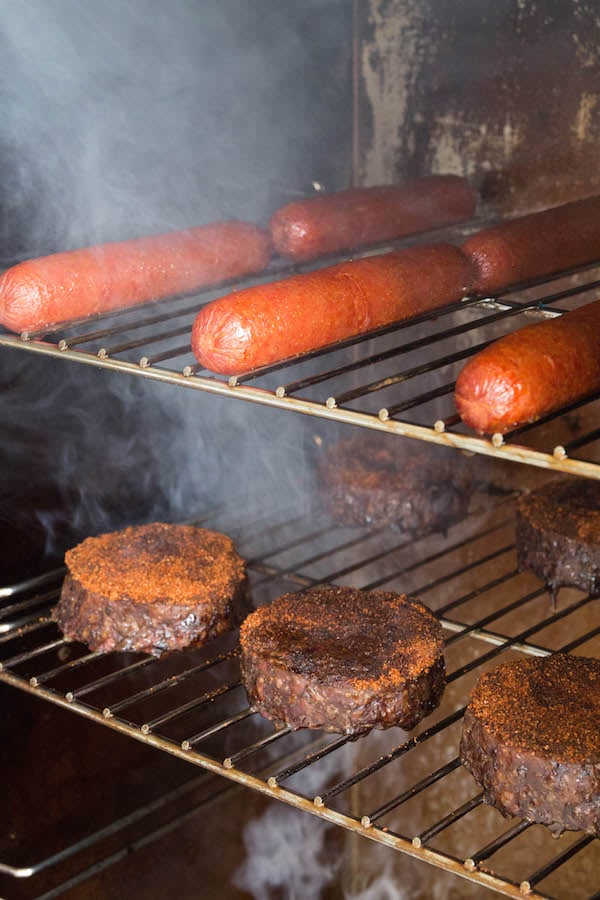 It's our new favorite way to cook hamburgers and hot dogs. It's perfect for backyard barbecues and pool parties. Because it is so hands-off, you're free to mingle with guests instead of having to worry about flipping burgers.
How To Make Smoked Hamburgers & Hot Dogs
I like to season my hamburger patties with a dry rub seasoning before smoking them. I put a liberal sprinkling of it on each side of the patty. I usually smoke my hot dogs plain, but you could also roll them in the seasoning if you desire.
I fire up our little Char-Broil electric smoker and try to maintain a temp of 225 F.
I like to use apple or cherry wood for smoking hamburgers & hot dogs. I do not recommend using harsher woods like hickory.
This post contains affiliate links (when you buy we make a little money at no cost to you). See our disclosure for more information.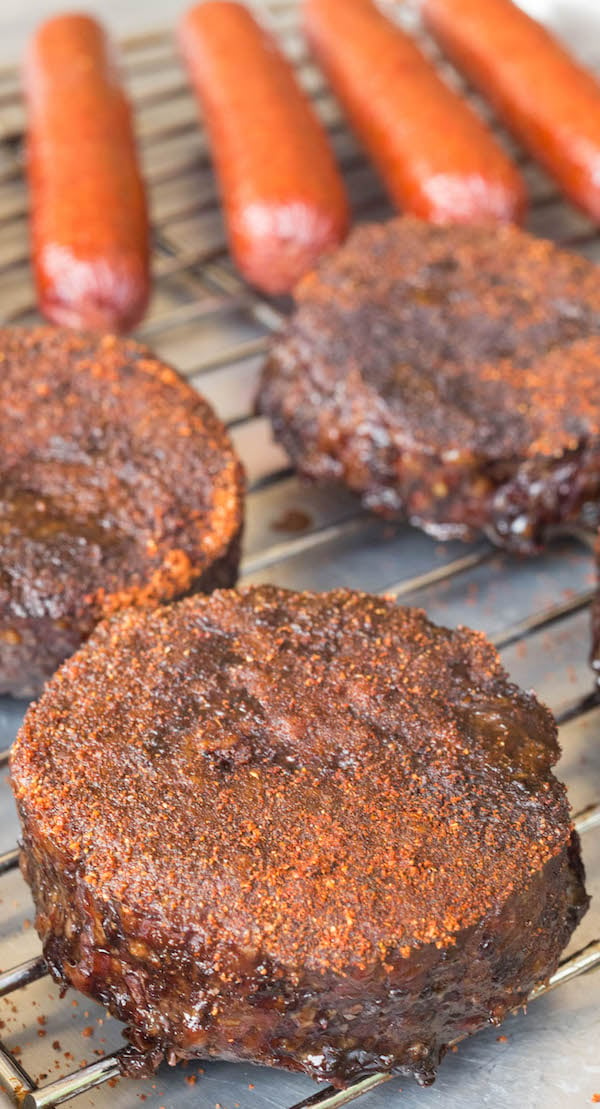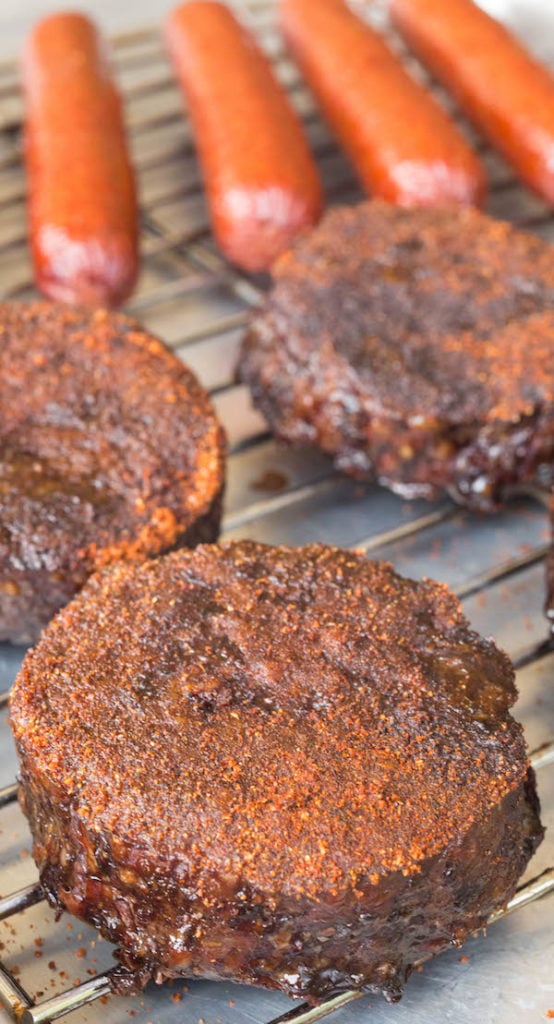 I after I fill the water pan, I like to add some cloves of garlic and sliced onion for aromatics. It's optional, but I highly recommend it.
I find that about 1 hour cook time at 225 F gets the burgers done to a medium temperature and the hot dogs are perfectly cooked through.
If you'd like, you can sear the hamburger patties on high heat on the grill to give them a slightly crispy outside. We never deem this step necessary but to each his own.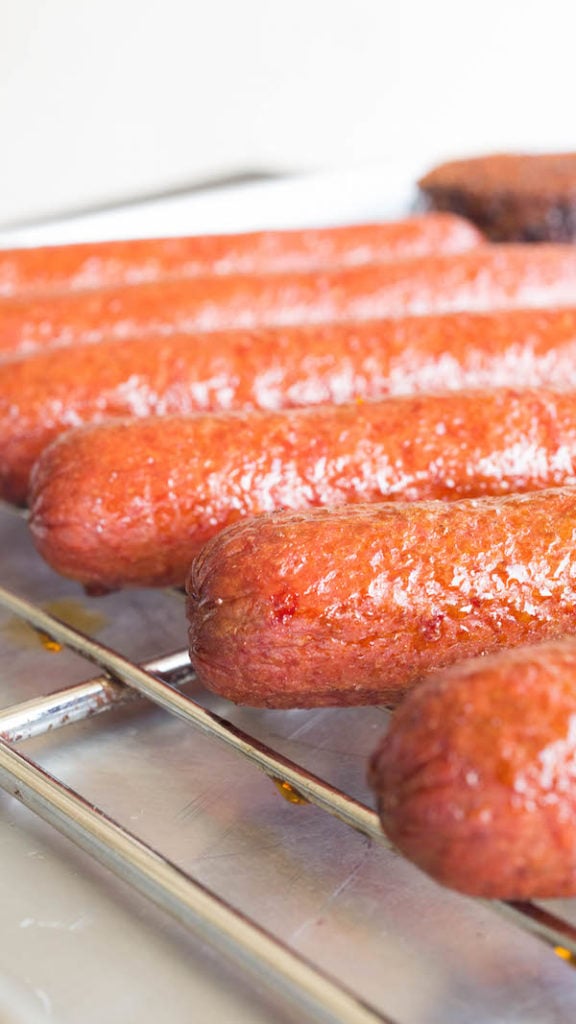 Print
Smoked Hamburgers & Hot Dogs Recipe
An easy, step-by-step guide to smoking hamburgers and hot dogs in your electric smoker.
Author: Jessica Pinney
Prep Time: 20 minutes
Cook Time: 1 hours
Total Time: 1 hour 20 minutes
Category: Main Course
Cuisine: American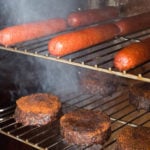 Ingredients
Hamburger Patties
Hot Dogs
2–3 Garlic Cloves (optional)
1/2 Onion, sliced (optional)
Hamburger Seasoning(optional):
3 Tbsp Paprika
1 Tbsp Cumin
1 Tbsp Salt
1/2 Tbsp Onion Powder
1/2 Tbsp Garlic Powder
1/2 Tbsp Black Pepper
Instructions
Add wood chips (we prefer apple and/or cherrywood) to your smoker. Fill the water pan and add a few cloves of garlic and onion slices, if you prefer. Place in smoker then being heating it to 225 F.
Add all seasonings to a bowl and combine well.
Sprinkle liberally on both sides of the hamburger patties
Place seasoned hamburger patties and hot dogs directly on smoker racks.
Once the smoker is preheated and you have maintained the temperature for at least 15-20 minutes, insert the racks of hamburgers and hot dogs.
Cook about 1 hour, until hot dogs are cooked through and hamburger patties are at your desired temperature.