A cheese ball with all the flavors of a jalapeno popper – bacon, cheddar cheese, cream cheese, and of course, jalapenos. It's always a hit when served as a party appetizer or game day snack!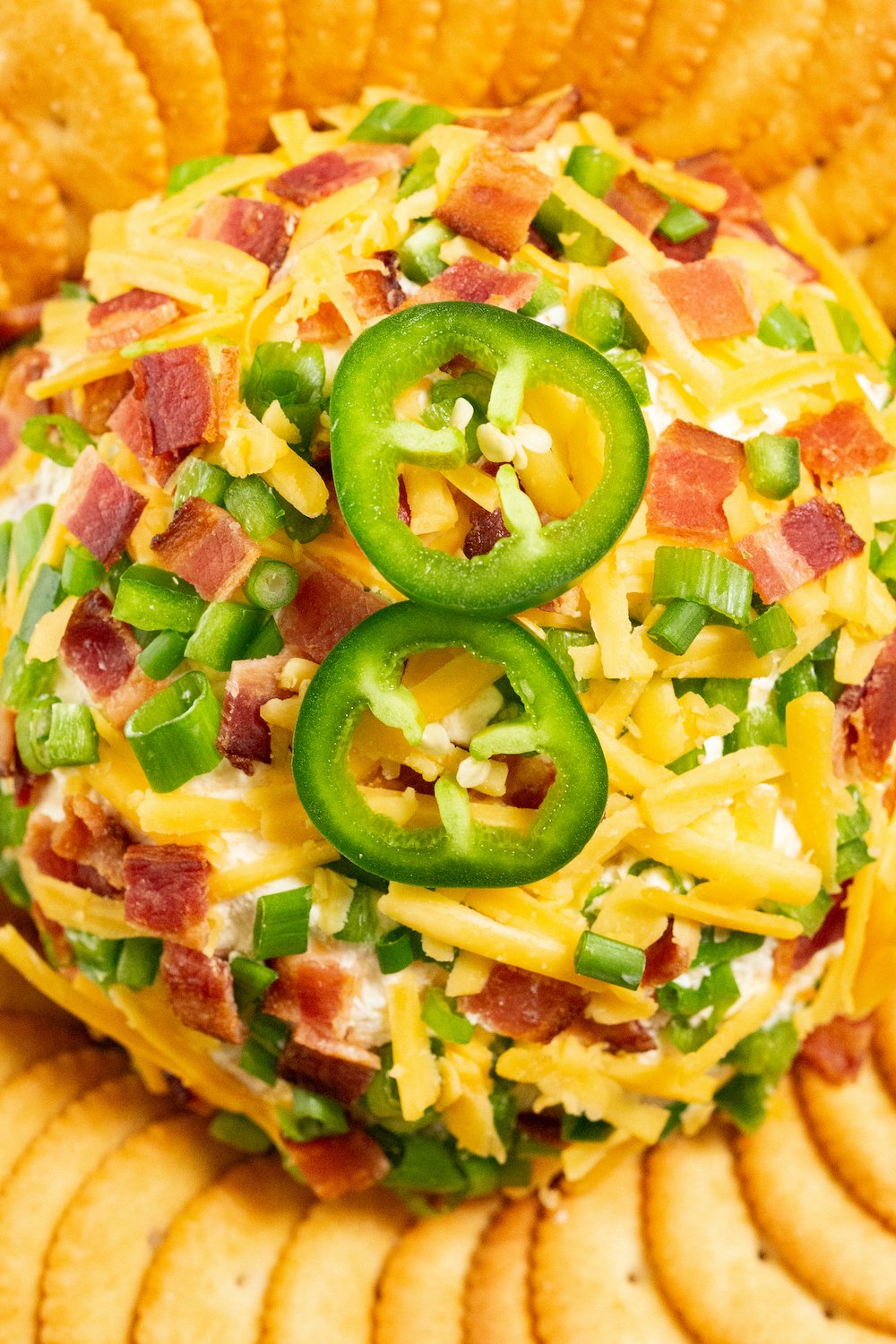 Cheese balls are one of the most classic American party appetizers of all time. Any good game-day party or holiday get-together should include one of these cheesy orbs of deliciousness!
Store-bought cheese balls are convenient, but not many varieties are offered. When you make a homemade cheese ball, the possibilities are endless!
One of our favorite versions is the jalapeno popper flavored cheese ball. It has all the flavors of the classic game day snack in a conveniently spreadable form.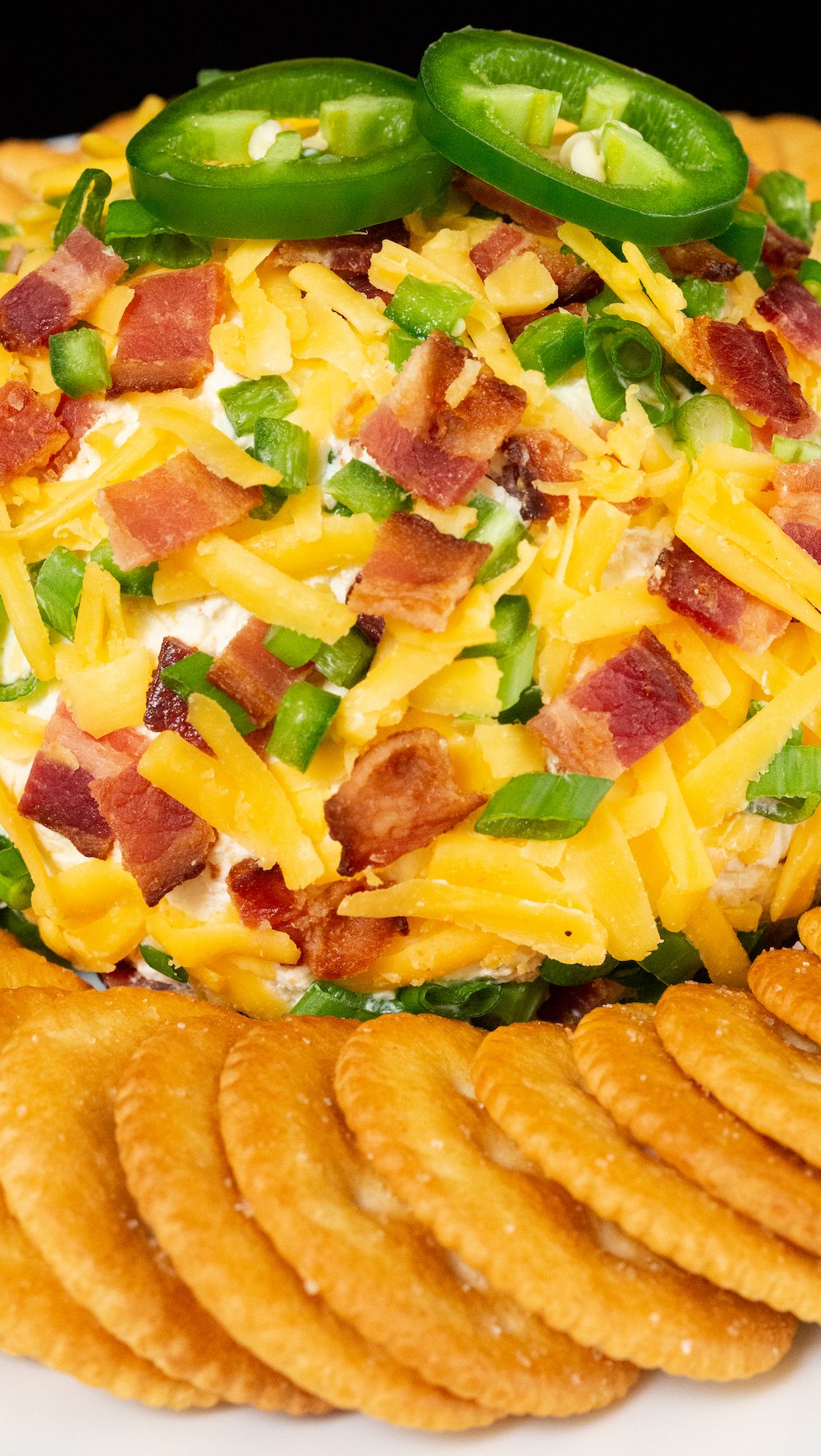 Ingredients
Cream Cheese – Cream cheese is the foundation of the cheese ball. Be sure to use full-fat for the best flavor and consistency.
Sour Cream – Using sour cream with the cream cheese as the base makes this cheese ball creamier, more spreadable, and adds extra depth to the flavor.
Cheddar Cheese – I use a combination of mild and sharp. Block cheese is best, avoid pre-shredded cheese if possible.
Jalapeños – You'll need fresh jalapeños for this recipe. If you like things on the spicier side, consider substituting Serrano peppers for some or all of the jalapeños.
Bacon – Any bacon will work, though I recommend avoiding thick-cut. A thinner cut is ideal so that the bacon is extra crispy.
Green Onions – Green onions pair well with cheddar and bring a needed touch of acidity. You can substitute fresh chives if you'd prefer.
Garlic Powder & Onion Powder – Using powder instead of fresh garlic and onions in the base of the cheese ball ensures consistent flavor.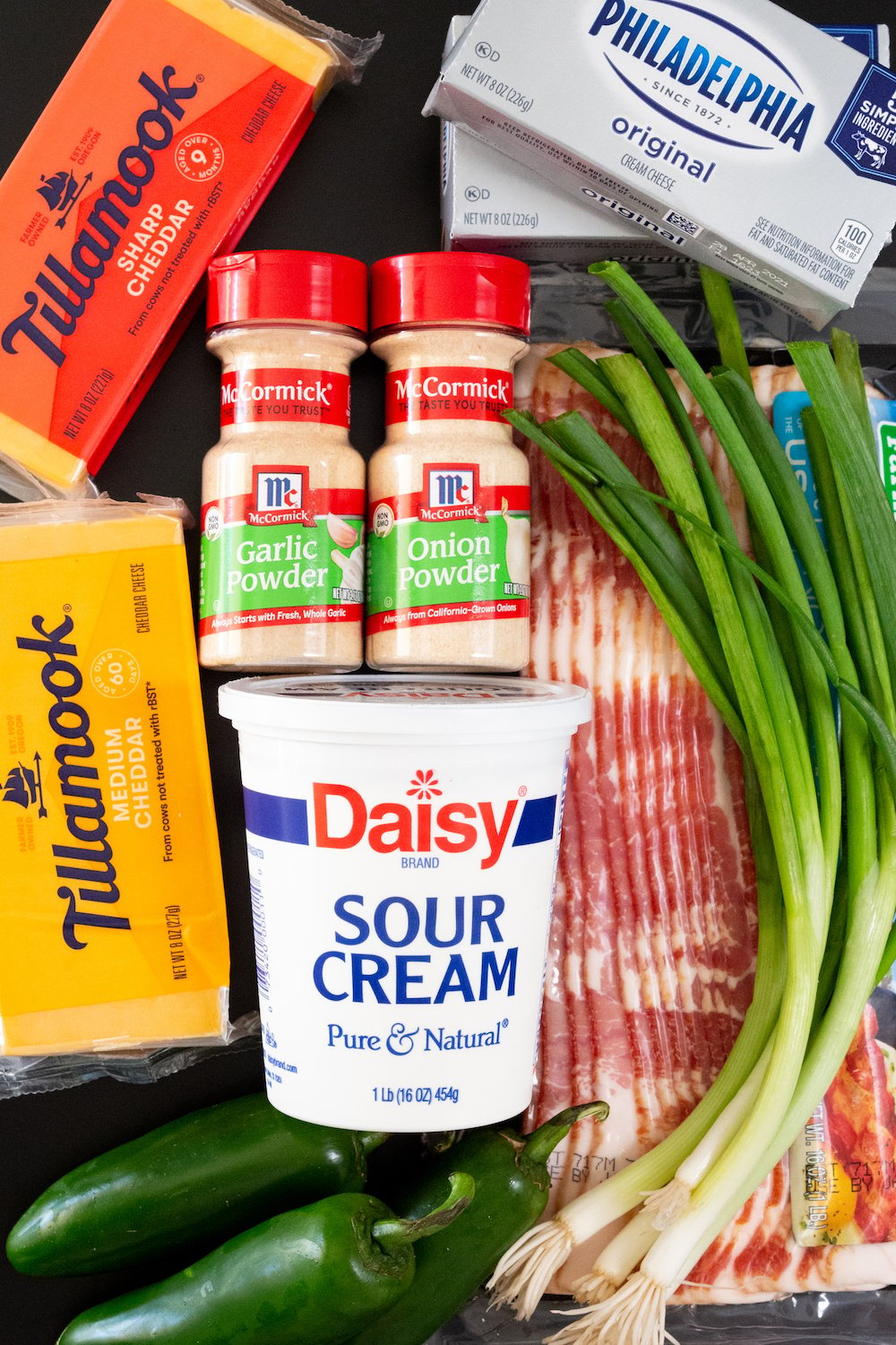 Tips
Make sure the cream cheese is really soft before attempting to mix. I like to leave mine out at room temperature overnight.
For extra heat, use spicier peppers or add hot sauce to the base.
Set the cheese ball out to soften about 20 minutes before serving to ensure it is the right consistency.
Use a butter knife for serving. Trying to dip crackers straight into the cheeseball may result in broken crackers and disappointment.
Can it be made ahead?
Yes, this cheese ball can be made ahead. You can make the base up to 5 days in advance, then wrap tightly with plastic wrap and store in an airtight container in the refrigerator. Remove from refrigerator and roll in the toppings shortly before serving.
How long will it last?
When sealed in an airtight container or wrapped in plastic wrap, this cheese ball will stay good in the refrigerator about 4 days. Just note that the toppings you rolled on the outside will start to degrade – the bacon will not stay crispy.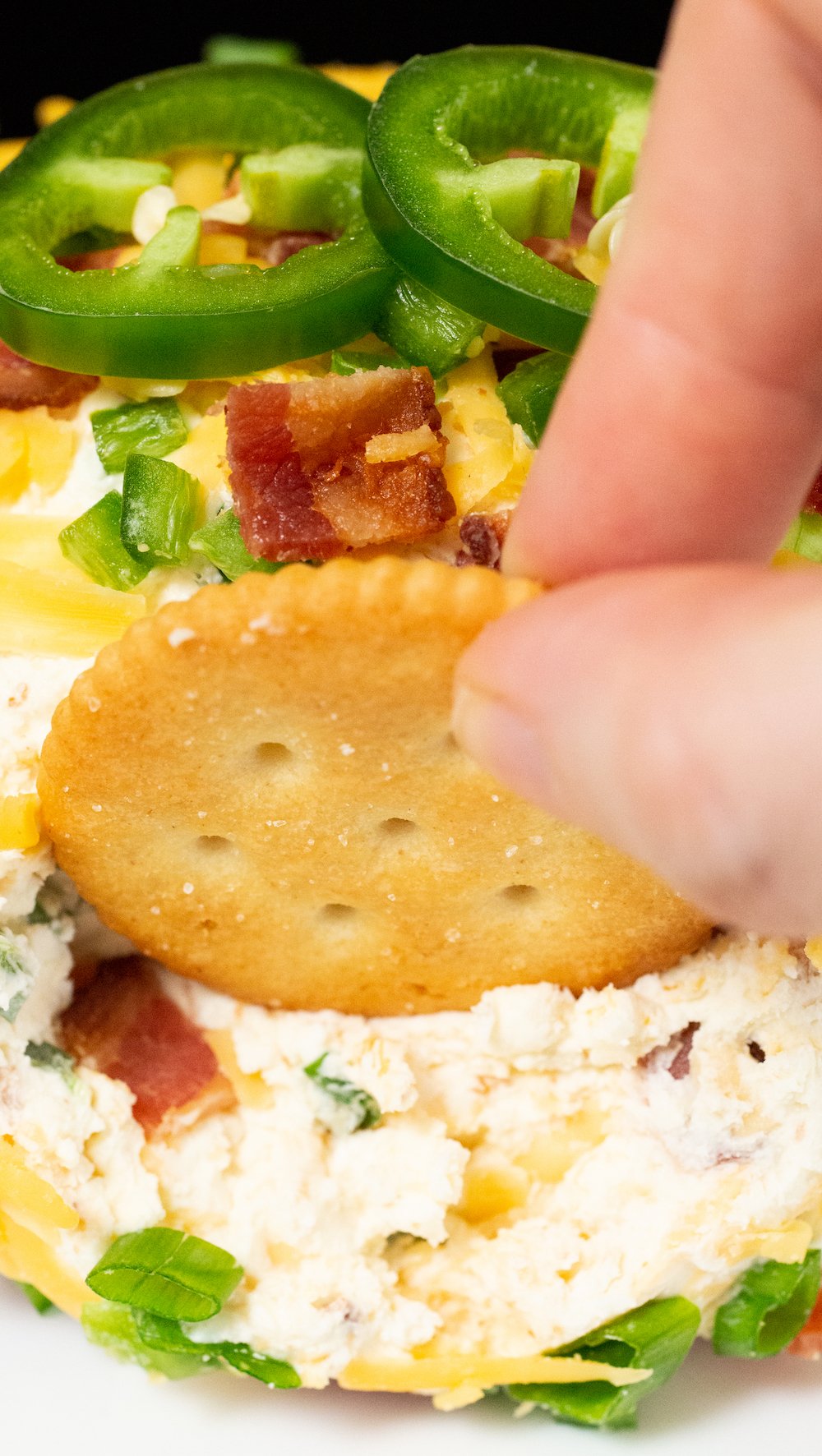 Serve with…
Ritz Crackers (especially the everything bagel flavor!)
Wheat Thins
Bagel Chips
Celery Sticks
Pretzels
Crostini
Crusty Bread
More Appetizer Recipes
Print
Jalapeno Popper Cheese Ball
This cheese ball has all the flavors of a jalapeno popper and makes a great party appetizer.
Author: Jessica Pinney
Prep Time: 6 Hours
Cook Time: 0 Minutes
Total Time: 6 hours
Yield: 12 1x
Category: Appetizer
Cuisine: American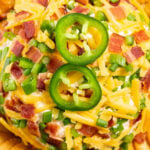 Ingredients
10 Slices of Bacon, cooked & chopped
1/4 Cup Green Onions, sliced
3 Fresh Jalapenos
2 8 oz Cream Cheese Blocks (softened)
1/4 Cup Sour Cream
2 Cups Cheddar Cheese, freshly shredded (divided)
3/4 tsp Garlic Powder
1/2 tsp Onion Powder
Pinch of Salt
Instructions
Cook the bacon until it is crispy. Place on a paper towel lined plate or on a cooling rack over a pan to drain and cool. Once cool, chop the bacon. Place half in an airtight container and refrigerate until later. Set the other half aside for now.
Slice the green onions. Dice the jalapenos – be sure to remove the seeds unless you like it extra spicy. Place half of each together in an airtight container and store in the fridge.
Use a hand mixer or a stand mixer to beat the cream cheese and sour cream together with the salt and garlic and onion powder until smooth.
Add the jalapenos, bacon, and green onion we set aside as well as 1.5 cups of the cheddar cheese. Mix on low until just combined.
Lay down some plastic wrap on your counter and spoon in the cheese ball mixture. Wrap it up, carefully forming it into a ball shape. Store in the refrigerator for at least 6 hours, preferably overnight.
Remove the cheese ball from your refrigerator about 20 minutes before serving time.  Place the reserved bacon, cheddar cheese, and green onions in a single layer on a plate or cutting board. Unwrap the cheese ball and gently roll it into the toppings until it is covered.
Serve with a butter or cheese knife and crackers.
Nutrition
Serving Size: 1
Calories: 255
Fat: 23.4 g
Carbohydrates: 2.4 g
Protein: 9.6 g