Make the most delicious queso ever in the smoker! This cheese dip is loaded with meat, cheeses, peppers, onions, and more! The perfect summer BBQ appetizer or snack.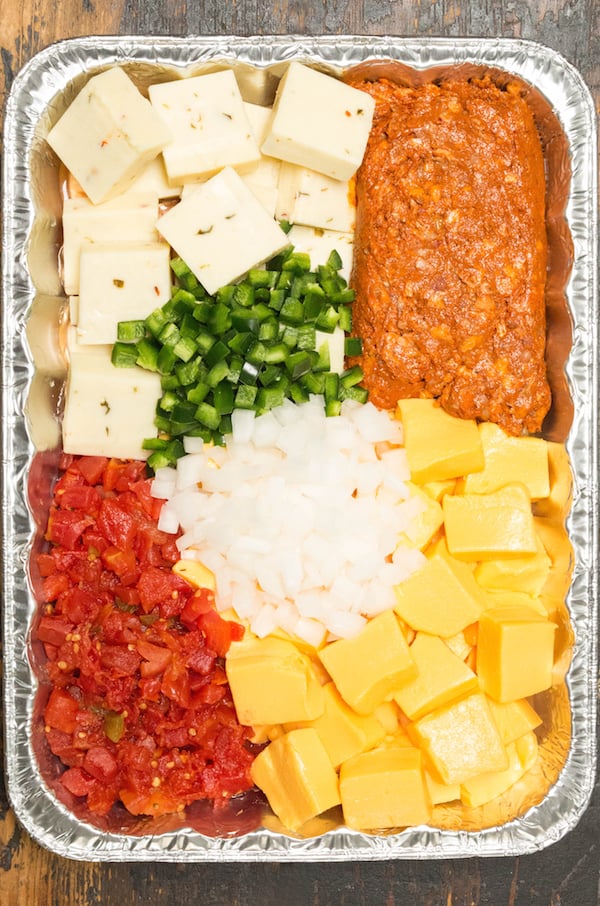 Have you guys heard of smoked queso yet?
It was all over social media this summer and it looked amazing! You know we don't need much of an excuse to throw something in the smoker so we definitely had to try it!
I'm happy to say that it exceeded expectations! Cooking queso in the smoker gives it this wonderful flavor with a hint of smoke. I also love how low maintenance it is – I only had to stir it a few times during the cooking process. I'm not sure I'll ever make it another way again!
Ingredients
Cheese – Cheeses that melt well are (obviously) the best for queso. I like to use a base of Velveeta and add in some pepper jack.
Meat – I like to use pork chorizo in my queso, but many other types of meat work just as well. I have used ground beef, breakfast sausage, and bacon with great success. You can always leave the meat out entirely if you'd prefer.
Peppers – The type of peppers you use will influence the heat level of your queso. Use jalapeños for mild, a mix of those and serranos for medium (our preference), and all serranos for hot.
Onion – White onion is the best choice for queso.
Canned Tomatoes – You'll want to add some canned fire-roasted tomatoes or canned tomatoes and green chiles.
Wood – Because this recipe has a short smoke time, I like to use hickory wood. Hickory can be overpowering on longer smokes, but in recipes like this, it can infuse just the right amount of smokey flavor.
Liquid – This is optional, but if you want to thin your queso out you'll need some kind of liquid. You can use milk, beer, or even water.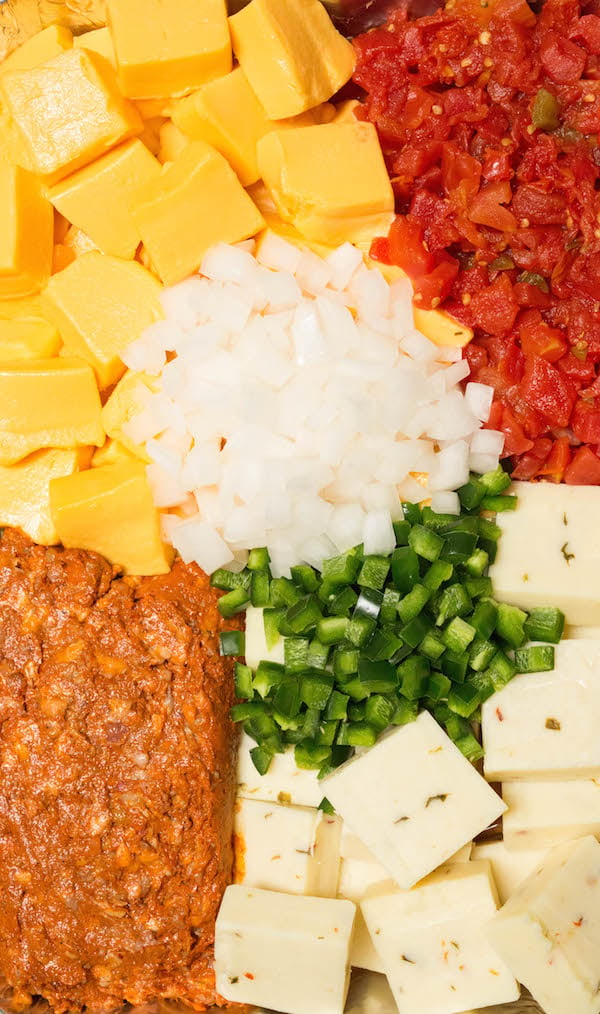 How To Make
To make smoked queso, you first need to get your smoker going. Prepare your wood chips and preheat the smoker to 200F.
Next, get the ingredients ready. Slice your cheeses and chop your peppers and onions. Place all of the ingredients into a pan (I used this disposable 9×13) and then place it on a rack in your smoker once it is preheated.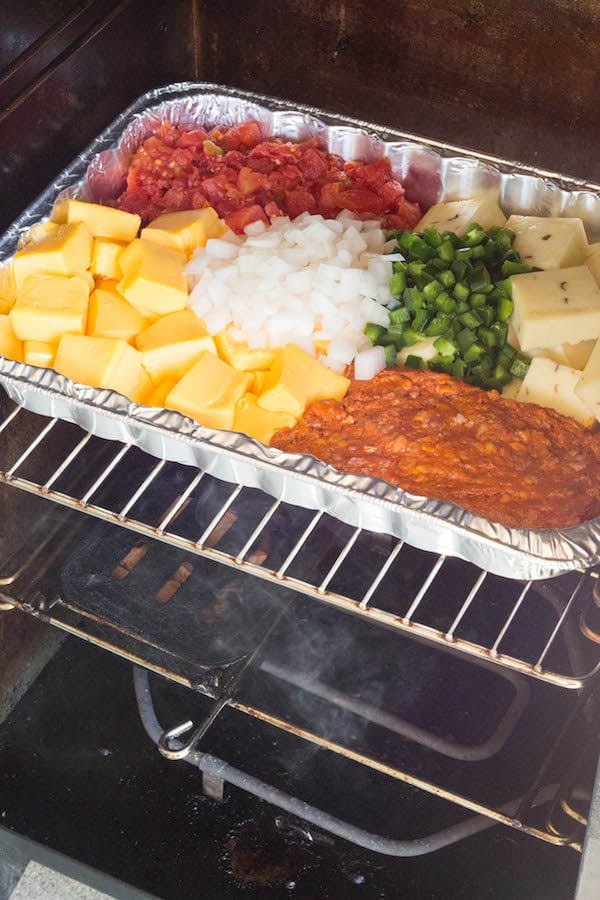 The queso will need to cook about 1.5 – 2 hours until it is done. I check on it about every 30 minutes and give it a good stir. When the cheese has completely melted and is bubbling, the queso is ready.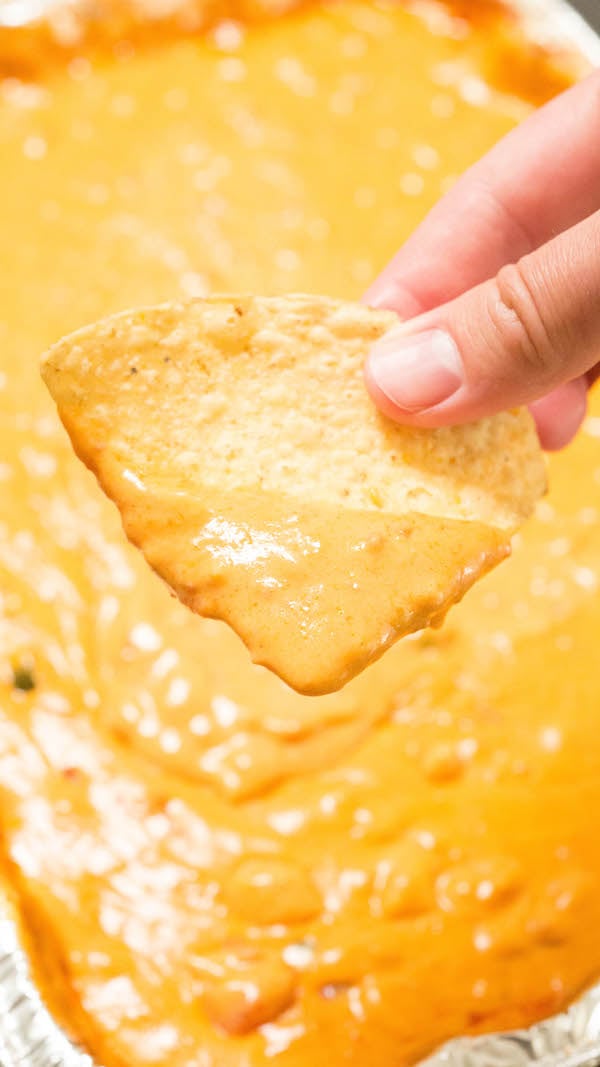 More Recipes For The Smoker
Print
Smoked Queso
This queso cheese dip is cooked in the smoker and loaded with meat, cheeses, peppers, onions, and more!
Author: Jessica Pinney
Prep Time: 15 minutes
Cook Time: 90 minutes
Total Time: 1 hour 45 minutes
Yield: 20 1x
Category: Appetizers
Cuisine: American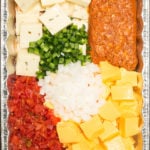 Ingredients
32 oz Velveeta
16oz Pepper Jack
1lb Chorizo
2 10oz Cans of Diced Tomatoes with Green Chiles (I use Rotel)
1 Medium-size White Onion, chopped
4 Jalapenos, deseeded and chopped
Instructions
Preheat your smoker or grill to 200F.
Add all ingredients to a 9×13 pan.
Place in your smoker and cook 90 – 120 minutes, until cheese is bubbling. Be sure to stir the queso about every 30 minutes during the cooking process.
Remove from smoker and serve with tortilla chips.