Cooking pineapple in the smoker low and slow causes its sugar to caramelize, turning it into a more complex and delicious fruit. Can be served by itself or used as an ingredient in dishes that need a touch of smokey sweetness.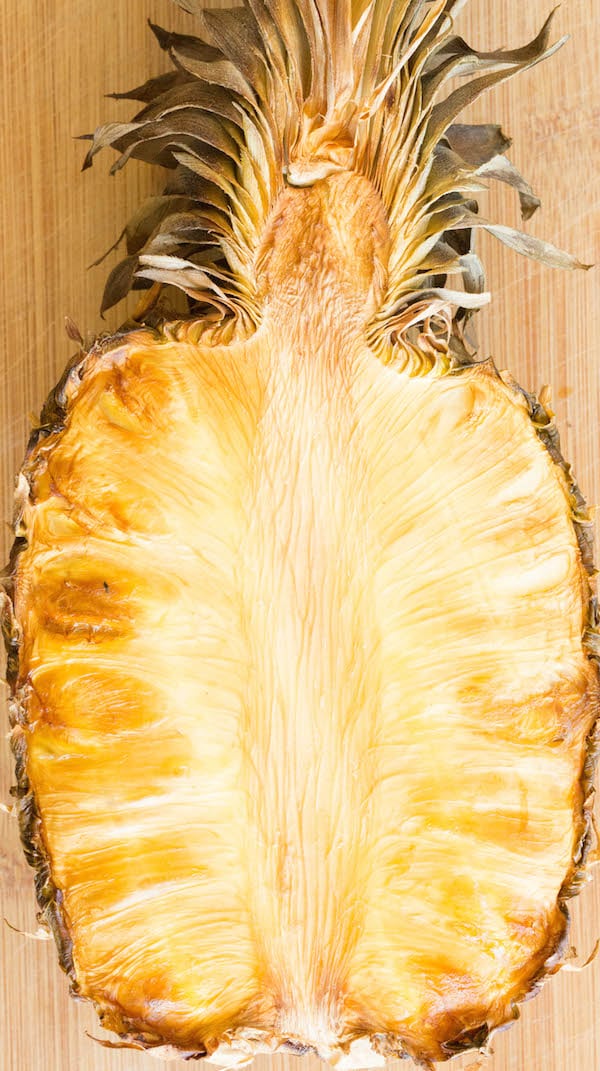 Since we've been home a lot this summer, we've had the time to experiment with many new foods in the smoker.
In the past, we really only used it for smoking meat. However, smoked corn has become one of our favorites. Now, smoked pineapple is all the rage at our house!
Something truly magical happens when you smoke a pineapple and I am here to spread the good news about it!
After slow cooking in the smoker, the pineapples sugars begin to caramelize. The fruit becomes extra sweet and juicy while losing a fair amount of its acidity. It is incredibly delicious!
Smoked pineapple tastes great chopped up and served just by itself, or even better – with a squeeze of lime and dash of cinnamon. How about a scoop of vanilla ice cream on the side?
Ways To Use Smoked Pineapple
There's an endless amount of ways you can use your smoked pineapple. Here are a few of our favorites.
Blended into juice for a margarita
Sliced for pork sandwiches
As a pizza topping
Added into coleslaw
How To Smoke a Pineapple
The first thing you're going to want to do is to get your smoker going. I use this small electric smoker and I like to put some liquid in the water pan (apple juice or water) and use applewood chips. Cherrywood chips are also a good choice for this recipe.
What temperature to smoke?
Once you have that set-up, get your smoker maintaining a temperature between 225°F – 250°F.
Use a sharp chef's knife and slice your pineapple down the middle so that it separates into two halves.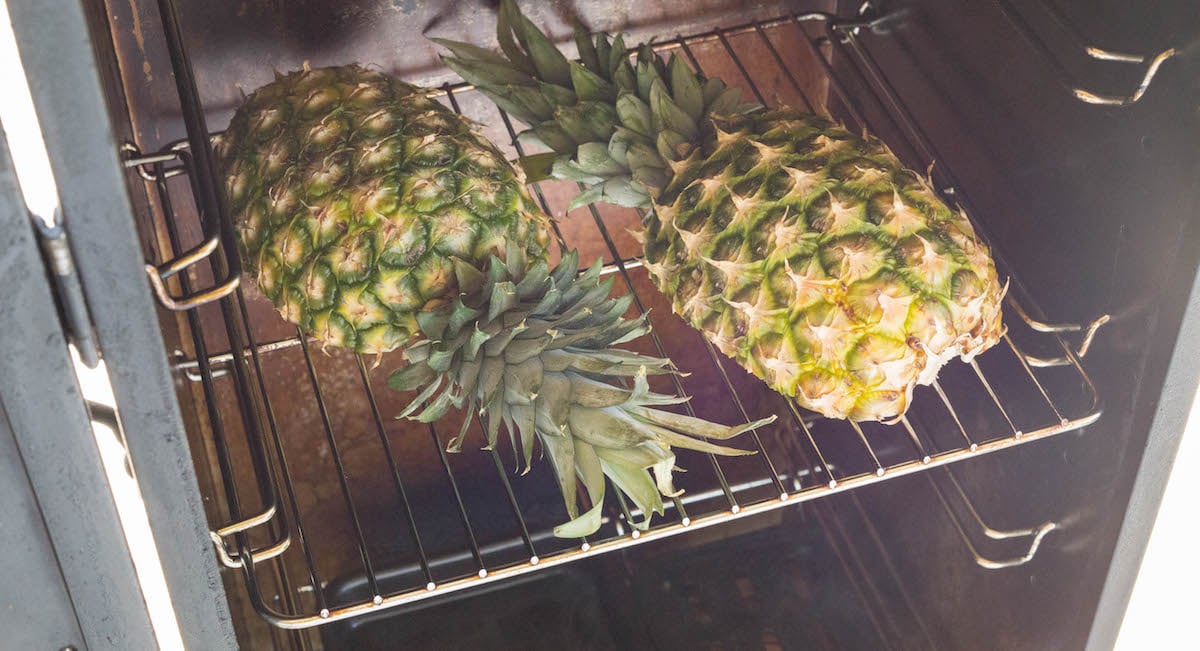 How Long To Smoke?
Place the pineapple slices face down on your smoker. Allow them to cook this way for 30-40 minutes, then flip them over and cook for another 30-40 minutes.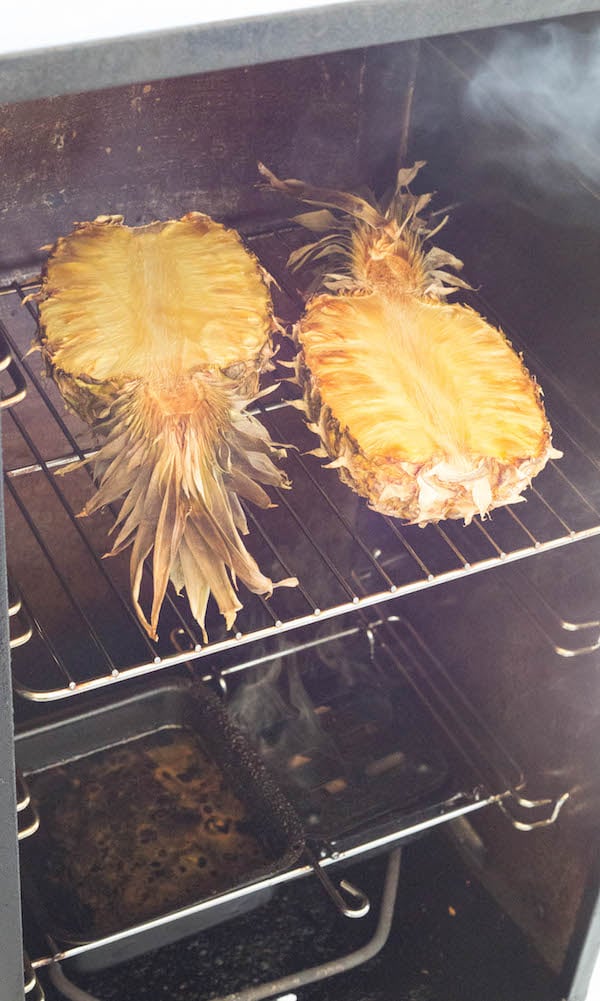 You will be able to tell that the smoked pineapple is ready once the fruit has begun to caramelize and turn brown around the edges.
More Smoker Recipes
Print
Smoked Pineapple
Pineapple cooked low and slow in the smoker results in a delicious, caramelized piece of fruit that complements pork well.
Author: Jessica Pinney
Prep Time: 5 minutes
Cook Time: 1 hour
Total Time: 1 hour 5 minutes
Yield: 6 1x
Category: Side Dishes
Cuisine: American
Ingredients
1 Pineapple
Applewood or Cherrywood Chips
Instructions
Get your smoker going and stabilize the temperature between 225°F and 250°F.
Slice pineapple in half. Place it face down on the grate of your smoker. Smoke for 30 minutes, then flip over and smoke another 30-40 minutes.
Remove pineapple from the smoker. Allow to cool slightly then cut up and serve or add to other dishes.