We've been using our smoker on a weekly basis all summer and one of our favorite things to smoke is this sweet & spicy coffee-rubbed chicken. It is one of the best smoked chicken recipes I've ever had!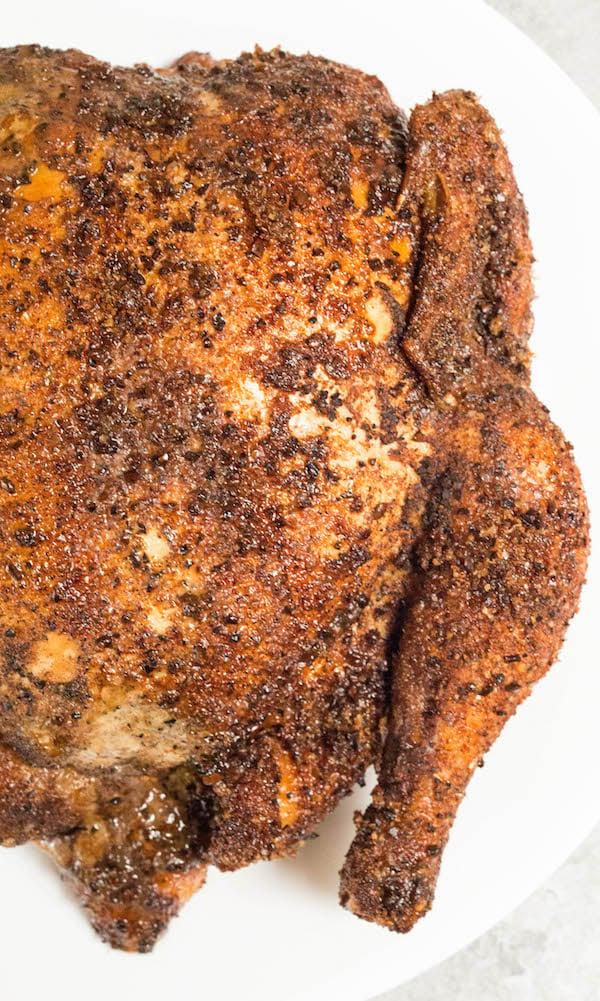 If you haven't smoked a whole chicken yet, what are you waiting for? They're delicious and cook quickly compared to pork or brisket.
There are many different rubs you can put on chicken before smoking and I find this version particularly unique and flavorful. I think it's the perfect balance of sweet and spicy and the coffee grounds really add something special.
This post contains affiliate links (when you buy we make a little money at no cost to you). See our disclosure for more information.
You can use any coffee beans you want. I think the flavor profiles of Stumptown's Founder's roast and Groundwork's Venice beans work especially well with this recipe. Need other ideas? Check out "What Coffee Beans Should I Buy?"
I prefer the coffee beans to be coarse for the rub, so I grind them in our Encore at setting "32". If you don't have a grinder, you could place them in a Ziplock bag and crush them with a mallet or rolling pin to achieve a coarse grind.
The sweetness in this rub comes from the brown sugar, which also helps give the skin a beautiful brown color. Cayenne brings the heat, though I would describe this chicken as a "medium" level of spiciness. Feel free to adjust the amount of cayenne to your personal heat preference.
I generally smoke this chicken with applewood. To help make the chicken skin crispy, I leave the water pan empty for this recipe.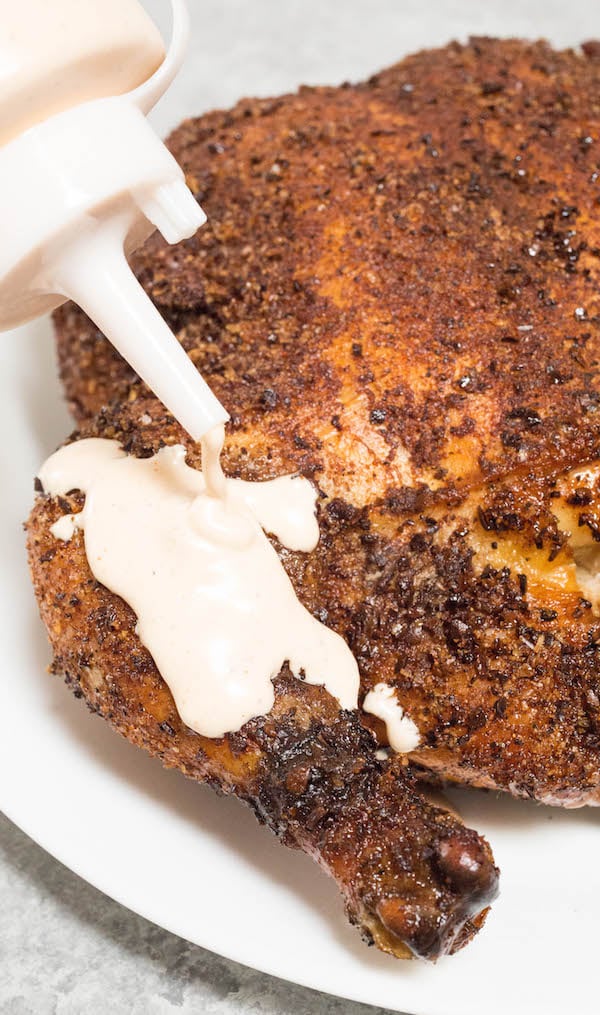 You know we love our sauces around here, so whenever we smoke chicken we always have some Alabama White Sauce. My recipe for it includes chili paste, which gives it a little extra "zip".
More Smoker Recipes
Other BBQ Recipes
Print
Sweet & Spicy Coffee Rubbed Smoked Chicken
A whole smoked chicken with extra crispy skin that's coated with a sweet & spicy coffee rub.
Author: Jessica Pinney
Prep Time: 30 minutes
Cook Time: 3 hours
Total Time: 3 hours 30 minutes
Yield: 8 1x
Category: Entrée
Cuisine: American
Ingredients
2 Whole Chickens, giblets removed (if using only 1 chicken, reserve half of the rub for later use)
1/3 Cup Brown Sugar
1/4 Cup Salt
1/4 Cup Coffee Beans, coarsely ground
1 Tablespoon Garlic Powder
1/2 Tablespoon Onion Powder
1/2 Tablespoon Cumin
1/2 Tablespoon Cayenne Pepper
1 Tablespoon Black Pepper
Instructions
Fill your smoker with wood chips. I like to use applewood or cherrywood for this smoked chicken recipe. Leave the water pan dry (this helps the chicken skin get crispy). Begin preheating your smoker to 300F.
Take your chicken out of the packaging and remove giblets if that hasn't been done already. Use a paper towel to pat the skin dry. Place uncovered in the refrigerator while the smoker heats up and you prepare the rub.
Take all of the rub ingredients and mix them in a bowl until well combined and there are no clumps of spices.
Coat the chicken all over with the rub. (You will have enough for 2 chickens.)
Place your chickens in the smoker and cook for 2-3 hours, until the temperature registers 165F at the thickest part of the chicken's leg.
Remove from the smoker and let rest for 10 minutes before cutting. Serve with Alabama White Sauce.