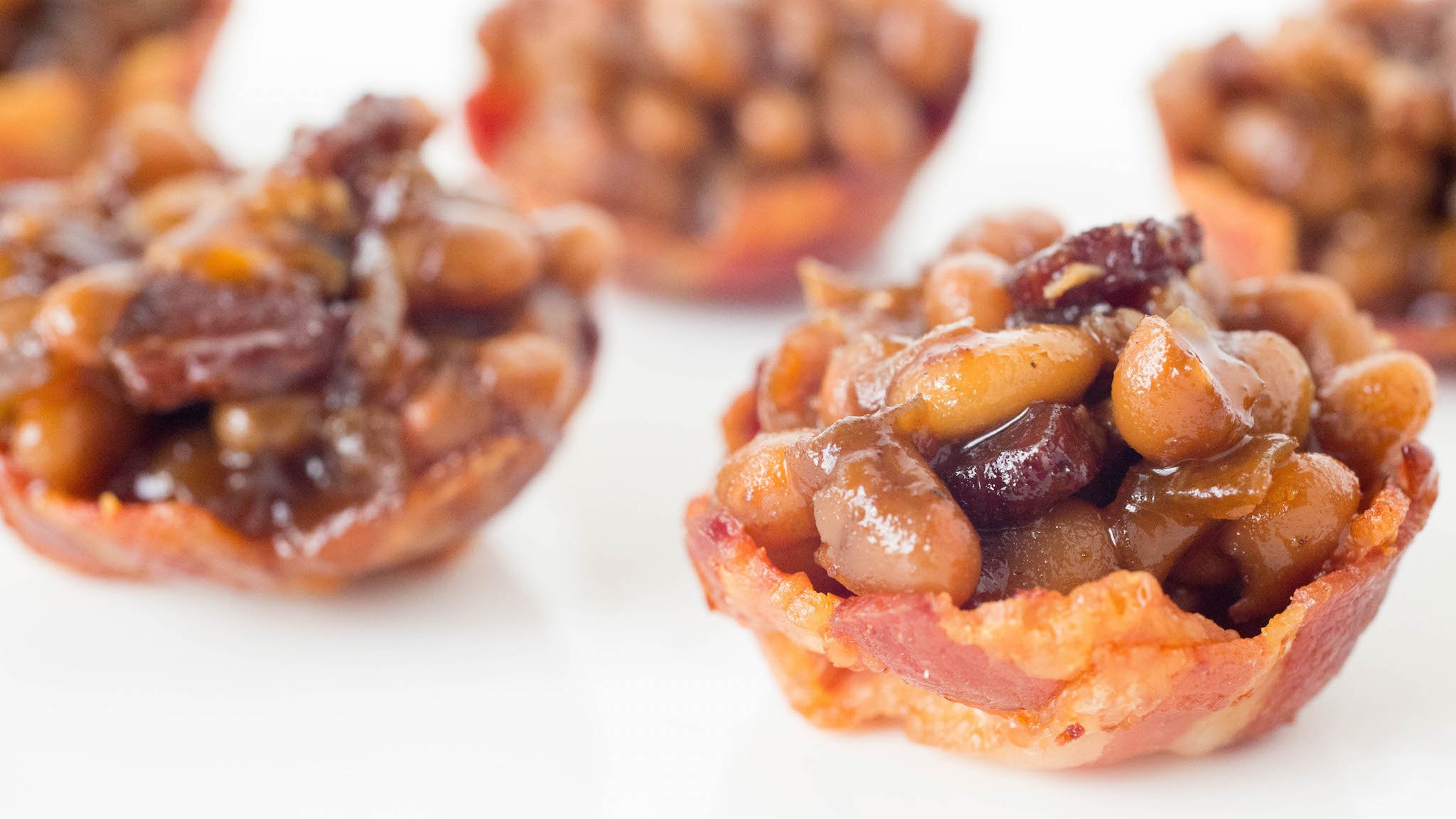 If you're throwing a barbecue and aren't serving baked beans, you're doing it wrong.
To me, they are the quintessential BBQ side dish. That's why I will be making sure that the July 4th party I'm going to has some.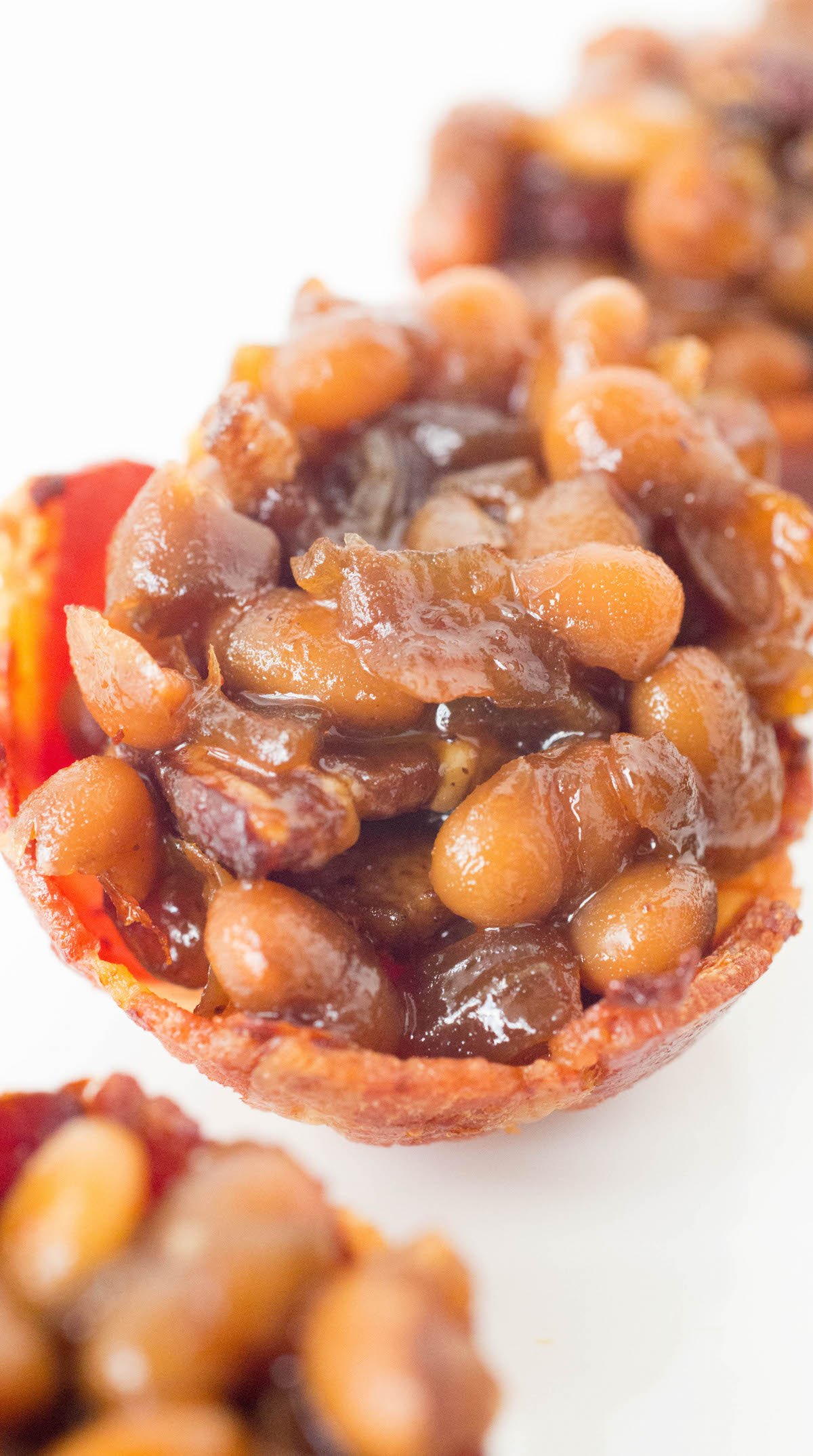 Growing up, we always ate canned baked beans. While they do taste good, I wanted to do something with a little extra oomph. I've fallen in love making BBQ sauce from scratch and thought doing the same with baked beans would knock my socks off. Well, I was right. Socks be damned, these baked beans are truly the best I've ever had!
They are the perfect combination of sweet and savory, with just a little heat thrown in (thanks to the homemade habanero honey).
I love how easy they are to make. I use canned navy beans to keep it simple. The only prep is making the honey (you could always buy premade spicy honey if you want to skip this step) as well as chopping your thick cut bacon & onion. After that, you just have to let all those wonderful flavors simmer together in a saucepan for 45 minutes.
The one problem I do have with eating baked beans at a BBQ? The need for utensils! I'm walking around with my plate, probably somehow also trying to manage a beer. I don't have time for spoons!
I have found a delicious solution…bacon cups!
I saw this mini bacon cup idea a few years ago in Bite by Bite. I loved it at the time, but didn't get the chance to try them out until now. Wow! I can't believe I've wasted all this time. I love the added crunch they give to the baked beans, and who wouldn't want a little extra bacon flavor?
This post contains affiliate links (when you buy we make a little money at no cost to you). See our disclosure for more information.
My eyes have been opened and I don't think I could ever serve baked beans another way.
Print
Homemade Baked Beans in Mini Bacon Cups Recipe
Homemade baked beans turned into finger food by serving them in crispy, mini bacon cups.
Author: Jessica Pinney
Prep Time: 10 mins
Cook Time: 60 mins
Total Time: 1 hour 10 mins
Yield: 24 1x
Category: Side Dish
Cuisine: American
Ingredients
Habanero Honey
1 cup honey
1 fresh habanero chile, thinly sliced
Baked Beans
1 tablespoon extra-virgin olive oil
1 large yellow onion, very finely chopped
2 1/2 cups canned navy beans, drained and rinsed
3/4 cup (packed) light brown sugar
2 thick-cut bacon strips, chopped
1/4 cup port wine
1 1/2 tablespoons dark molasses
1 teaspoon chili powder
2 teaspoons coarse salt
Mini Bacon Cups
Nonstick pan spray
2 pounds thin-cut bacon, each slice cut into thirds
Instructions
Habanero Honey
Pour the honey into a small saucepan. Bring to a simmer over medium heat. Turn off the heat, add the habanero, then allow the honey to cool to room temperature.
Strain through a fine-mesh sieve into an airtight container. Set aside.
Baked Beans
Heat the olive oil in a pot over medium heat. Add the onions and cook until translucent, 3-5 minutes.
Add the beans, brown sugar, bacon, port, molasses, 1 tablespoon of the habanero honey, chili powder and salt. Stir to combine, and bring to a simmer over medium heat. Reduce the heat to medium-low and simmer gently until the mixture is reduced by half, about 20 minutes.
Turn off the heat and set aside to cool to room temperature.
Mini Bacon Cups
Preheat the oven to 350 degrees.
Turn a mini muffin pan upside-down and lightly coat the bottom with nonstick pan spray. Crisscross 3 pieces of bacon over each upturned cup, and then place another mini muffin pan on top so that the bacon pieces are compressed between the two pans.
Place the pans on a rimmed baking sheet and bake until the bacon cups are crisp and browned, about 20 minutes.
Remove the baking sheet from the oven and set aside to cool completely. Lift off the top pan. Carefully remove the bacon cups from the bottom pan and place them on a paper-towel-lined baking sheet to drain, wrong side up.
To Serve
Gently reheat the beans in a saucepan over medium heat until warmed through (add 1 tablespoon water if they're too thick or dry).
Place a spoonful of the beans into each bacon cup. Serve.