An iced coffee drink that's infused with the flavors of a sugar cookie. It's the perfect way to start your day during the holiday season!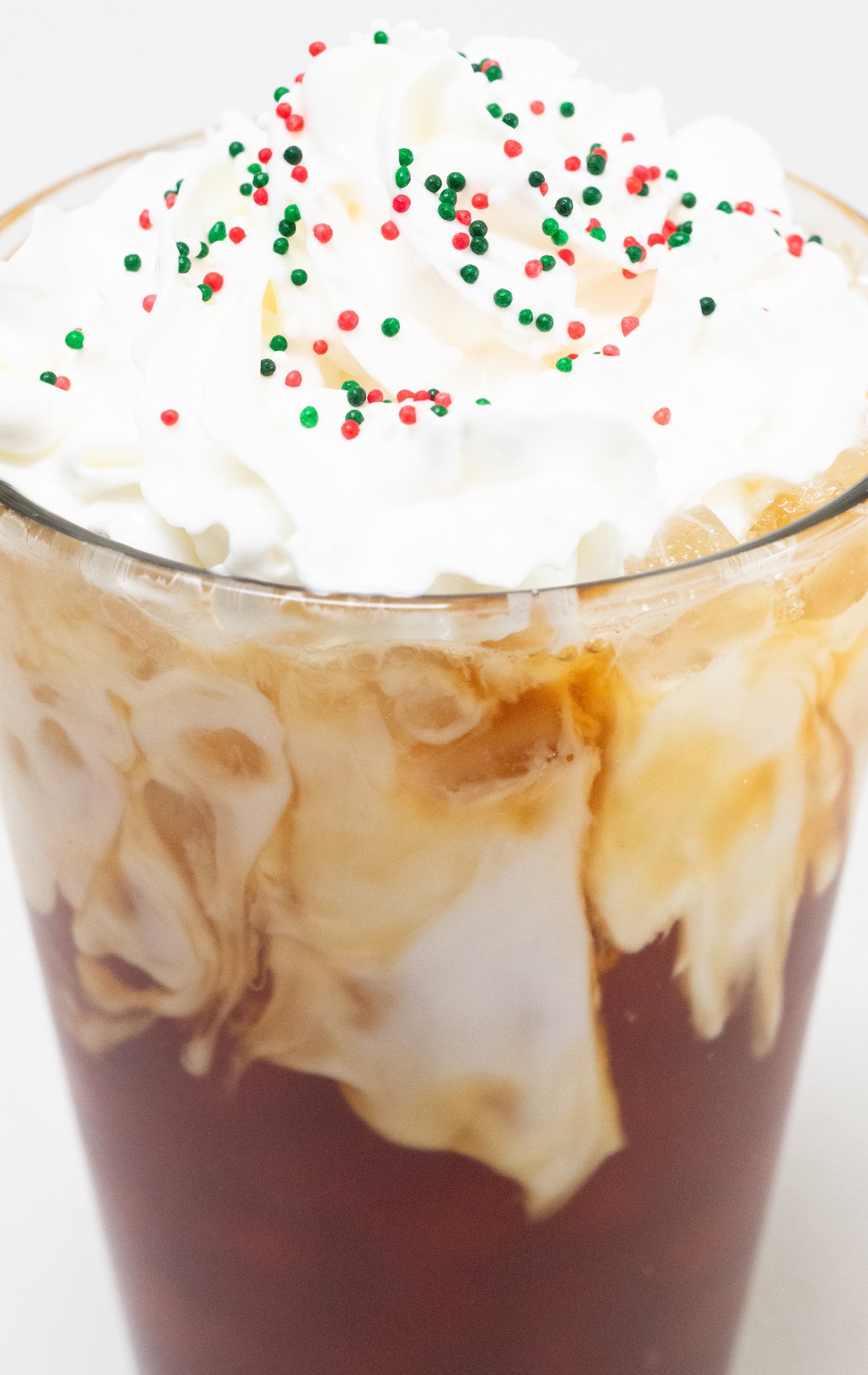 Starbucks recently dropped a new holiday drink and it sounded like the Christmas coffee of my dreams! It's made with blonde espresso, almond milk, and a simple syrup with all the flavors of a sugar cookie.
I wanted to make my own homemade version and I have to say – it turned out even better than Starbucks! That's not even the best part though – you can make it yourslef even faster than you can get through the drive-through and you'll save money too!
And who doesn't want to save time and money during the holidays??
Ingredients
This post contains affiliate links (when you buy we make a little money at no cost to you). See our disclosure for more information.
Espresso – I use a basic De'Longhi espresso machine. If you don't have a way to make espresso, sub 1/3 cup strongly brewed coffee.
Milk – Starbucks defaults to using almond milk in this latte, but feel free to use any other milk you'd prefer.
Sugar – This drink is flavored with a sugar cookie simple syrup. You'll need white granulated sugar to make it.
Butter Extract – I used a clear butter extract to help create the cookie flavor. Starbucks syrup does not include this, but I think it's part of what makes the homemade version better!
Almond Extract – This is used as the main flavoring in Starbucks version, I reduce it in mine because I do not think sugar cookies have a strong almond flavor.
Vanilla Extract – You can use any vanilla extract that you have on hand.
Sprinkles – Starbucks adds red and green nonpareil sprinkles for Christmas flair. You can leave them out without affecting the flavor.
Tips
I think this drink is best when it is topped with whipped cream or sweet cold foam.
If you want to make this drink but don't want to go to the trouble of making your own cookie syrup, use this store-bought version instead.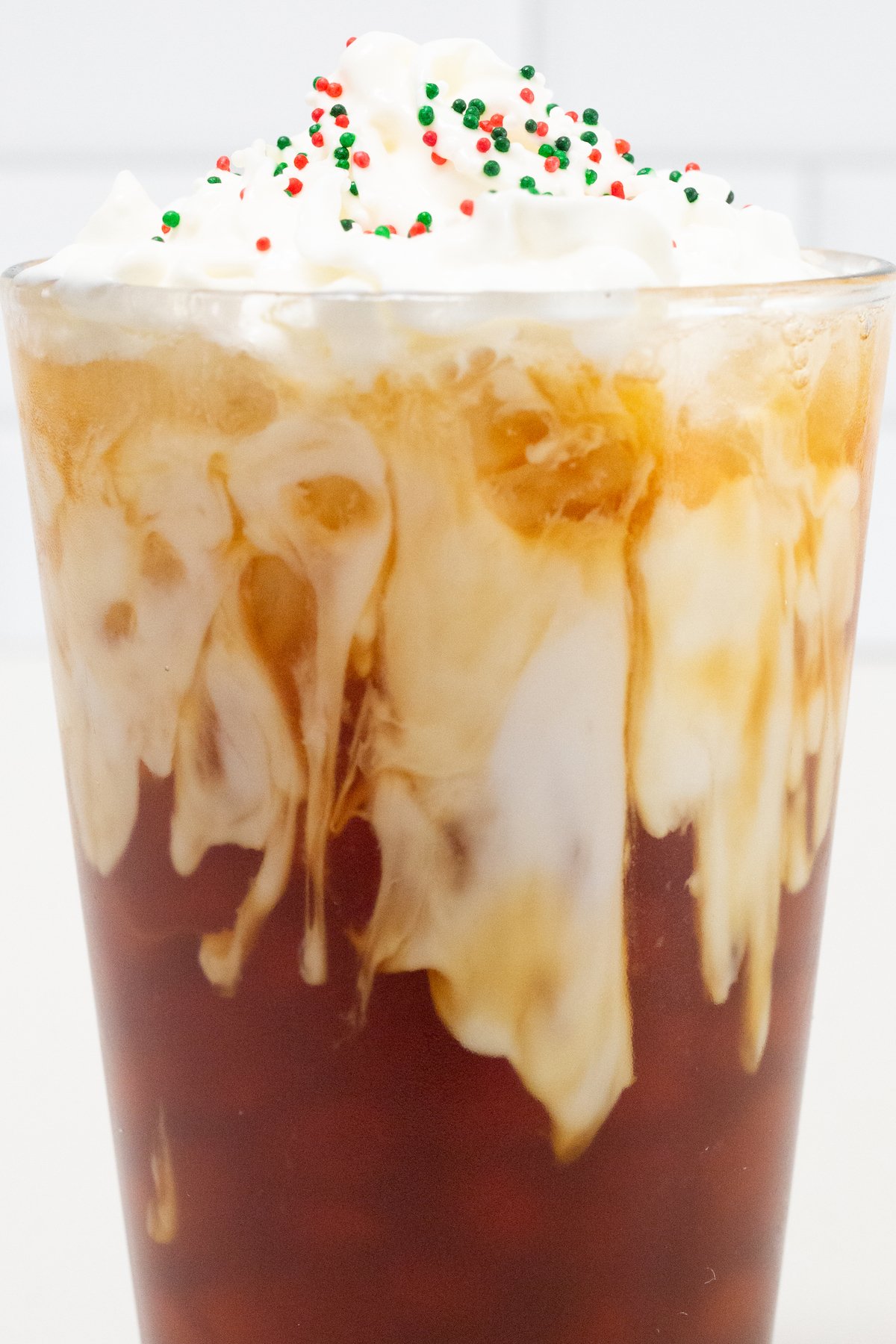 More Coffee Recipes
Print
Iced Sugar Cookie Latte
An iced coffee drink infused with the flavors of a sugar cookie.
Author: Jessica Pinney
Prep Time: 10 minutes
Cook Time: 10 Minutes
Total Time: 20 minutes
Yield: 1 1x
Category: Coffee
Cuisine: American
Ingredients
Iced Sugar Cookie Latte
2 Espresso Shots*
1/4 Cup Almond Milk
2 1/2 Tablespoons Sugar Cookie Syrup (recipe below)
Whipped Cream & Christmas Sprinkles (optional)
Sugar Cookie Syrup
1/4 Cup Sugar
1/4 Cup Water
1 1/2 Teaspoons Vanilla Extract
1/2 Teaspoon Butter Extract
1/2 Teaspoon Almond Extract
Instructions
Iced Sugar Cookie Latte
Fill a cup with ice, then add the sugar cookie syrup and espresso shots. Pour the almond milk over the top, then top with whipped cream and sprinkles.
Sugar Cookie Syrup
Add all the ingredients to a saucepan over medium hit. Stir gently for a few minutes until the sugar has completely dissolved. Set aside and allow to cool before using.
Notes
*If you don't have espresso you can substitute 1/3 cup strongly brewed coffee.
This recipe makes enough sugar cookie syrup for 3 drinks.