Make the Starbucks seasonal winter drink, Irish Cream Cold Brew, at home with this easy copycat recipe. The iced coffee beverage has flavors of vanilla, Irish cream, and cocoa.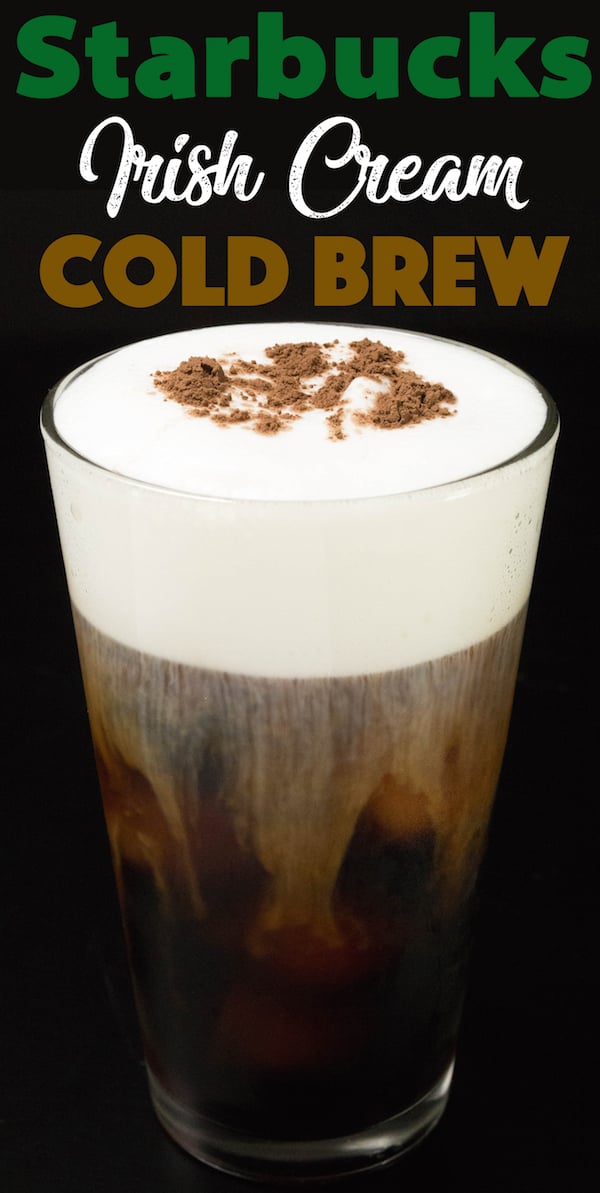 Starbuck's released a new seasonal iced coffee drink this December – the Irish Cream Cold Brew.
Janette and I tried it a few weeks ago and it tasted even better than I could have imaged! The Irish Cream compliments the cold brew perfectly and who doesn't love that thick, cold vanilla foam??
As someone who does not enjoy the "traditional" Christmas drink flavors like peppermint and gingerbread, this cold brew is a godsend. I've been making it all month long!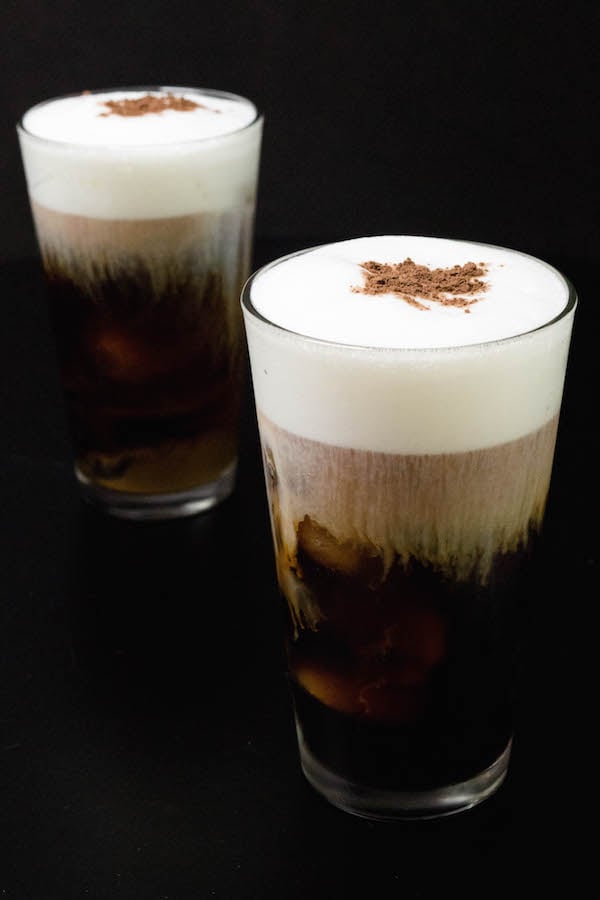 I told my mom how amazing it was, but when she went to try it her Starbucks was sold out. She ended up going to 4 more Starbucks stores over the next week and none of them had the ingredients in stock. At that point, I knew I had to make a copycat version so she could make her own at home!
It just calls for a few ingredients and the only one I didn't have on hand was Irish Cream syrup. I ordered a bottle of that and got to work cracking the recipe.
This post contains affiliate links (when you buy we make a little money at no cost to you). See our disclosure for more information.
Starbuck's Irish Cream Cold Brew Ingredients
Cold Brew or Iced Coffee
Vanilla Syrup
Milk
Cocoa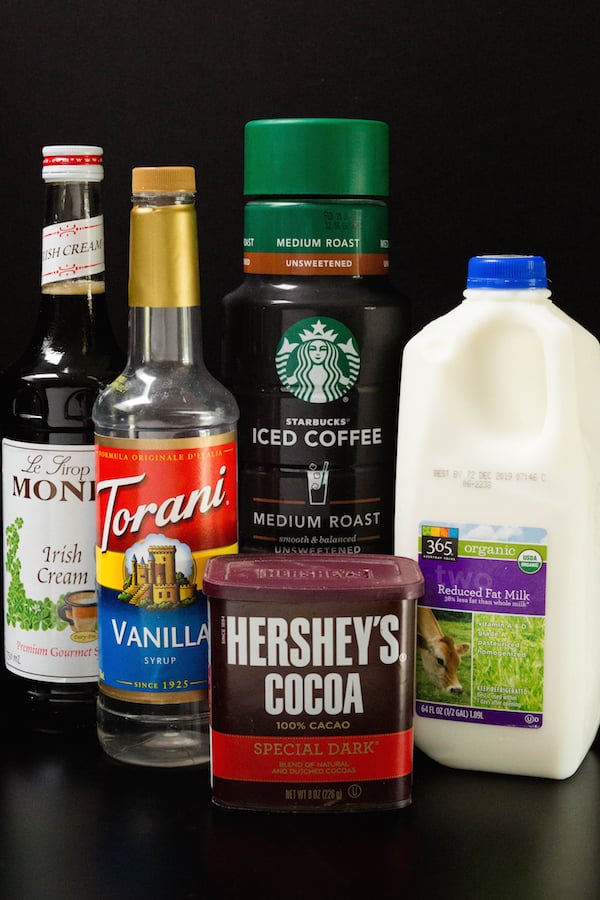 Starbucks is using a cold brew coffee for the base and I do recommend that. It has an incredibly smooth taste, due to the low acidity. You can, however, also use iced coffee. I've been so busy this holiday season and haven't had time to make any cold brew, so I just grabbed a bottle of Starbucks Iced Coffee from my grocery store.
I'm not sure what kind of cocoa Starbucks is sprinkling on top, but I had Hershey's "Special Dark" on hand and that seemed to work well for me. You really only want to add a dash of cocoa, just enough so that you smell it as you sip. The aromatics really add a lot to the drink.
How To Make Cold Foam
There are two easy methods to making the cold cream at home. You can shake the milk and vanilla together in a sealed mason jar until thick and creamy, but the preferred method is to use a little handheld frother.
An electric frother will make your cold foam the thickest and closest to Starbucks. I use an aerolatte, which is budget-friendly.
Another tip for making the cold foam is to use 2% milk. While you can froth any milk, 2% seems to work the best.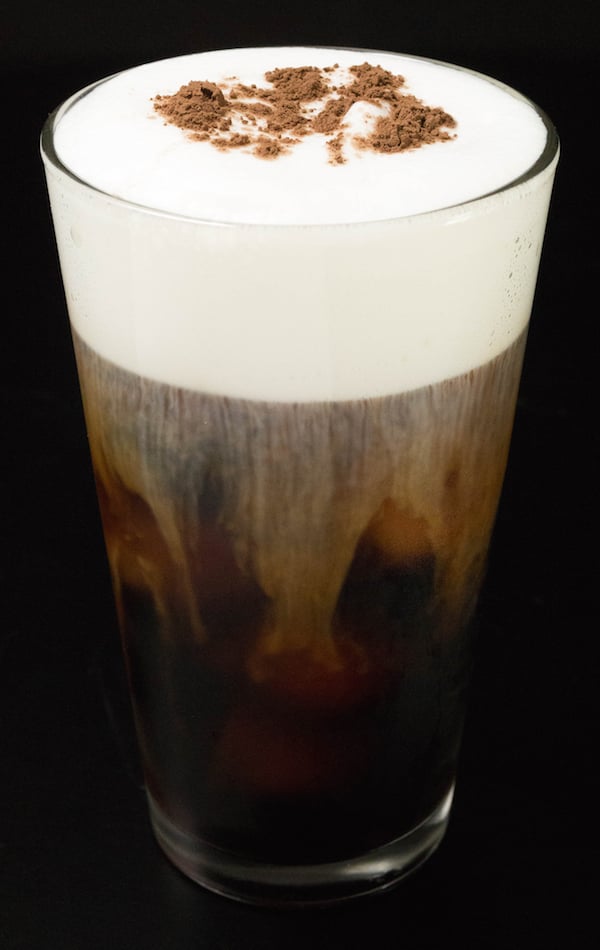 Other Starbucks Recipes:
Print
Starbucks Irish Cream Cold Brew Recipe
Homemade Starbucks Irish Cream Cold Brew coffee with flavors of vanilla, Irish cream, and cocoa. 
Author: Jessica Pinney
Prep Time: 5 Minutes
Total Time: 5 minutes
Yield: 1 1x
Category: Drinks
Cuisine: American
Ingredients
8 oz Cold Brew or Iced Coffee
1.5 Tablespoons Irish Cream Syrup
1/4 Cup 2% Milk
1.5 Tsp Vanilla Syrup
Dash of Cocoa
Instructions
Add the cold brew or iced coffee to a glass along with the Irish cream syrup. Use a spoon and stir to combine.
To make the cold foam, add the milk and vanilla syrup to a glass. Use an electric frother and whip until the milk has turned into a thick foam. If you don't have a frother, add the ingreients to a mason jar, seal, then shake until thick and foamy.
Add ice to your glass, if desired, then slowly pour on the vanilla cold foam. Add a dash of cocoa and enjoy immediately.