This hot chocolate is flavored with peppermint candy canes and made in a crockpot. The perfect Christmas movie night drink for the whole family!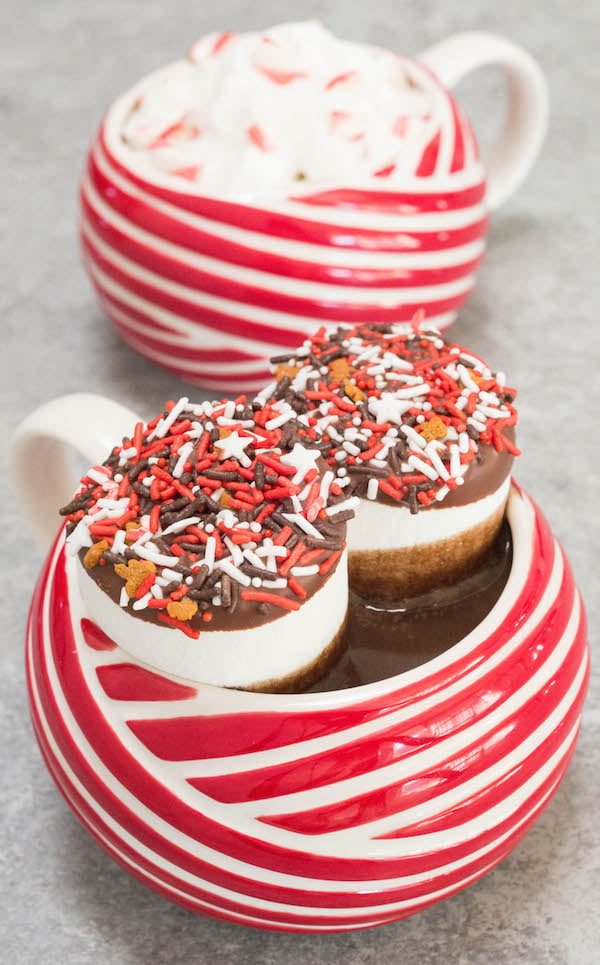 Winter is the season of crock pots, peppermint, and hot chocolate. Why not combine all three? That's exactly what I did to create this seasonal peppermint hot chocolate recipe and the result was incredibly delicious!
We've really been doing it up this year for our Christmas movie nights. We made 12 different kinds of cookies, so we obviously needed some hot chocolate to go along with it. We thought giving it a subtle peppermint flavor would be a fun way to use up the candy canes we had laying around.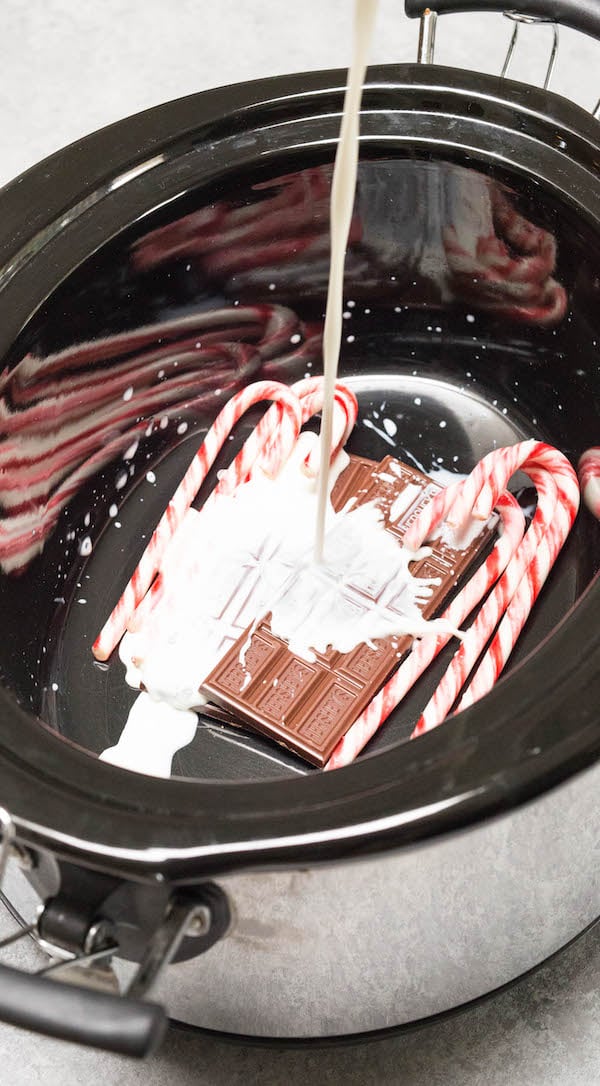 Peppermint Hot Chocolate Ingredients
Milk
Half and Half
Cocoa Powder
Milk Chocolate
Candy Canes
For the dairy in this recipe, you can really use whatever you'd like. I've found that my ration of milk to half and half turns out the perfect consistency for me, but you could also use all milk or even some heavy cream.
The cocoa powder this recipe calls for is real cocoa, not hot chocolate mix. It is generally used in baking. I prefer this one.
I used Hershey bars for the milk chocolate since we had some leftover from our s'mores board. You can use milk chocolate chips instead, if you have some on hand.
How To Make Peppermint Hot Chocolate
I like to make my hot chocolate in the crockpot this time of year, especially if I'm making it for a crowd. All you have to do is add all of the ingredients to your crockpot and set it to "low". In about two hours you'll have hot chocolate!
If you'd rather not make it in a crockpot, you can use the stovetop method. Simply add all of the ingredients to a saucepan, then cook on medium heat, stirring regularly, and ingredients have melted and are well incorporated.
Other Seasonal Drink Recipes:
Treats to go with Hot Chocolate:
Looking for Christmas morning ideas? Check out our post featuring 20 Christmas breakfast recipes!
Print
Crock Pot Peppermint Hot Chocolate Recipe
Homemade hot chocolate flavored with peppermint candy canes & made in a crockpot. 
Author: Jessica Pinney
Cook Time: 2 hours
Total Time: 2 hours
Yield: 9 1x
Category: Drinks
Cuisine: American
Ingredients
6 Cups Milk
3 Cups Half & Half
1/2 Cup Unsweetened Cocoa Powder
2 1.55oz Hershey's Chocolate Bars
10 Candy Canes
Instructions
Add all ingredients to a slow cooker and place on low for at least two hours. Stir to combine before serving.