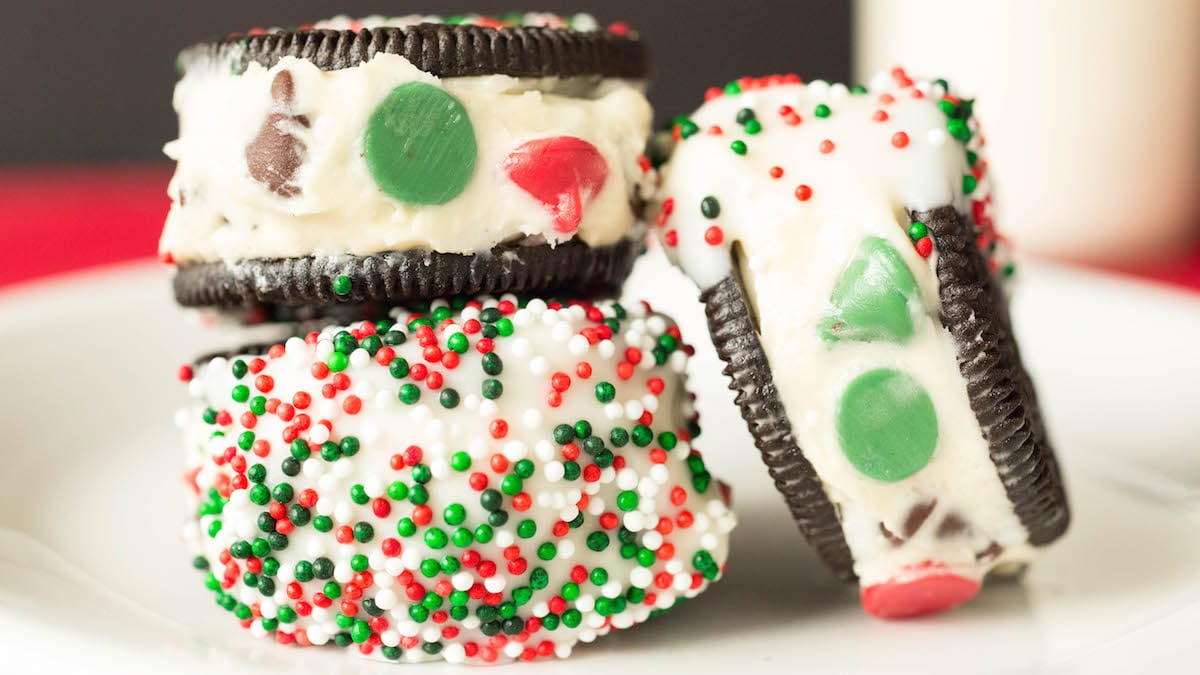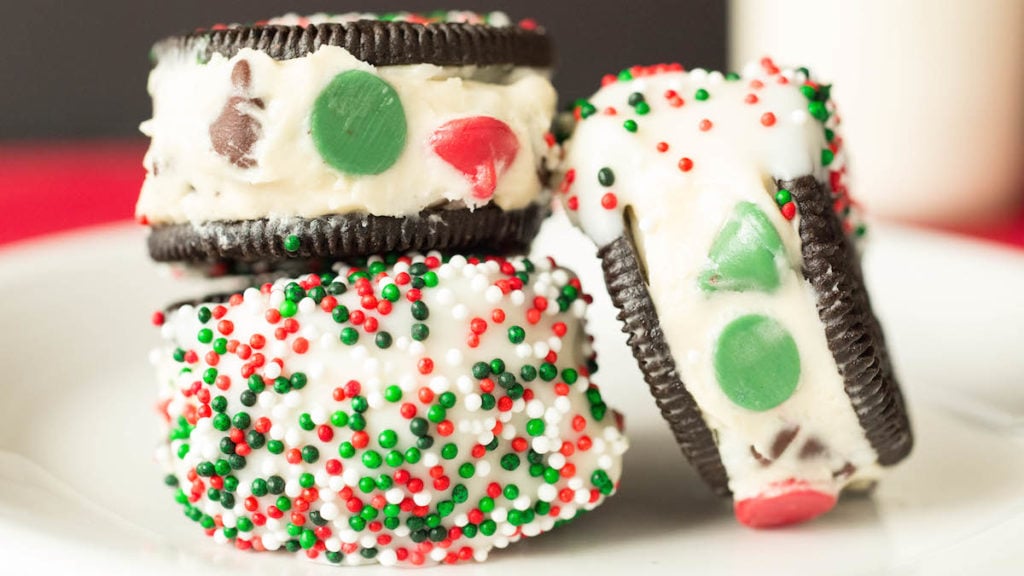 I'm rolling right along on the Christmas Sugar Express, how about you?
To keep that sugary train going, I made some insane Christmas cookie dough stuffed Oreos that are dipped in white chocolate and topped off with red & green sprinkles.
They'll have you feeling the Christmas spirit in no time.
They're also really simple to make and everyone I share them with always lights up with joy when they see them. "Are those cookie dough stuffed Oreos?!?!"
Yes, yes they are!
It's like they never thought these two amazing things could be smushed together into one, even more amazing thing.
Well guys, that's what Christmas is all about: a bunch of awesome things stuffed into one.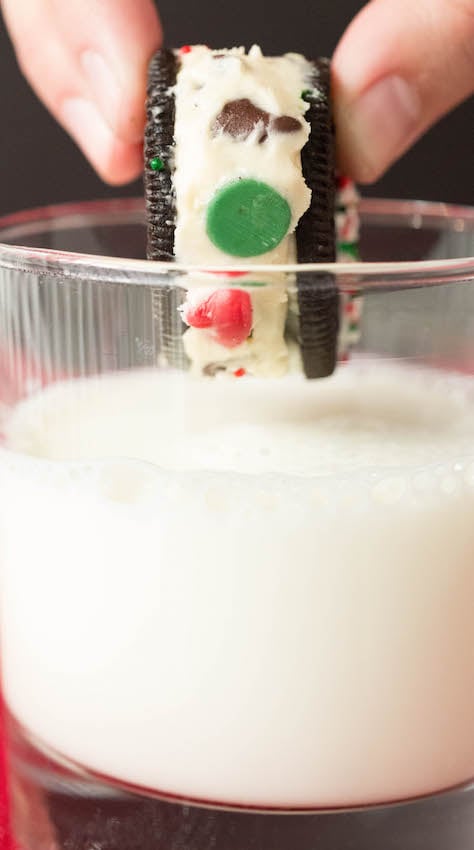 These cookie dough stuffed Oreos are great on their own, but they really sing after they've been soaked in some milk a minute or two.
If I had kids, I'd definitely have them make a batch & put them out for Santa.
Except Santa would never have the chance to eat them, 'cause I'd down 'em all as soon as the kids went to bed.
It'd be worth ending up on the naughty list over. 😉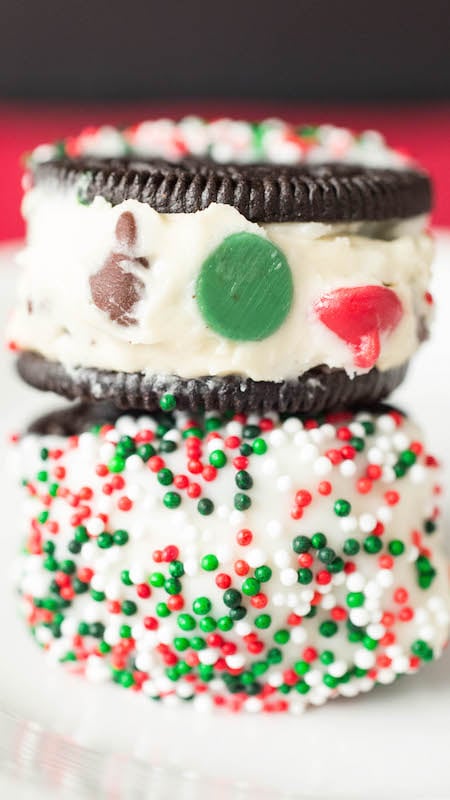 Related Recipes
Print
Cookie Dough Stuffed White Chocolate Christmas Oreos Recipe
Oreos stuffed with Christmas cookie dough, then dipped in chocolate and rolled in red, white, & green sprinkles. 
Author: Jessica Pinney
Prep Time: 15 mins
Total Time: 15 mins
Yield: 12 1x
Category: Dessert
Cuisine: American
Ingredients
1 Stick Unsalted Butter, room temperature
8 oz Cream Cheese, room temperature
1/3 Cup White Sugar
1/4 Cup Brown Sugar
1 1/2 Cups Holiday Chocolate Chips
1/2 tsp Vanilla
1/2 tsp Salt
Oreo Mega Stuf Chocolate Sandwich Cookies (13.2-Ounce Package)
White Melting Chocolate
Christmas Sprinkles
Instructions
Cream butter, cream cheese, both sugars, vanilla and salt together with either a stand or hand mixer. I usually do this for 3-5 minutes.
Add the holiday chocolate chips. Mix on low until just combined.
With a sharp pairing knife, slice the Oreos in half. I try to slice right down the middle of the stuffing and leave half on each side. If this doesn't go according to plan, just smear half of the cream on each side.
Place 1-2 tablespoons of the cookie dough on top of the cream on the bottom half of the cookie. Place the top cookie on and slightly press them together. Use an offset spatula to make it smooth and even around the cookie.
Melt the white melting chocolate in a microwave-safe bowl. I usually microwave it for 25 seconds, removing from microwave and stirring after each interval.
Once chocolate is completely melted, dip half of the Oreo in. Remove and gently shake to remove excess chocolate. Place on a cooling rack or pan with parchment paper.
Garnish with sprinkles and allow to cool.