Delicious homemade cookies and cream fudge! An easy dessert recipe that combines vanilla chocolate and Oreos. Can be made in the microwave.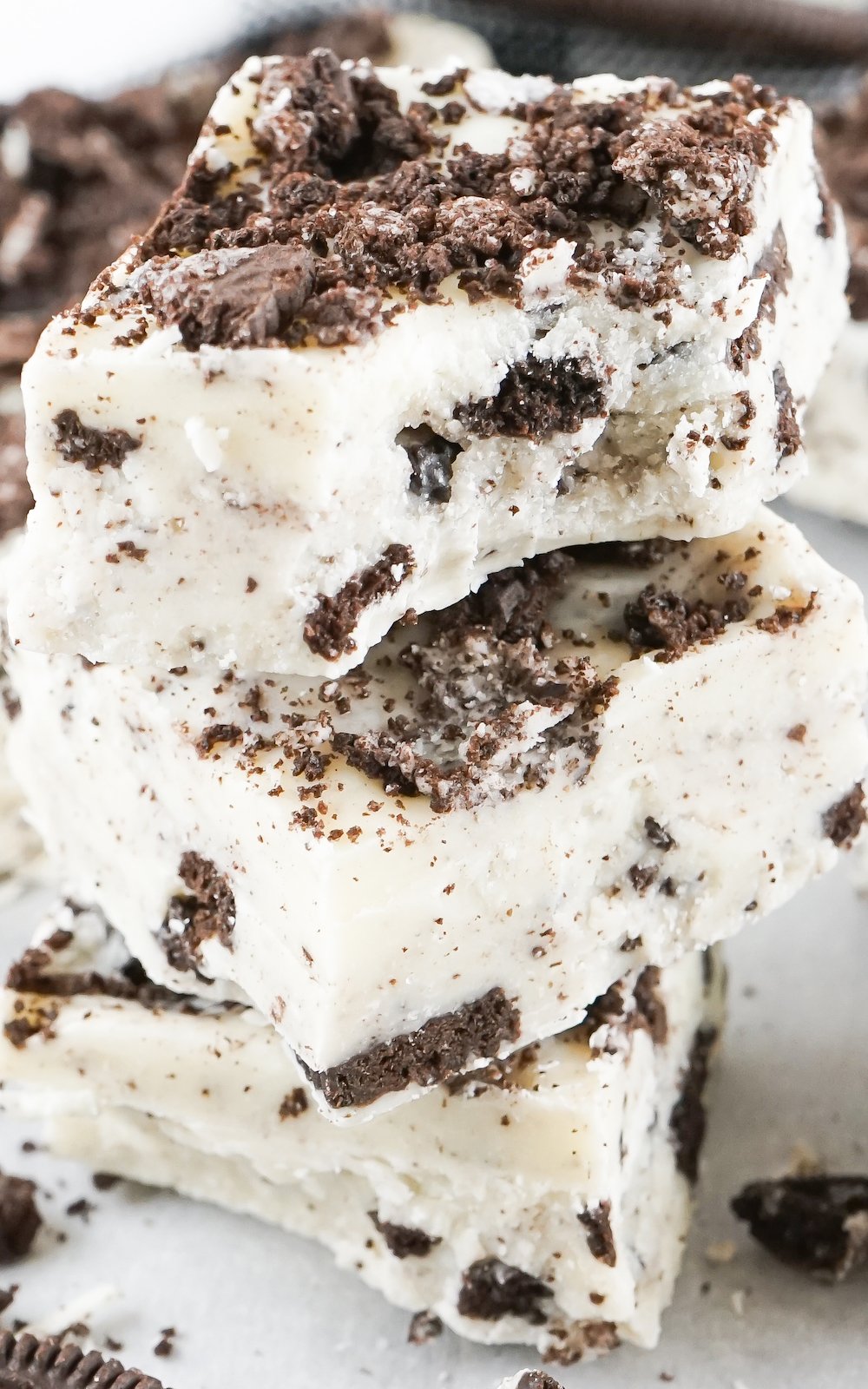 Cookies and cream is one of the most iconic American dessert flavors of all time. From milkshakes to candy bars, there's really no form of dessert that cookies & cream doesn't belong in.
Since I've been making a lot of fudge recently, I wanted to try my hands at a cookies and cream version of it. I have to say, it's one of my favorites so far! The best part? You only need three ingredients and you can make it in the microwave! I'm guessing you can see why this is my new "go-to" dessert recipe!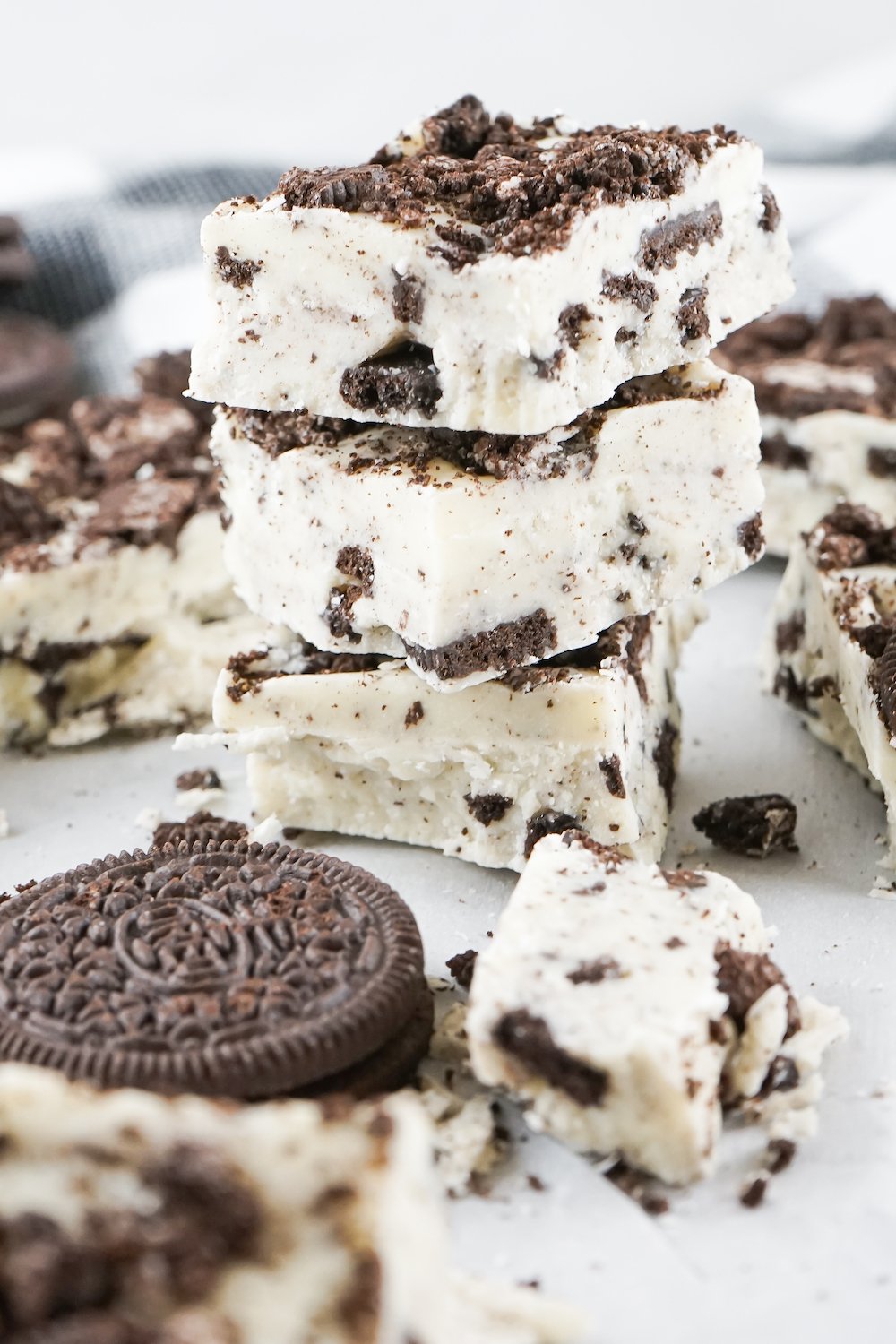 Ingredients
Vanilla Chocolate Chips – Use either vanilla chocolate chips or vanilla baking melts for the base of the fudge.
Oreos – I used regular ol' Oreos. Feel free to experiment with different cookies if you'd like.
Vanilla Frosting – You'll want to grab some store-bought vanilla frosting. I used Betty Crocker.
Tips
Let the fudge warm up to room temperature before cutting it. If you don't, it may crumble or make it break into strange shapes instead of the squares you desire.
This fudge is not the softer style fudge that gets gooey if left out of the fridge for too long. This fudge is specifically designed to withstand your holiday parties or to be transported as a gift without melting.
The thickness of the fudge is determined by what size pan you use. If you want thicker fudge, use a smaller pan. For thinner fudge, use a larger one.
You can easily double or even triple this recipe, just be sure to use a bigger pan.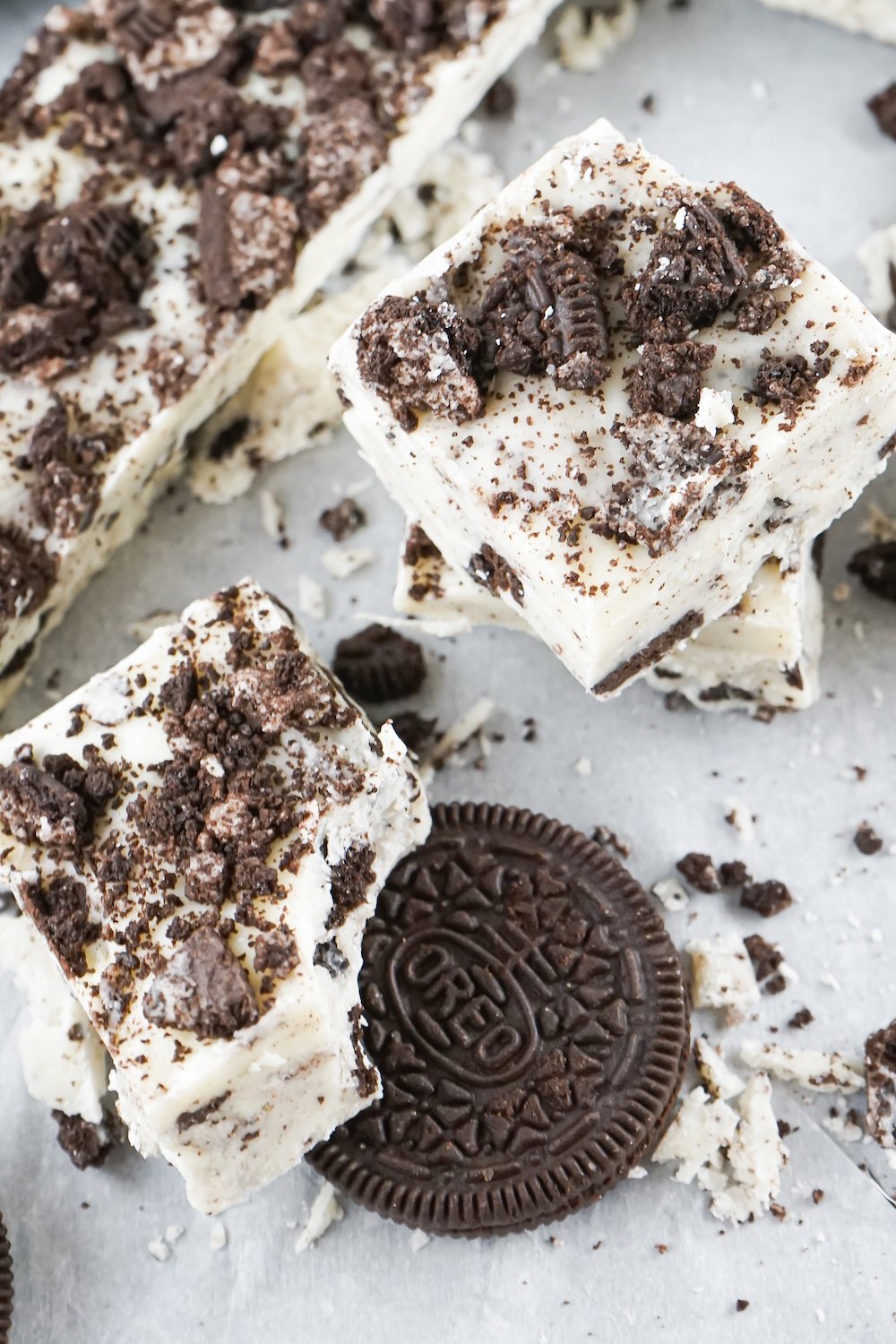 More Fudge Recipes
Other Easy Dessert Ideas
Print
Cookies and Cream Fudge
Homemade cookies & cream fudge is an easy microwavable dessert.
Author: Jessica Pinney
Prep Time: 5 minutes
Cook Time: 1 minute
Total Time: 6 minutes
Category: Dessert
Cuisine: American
Ingredients
12oz White Chocolate Chips
8 Oreos
6oz Vanilla Frosting
Instructions
Line a 1.5-quart square or rectangle dish with parchment paper.
Place the cookies inside a bag, seal it, and crush them with a rolling pin or wooden spoon.
In a medium, microwave safe bowl, combine the frosting and white chocolate chips.
Place in the microwave on high for 1 minute, then remove and stir until the chocolate mixture starts to stiffen (this should only take seconds).
Add half of the crushed cookies to the mixture and fold them in.
Pour the mixture into the prepared dish and spread evenly. Press lightly down on the mixture to pack it in.
Sprinkle the rest of the crushed cookies over the top. Press down again so the cookies are pushed a little bit into the mixture. This ensures they stick.
Place in the fridge for an hour or until solid.
Let warm up for a few minutes before chopping into squares. Enjoy!