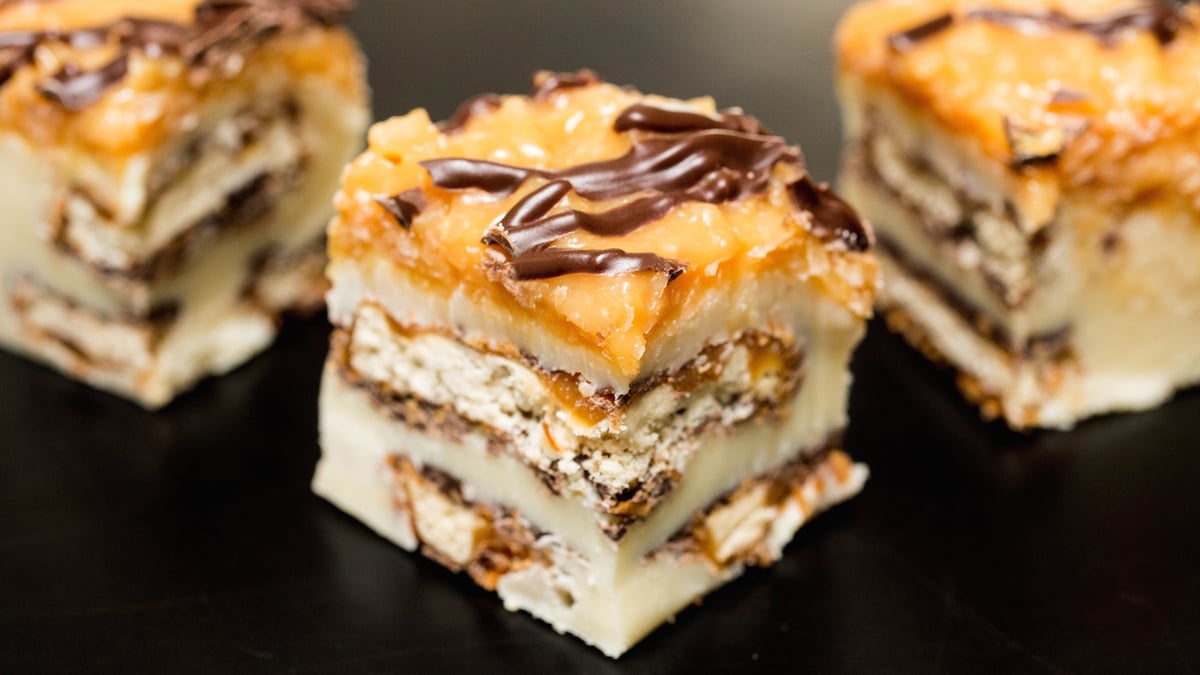 Everyone has an opinion about which girl scout cookie is best.
Some may say it is merely a matter of preference, that there can not be an actual "best" cookie, but I disagree.
There is no doubt in my mind that one Girl Scout cookie reigns supreme…and that cookie is Samoas. Depending on where you live, you may know them by another name, Caramel Delites.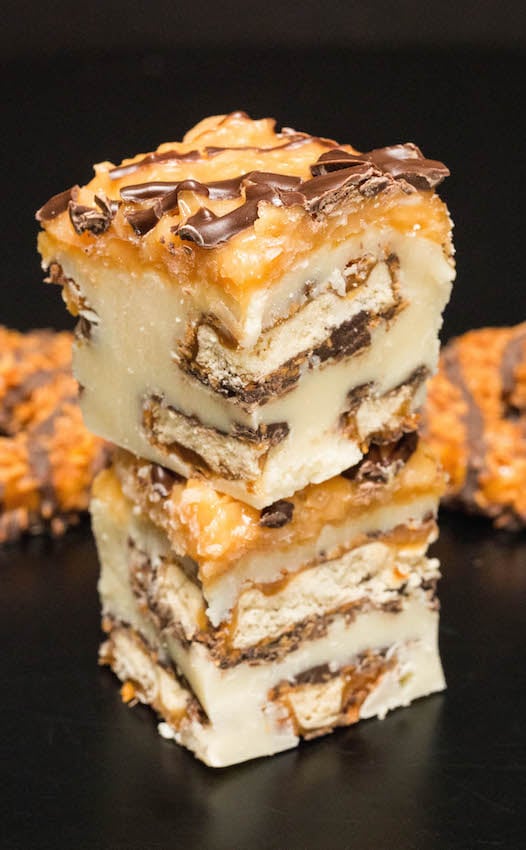 The sweetened coconut covered in caramel with the chocolate drizzle is one of my most favorite flavor combinations of all time.
They're so good I often have no self-control around them. I've definitely polished off a box over the course of a few days. I'm not proud of it, but admitting you have a problem is the first step. Right?
Well, this is one addiction I don't want to cure. In fact, I'm going to indulge it with this over the top Samoas Girl Scout Cookie Fudge Recipe.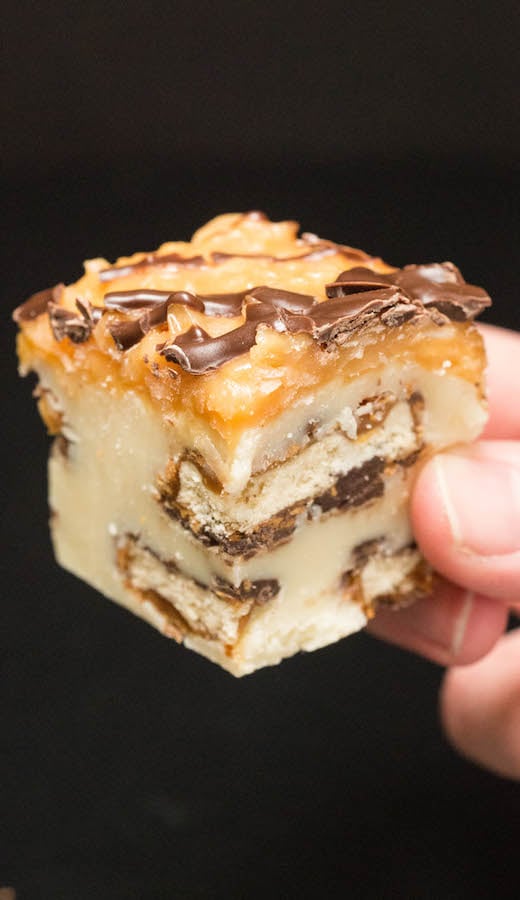 Creamy vanilla fudge is stuffed with whole Samoas cookies, then topped with a caramel coconut mixture, and drizzled with chocolate.
YASSSSS!
Talk about cheat day goals!
This post contains affiliate links (when you buy we make a little money at no cost to you). See our disclosure for more information.
Print
Samoa Girl Scout Cookie Fudge Recipe
This creamy vanilla fudge is stuffed with Samoas Girl Scout Cookies then topped with a layer of caramel covered coconut and drizzled with chocolate.
Author: Jessica Pinney
Prep Time: 4 hours 30 minutes
Cook Time: 15 minutes
Total Time: 4 hours 45 minutes
Yield: 20 1x
Category: Dessert
Cuisine: American
Ingredients
3 1/2 Cups White Chocolate Chips
1/2 tsp Vanilla
1 14oz Can of Sweetened Condensed Milk
18 Samoas Cookies (or Caramel Delites)
1 13 oz Bag Kraft Caramels
1 Cup Sweetened Coconut Flakes
1/4 Cup Chocolate, melted (I used Ghiradelli Dark Melting Wafers)
Instructions
Fill a saucepan about 3/4 of the way full with water. Place a glass mixing bowl over the top to create a double boiler. Make sure the water in the saucepan is not touching it. Allow the water to come to a simmer over medium heat. Add the white chocolate chips, sweetened condensed milk, and vanilla. Stir continuously until melted and smooth.
Line an 8×8 pan with parchment paper. Then place 9 of the Samoas cookies on the bottom. Pour half of the chocolate and condensed milk mixture over the top of the cookies. Gently spread with a spatula, careful not to disturb the cookies.
Place the other 9 cookies in a single layer on top of the previously poured fudge. Add the other half of the white chocolate and again, gently spread with a spatula.
Place in the refrigerator and chill for at least 45 minutes – until firm.
Unwrap caramels and place in a microwave-safe bowl. Add 1.5 Tablespoons of water and microwave in 30-second intervals, stir in between until smooth. Add the coconut and stir until well combined. Microwave another 30 seconds, stir, then spread over the top of the fudge.
Drizzle the melted chocolate over the coconut layer. Chill in the fridge 2-3 hours, until all layers are set.
Cut into small squares for serving. Store leftovers in an airtight container in either the refrigerator or at room temperature.
Adapted From Something Swanky