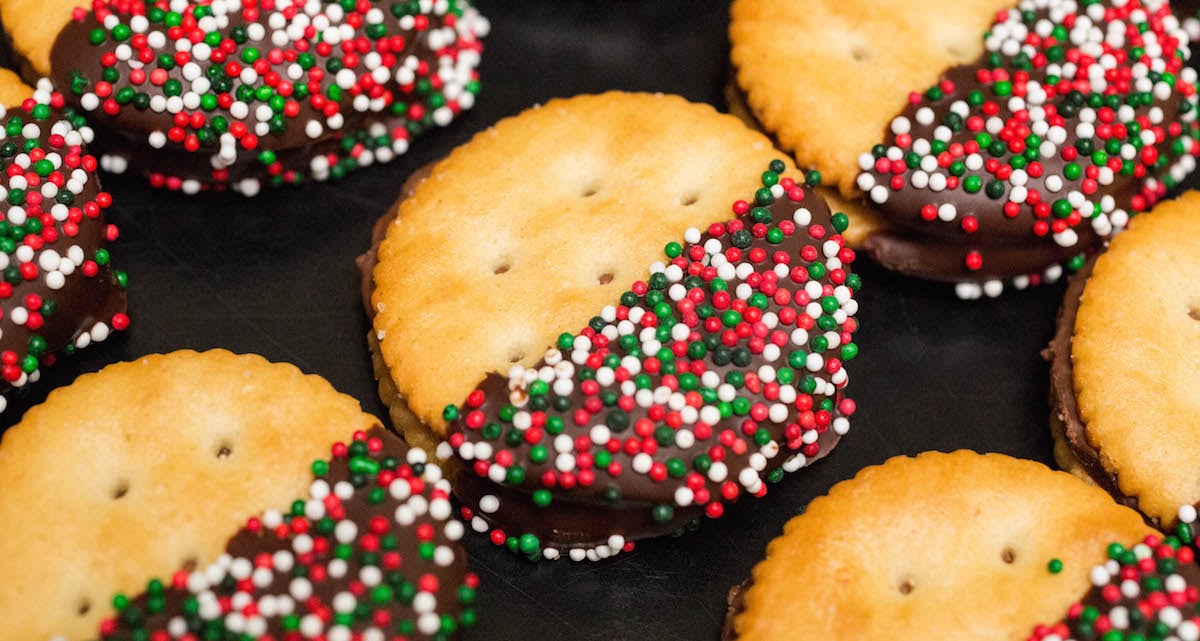 I come from a long line of very serious Christmas treat makers. My mom & Granny always started their holiday baking the first week of Christmas. Cookies, candies, fudge, fruitcake…it never seemed to end!
I don't make quite as many holiday goodies as them, but I do like to kick off December with a little something special. One of the treats I always looked forward to the most was my Granny's peanut butter filled and chocolate-dipped Ritz cracker sandwiches. It turns out Janette's mom also made them and it was one of her favorites too!
To put my own spin on that classic holiday treat, I decided to put Rolo candies in the middle. This is an amazing shortcut and I absolutely love the caramel pull you get when you bite into one of these delicious little guys.
Instead of dipping the entire cracker in chocolate, I only do half. I think this allows a little more of the saltiness of the cracker to come out which helps balance the sweetness. You are, of course, welcome to dip your entire cracker if you feel differently.
Obviously, you have to top it off with a few sprinkles. Sprinkles are candied Christmas cheer, don't 'cha know?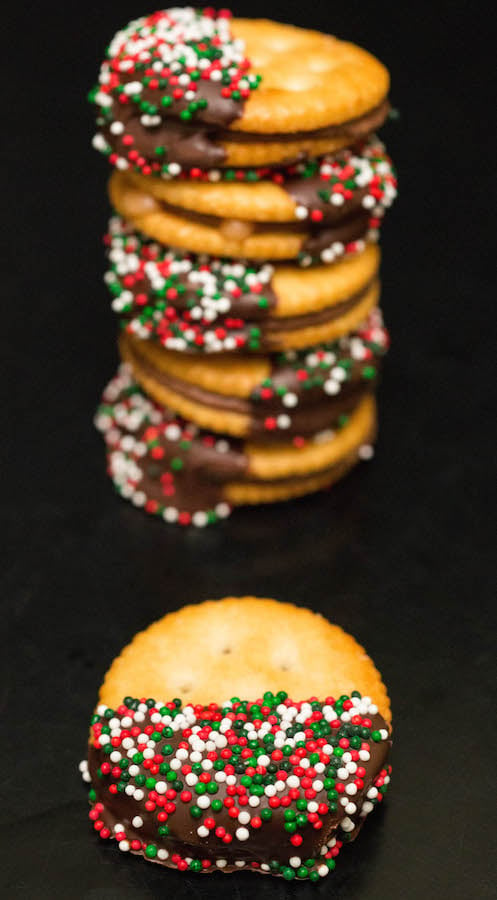 These are so easy to make! Literally anyone can make a batch of these in 15-20 minutes. They travel super well, so they are a great dessert choice for all those Christmas parties you have to go to!
All in all, I'd say these Rolo Ritz Christmas Crackers are a winner. I foresee these making the holiday treat rotation year after year.
What holiday goodies do you and your family like to make?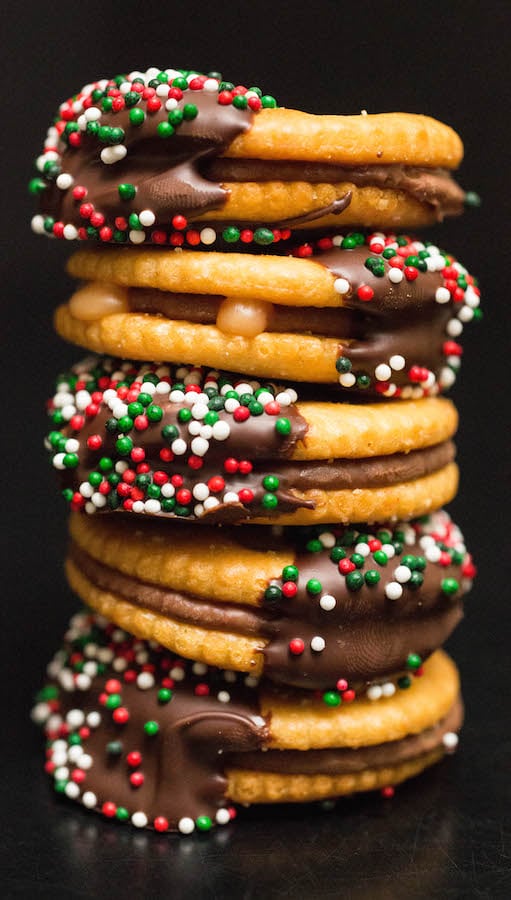 Print
Christmas Rolo Ritz Crackers Recipe
Salty Ritz crackers stuffed with sweet caramel rolos then dipped in chocolate and covered in Christmas sprinkles. 
Author: Jessica Pinney
Prep Time: 20
Cook Time: 5
Total Time: 25 minutes
Yield: 25 1x
Category: Dessert
Cuisine: American
Ingredients
50 Ritz Crackers
25 Rolos, unwrapped
8 ounces dipping chocolate (I used semi-sweet)
1/4 Cup Christmas Sprinkles
Instructions
Preheat oven to 350.
Place half of your Ritz crackers face down on a baking sheet. Place a Rolo on top of each cracker. Bake for 5 minutes until the Rolo's are soft, but not yet melted. Remove from oven.
Immediately top with the other crackers and very gently press down, so that the rolo spreads. Allow to cool.
Once cool, heat up 8 ounces of dipping chocolate. (My preferred method is putting it in a glass bowl, then microwaving in 30-second intervals, stirring in between until it is melted).
Dip each Ritz cracker sandwich halfway into the chocolate, gently shake to remove excess, then place on parchment paper. Immediately add the sprinkles, then allow to cool.
Store leftovers in an airtight container.