As we were about to decorate the Christmas tree this year, something seemed a little off. I quickly realized what it was – we needed a bit of holiday scent in the air to really get in the Christmas spirit!
I honestly have not seen or heard of potpourri in what seems like decades. Whenever I hear the word, visions of the '90s begin to dance around in my head. My mom always seemed to have a mini crockpot of it going back then.
As it turns out though, potpourri is alive and well and Christmas potpourri is a very real thing. Williams-Sonoma even sells pre-made bags of it that you can buy.
You're not going to need any of that though because we are going to make a super simple, incredibly amazing smelling homemade version. The most Christmas-Christmas scent that ever did fill your nose!
Christmas Potpourri Ingredients
Citrus
Cinnamon
Pine
Ginger
Apple
Cranberry
How To Make Christmas Potpourri
I simply put all of those things into a saucepan with some water, brought it to a boil, then allowed it to simmer on low. It made our time decorating the Christmas tree extra magical!
I haven't personally tested it, but you should also be able to put all these ingredients into a crock pot if you don't want to bother with the stove top.
All in all, I think this Christmas potpourri is a great way to add a little extra holiday spirit to your Christmas party, tree decorating or any other December day. It's certainly going to become a yearly tradition for us!
Print
Christmas Potpourri Recipe
Make your house smell like Christmas with this natural, DIY potpourri recipe.
Author: Jessica Pinney
Prep Time: 5 minutes
Cook Time: 4 hours
Total Time: 4 hours 5 minutes
Yield: 1 1x
Category: Christmas
Cuisine: American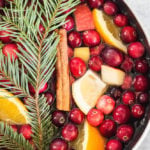 Ingredients
1/2 Orange, coarsely chopped
1/2 Lemon, coarsely chopped
1 Apple, coarsely chopped
1" Knuckle of ginger, sliced
1 Cup of Cranberries
3 Cinnamon Sticks
4 Cups Water
A few clippings from your Christmas tree
Instructions
Add all ingredients to a saucepan. Bring to a boil over high heat, then reduce to a simmer. Simmer on low heat for 4-6 hours for a continuous scent.
Notes
Alternatively, you can add all the ingredients to a crockpot on low for 4-6 hours. Stir occasionally.