Happy New Year!
Janette just flew back in from being home in Kentucky for Christmas, so we decided to have a low-key NYE at home like the old people we are.
We wanted to keep our menu very simple, yet classic. Caviar is a staple New Year's Eve food, so I knew I wanted to make some sort of dish with it.
My absolute favorite place to get caviar in LA is from Petrossian. They have a cafe and boutique at their West Hollywood location. Lunch at the cafe is one of my favorite ways to spend a lazy afternoon. It's the perfect place to have a special lunch date or bougie brunch.
Their menu is (obviously) loaded to the brim with caviar dishes. One of my favorites has always been the caviar fries. I decided it would be the perfect dish to recreate and munch on while we lounged on the couch watching movies. (If you're not Netflix & chillin' with caviar fries, GET ON MY LEVEL!)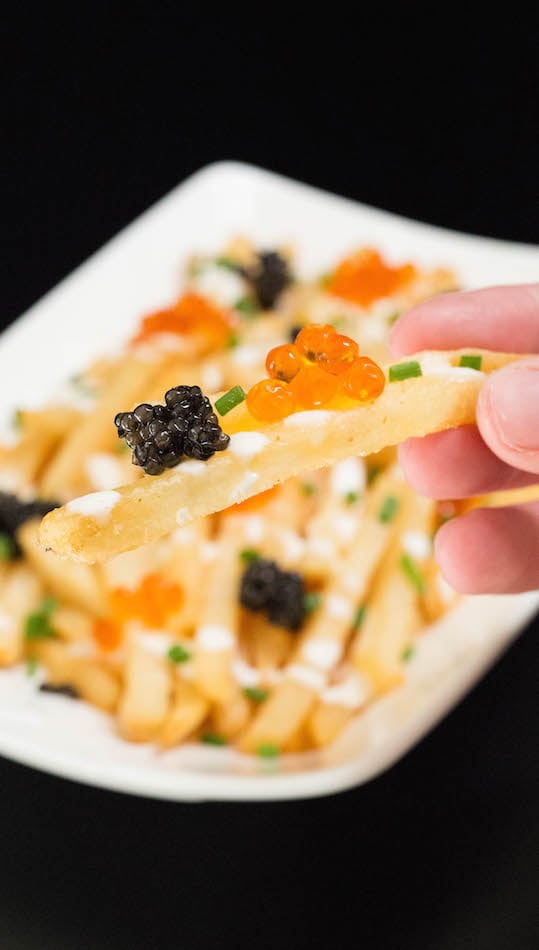 Want to know the best part of this dish? I used FROZEN fries. ? That's right, I put 20 grams of some of the finest caviar on frozen french fries…and you know what? It was INCREDIBLE and only took about 15 minutes to put together! Bougie with a side of lazy – that's truly Janica style!
For the fry sauce, I decided to make a lemon creme fraiche. I simply took some creme fraiche I purchased at the grocery store and whipped it together with fresh lemon juice. It is the perfect compliment to the salty seafood taste of the caviar and the savory fries. ?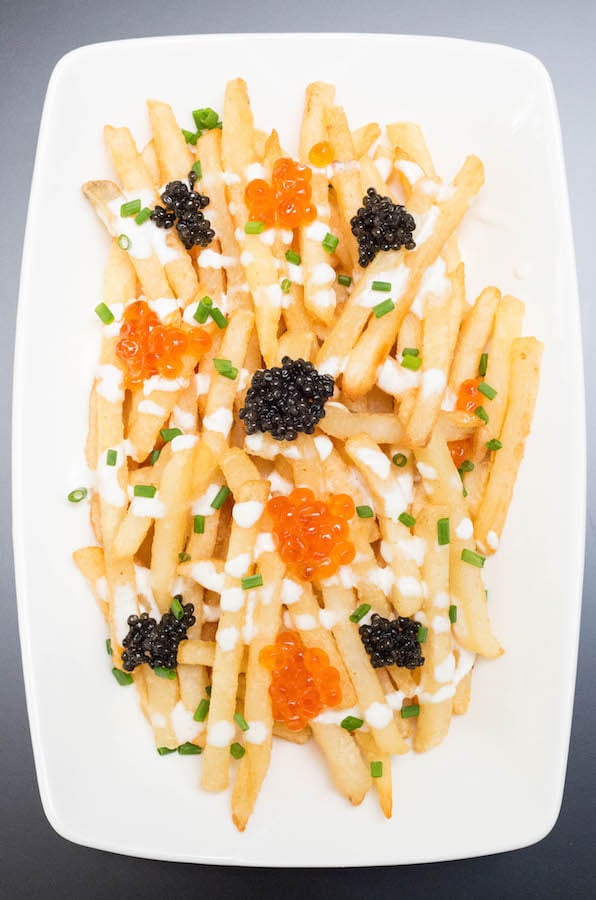 We had a great time snacking on these caviar fries and washing them down with a little champagne. It was a very fun way to ring in the New Year! Next time I need to make an impressive brunch dish, this is going to the top of my list.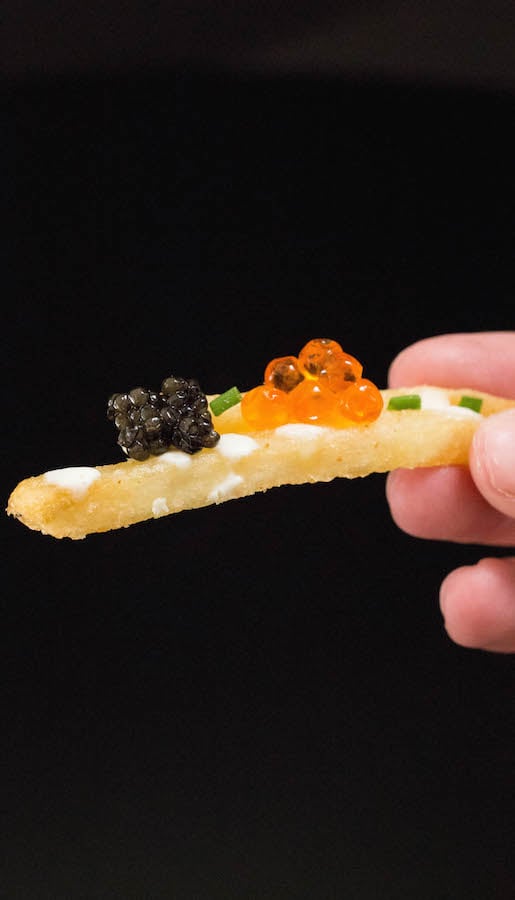 Print
Caviar French Fries Recipe
Caviar French Fries are what happens when bougie meets casual. A great choice for a New Year's Eve appetizer!
Author: Jessica Pinney
Prep Time: 10
Cook Time: 10
Total Time: 20 minutes
Yield: 4 1x
Category: Appetizer
Cuisine: American
Ingredients
20 Grams Royal Ossetra Caviar
20 Grams Salmon Roe
1 (26 oz) Bag Frozen Fast Food Fries
1/2 Cup Creme Fraiche
1/2 of a Lemon, juiced
Chives, sliced
Instructions
Preheat the oven and cook fries according to instructions on the bag.
While the fries are cooking, measure out creme fraiche and add the juice from 1/2 of a lemon. Mix together well with a fork. Set aside.
Once fries are cooked, move them to your serving plate. Drizzle with lemon creme fraiche, then distribute pods of caviar across the fries. Top with chives and serve immediately.