Ever since my obsession with hot sauce began, I've regularly had people asking me, "What are the best hot sauces?". Well, that's a loaded question! There are so many out on the market these days that choosing a new one to try can be overwhelming for even a seasoned hot sauce lover.
Luckily for all of you, I have volunteered myself and my taste buds for the cause. Over the past few years, I have been tasting every single hot sauce I could get my hands on.
Below, I've listed all my favorites. These are all hot sauces that I like so much that I've purchased multiple bottles and use them all on a regular basis. I literally have a lazy susan full of them on my kitchen counter.
I know there are still so many delicious hot sauces I haven't found yet. Do you have a favorite that isn't on this list? Shoot me a DM on Instagram and let me know what you think is the best hot sauce so I can try it!
This post contains affiliate links (when you buy we make a little money at no cost to you). See our disclosure for more information.
The Best Hot Sauces
1. Yellow Bird Habanero Condiment
Yellow Bird is my current favorite hot sauce. I'm especially partial to habanero, so it piqued my interest from the start. They call it a condiment because it is thicker than your typical hot sauce. The subtle hints of carrot and tangerine make it extra unique.

2. The Bronx Greenmarket Hot Sauce
This Bronx Greenmarket sauce is easily my favorite green hot sauce. Its wonderful heat comes from serrano peppers that are grown in community gardens across The Bronx. I put it on my eggs almost every morning. I'm also rather fond of it on burgers.

3. Secret Aardvark
If Tex-Mex and Carribean Hot Sauce made a beautiful baby, it would be Secret Aardvark. This hot sauce is made in Portland where it has a cult following. When dining out there, odds are pretty good that the restaurant will have a bottle on the table. I really like putting it on my pizza and tacos.
4. Crystal Hot Sauce
Crystal is my go-to "Louisiana style" hot sauce. It is a classic cayenne pepper & vinegar hot sauce that has a much better flavor than Tabasco. I use it in soups (especially gumbo), on wings, and anything else that needs that traditional hot sauce kick. It's a NOLA favorite for a reason!

5. Hot Ones – Los Calientes
Los Calientes by Hot Ones is a great medium-heat level hot sauce. It's packed with flavor and truly achieves the perfect balance of spicy/tangy/fruitiness. I just can't get enough of it on breakfast burritos and Mexican food!
6. Cholula Green Pepper Hot Sauce
Cholula Green is my favorite mild green hot sauce. It is perfect when you want a hint of heat with lots of tang. If you're just getting into hot sauces and can still only handle subtle heat, this is a great green pepper sauce to start with!
Buy Cholula Green Pepper Sauce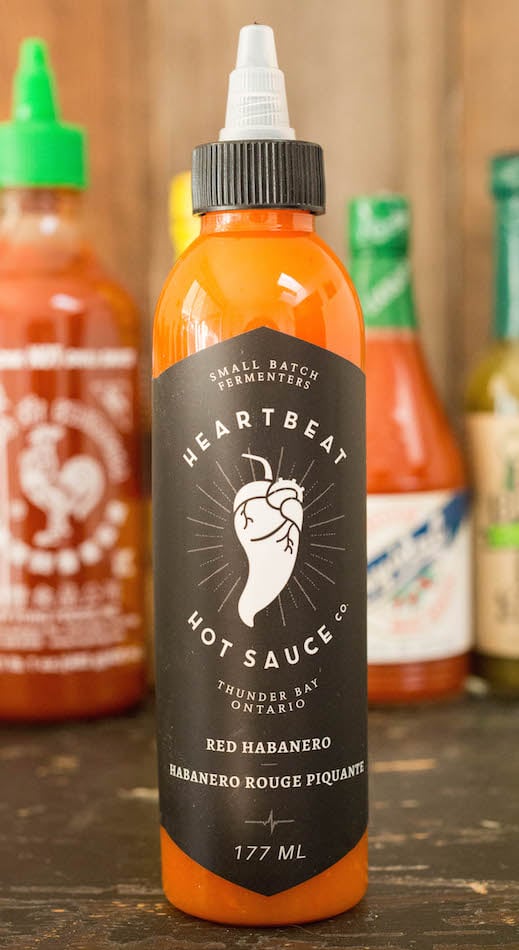 7. Heartbeat Hot Sauce
Heartbeat is made with bell peppers and fermented habaneros. It has a deeper savory flavor than most other habanero sauces. The hints of lime juice balance out the sweetness of the bell pepper and heat of the habaneros beautifully. I really enjoy this hot sauce in chili and on sandwiches (especially Philly Cheesesteak!).
8. Kill Sauce – Thai Hot Sauce
I picked up this little gem one day while I was chowing down at Smorgasburg LA. I sampled every hot sauce Kill Sauce had on hand. I loved them all, but this Thai sauce really stood out to me. It's exceptionally delicious on fish and french fries.
9. Queen Majesty – Jalapeno Tequila & Lime Hot Sauce
Once you try Queen Majesty's Jalapeno Tequila & Lime hot sauce on beef, you'll never go back! It is an incredible marinade for steak tacos! In addition to the other flavors, this hot sauce also has hints of green apple and garlic. Flavor overload!
Buy Jalapeno Tequila & Lime Hot Sauce
10. Hot Ones – The Last Dab Reduxx
This stuff is literally fire in a bottle. If you've ever seen the show Hot Ones (where they interview celebrities while they eat increasingly hot wings), you know that this is always the last sauce because it is the hottest. The tradition is to add one "last dab" to the final hot wing. Despite the incredible heat that just keeps building, The Last Dab has a delightful flavor!
Recipes That Use Hot Sauce: