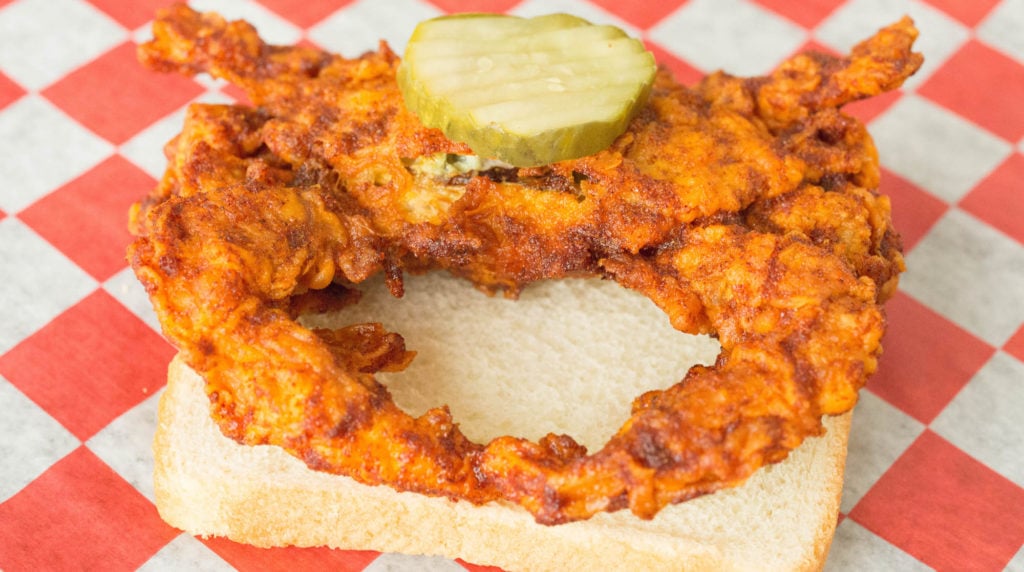 Have you tried Nashville Hot Chicken yet?
I got the chance to try it last year when I was following Janette around while she was shooting Food Network's "Guilty Pleasures". We had some Hattie B's in Nashville, it was delicious, but I may be biased because they hooked us all up with some pretty sweet baseball tees!
I'm a baby when it comes to spicy food, but Hatti B's Nashville Hot Chicken was sooo good I just kept stuffing my face through all the pain. Worth it!
I wanted to bring the "Nashville Hot" flavor to a fried food I'm rather fond of, soft-shell crab. Usually, when you see soft-shell crab it is fried in your standard batter and thrown on a sandwich. While it's good, there's not a lot of "oomph" there. Since Nashville Hot chicken has so much "oomph" that both ends of your body will hurt, it seemed like a perfect match.
I used Hattie B's hot chicken recipe as the basis of this Nashville Hot Soft-Shell Crab. It involves Louisiana style hot sauce (I used this one) and lots and lots of cayenne pepper for the spicy glaze.
This post contains affiliate links (when you buy we make a little money at no cost to you). See our disclosure for more information.
I served the Nashville Hot Crab with the traditional accouterments: white bread and dill pickles. It was so much more delicious than we expected and I plan on making this recipe at least one more time before soft-shell crab season ends!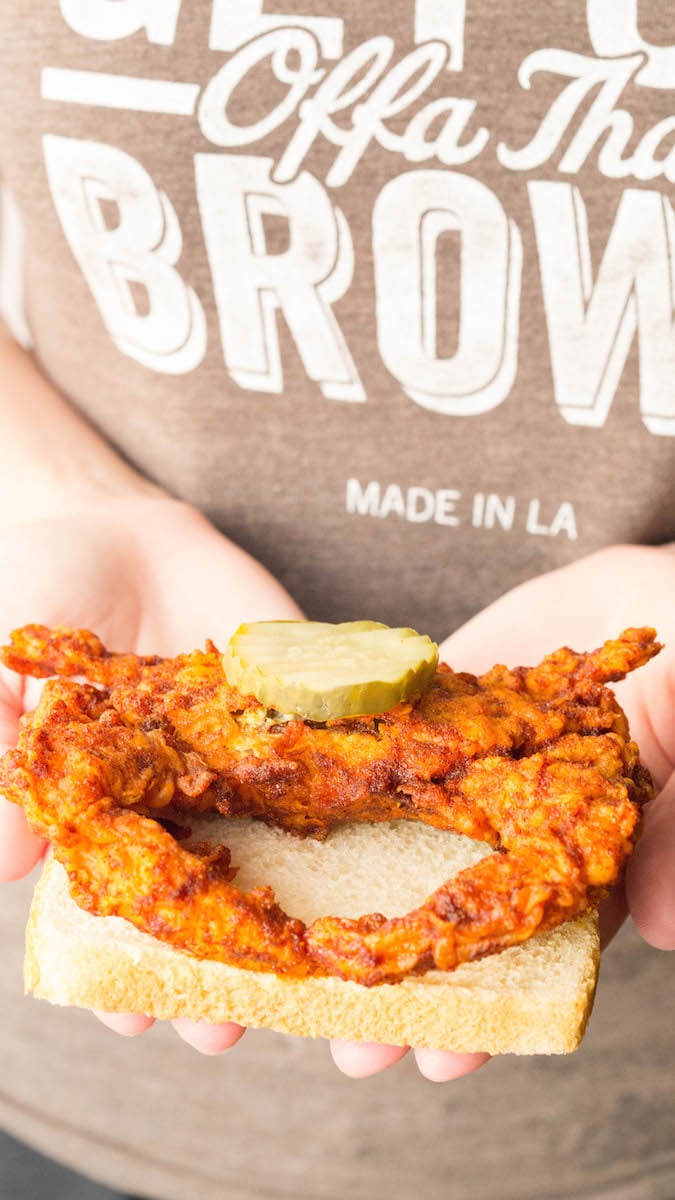 Print
Nashville Hot Soft-Shell Crab Recipe
Nashville Hot Soft-Shell Crab is a fun, seafood twist on the popular southern dish. Serve with white bread and pickles.
Author: Jessica Pinney
Prep Time: 15 mins
Cook Time: 12 mins
Total Time: 27 mins
Yield: 4 1x
Category: Seafood
Method: Fried
Cuisine: American
Ingredients
4 Soft-Shell Crabs, cleaned (they will usually do this where you purchase them if you ask)
3 Eggs
1/4 Cup Milk
1 Tablespoon Louisiana Style Hot Sauce
2 Cups Flour
2 Tsp Salt
Oil, for frying (I use Canola, Vegetable also works great)
1/2 Cup Lard (I used Butter Crisco), or Butter
3 Tablespoons Cayenne Pepper (Nashville Hot is really hot, if you want a milder version use 1 Tablespoon of Cayenne)
1 Tablespoon Brown Sugar
1/2 tsp Paprika
1/2 tsp Garlic Powder
4 Slices of White Bread
Dill Pickle Slices
Instructions
Preheat the oil in a deep fryer or a cast iron skillet (3 inches of oil if using skillet) to 360°.
In a medium bowl, whisk the milk eggs and hot sauce until combined. In another medium bowl, whisk together the flour and 2 tsp salt.
Rinse the crabs and then pat dry. Dredge the crab in the milk mixture, then dip in the flour. Dip again in the milk mixture, then in the flour once more. Be sure to shake off the excess after each step.
Fry the crabs in small batches. I do 1-2 at a time. Fry them until golden brown, about 2-3 minutes on each side. Remove from the fryer and place on a baking rack over a baking sheet.
To make the hot coating, melt the butter or Crisco in a heatproof bowl. Add the cayenne pepper, brown sugar, 3/4 tsp salt, 1 tsp black pepper, paprika, and garlic powder. Whisk together until well combined.
Baste the hot mixture over each side of the crabs. Garnish with pickles and white bread. Serve immediately.