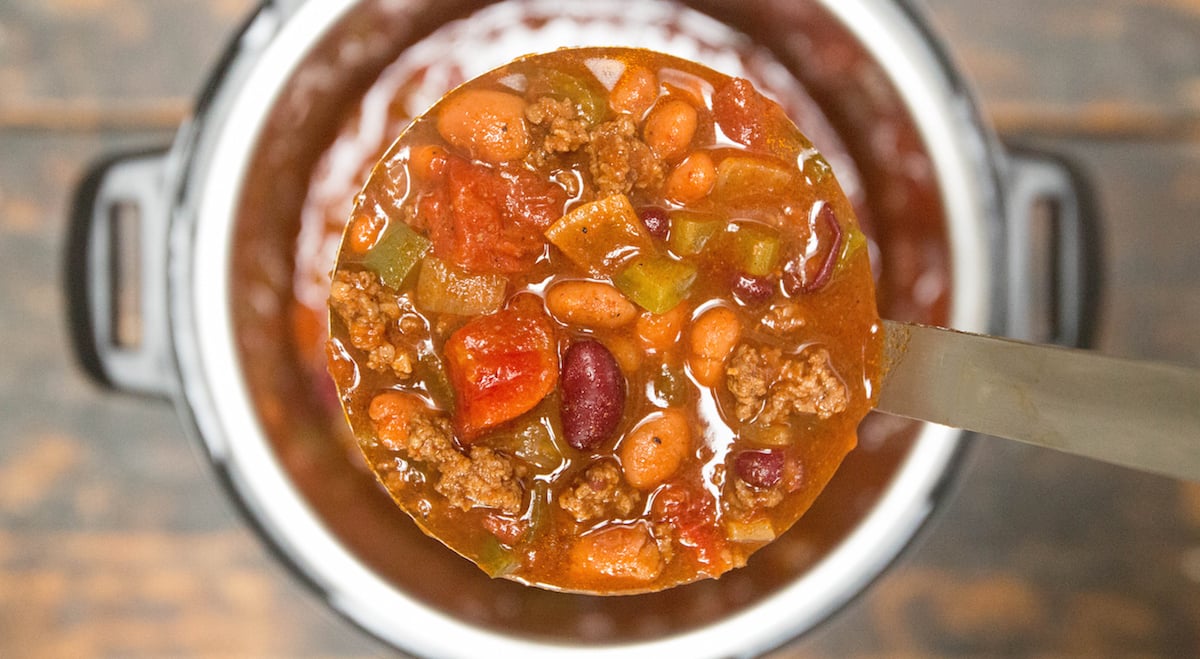 My Instant Pot has been my best friend allllll winter. I've been using it to make lots of soups, bone broths, and other dishes that help nourish my chilly soul. One of my absolute favorite new winter staple recipes to make is this Instant Pot Copycat Wendy's Chili.
This post contains affiliate links (when you buy we make a little money at no cost to you). See our disclosure for more information.
Wendy's arguably serves the most popular chili in the fast-food world. There's a reason it's a crowd-pleaser – it's pretty damn tasty without being too spicy.
Making it at home in the IP is the fastest and easiest way to whip up a batch. We like to make a pot of it at the beginning of the week, then portion the rest out to reheat for lunches. It's a great way to help keep the grocery budget down and save time.
The ingredients for copycat Wendy's chili are pretty standard and can be found at any grocery store. Wendy's actually uses leftover hamburgers in their chili, but I used lean ground beef in this homemade version.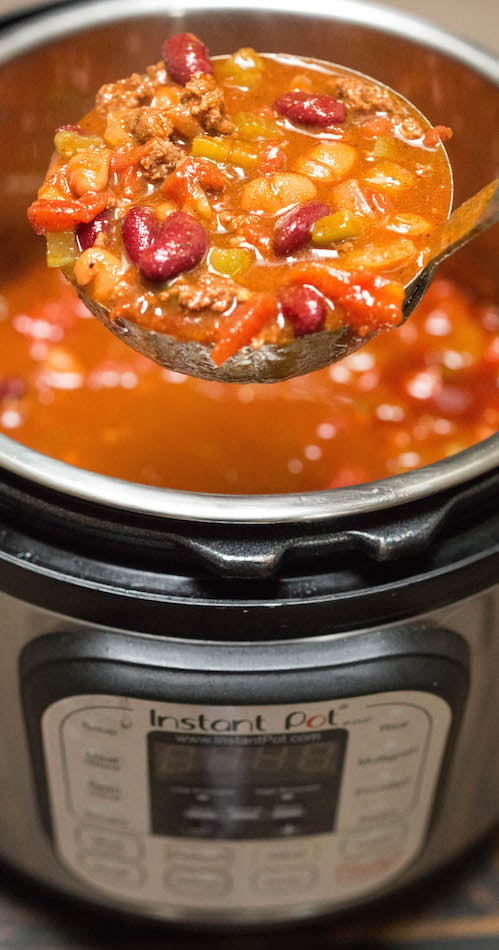 Ingredients
Lean Ground Beef
Tomato Sauce
Kidney Beans
Pinto Beans
Tomatoes
Onion
Jalapeno
Celery
Green Bell Pepper
Cumin
Chili Powder
Black Pepper
Salt
Butter
Cayenne Pepper
FAQs
Is Wendy's chili made from old burgers?
Yes, Wendy's makes their chili from burgers that were not sold. These patties are chopped up and then saved to use in the next batch of chili.
Can you freeze it?
Yes, you can freeze Wendy's chili. This copycat Wendy's chili can also be frozen.
Can you reheat it?
Yes, Wendy's chili can be reheated. You can easily reheat it in the microwave or on the stovetop.
Is it vegetarian?
No, Wendy's chili is not vegetarian. It is packed full of beef.
Is it dairy-free?
Wendy's does not include any dairy in their chili, however, if you have a dairy allergy it may not be safe to eat. They use grilled hamburger patties for the meat that could have been grilled next to a patty with cheese, so cross-contamination could be an issue.
Can you buy Wendy's chili by the gallon?
Wendy's does sell a family size chili which serves 5-6 people. If you need it by the gallon though, why not make this homemade version?

More Instant Pot Recipes
Other Copycat Recipes
Print
Instant Pot Wendy's Chili
Make copycat Wendy's Chili in the Instant Pot with this quick & easy recipe.
Author: Jessica Pinney
Prep Time: 15
Cook Time: 6
Total Time: 21 minutes
Yield: 5 1x
Category: Soup
Cuisine: American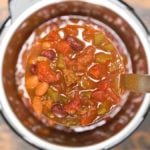 Ingredients
1lb Lean Ground Beef
15oz Can of Tomato Sauce
15oz Can of Kidney Beans
15oz Can of Pinto Beans
14.5oz Can of Diced Tomatoes
Yellow Onion, diced
1 Jalapeno, deseeded and diced
1 Stalk of Celery
1 Green Bell Pepper, diced
1/2 Tablespoon Cumin
1/8 Cup Chili Powder
1/2 Tsp Black Pepper
1 Tsp Salt
1/2 Cup Water
1/2 Tablespoon Butter
1/8 Tsp Cayenne Pepper
Instructions
Turn your Instant Pot to the high saute setting. Add the ground beef and saute until browned. (You can drain the grease if desired, but I do not when using lean ground beef.)
Add all of the remaining ingredients (do not drain the beans). Cook on High Pressure for 6 minutes. When the cooking is complete, you can perform a quick release. Serve warm.