I just got an Instant Pot and I'll tell you what, it was love at first dish!
I put off getting one forever because I didn't believe it could live up to all the hype. Boy, was I wrong!
It cooks things so incredibly fast and you don't sacrifice flavor! Seriously, I've made recipes that are supposed to slow cook for 6+ hours and done them in the Instant Pot in only 1! The meat came out super juicy and tender. Magic!
One of my favorite new things to make in the Instant Pot is Twice Baked Potato Casserole. This dish is already incredibly delicious, and the instant pot makes putting it together a breeze.
This post contains affiliate links (when you buy we make a little money at no cost to you). See our disclosure for more information.
I simply quarter red potatoes (leaving the peels on) and add them to the Instant Pot with water, peeled garlic, and a stick of butter. Then I cook them on high pressure for just 6 minutes.
After that, you can easily mash the potatoes with a potato masher or hand mixer. Then mix them with the wonderful cheese, chives, milk, and place in a pan to bake.
This is a great make-ahead holiday or potluck dish that can be prepped up to this point, then easily be finish in the oven when you arrive at your destination.
If you like to meal prep, it can also be easily put in the freezer at this stage. Just take it out and bake when you are ready to serve.
I've heard nothing but praise every single time I served this side dish. It's so easy that I truly believe anyone could make this crowd pleaser!
Other Instant Pot Recipes:
How To Make Twice Baked Potato Casserole In The Instant Pot
Print
Instant Pot Twice Baked Potato Casserole Recipe
Make twice baked casserole quick and easy with this Instant Pot side dish recipe.
Author: Jessica Pinney
Prep Time: 10
Cook Time: 26
Total Time: 36 minutes
Yield: 6-8 1x
Category: Side Dishes
Cuisine: American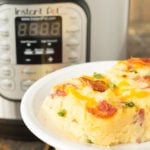 Ingredients
3 lbs Red Potatoes
1 Stick Butter
3/4 Cup Water
3 Cloves Garlic
1 Tsp Salt
1/2 Tsp Pepper
3/4 Cup Milk
3/4 Cup Sour Cream
8 pieces of bacon, cooked and chopped
Add more salt to taste (I usually add 1-2 tsp more)
1.5 Cups Shredded Cheese + 1/2 Cup for topping (I use a cheddar/Colby jack mix)
6 Green Onions, chopped
Instructions
Wash your potatoes then cut them into quarters.
Add the cut potatoes, butter, water, garlic, salt, and pepper to the Instant Pot.
Seal the lid and set to cook for 6 minutes on high pressure. (Make sure your knob is set to "sealing")
When the potatoes are done cooking, switch the steam to vent.
Once that is complete, open the pot and add the milk and sour cream. Mash with a potato masher or use a handheld mixer.
Add in the half the green onions, half the bacon and 1.5 cups of cheese. Use a spatula or spoon to combine well. (Add more salt & pepper to taste, if needed)
Place in a baking dish (I use an 8×8) top with the additional cheese, bacon and green onions. Bake at 350 F for 20 minutes.
Serve & enjoy immediately.