Classic cajun boiled peanuts with cajun seasoning, garlic, and hot peppers made quick & easy in the Instant Pot. The perfect tailgating snack!
I grew up in the South, not too far from a peanut farming community. Boiled peanuts practically had their own place in the food pyramid. They were sold at every child's sports game, in the mall, and even out of the back of pickup trucks on the side of the road.
I don't see them sold too often here in Southern California, so Janette and I usually take the opportunity to make our own, especially during football season! In the past, we would use our slow cooker (you may remember our Crock Pot Garlic & Onions Beer Boiled Peanuts), but we recently found out just how easy it is to make hard-boiled peanuts in the Instant Pot. I'll never make them another way again!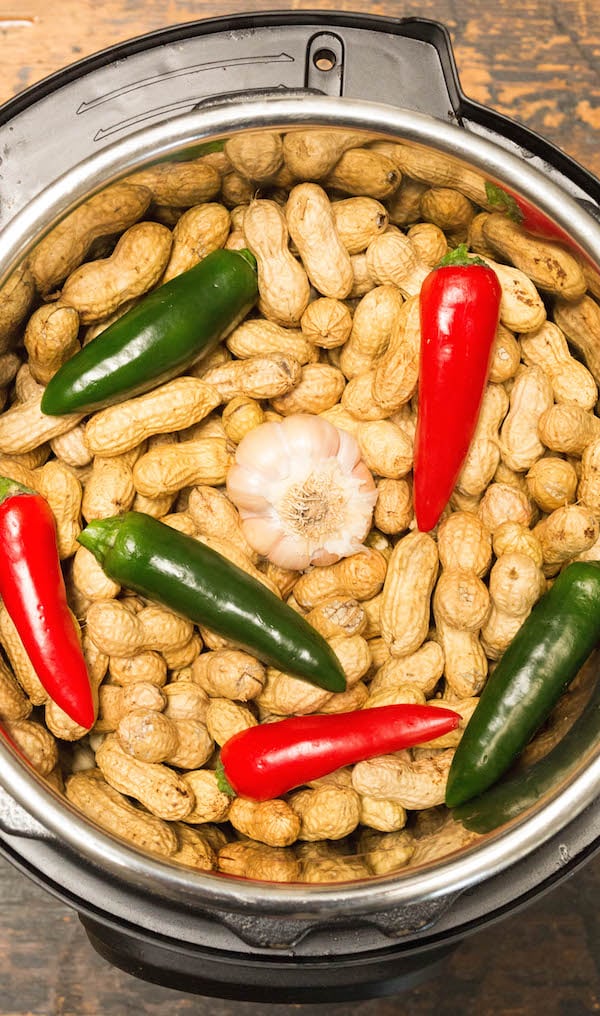 We like our boiled peanuts spicy, so I decided to make a classic cajun version. The peanuts are flavored with Zatarain's seasoning, spicy peppers, and garlic.
Ingredients:
Raw Peanuts in the shell
Zatarain's Crab Boil
Hot Peppers
Garlic
Salt
You can adjust the level of heat depending on which kind of pepper you use. Jalapeño = mild, cayenne = medium, habanero = hot.
Boiled peanuts are generally made with green peanuts – peanuts that have been freshly harvested from the ground. Those are usually only in season during the warm months and can mostly be found at farmer's markets and Asian grocery stores. I made this recipe using raw peanuts, which are available year-round and can even be ordered on Amazon. If you use green peanuts, reduce the cooking time by 20 minutes.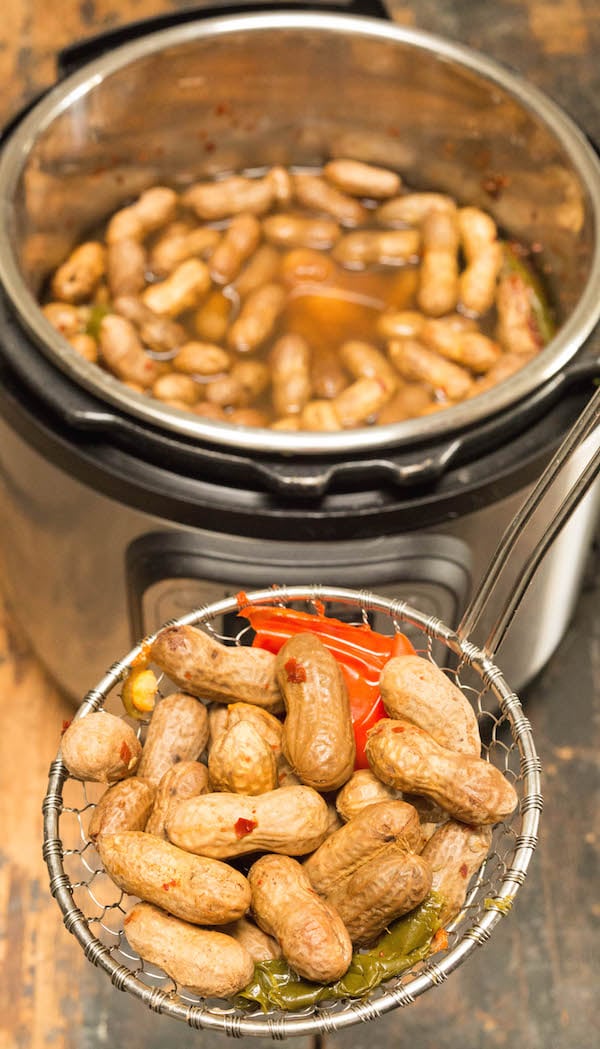 Other Instant Pot Recipes
More Snack Recipes
Print
Instant Pot Boiled Peanuts
Classic cajun boiled peanuts with garlic and hot peppers made quick & easy in the Instant Pot.
Author: Jessica Pinney
Prep Time: 30 minutes
Cook Time: 90 minutes
Total Time: 2 hours
Category: Snacks
Cuisine: American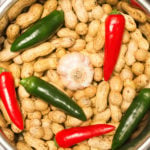 Instructions
Rinse peanut to remove any dirt or debris, then add to an Instant Pot (6 quart or 8 quart).
Add the Zatarain's, hot peppers, garlic, and salt. Add water until peanuts are covered & begin to rise slightly. Place Instant Pot trivet on top to help weigh peanuts down.
Cook on high pressure for 90 minutes. When peanuts have finished cooking, allow steam to naturally release.
Strain peanuts from the water and serve warm or room temperature.