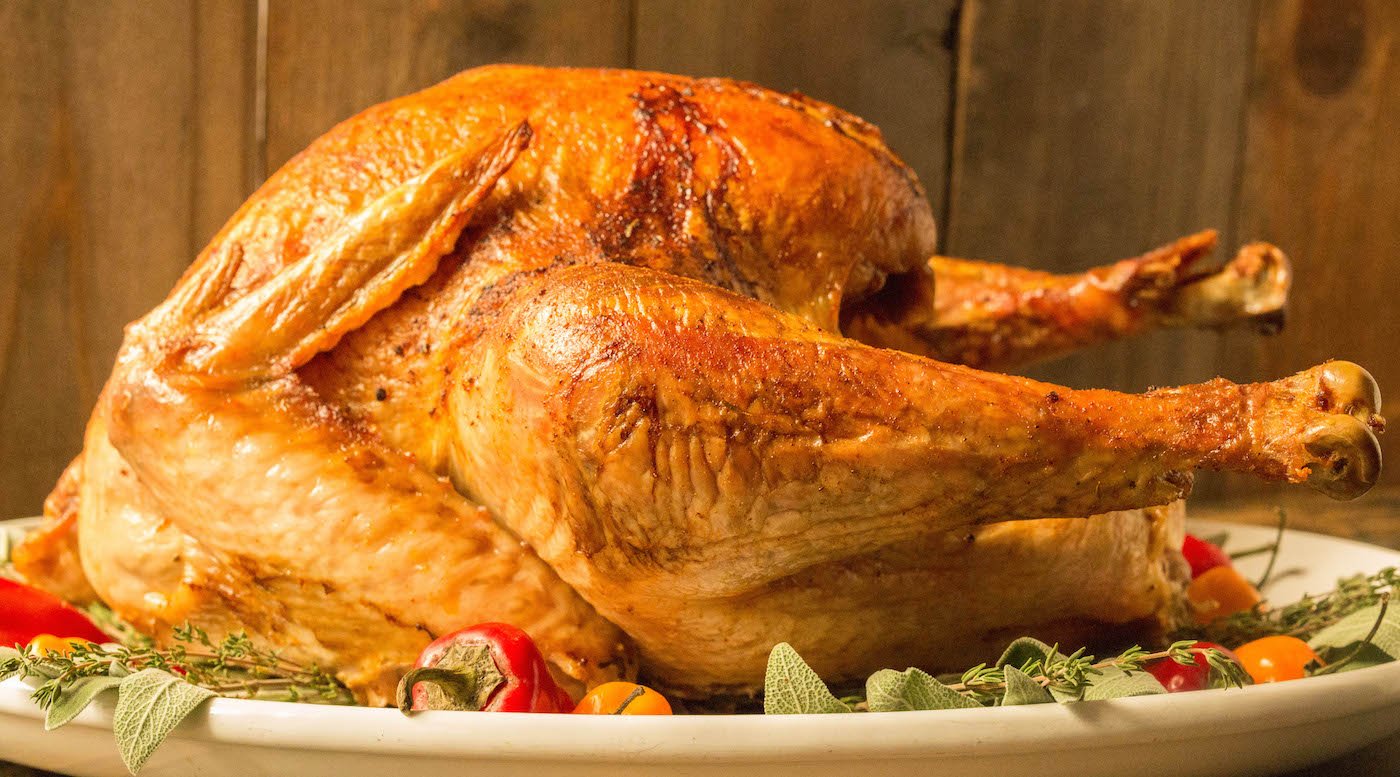 Hopefully, by now you know what Sriracha is. You may even have a friend so obsessed with it that they have a Sriracha shirt or carry a mini bottle of Sriracha on their keychain.
This hot sauce has such a cult following that it has even been incorporated into a beer. That's right, Rogue Ales, has a stout beer that they have infused with Sriracha. It may sound crazy, but it's really good.
This post contains affiliate links (when you buy we make a little money at no cost to you). See our disclosure for more information.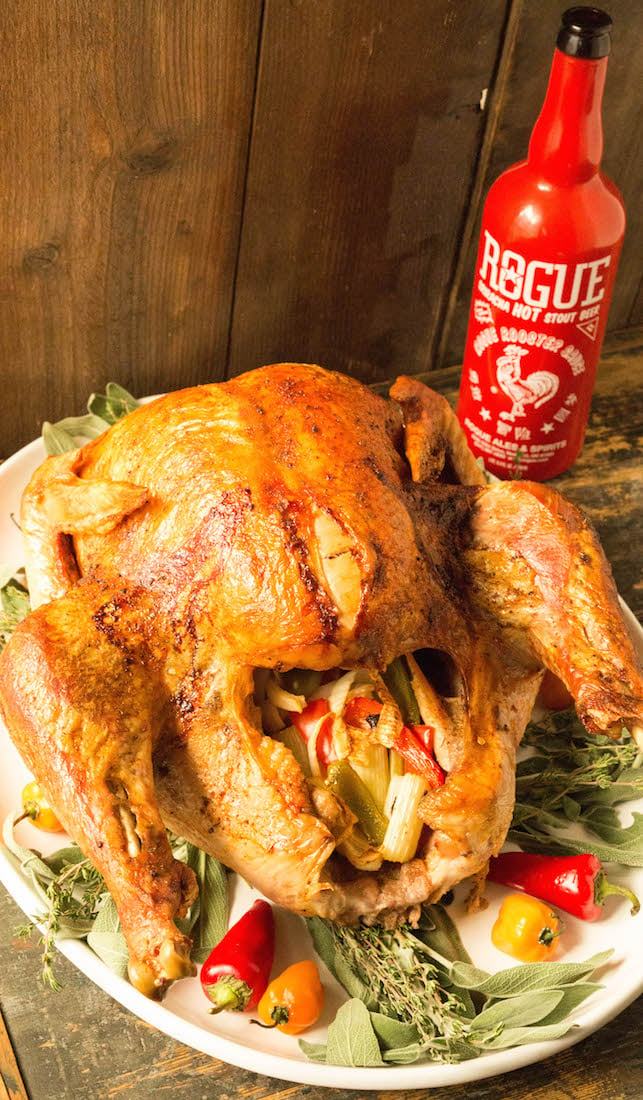 I knew I wanted to make a crazy Cajun turkey this year for Thanksgiving. I planned to inject it with a beer/seasoning mixture. When I was at the store and saw Rogue's Sriracha beer, I knew it was meant to be.
If you're intimidated at the thought of injecting a turkey, don't be. It's insanely easy, and you can buy a meat injector for about $7. Your bird will come out super juicy and burst with flavor. You and your family will be overjoyed you did it.
While this Cajun Turkey has some spice to it, I would not consider it "spicy." So don't be afraid to serve it if you have guests who don't normally eat spicy foods. If you want it to be extra hot, double or triple the amount of cayenne pepper and put an extra tablespoon of Sriracha in the injection marinade. If you can't find Sriracha beer, I would use another stout and double the amount of Sriracha.
If you want to make a Turkey that is sweet rather than hot, I would recommend my Sweet Tea Brined Turkey recipe.
I hope your family enjoys this Sriracha Beer Injected Cajun Turkey as much as we do. Right now my head is spinning just thinking of all the stuff I should do with the leftovers. Last year I made a
Thanksgiving pizza
, but I think I want to take it in a different direction this year. Maybe a crazy sandwich or pastry?
Does your family have any favorite Thanksgiving leftover recipes? If so, please let me know in the comments so I can try it out. I'm going to have a lot of leftovers.
Print
Sriracha Beer Injected Cajun Turkey Recipe
This flavorful and spicy turkey is injected with Sriracha beer then covered in cajun seasoning and roasted to perfection.
Author: Jessica Pinney
Prep Time: 20 mins
Cook Time: 120 mins
Total Time: 2 hours 20 mins
Yield: 6-8 1x
Category: Main Course
Cuisine: American
Ingredients
Turkey
12–16 lb Turkey
2 Green Bell Peppers, sliced
1 Red Bell Pepper, sliced
1 Large Onion, sliced
3–4 Stalks Celery, coarsely chopped
1/4 Cup Vegetable or Canola Oil
Cajun Spice Rub
1 Tablespoon Salt
1/2 Tablespoon Cayenne Pepper
1/2 Tablespoon Garlic Powder
1/2 Tablespoon Paprika
1/2 Tablespoon Onion Powder
1/4 Tablespoon Oregano
1/4 Tablespoon Thyme
1/4 Tablespoon Pepper
1/4 Tablespoon Chile Powder
Cajun Sriracha Beer Marinade
9 oz Bottle Rogue Sriracha Hot Stout
1 Tablespoon Garlic Powder
1 Tablespoons Worcestershire
1.5 Tablespoons Cajun Spice Rub
1 Tablespoon Sriracha
1 Tablespoon Salt
Instructions
Cajun Spice Rub
To make the cajun spice rub, mix all ingredients together in a small bowl.
Cajun Sriracha Beer Marinade
Mix all ingredients together in a small bowl.
Turkey
One hour before roasting, remove turkey from the refrigerator.
Place turkey on a rack in a roasting pan.
Fill up your meat injector with the Sriracha beer marinade. Inject the turkey all over. I usually inject each breast, each leg, each wing, each thigh, and both sides of the back of the turkey.
Pat dry with paper towels. This is important if you want crispy skin. (And what kind of a psycho doesn't want crispy skin??)
Sprinkle with the cajun spice rub. Massage into the skin.
Brush all over with oil.
Fill cavity with the bell peppers, celery, and onion. Place additional veggies around the turkey in the roasting pan.
Cook 2-3 hours, basting occasionally. Turkey is done when the thickest part of the breast is 165°.
Remove from oven and let rest for 20 minutes until carving.