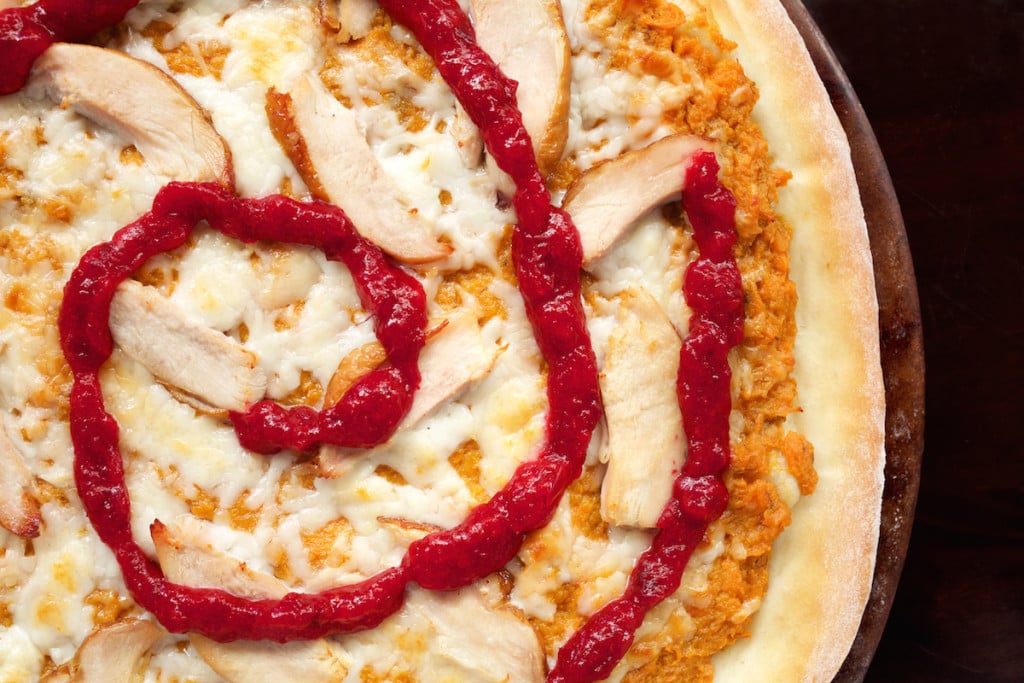 One of the most crucial questions during the holidays season is "what to do with all those Thanksgiving leftovers?" I had been pondering this myself for a few weeks and thought I would make some sort of waffle sandwich. Then, late one night, the kind of great idea that you only get after drinking a bottle of wine came to me: "Thanksgiving leftovers pizza"!
We take pizza pretty seriously at our house. We have a standing pizza night and usually get something from our neighborhood pizzeria, Milo & Olive. They do some amazing seasonal pizzas (right now they have butternut squash & caramelized onions, swoon!), and they inspired me to run with this crazy idea.
Because I was using sweet potatoes for the base, I knew I would have to be careful about the cheese. It would have to be something that would blend well…nothing too savory. I chose to go with one of my favorite cheeses of all time, The Drunken Goat. The Drunken Goat is a semi-soft goat cheese that is cured in red wine. Slightly tangy, creamy…..I refuse to believe that any other cheese could bring the ingredients of this pizza together in such beautiful harmony!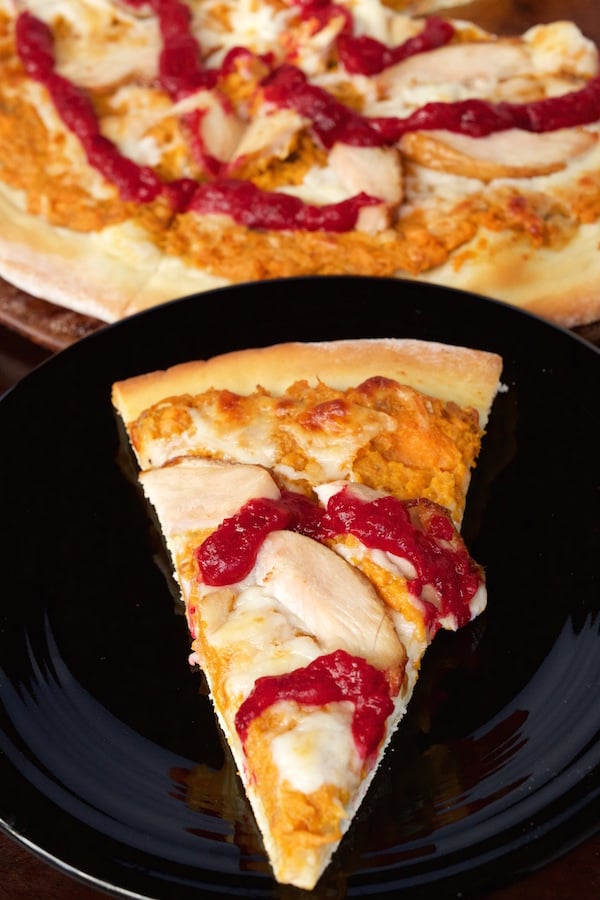 Feel free to make your own variations on this pizza. Instead of sweet potatoes, you could go more savory and use mashed potatoes and some cheddar cheese for the base. If you shake things up, I would love to hear about how it went in the comments! I could talk pizza all night…
Print
Thanksgiving Leftovers Pizza Recipe
Put all your Thanksgiving leftovers to work in this delicious pizza with a cranberry sauce swirl.
Author: Jessica Pinney
Prep Time: 70 minutes
Cook Time: 10 minutes
Total Time: 1 hour 20 minutes
Category: Pizza
Cuisine: American
Ingredients
Crust: (yields 2 pizza rounds)
1 ½ cups warm water
2 ½ tsp active dry yeast
1 tsp sugar
2 tsp salt
2 tbsp olive oil
4 cups bread flour
Toppings:
Instructions
In the bowl of a stand mixer, combine the water, yeast, sugar, salt, and olive oil. Let sit for 10 min.
With dough hook attached, add in flour and mix on low. Once mixed thoroughly, increase speed to high and knead the dough for 10 min., until the dough pulls away from the sides of the bowl and forms a ball on the hook.
Place the dough in a bowl and coat in olive oil. Cover and place in a warm place to rise for about an hour. It should double in size.
After the hour, punch the dough down and divide in half. If you aren't making two pizzas, refrigerate one ball to use within a few days or freeze it for a month.
If you have a pizza stone, place it in the oven and preheat to 500 degrees. Once it reaches temperature, keep it on for 30 min before putting the pizza inside.
Pat or roll out the dough on a well-floured surface into about an 8in round. Then, stretch it out over your knuckles, trying to keep it round, until it reaches a 14in diameter (this can take a bit of time. The dough is very elastic and easy to get holes in it, but I just took dough from the crust and mended them).
Remove your pizza stone from the oven. Place dough on top.
Using a spatula, spread a thing layer of sweet potatoes evenly across the top of the dough. Leave a little room around the edges for crust to form.
Top with shredded Drunken Goat cheese. Evenly distributed sliced turkey across the top.
Place in oven and bake until cheese is melted and crust is a golden brown, 10-15 minutes.
While pizza is cooking, take the Holiday Cranberry Compote and purée in a blender or food processor. Place in a ziploc bag.
When pizza is ready, remove from oven. Cut the tip of the end of the ziploc bag and squeeze the cranberry sauce into any design desired on the top of the pizza.
Cut and serve immediately. Or put in an airtight container and store in the fridge, leftover leftover pizza!