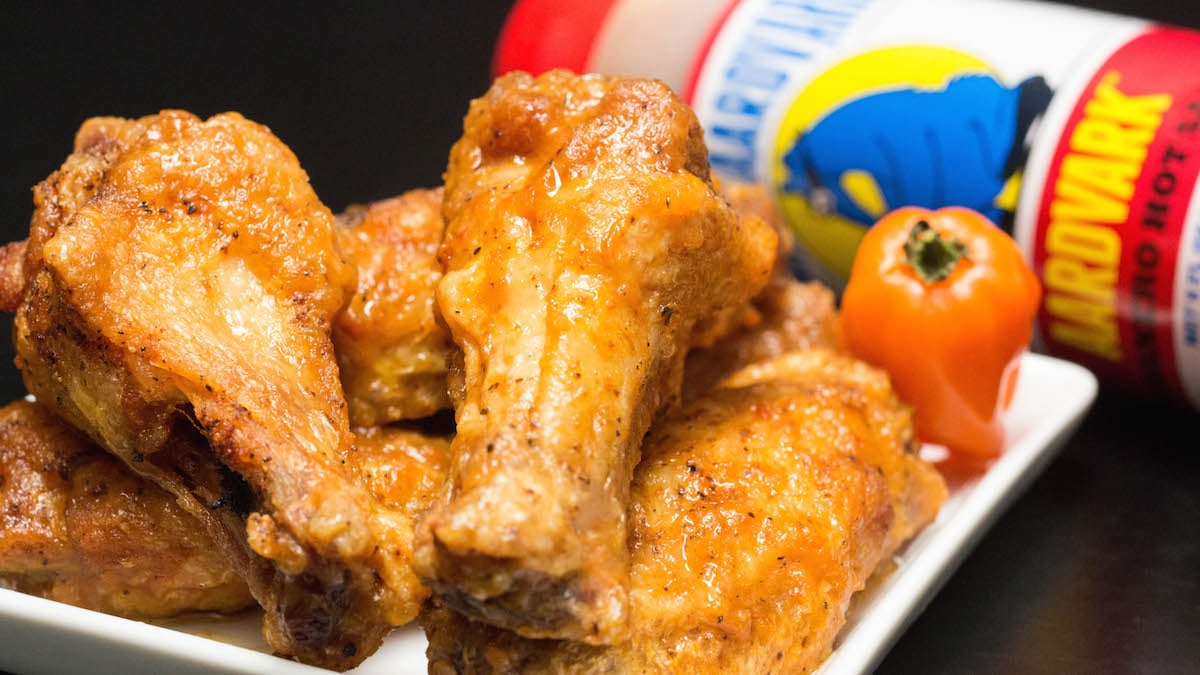 My little brother, who is not so little anymore (he's 26 and at least 7 feet taller than me), lived with Janette and I for a few months at the end of last year. He wanted to check out what life in LA is all about and eat at some of the delicious places I'm always putting on the 'gram.
In exchange for taking him out to decadent meals of veal brains and Korean BBQ french dip sandwiches, he expanded my horizons when it comes to hot sauce. He's a big fan of the YouTube show Hot Ones….you know the show with "hot questions and even hotter wings"???
If you haven't seen it you should definitely check it out. The host interviews celebrities while they eat increasingly hotter wings. It's incredibly fun to watch, especially when the guests didn't really know what they got themselves into and have no tolerance for spicy food.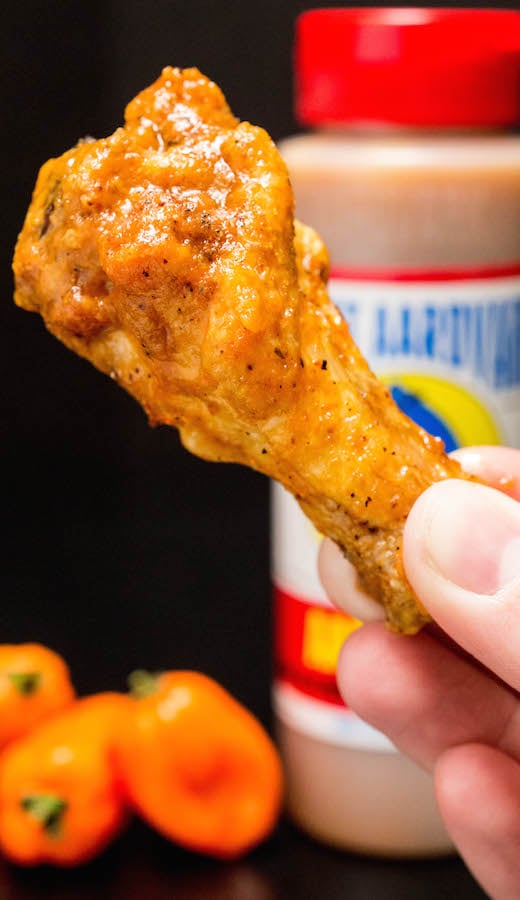 Watching the show really got me wanting to try some of the hot sauces on my own chicken wings. Daniel highly recommended Secret Aardvark and I a trusted him. Boy, am I glad I did!
This post contains affiliate links (when you buy we make a little money at no cost to you). See our disclosure for more information.
Secret Aardvark has quite the cult following, particularly in Portland, where it can be found on most restaurant tables. It's not uncommon for some fanatics to use an entire bottle on a large pizza. Personally, I like to cover my morning scrambled eggs with it.
It's a habanero & tomato based hot sauce that delivers what I would consider a slow heat. When you first bite, you get a good taste of the flavor, then the heat gradually creeps up on you.
I'm serving up several dozen of these for the Super Bowl. I don't even know who is playing, but I can't wait to share these Secret Aardvark wings with all my friends!
Print
Secret Aardvark Chicken Wings Recipe
Make Secret Aardvark chicken wings at home just like on Hot Ones! Spicy habanero hot sauce on crispy fried chicken wings.
Author: Jessica Pinney
Prep Time: 10 minutes
Cook Time: 11 minutes
Total Time: 21 minutes
Yield: 2 1x
Category: Appetizer
Cuisine: American
Ingredients
1 lb Chicken Wings
1/2 Tsp Salt
1/4 Tsp Black Pepper
1/4 Tsp Garlic Powder
3 Tablespoons Butter
1/3 Cup Secret Aardvark
Oil, for frying
Instructions
Heat oil to 375 degrees F in your deep fryer or a cast iron skillet.
In a small bowl, mix the salt, black pepper, and garlic powder together.
Place chicken wings on a baking sheet and dab with a paper towel so the skin is dry.
Sprinkle the spice mix on the wings.
When the oil is ready, carefully add the chicken wings and fry for 11 minutes, turning at least once.
Mix the Secret Aardvark and butter together.
Place chicken wings in a large bowl, then drizzle and toss with the hot sauce mixture.
Serve immediately and enjoy!