What is Smorgasburg?
Imagine a farmer's market, except instead of selling organic fruits and veggies, all the vendors are slinging food porn.
It is seriously one of the most instagrammable (totally a word) places you can visit.
I am regularly in attendance and wanted to share some of my favorite dishes.
POPDUP+ Soda

POPDUP is a local premium syrup & beverage company.
They make awesome artisan soda & teas. The one pictured here is a lychee butterfly pea soda. It was equal parts beautiful and delicious!
The best $8 soda I've ever had…
Bubble Waffle Desserts from Yellow Business
If you haven't had a bubble waffle, you need to add it to your "to eat list" right now!
These bubble egg waffles are popular in Hong Kong, where they are generally served plain.
Yellow Business takes bubble waffles to the next level with a multitude of desserts. My two personal favorites are the S'mores (pictured above), and the Green Tea Ice Cream Sundae (below).
Korean Fried Turkey Leg from Bukchae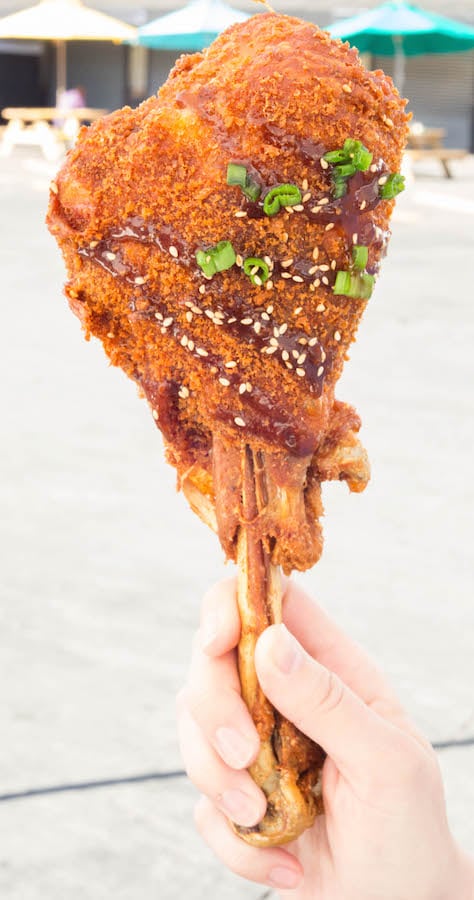 Turkey legs are flipping awesome.
I've always loved getting them at Disney and the Ren Faire, but I never thought of how to make them better.
Thankfully, Bukchae did.
Their deep fried Turkey leg is served dakgangjeong style, like Korean wings. Genius!
Hawaiian Shrimp Pineapple Boat from Shrimp Daddy

Everyone was excited when LA's Instagram queen, Stir and Style, announced she was opening a booth at Smorgasburg.
Sometimes great expectation comes with great disappointment, but Shrimp Daddy delivered above and beyond! I love how the shrimp is just bursting with buttery garlic flavor. I dare say it's better than some I've eaten right on the North Shore…
And if I were giving out awards, I would definitely have to give the shrimp pineapple boat "most 'grammable'" dish at Smorgasburg.
The Ramen Burger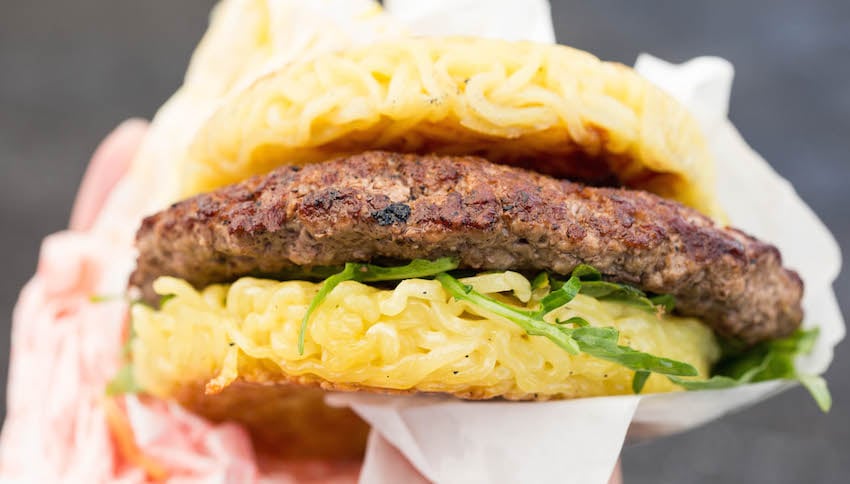 I feel like I've heard of the Ramen Burger for years, but never saw one in the wild until now.
Ramen Burger is normally posted up at NYC's Smorgasburg but they made the trip out to LA for National Burger Day.
The burger has a nice flavor and both Janette and our friend really liked it. It was a little hard for me to get past the strange texture.
Donut Friend
With so many donut shops in LA, it can be hard to pick a favorite.
Except it's not hard because Donut Friend exists and reigns supreme.
I almost always grab a donut on my way out, usually, the Polar Berry Club (pictured above) or the cookie butter stuffed Speculoos (below).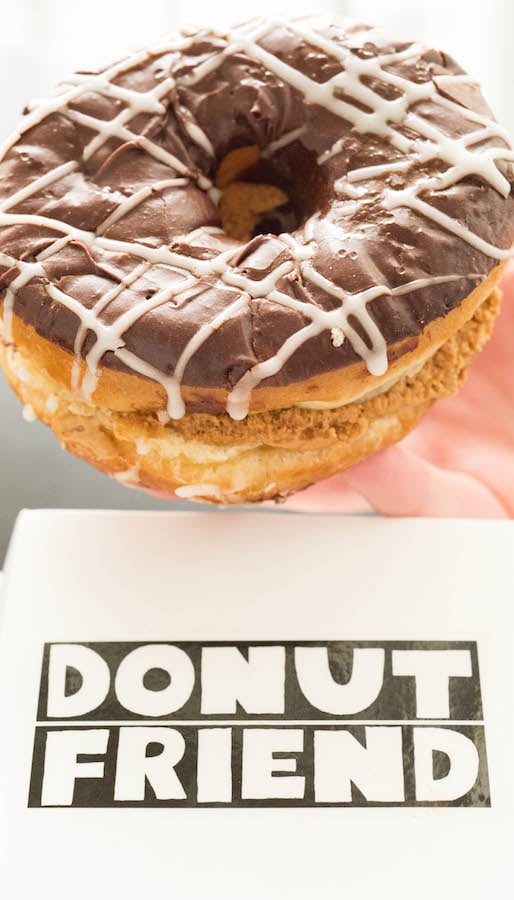 The Chichidango
Shrimp Daddy was such a hit that Stir and Style decided to hit us with another one, and I'm glad she did!
The Chichidango serves up Hawaiian Shaved Iced filled with organic ice cream and topped with handmade Japanese mochi, fruit boba, and fresh fruit purees.
Perfect for those hot LA summer days!
Amazebowls

Amazebowls whips up the prettiest acai bowls in all of Los Angeles.
If you opt to get yours in the coconut shell, the Instagram gods will bless your account with many likes.
Since I like to get to Smorgasburg early, I often start off with one of these for breakfast. It's heaven. Every time.
Katsu Dog from AsiaDog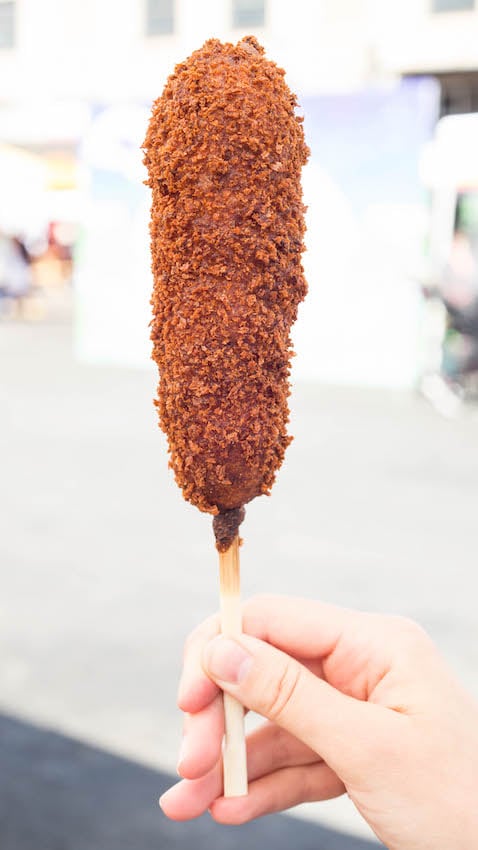 I can't tell you the last time I had a corndog, but I simply could not turn down the Katsu Dog.
You choose from a beef, chicken, or veggie dog (beef, obviously), then AsiaDog rolls it in panko and dunks it in the deep fryer.
That's not enough for you? It is also served with a delicious Katsu dipping sauce. Bangarang.
Chicken Burgers at The Nomad Truck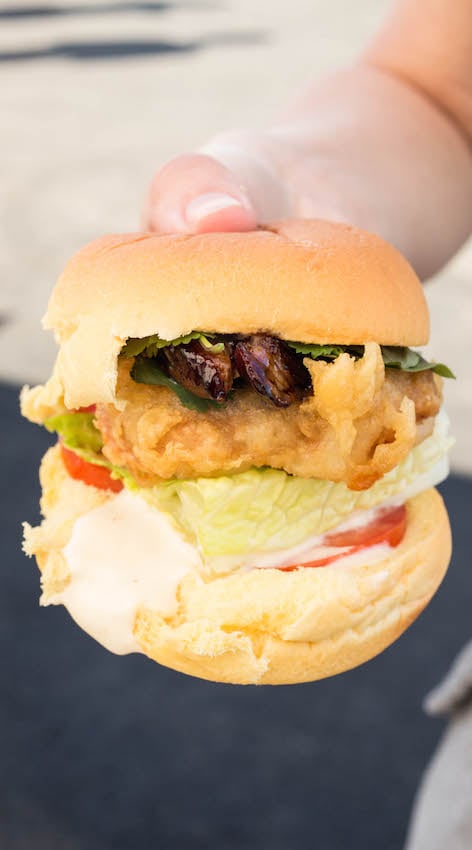 The Nomad is one of my most favorite restaurants in NYC.
I was super stoked when I heard they were bringing a truck out here.
They are known for their chicken burgers with truffle mayo, but they also do a chicken burger collab with a local chef every month.
The one pictured above is by Night+Market Chef Kris Yenbamroong. Fried chicken, pork toro, Isaan chili mayo, Thai basil, lettuce, and tomato.
If Postmates would deliver one to me right now, I'd smash that MF "order" button so fast.
Stand Coffee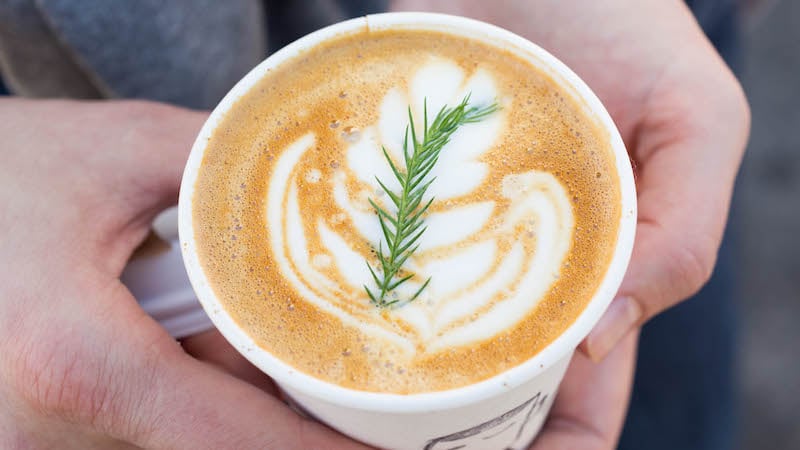 I think they named it Stand coffee because you should be prepared to stand in line.
It's currently the only coffee place at Smorgasburg so it is quite popular.
The good news is that the coffee is worth the wait.
Every month they serve a seasonal latte. The one pictured above is an Evergreen Latte they were serving during the holiday season. It featured fresh pine syrup by PopdUp+, wildflower honey, espresso, and steamed milk.
Another wonderful drink they serve is "Stormy Weather", a coffee with cardamom, molasses, and grass-fed butter. A great way to start the morning!
Raindrop Cake

The Raindrop Cake took the internet by storm a few years ago and was the first thing I ever ate at Smorgasburg.
What a weird dish! It is definitely more pleasing to the eye than the taste buds.
The problem with Raindrop Cake isn't that it tastes bad…it just doesn't taste at all. The blob itself is flavorless (it consists of only mineral water and vegan gelatin) so all the flavor comes from the matcha and nuts.
Looks great on the gram, but not too exciting for your mouth.
Hot-Star Large Fried Chicken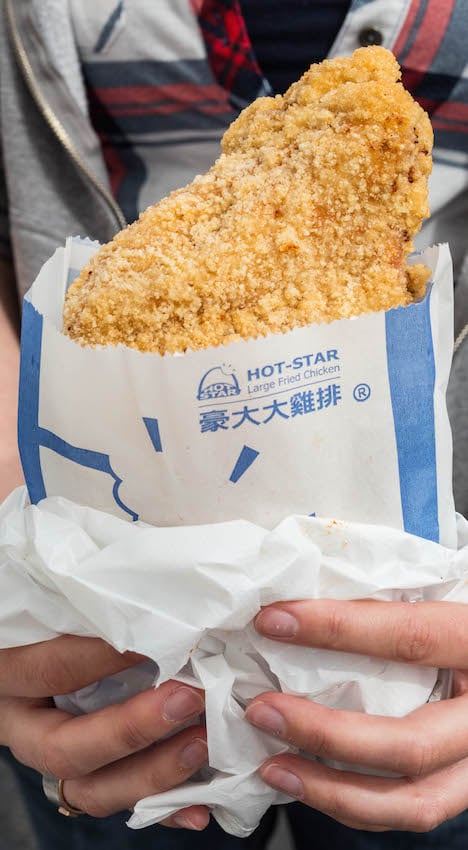 Large fried chicken?
I was intrigued and turned off all at the same time.
Supposedly they line up for hours in Hong Kong to get one, so I had to check it out.
After one bite I knew exactly why people are willing to wait hours for it. It is AMAZING!
The combination of spices they are using is on point and I've never tasted anything like it.
10/10 would eat again!
The Jolly Oyster
The Jolly Oyster has some of the best oysters around. I love that they have a booth at Smorgasburg so I don't always have to drive up to Ventura.
Their accouterments are almost as good as the oysters. The one pictured above has a few drops of hoisin sauce and a caviar lime. Yummy!
Visiting Smorgasburg LA
There are soooo many delicious looking things at Smorgasburg that it's nearly impossible to try all of them. There are tons of awesome looking food that I just haven't been able to make my way around to yet. I will continually update this article as I do.
You should also know that not every vendor is there every week and some may have only been there for a limited time. I can promise that no matter which vendors are there, you will have many more delicious dishes than you could ever eat!
The lines can get pretty insane and vendors can run out of food near the end of the day. I highly recommend getting there early, especially if there's a specific dish you're going there for.
Have you visited Smorgasburg? What are your favorite dishes there? Let me know so I can try on my next visit!