This shop has been compensated by Collective Bias, Inc. and its advertiser. All opinions are mine alone.#SweetnSaltyHoliday #CollectiveBias
'Tis the season for parties…. and dips… and desserts… and platters of food!
I flippin' love it!
I was planning on making a Christmas dessert dip platter for an ugly sweater party I am going to. When thinking of what to dip in them, I remembered about these Chocolate Wavy Lay's Chips. They would be the perfect tasty vehicle for my dips. Talk about taking it to the next level!
I knew I HAD to have them. I immediately made Janette jump in the car and take me to search for some. Lucky for us, our Target was well-stocked and the chips were very easy to find.
They come in three flavors (Dark Chocolate, Milk Chocolate, and Milk Chocolate covered with Almond Bits). Of course, I have no self-control, so I bought them all.
I could not stop dipping the Milk Chocolate with Almond Bits Chocolate Wavy Lay's in the Gingerbread dip. So good!
A few gingerbread men were sacrificed to bring us this deliciousness. They may be gone, but they will never be forgotten. Thank you for your tasty sacrifice, Mr. Gingermen.
I'm particularly partial to the Christmas Cookie Dough Dip. Who wouldn't want to sit down and eat a whole tub of festive cookie dough? Hey, it's the holidays and calories don't count! 😉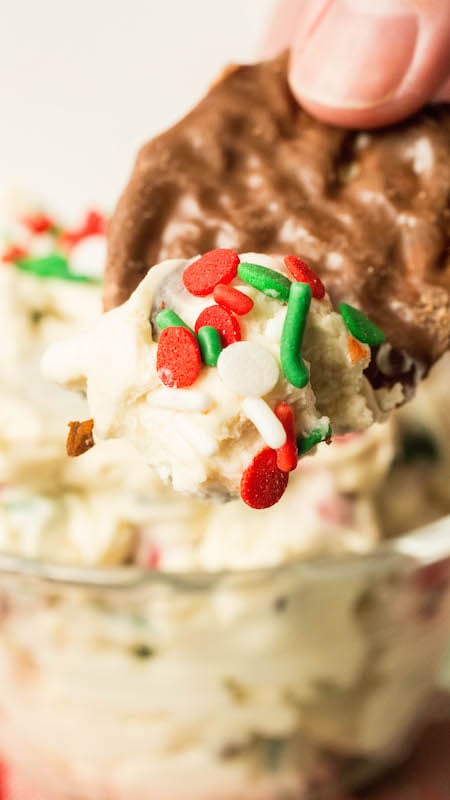 The Peppermint Fluff Dip is particularly good with the Dark Chocolate Wavy Lay's. It gives it sort of a peppermint mocha vibe.
Honestly, these Chocolate Wavy Lay's were even better than I imagined. They are seriously the perfect sweet & salty combo. I think pairing them with these Christmas dips yields the perfect Holiday treat!
The only downside to these chips? They're only in stores for a limited time. Make sure you head to Target to get some of this deliciousness while you still can! (You can also grab them at Target.com)

Oh, and I heard through the grapevine that if you leave out a Christmas Dessert Dip Platter and some Chocolate Wavy Lay's for Santa, you automatically get put on the "Nice" list. 😉
Print
Christmas Dessert Dip Platter
Three Christmas dessert dips served with chocolate-covered potato chips.
Author: Jessica Pinney
Prep Time: 15 mins
Total Time: 15 mins
Yield: 15 1x
Category: Dessert
Cuisine: American
Ingredients
Christmas Cookie Dough Dip Ingredients
1 Stick Unsalted Butter
8 oz Cream Cheese
1/4 Cup Brown Sugar
1/3 Cup White Sugar
2 Teaspoons Vanilla Extract
1/2 Tsp Salt
1 1/2 Cups Chocolate Chips
Sprinkles, for garnish
Cream Cheese Gingerbread Dip Ingredients
1 8-ounce package cream cheese, softened
¼ cup brown sugar
¼ cup powdered sugar, sifted
3 Tablespoons molasses
1 teaspoon ground ginger
1 teaspoon ground cinnamon
dash nutmeg
Sprinkles, for garnish
Peppermint Fluff Dip Ingredients
8oz Marshmallow Fluff
8oz Cream Cheese
1tsp Peppermint Extract
1/4 Cup Crushed Candy Canes
For Dipping
Milk Chocolate Wavy Lays
Dark Chocolate Wavy Lays
Milk Chocolate Wavy Lays Covered with Almond Bits
Instructions
Christmas Cookie Dough Dip Recipe
Add the butter, cream cheese, and sugars to a medium bowl. Cream for 2-3 minutes with a hand mixer.
Add vanilla and salt. Mix another minute.
Add chocolate chips and mix until just combined.
Transfer to a serving bowl and garnish with sprinkles.
Cream Cheese Gingerbread Dip Recipe
Beat the cream cheese 1-2 minutes, until smooth.
Add the rest of the ingredients and beat until well combined.
Transfer to serving bowl and garnish with sprinkles.
Peppermint Fluff Dip Recipe
Add cream cheese, marshmallow cream, and peppermint extract to a medium bowl. Beat with a hand mixer until well combined.
Add crushed candy canes & red food coloring. Mix until incorporated.
Transfer to serving bowl and top with additional crushed candy canes.
Platter Assembly
Place all serving bowls on a platter. Place Chocolate Wavy Lay's in empty space around serving bowls.
Serve immediately. Store leftovers in airtight containers in the fridge.