Light and fluffy dessert dip made with Little Debbie's Christmas Tree Cakes. You'll fall in love with how easy it is to make – no baking required!
In my humble opinion, the most delicious packaged snack cake on the planet is, without a doubt, the Little Debbie's Christmas Tree Cake. It's the only store-bought holiday treat that I look forward to every year!
Last year, my jaw absolutely dropped when my TikTok feed was absolutely filled with people blending up these tasty, seasonal little cakes and turning them into a dip. All I could think was that I wanted snack cake dip, and I wanted it NOW!
I've seen a few different variations, so I committed myself to doing the hard work and testing various ingredients and amounts. The result is a light and fluffy dip that, believe it or not, isn't too sweet.
I love making it to bring to Christmas parties and potlucks because it's budget-friendly, quick, and easy. There's no baking required and the only tool you need is a hand-mixer or stand mixer.
If you like variety, add it to my Christmas dessert dip platter as a fourth dip option. Perfect for eating on the couch during Christmas movie night!
This post contains affiliate links (when you buy we make a little money at no cost to you). See our disclosure for more information.
Ingredients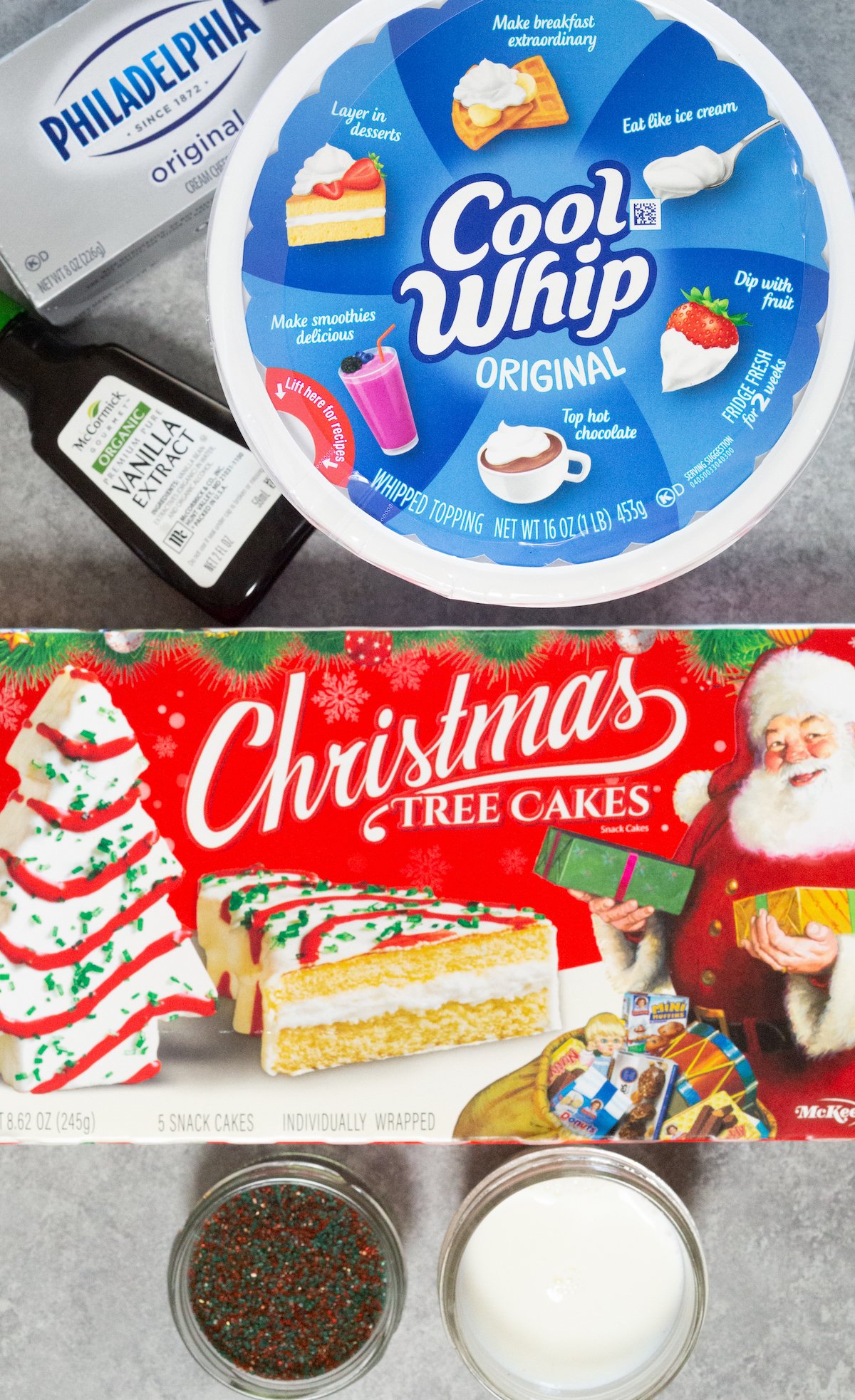 Little Debbie Christmas Trees – You can use the classic vanilla version or the chocolate flavored Christmas tree cakes.
Cream Cheese – Use full-fat cream cheese for the best flavor.
Cool Whip – Cool Whip is the secret to all good dessert dips. I wouldn't recommend substituting it.
Milk – A little bit of milk helps get the dip to the right consistency. Use whole milk for best flavor.
Vanilla Extract – A little bit of vanilla adds just the right amount of flavor.
Sprinkles – I used these red and green sprinkles to top the dip so that is looks like the snack cake.
How To Make
Add all the ingredients (except sprinkles) to a mixing bowl.
Blend together with a handheld mixer.
Add to a serving bowl and top with sprinkles when ready to serve.
Serve with various cookies for dipping.
What To Serve With Christmas Tree Cake Dip
You can dip virtually any kind of cookie into this dip.
Some of our favorites are:
Gingerbread Cookies
Chessman Butter Cookies
Pirouette Sticks (chocolate & vanilla)
Chocolate Chip Cookies
Sugar Cookies
Nilla Wafers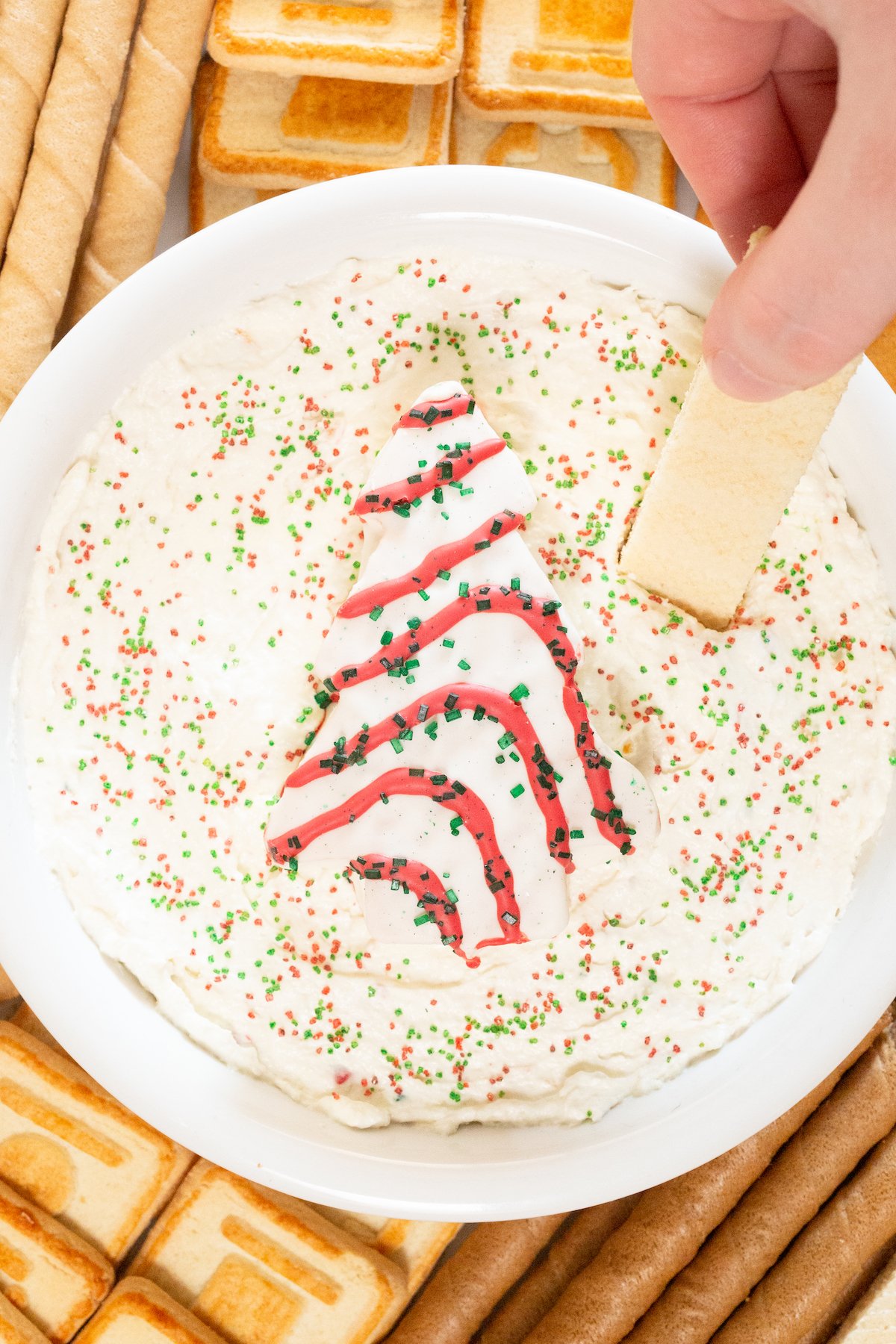 Tips
Make a thicker dip by cutting the amount of Cool Whip in half. It will be sweeter too.
Use red food gel to make squiggly lines on top of the dip that resemble the holiday snack cake.
Don't add the sprinkles until ready to serve – otherwise their colors will bleed onto the white dip.
Looking for more no-bake Christmas desserts? Try this easy cranberry fluff and these Rolo stuffed Ritz crackers.
If you need something to wash it down with, I recommend a Christmas Old Fashioned or an Iced Sugar Cookie Latte.
Print
Christmas Tree Cake Dip
A holiday dessert dip made with Little Debbie's Christmas Tree Cakes.
Author: Jessica Pinney
Prep Time: 5 minutes
Total Time: 5 minutes
Yield: 10 1x
Category: Dessert
Cuisine: American
Ingredients
6 Little Debbie's Christmas Tree Cakes
1 8oz Block of Cream Cheese
16oz Cool Whip
1/4 Cup Milk
1/8 teaspoon Vanilla Extract
Red & Green Sprinkles
Instructions
Add all ingredients, except sprinkles, to a large mixing bowl.
Use a hand mixer to blend until ingredients are well combined. There will be a few lumps from the cakes – this is normal.
Place in an airtight container or in a serving bowl with plastic wrap. Refrigerate until ready to serve.
At serving time, sprinkle on the red and green sprinkles. Serve with cookies.