These colorful marshmallow dessert squares are basically Rice Krispy treats made with Fruity Pebbles. Easy to make – no baking or special equipment required!
Rice Krispy treats are one of the most iconic American desserts, and for good reasons – they're cheap, delicious, and easy to make.
But you know what would make them better? If they were made with an even more flavorful cereal, like Fruity Pebbles!
Because they're so simple to make, it's the perfect dessert for the kids to help with. They'll love helping to stir the marshmallows until they melt and then combining them with the Fruity Pebbles.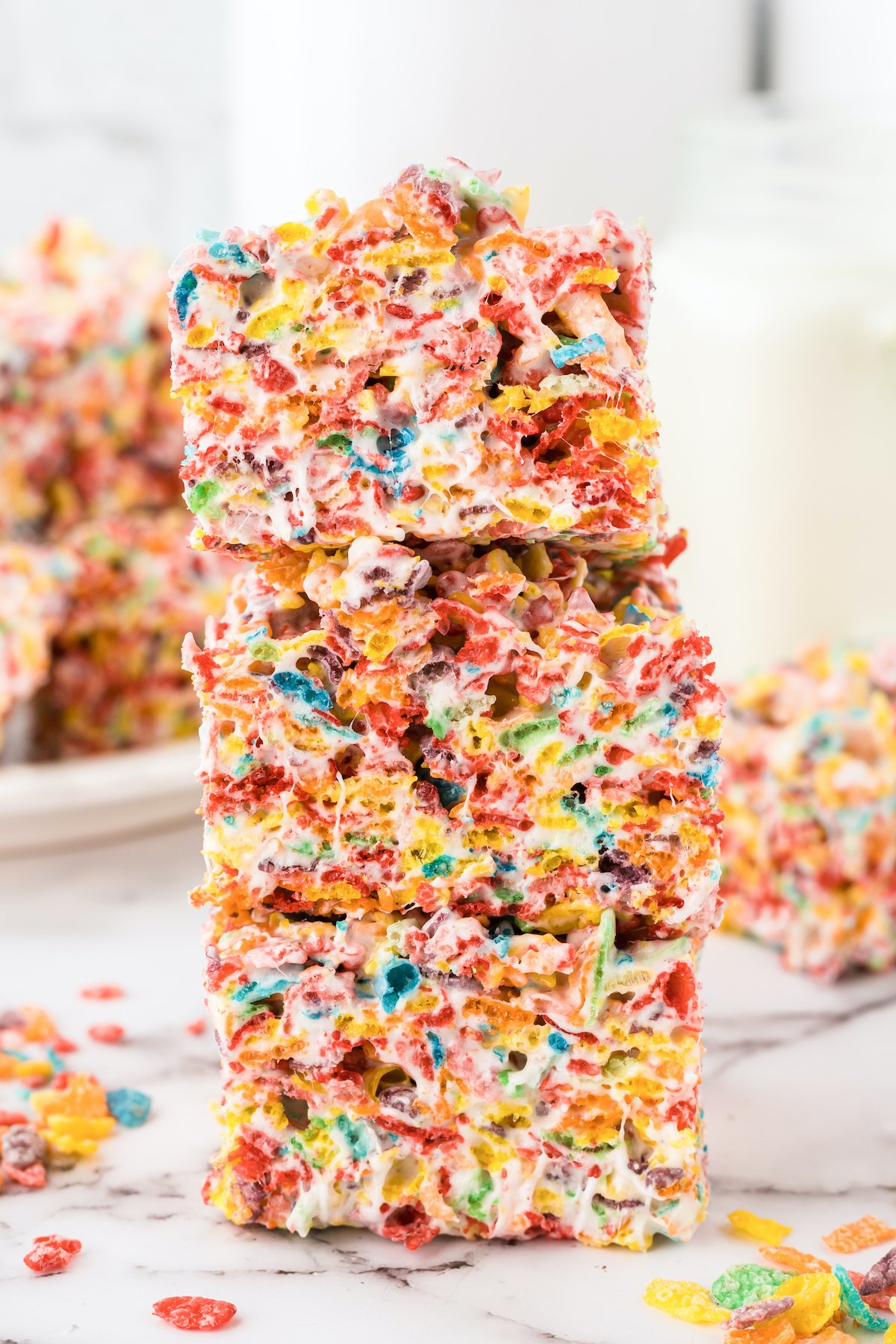 More good news – you don't need any fancy ingredients or equipment. All you need are marshmallows, butter, cereal, and a few basic kitchen supplies – like a saucepan and spatula.
If you're looking for more no-bake dessert ideas, I recommend cookies and cream pie or German chocolate fudge.
Ingredients
Fruity Pebbles – You can substitute another cereal, if you'd prefer.
Marshmallows – I like to use mini marshmallows because they melt faster than larger ones, but you can use any size.
Butter – I use salted butter in this recipe to balance out the sweetness of the cereal. You can always add a pinch or two of salt if you use unsalted butter.
How To Make
Melt the butter in a saucepan.
Add the marshmallows and stir with a non-stick spatula until they are melted.
Scrape the marshmallow/butter mixture into a large mixing bowl. Add the fruity pebbles and stir until combined.
Spread the mixture in an 8×8 dish, then chill in the fridge for 3 hours.
This post contains affiliate links (when you buy we make a little money at no cost to you). See our disclosure for more information.
Tips
Instead of using the stove top, you can melt the butter and marshmallows in the microwave. Using a microwave-safe bowl, cook for 1 minute, stir, then cook another 30 seconds. Stir until they are completely melted together.
When spreading the marshmallow cereal mixture in your pan, don't smash down too hard. That results in a hard, dense cereal treat, we want something that is light, airy, and soft.
Use a 9×13 pan instead of the 8×8 if you want a thinner fruity pebbles treat.
Storage
Store leftovers in an airtight container up to 2 days.
Alternatively, you can individually wrap fruity pebbles treats and then store them in the freezer up to 6 months.
Print
Fruity Pebbles Treats
Author: Jessica Pinney
Prep Time: 3 hours
Total Time: 3 hours
Category: Dessert
Cuisine: American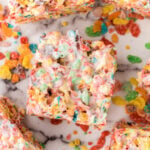 Ingredients
1/2 cup Salted Butter
16 oz Mini Marshmallows
7 cups Fruity Pebbles
Instructions
In a large pot, melt the butter until it begins to foam. Add the marshmallows and stir the mixture with a spatula constantly until all the marshmallows have melted.
Pour the marshmallow mixture into a large mixing bowl with the cereal and fold the ingredients gently until the cereal is evenly coated in the marshmallow mixture.
Spread the mixture into an 8×8 inch baking dish and allow the Fruity Pebbles treats to chill in the fridge for 3 hours.
Cut into squares, serve, and enjoy!