Homemade brownies are topped with a sweet cheesecake layer that's swirled with cherry pie filling to create a decadent dessert.
When someone calls a dessert "irresistible", what comes to your mind? For me, it's these cherry cheesecake brownies.
They combine two of the greatest desserts known to man and the result is something more than the sum of its parts. Creamy and dense cheesecake, juicy cherries and rich chocolate all in one delicious bite – what's not to love?
The cheesecake layer perfectly balances out the decadent chocolate brownie. And the cherry pie filling adds both sweetness and a hint of tartness, which compliments both layers.
It's great to bring to potlucks, but it also makes a wonderful dessert for a romantic dinner at home. I recommend serving Instant Pot crab legs or shrimp and broccoli as your entree to keep it simple.
Ingredients
Butter – I used unsalted butter.
Vegetable Oil – You can substitute canola oil, if you'd prefer.
Sugar – Brown and white.
Eggs – You'll want to use large eggs to make this recipe.
Vanilla – You can use vanilla extract or vanilla bean paste if you're fancy.
Flour – All-purpose flour is used.
Cocoa Powder – Use any brand of cocoa powder you'd prefer. I often have Hershey's and Godiva on hand.
Cream Cheese – Use full fat cream cheese for the best flavor.
Heavy Cream – I don't recommend substituting this.
Cherry Pie Filling – I use canned pie filling, but you can substitute homemade – just make sure it's really thick.
How To Make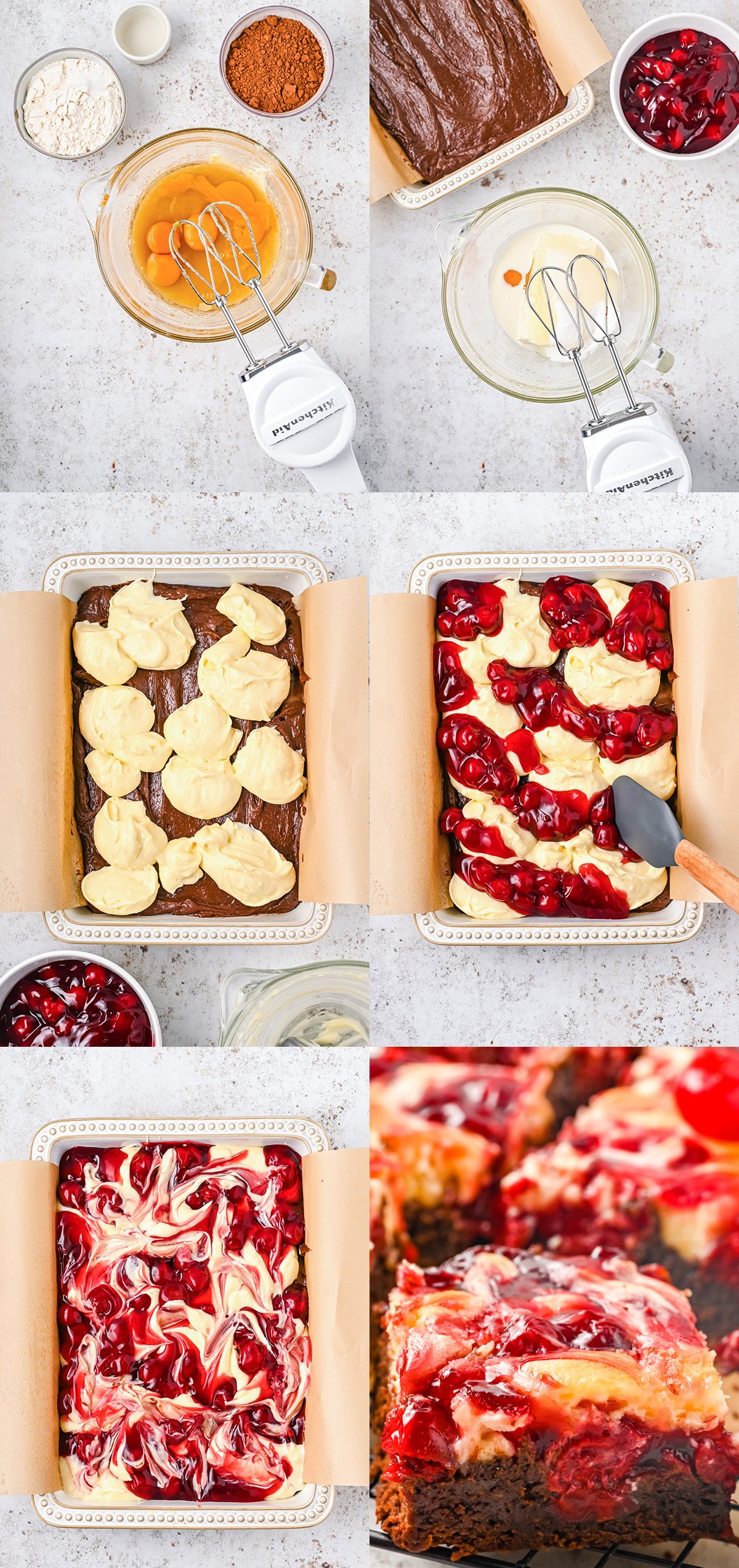 To make the brownie layer, beat the melted butter, vegetable oil, and sugars together. Add the eggs and vanilla and quickly beat together until just combined. Add the flour, cocoa powder and salt. Mix together on a low speed. Then pour into a greased 9×13 pan.
To make the cheesecake layer, beat the cream cheese, sugar, heavy cream, vanilla, and egg all together in a large bowl.
Place dollops of the cheesecake batter over the top of the brownie batter.
Add spoonfuls of the cherry pie filling around the cheesecake batter and use the tip of a spatula or a knife to gently swirl the pie filling and cheesecake batter together.
Bake at 350F for 30-35 minutes.
Let cool for 30 minutes, then refrigerate 2 hours before slicing.
Tips
Have box brownie mix on hand? You can use that instead of making the homemade brownie base.
You can always add other mix-ins to the brownie layer, including chocolate chips and chopped nuts.
These brownies are delicious eaten at room temperature, but be sure to try them chilled. The cheesecake layer becomes denser and the brownie layer transitions to a more fudge-like consistency.
Don't try to cut these warm, you'll end up with a goopy mess. I put them in the fridge for a few hours to firm up before slicing into squares.
For best results, use a metal pan instead of glass. Glass tends to cook the brownies unevenly, leaving the middle a bit underdone.
Storage
These brownies need to be stored in the fridge because of their cheesecake layer. Place them in an airtight container and keep them in there up to 4 days.
Alternatively, you can store them in an airtight container in the freezer up to 3 months. When ready to serve, thaw in the refrigerator overnight.
Print
Cherry Cheesecake Brownies
Cheesecake brownies with cherry pie filling.
Author: Jessica Pinney
Prep Time: 20 minutes
Cook Time: 35 minutes
Total Time: 55 minutes
Yield: 12 1x
Category: Dessert
Cuisine: American
Ingredients
Brownies
1 cup unsalted butter, melted and cooled slightly 
2 tablespoons vegetable oil 
1 1/2 cups granulated sugar 
1/2 cup brown sugar 
4 eggs, room temp 
2 teaspoons vanilla 
1 cup all-purpose flour 
1 cup cocoa powder 
1/2 teaspoon salt 
Cherry Cheesecake Topping
8 ounce cream cheese, room temp 
3/4 cup granulated sugar 
1/4 cup heavy cream 
1 egg 
1 teaspoon vanilla extract
1 1/2 cups cherry pie filling 
Instructions
Heat the oven to 350° and spray a 9×13 inch pan with cooking spray.
Add the melted butter, vegetable oil, granulated sugar, and brown sugar to a bowl, then beat them together. Add the eggs and vanilla and beat about another 20 seconds, until just combined.
Stir in the flour, cocoa powder, and salt until combined, then pour into the prepared pan.
Beat the cream cheese, granulated sugar, heavy cream, egg and vanilla together in a large bowl. Place spoonfuls of the cheesecake batter around the top of the brownies.
Add spoonfuls of the cherry filling around the cheesecake batter, then use the tip of a butter knife and swirl the cherry and cream cheese layer together lightly.
Place in the oven and bake for 35 minutes.  The cream cheese layer will be slightly jiggly when it is done.
Remove and cool for 30 minutes, then refrigerate for 2 hours before cutting and serving.