Flavorful shrimp and broccoli come together to make this healthy dinner that can be thrown together in practically minutes!
Don't you just love a tasty meal that you can throw together faster than you can order takeout?
That's why we end up making this shrimp and broccoli multiple times per month. It's quick, affordable, and incredibly easy to make.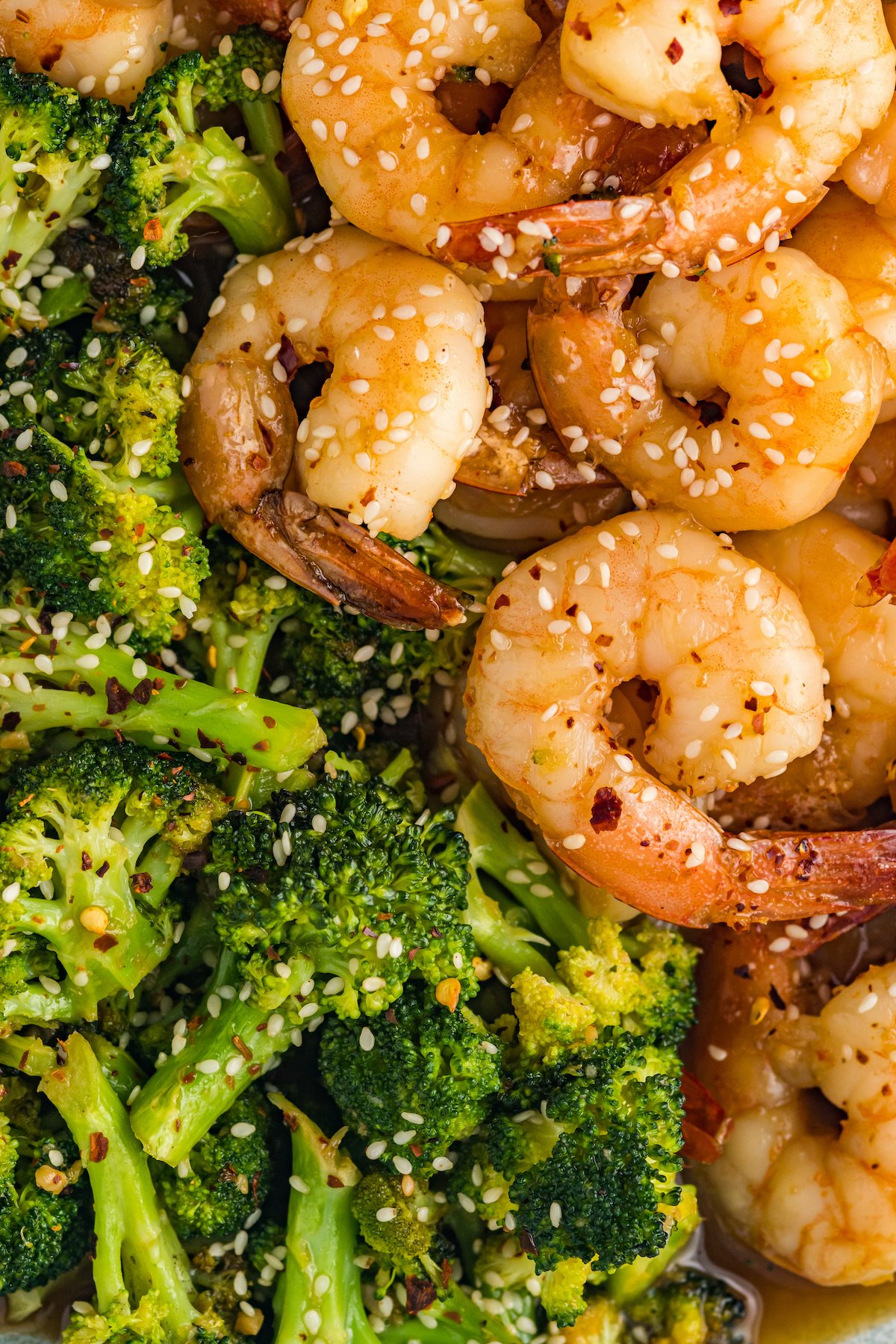 Not to mention delicious…the homemade sauce the shrimp are marinated in is packed with flavor. It definitely keeps us coming back for more!
As an added bonus, you only use one pan, so no need to worry about being stuck doing the dishes for an hour after dinner.
If you're looking for more shrimp recipes, try our hibachi shrimp or this Nashville hot shrimp po' boy.
Ingredients
This post contains affiliate links (when you buy we make a little money at no cost to you). See our disclosure for more information.
Shrimp & Broccoli
Shrimp – I used fresh jumbo shrimp. You can substitute a different size, but the cook time should be altered appropriately. You can also use frozen shrimp, but they need to be dethawed before cooking.
Broccoli – You can cut the florets off a head of broccoli, or you could use a bag of pre-cut from the store to save time.
Butter – I used salted butter. If you use unsalted, be sure to season this dish to taste when you finish cooking.
Olive Oil – No need to bust out the expensive olive oil, any kind will do.
Sauce
Soy Sauce – I used reduced sodium soy sauce so that this dish wouldn't be too salty. You can substitute another, if you wish.
Oyster Sauce – This sauce adds a bit of sweetness and umami flavor to this dish. I do not recommend leaving it out or substituting it.
Honey – Any honey you have on hand will work.
Ginger – Use fresh ginger and peel and mince it yourself. See the "tips" section later in this post to learn how to quickly peel it.
Garlic – You'll want to peel and mince fresh garlic cloves to achieve the best flavor.
Sesame Oil – If you need to substitute this, avocado oil and grapeseed oil are both great choices.
Cornstarch – This is used to thicken up the sauce. You don't want to omit it – your sauce will be really thin and runny.
Red Pepper Flakes – A small amount of red pepper flakes adds a hint of spiciness.
Sesame Seeds – White sesame seeds are a traditional garnish on this dish. They can be omitted if you don't have any.
How To Make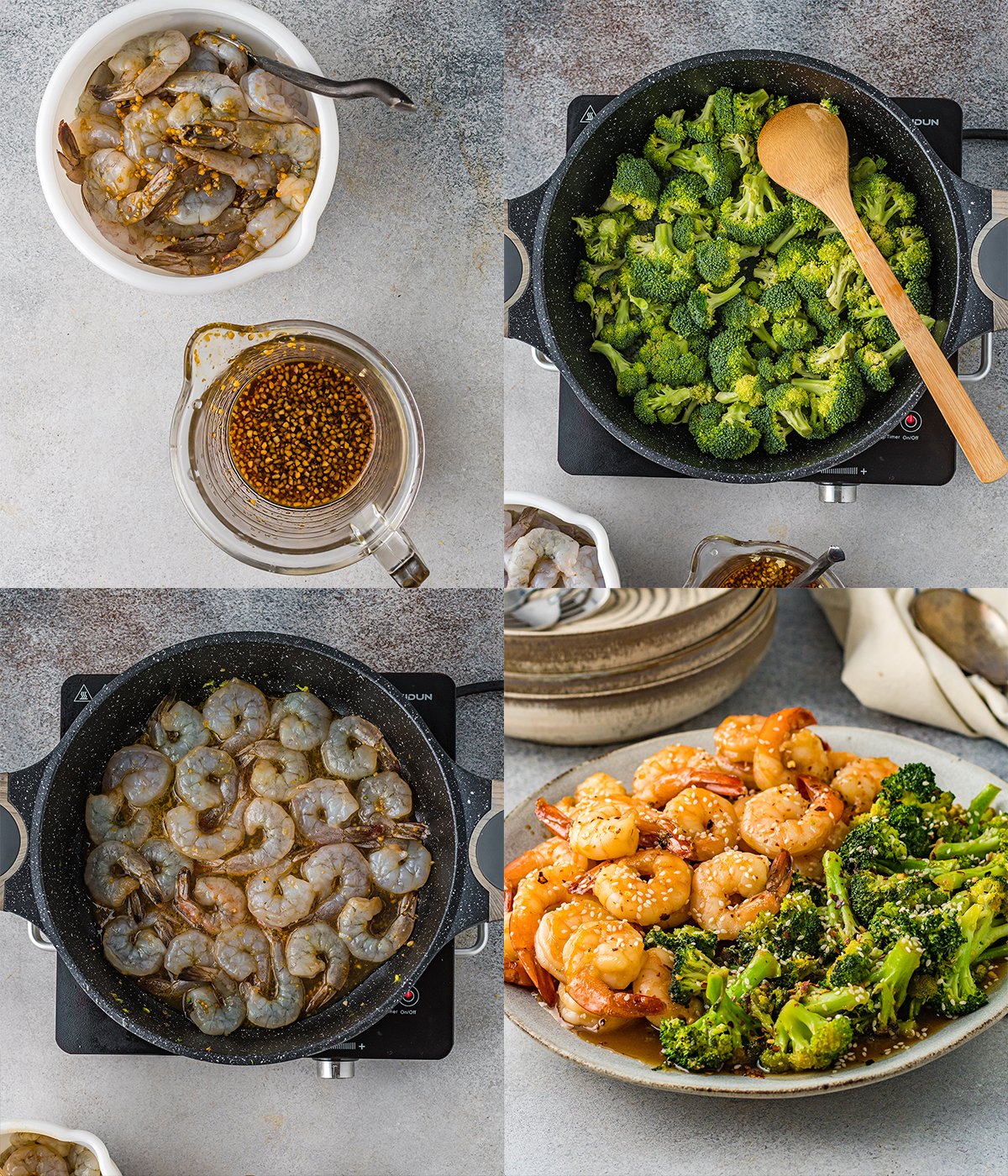 (Read top left to right, then bottom left to right)
First, we need to make the sauce by mixing all of the sauce ingredients, except the red pepper flakes. Save 2/3 of it for later, and use 1/3 of it to cover and marinade the shrimp.
Next, melt the butter in a large pan. Add the broccoli and sauté for 5 minutes, until it is tender. Add half of the remaining sauce and cook for 1 more minute then remove the broccoli from the pan. Set aside.
Add the olive oil to the pan then add the shrimp and cook 2 minutes on each side, until pink. Pour the remaining sauce over the top.
Plate the shrimp and the broccoli together, then sprinkle the sesame seeds and red pepper flakes over the top of each.
Tips
To easily peel ginger, use the edge of a spoon and run over it to remove the peel. Then, finely grate the ginger with a cheese grater or microplane.
You can marinate the shrimp for 30 minutes to 1 hour in the refrigerator for more flavor.
Yum yum sauce pairs beautifully with this dish.
More Easy Seafood Dinner Ideas
Print
Shrimp and Broccoli
A light and healthy dinner recipe featuring shrimp and broccoli.
Author: Jessica Pinney
Prep Time: 15 minutes
Cook Time: 10 minutes
Total Time: 25 minutes
Yield: 4 1x
Category: Main Dish
Cuisine: Asian
Ingredients
Shrimp & Broccoli
1.5 pounds large shrimp, peeled and deveined
4 cups broccoli florets
3 tablespoons unsalted butter
1 teaspoon sesame seeds
1 tablespoon olive oil
Sauce
3 tablespoons soy sauce
2 Tablespoons oyster sauce
1/2 cup honey
2 teaspoon freshly grated ginger
1 tablespoon minced garlic
1 teaspoon sesame oil
1 teaspoon corn starch
1/4 teaspoon red pepper flakes
Instructions
Make the sauce by combining all ingredients except the red pepper flakes. Pour a third of the marinade over the shrimp and toss to coat.
Melt the butter in a sauté pan and add the broccoli. Cook for 5 minutes until tender. Add half the remaining marinade and cook for one minute. Remove from the pan.
Add the olive oil to the pan and add the marinated shrimp. Do not overcrowd the pan, cook in batches.  Shrimp should cover the bottom of the pan, but not be stacked. Cook each side for 2 minutes or until pink.
When all the shrimp have cooked, add them all back into the pan and coat with the remaining marinade.
Place the shrimp and broccoli on a plate and sprinkle the sesame seeds and red pepper flakes over the top.