Turn bagels into french toast with this creative recipe that's perfect for brunch. Serve with berries, powdered sugar, and maple syrup.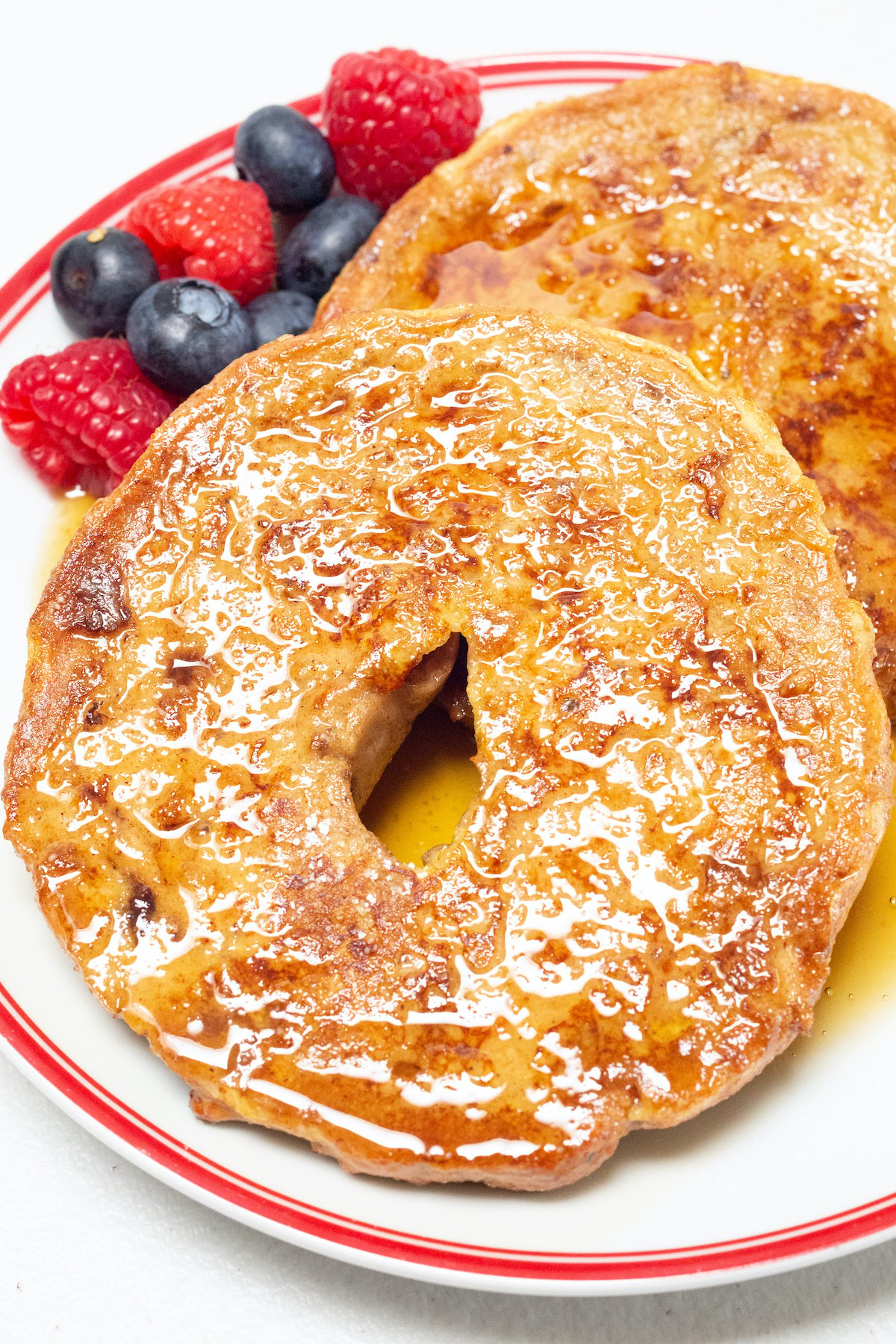 We've been having a weekly brunch at home and our current favorite recipe to make are these French toast bagels.
They're exactly what you're thinking – your favorite bagel soaked in a French toast "batter", then pan seared so they're crispy on the outside and warm and soft on the inside.
Be warned, once you make these they're hard to top! You may just crave them for every Sunday morning the rest of your life…
Ingredients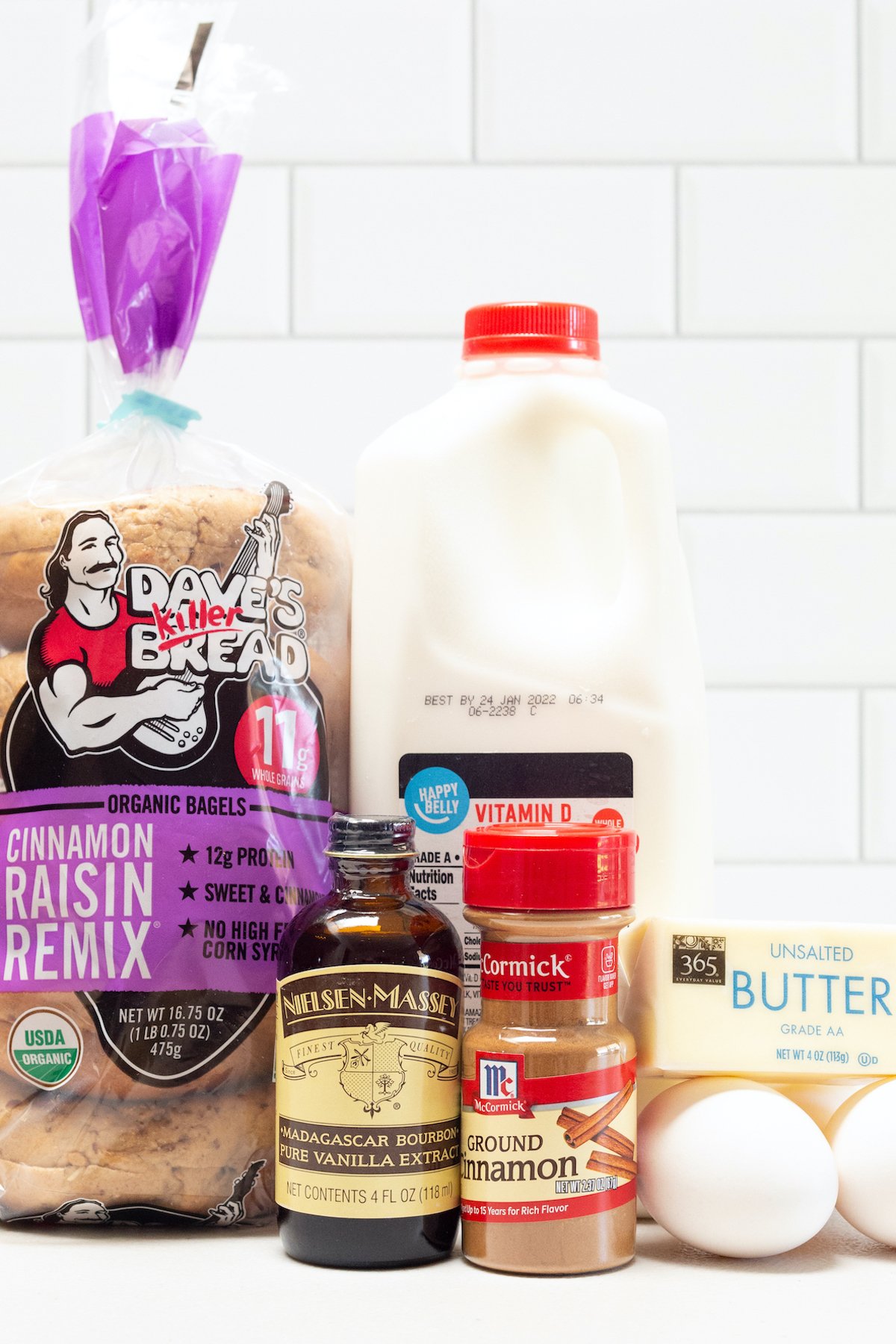 Bagels – You can use any kind of bagel. We like cinnamon raisin or blueberry.
Eggs – I used large eggs. If you use medium size you may want to add an extra.
Milk – Whole milk is what I prefer for this recipe, but you could substitute half and half or a lower fat milk.
Vanilla – Vanilla extract adds a bit of extra flavor. I like Nielsen-Massey Madagascar Bourbon Vanilla.
Cinnamon – Traditionally, french toast has cinnamon in the batter. It can be left out if you don't care for it.
Toppings (optional) – Maple syrup, powdered sugar, berries, etc all make great toppings.
How To Make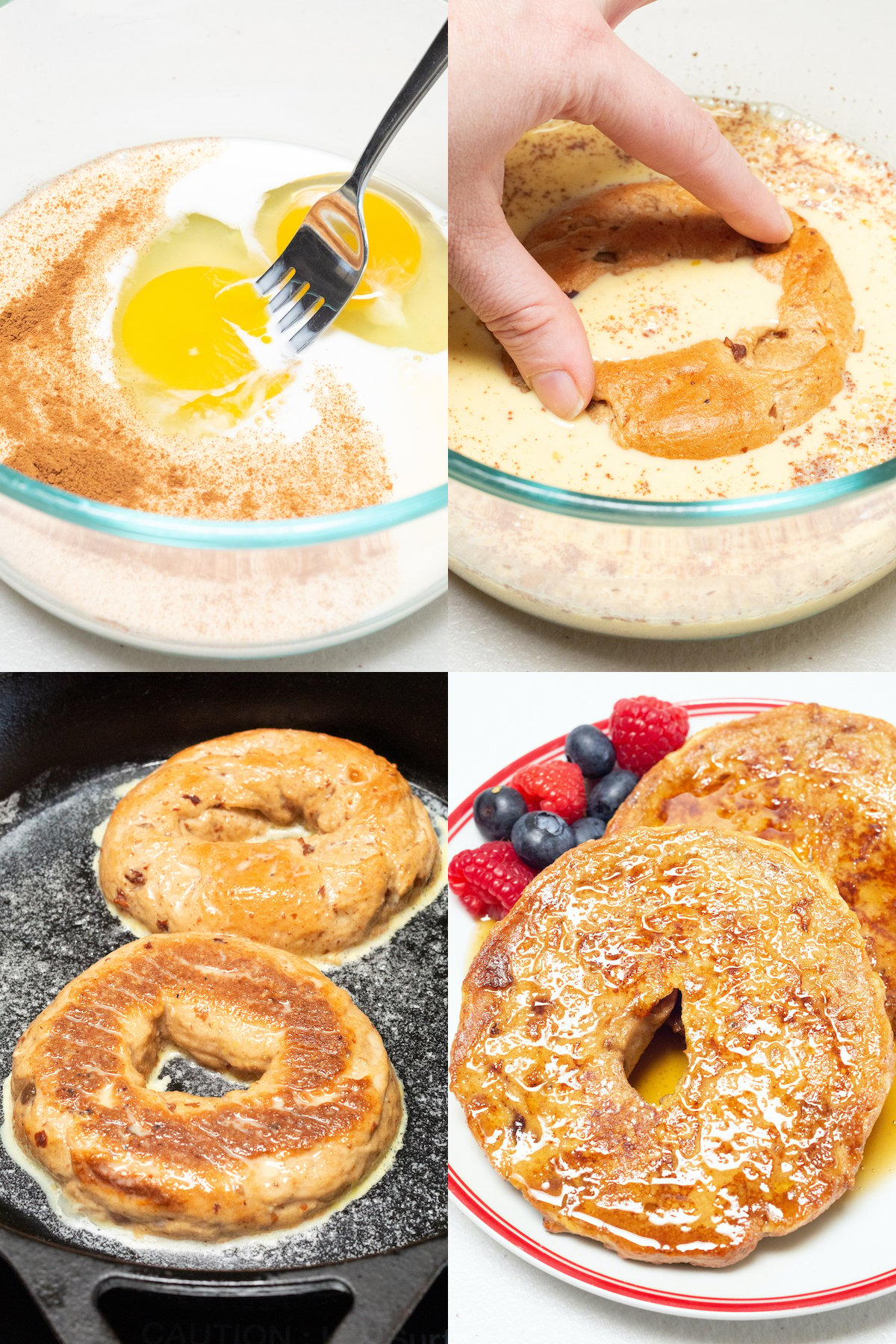 Combine the eggs, dairy, vanilla, and cinnamon in a bowl.
Dip each bagel half in the mixture.
Cook in a skillet with melted butter for a few minutes on each side.
Plate with desired toppings like powdered sugar, maple syrup, and berries.
Tips
If you're using stale bagels to make this recipe, soak them in the egg mixture for an extra minute so that it can be absorbed better.
Are you a fan of stuffed french toast? Place one bagel slice face up and pipe on your favorite cream cheese mixture. Add a fruit compote and serve with the other bagel slice face down on top "sandwich style".
More Breakfast Recipes
Print
French Toast Bagel
Bagels prepared like French toast.
Author: Jessica Pinney
Prep Time: 5 minutes
Cook Time: 6 minutes
Total Time: 11 minutes
Yield: 2 1x
Category: Breakfast
Cuisine: American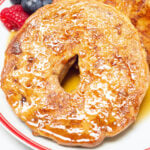 Ingredients
2 Bagels
2 Eggs
1/2 Cup Milk
1/4 Teaspoon Ground Cinnamon
1 Teaspoon Vanilla
Pinch of Salt
1 Tablespoon Butter
Instructions
Add the eggs, milk, cinnamon, vanilla, and a pinch of salt to a mixing bowl. Whisk everything together.
Dip each bagel slice. Allow to soak 30 seconds on each side.
Melt butter in pan over medium heat. Add the french toast bagels and cook a few minutes on each side until it starts to brown.
Plate with desired toppings like maple syrup, powdered sugar, and fresh berries.
Serve and enjoy!