The food world is pretty keen on mashups these days and so are we. Move over cronuts, because the wonut is here! As you might have guessed, a wonut is a waffle/donut hybrid and it is pretty amazing.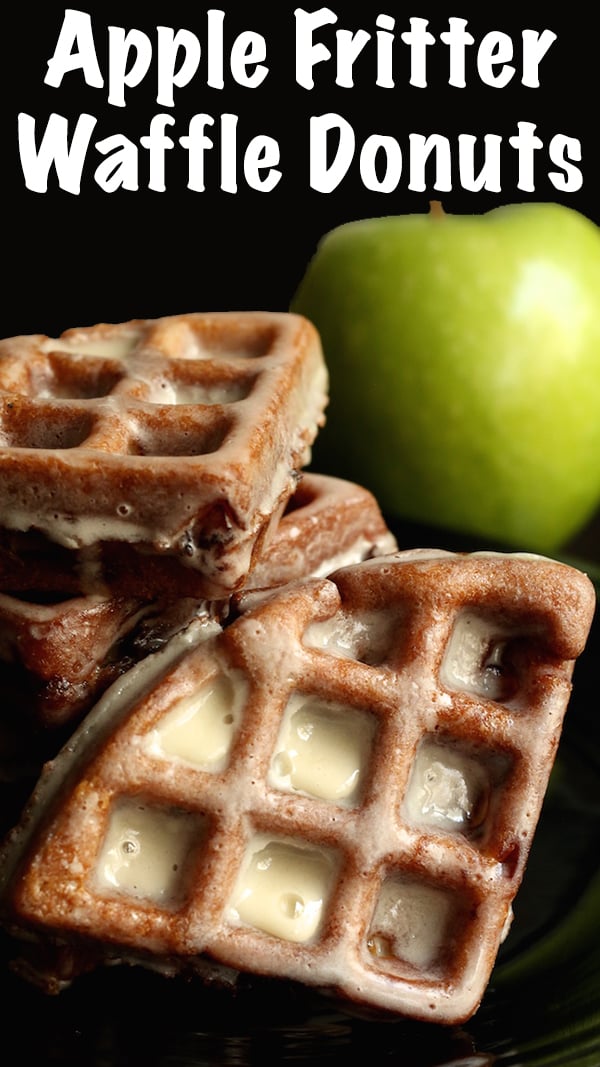 Previously, I had only tried plain waffle donuts with regular glaze, but I heard other people were getting crazy and making boston cream wonuts…apple fritter wonuts…and I knew I wanted to get crazy too!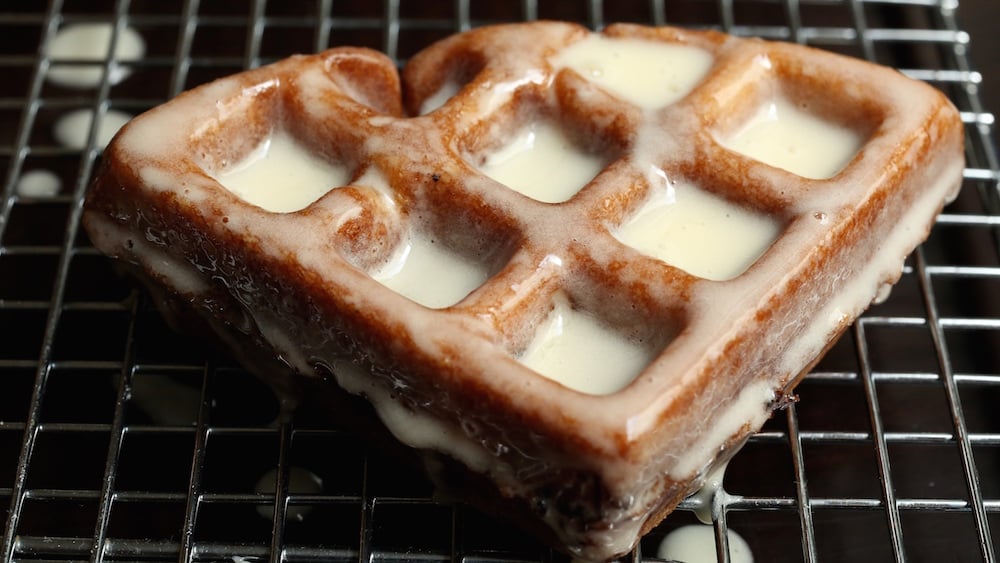 I chose Apple Fritter since it is my favorite donut. If you don't want to go to the trouble to fry them or you just have extra batter left over, they are excellent as just regular waffles as well.
Apple Fritter Waffle Donut Ingredients
Flour
Sugar
Baking Powder
Baking Soda
Salt
Cinnamon
Buttermilk
Unsalted Butter
Eggs
Vanilla Extract
Apples
Powdered Sugar
Whole Milk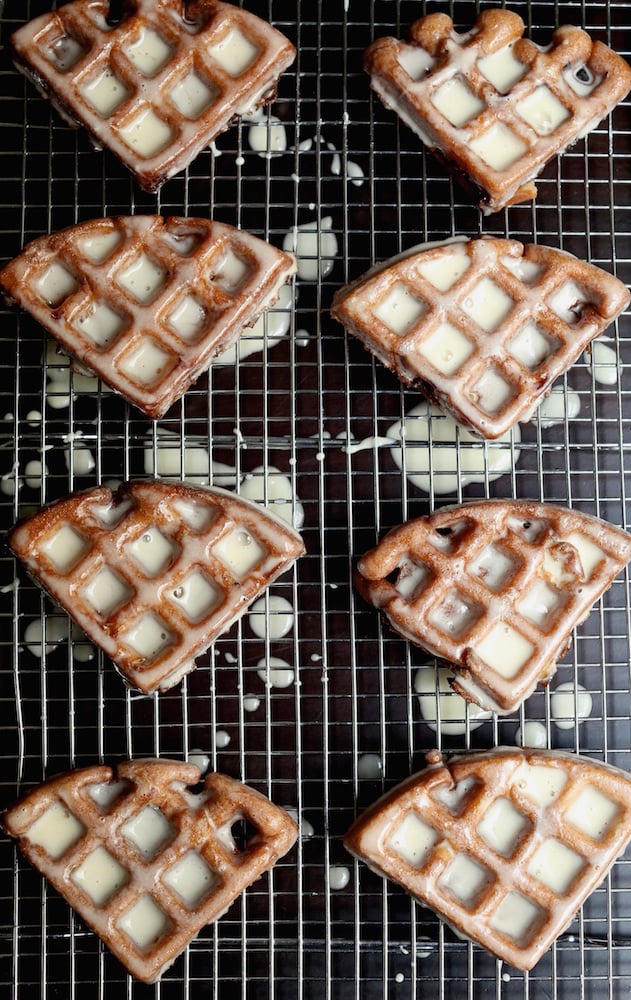 Other Waffle & Donut Recipes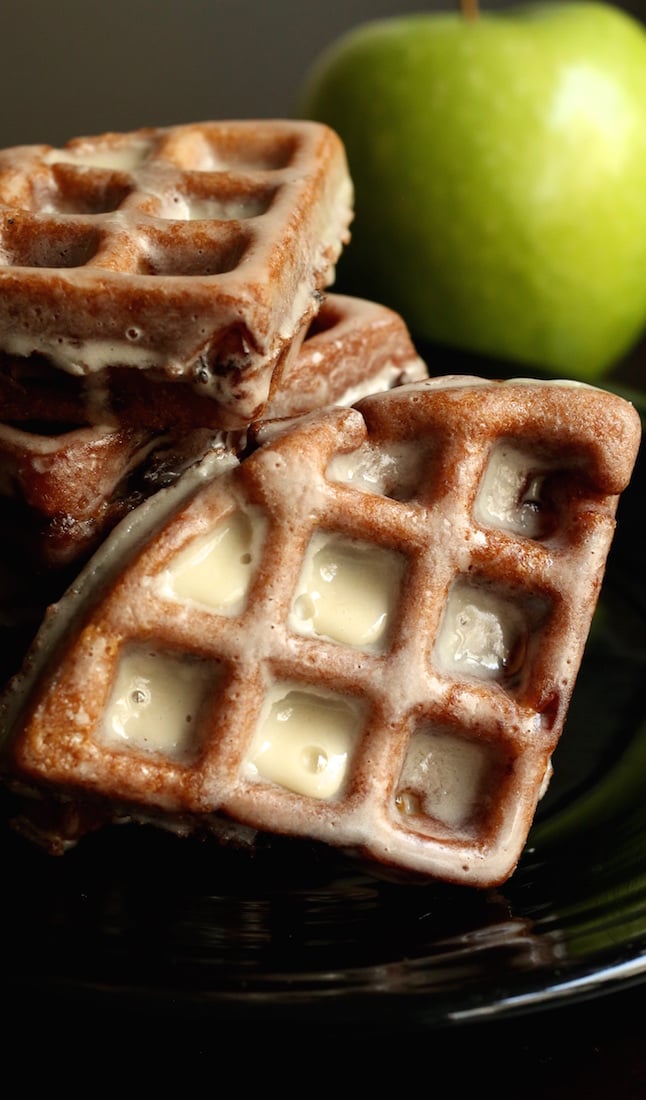 This post contains affiliate links (when you buy we make a little money at no cost to you). See our disclosure for more information.
Apple Fritter Waffle Donuts Recipe
Print
Apple Fritter Waffle Donuts Recipe
Apple fritter batter is waffled, then deep fried and covered in icing to make apple fritter waffle donuts. 
Prep Time: 15 mins
Cook Time: 7 mins
Total Time: 22 mins
Yield: 6 1x
Category: Dessert
Cuisine: American
Ingredients
Donuts:
2 cups all-purpose flour
3/4 cup sugar
2 teaspoons baking powder
1/2 teaspoon baking soda
1 teaspoon salt
2 teaspoons cinnamon
3/4 cup buttermilk
1/4 cup unsalted butter, melted
2 large eggs
1 teaspoon vanilla extract
2 cups chopped apples, peels removed (for me this was one large apple, probably two medium)
Glaze:
1 1/2 cups powdered sugar
1/4 cup whole milk
2 teaspoons vanilla extract
Instructions
In a large bowl, combine the flour, sugar, baking powder, baking soda, cinnamon, and salt.
In a separate bowl whisk together the buttermilk, butter, eggs, and vanilla. Add liquids to the flour mixture and mix until just combined. Add the chopped apples and mix only until incorporated.
Preheat your waffle iron and cook waffles according to manufacturer's instructions. Let cool and cut into segments.
Now, preheat your deep fryer.
I fried two sections of the waffle at a time. You want to fry them until they are golden brown, about one minute per side. Remove donuts with tongs or a slotted spoon and let drain on a paper towel-lined plate.
For the glaze, whisk together the powdered sugar, milk, and vanilla. Dip the hot doughnuts into the glaze and let sit on a wire rack for 20 minutes before serving.