I had my first taste of heaven (aka Momofuku Milk Bar) earlier this year while traveling around the country with Janette and a Food Network TV crew. I ate so many amazing things in so many cities, but Momofuku is one that really stands out.
We had just finished some truly phenomenal BBQ around the corner at Fette Sau, and on the walk back to the subway stumbled into the magical Momofuku Milk Bar. Everyone in my group was deciding which cookies or truffles to get, but I went straight to the front of line because I knew exactly what I wanted: a cereal milk and their infamous Birthday Cake.
My friends looked on in horror as I gave the cashier my card. "Did you just pay $50 for a cake?" Heck yes I did! And you know what? Once I cut everyone a slice and they had a taste, no one was questioning the price. It was AMAZING!
That experience turned me into a true Momofuku super fan. The problem with that is I live about 3,000 miles away in Los Angeles. I need Momofuku more often than when I'm just in New York. Luckily, Christina Tosi (founder of MMB), has released the Momofuku Milk Bar Cookbook. The recipe below for the Confetti Cookies has been slightly adapted from there.
This post contains affiliate links (when you buy we make a little money at no cost to you). See our disclosure for more information.
Everybody who I've made these cookies for has absolutely fallen in love with them. They're creamy, sweet, and both soft and crunchy because there are two parts to the recipe: the birthday crumbs, then the cookies. You only need half of the birthday crumbs for 1 batch of cookies, so you can make two batches of cookies (or just stuff the other half of the crumbs in your mouth like me).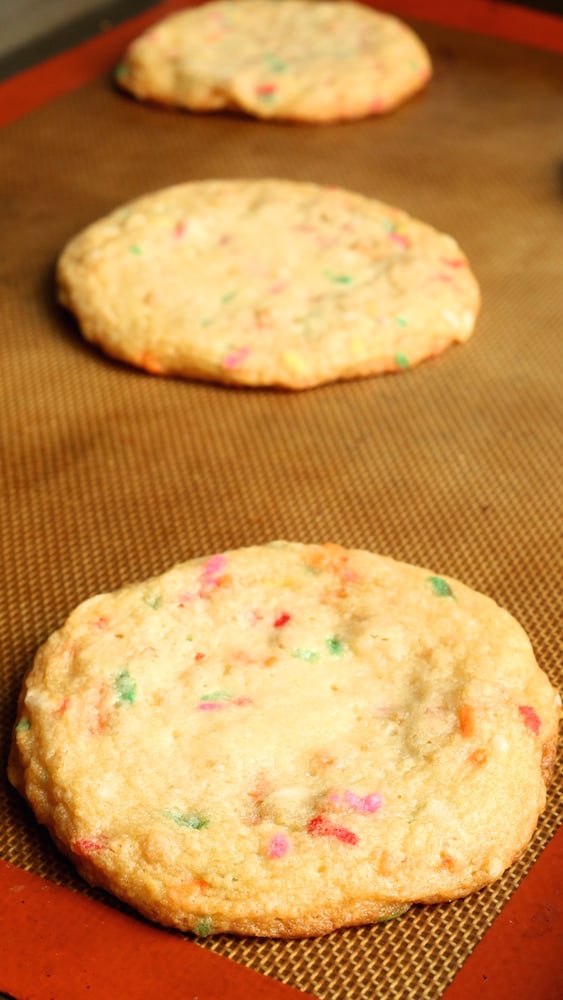 Print
Momofuku Milk Bar Confetti Cookies Recipe
Make the famous Momofuku Milk Bar Confetti Cookies at home with this copycat recipe. The perfect chewy, crunchy cookie.
Author: Jessica Pinney
Prep Time: 75 minutes
Cook Time: 40 minutes
Total Time: 1 hour 55 minutes
Yield: 15 1x
Category: Dessert
Cuisine: American
Ingredients
Birthday Cake Crumbs Ingredients
½ cup sugar
1 ½ tablespoons packed brown sugar
¾ cup cake flour
½ teaspoon baking powder
½ teaspoon kosher salt
2 tablespoons rainbow sprinkles
¼ cup vegetable oil
1 tablespoon clear vanilla flavoring (You must use clear vanilla)
Cookie Ingredients
½ recipe of the birthday cake crumb
2 sticks unsalted butter, room temp
1 ½ cups sugar
1 tablespoon light corn syrup
2 eggs
2 teaspoons clear vanilla extract (Again, you must use clear vanilla)
2 ½ cups flour
⅔ cup malted milk powder
2 teaspoons cream of tartar
1 teaspoon baking soda
1 ¼ teaspoons kosher salt
¼ cup rainbow sprinkles
Instructions
Birthday Cake Crumbs Directions
Preheat oven to 300⁰F.
Combine dry ingredients and sprinkles in the bowl of your stand mixer. When well mixed, add oil and vanilla. Mix again. The ingredients should start forming in to "clusters".
Cover a baking sheet with parchment paper or a non-stick baking mat. Spread the clusters on the baking sheet. Bake for 20 minutes. If clusters are baking together, you can break them apart a few times during the baking process.
Remove crumbs from oven and let cool.
Cookie Directions
Cream butter, sugar, and corn syrup in a stand mixer for 3 minutes. Add the eggs and vanilla and beat for 8 more minutes. This long creaming process is part of what makes these cookies so amazing. Do not cut down on the time!
Scrape the sides of the bowl. Add the dry ingredients and the sprinkles. Mix on low until the ingredients come together. Do not over-mix. (That would negate the creaming process we just did.)
Add the cooled birthday crumbs to the dough and mix just until incorporated.
Scoop the dough onto parchment-covered sheet pans and pat the tops down. The recipe calls for using 1/3 cup dough for cookie. This is a pretty large cookie, but I highly recommend it for it several reasons: 1) Everybody loves and wants a giant cookie, 2) They come out amazingly soft and wonderful at this size. You can make smaller cookies if you want, but just make sure to cut down the baking time accordingly.
Refrigerate cookie dough disks for at least an hour before baking. Toward the end of the chilling, preheat your oven to 350⁰F.
Arrange your chilled cookie dough disks about 4 inches apart if you are making the ⅓ cup size cookies. Bake the cookies for about 18-20 minutes or until they puff and spread. The middle of the cookies will be less golden-brown than the outside of the cookies, but they should not be doughy pale.
Cool on the sheet before storing in containers. They will keep at room temp for about 5 days.
Nutrition
Calories: 304
Fat: 14.7g
Carbohydrates: 41.2g
Protein: 2.4g