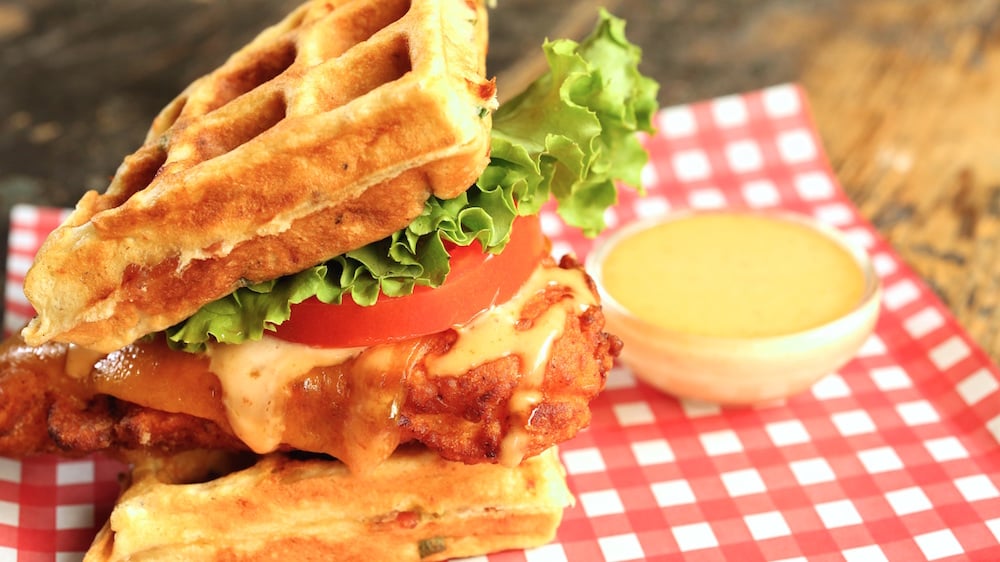 Chicken and waffles are a combination that I was never really introduced to until my adult life. Being out on the road a lot because of work, particularly in the south, I've found myself eating more than my fair share of the dish.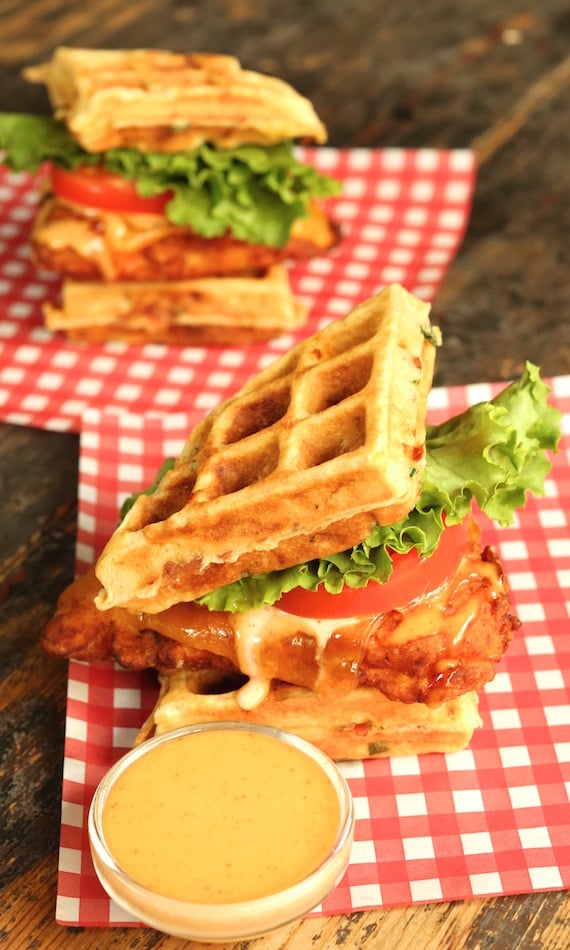 But putting it all together as a sandwich never occurred to me! You get to do away with the fork and knife and take on the challenge of fitting the whole sandwich in your mouth to get a complete bite.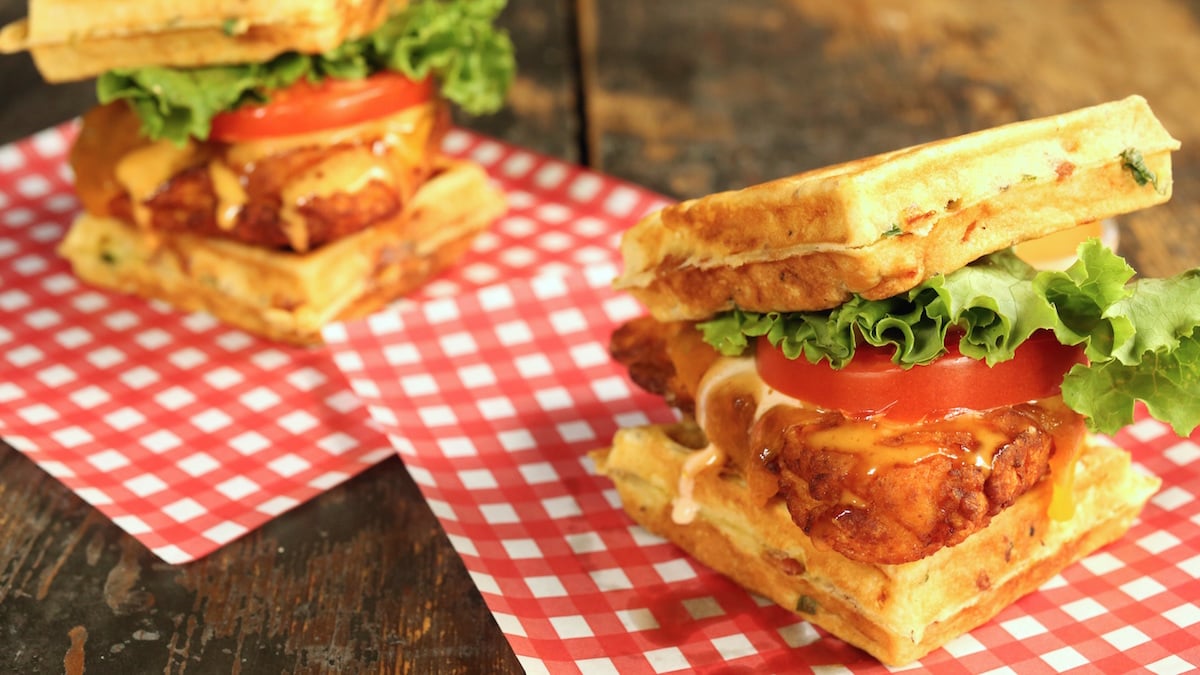 The waffles themselves are delicious on their own. The texture is crispy yet moist because of the cheese inside. The green onion adds some sweetness and add bacon to anything and you have a winner in my book! Complimented with the crunch of the buttermilk fried chicken and the zing from the aioli, you've got one sandwich with just the right amount of flavors going on.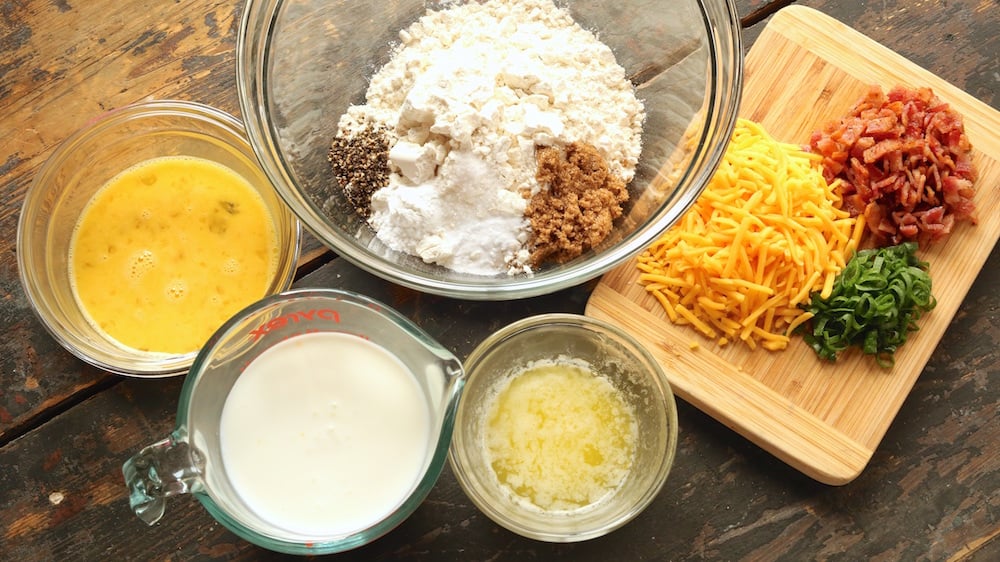 It may seem like a lot of work cooking both the waffles and the fried chicken from scratch but honestly, it wasn't too bad and totally worth it! I'd eat this sandwich any time of the day, breakfast, lunch, or dinner!
This post contains affiliate links (when you buy we make a little money at no cost to you). See our disclosure for more information.
Print
Buttermilk Fried Chicken and Bacon Cheddar Waffle Sandwich Recipe
The ultimate sandwich recipe: crispy fried buttermilk chicken on a bacon cheddar waffle, topped with maple sriracha aioli, cheddar cheese, lettuce & tomato.
Author: Jessica Pinney
Prep Time: 45 minutes
Cook Time: 15 minutes
Total Time: 1 hour
Yield: 2 1x
Category: Sandwiches
Cuisine: American
Ingredients
(Serves 2)
Bacon Cheddar Waffles:
1 cup all-purpose flour
1/8 cup brown sugar
1/2 teaspoon baking soda
3/4 teaspoons baking powder
1/4 teaspoon salt
1/2 teaspoon freshly cracked black pepper
2 large eggs, room temperature
8 teaspoons of unsalted butter, melted and cooled
1 cup buttermilk, room temperature
3 slices bacon, cooked and crumbled
1/2 cup shredded cheddar cheese
2 scallions (green onions) thinly sliced
cooking spray, for waffle iron
Buttermilk Fried Chicken:
2 large chicken breasts cut in half
3/4 cups buttermilk
1 cup cornstarch
1/2 cup all-purpose flour
1/2 teaspoon salt
1/2 teaspoon cayenne pepper
1/2 teaspoon garlic powder
1/2 teaspoon black pepper
1/2 teaspoon paprika
1/2 tablespoon hot sauce, optional
canola oil for frying
Maple Sriracha Aioli:
Toppings:
Lettuce, tomato, and cheddar cheese slices to make sandwich (and any other toppings you may prefer)
Instructions
Maple Sriracha Aioli:
Combine ingredients in a small bowl. Set aside.
Waffles:
Preheat waffle iron.
In a large bowl stir together the flour, brown sugar, baking soda, baking powder, salt and black pepper.
Make a well in the center of the bowl and set aside.
Crack the eggs into a small bowl and whisk together. Pour into the center of the dry ingredients.
Add the melted butter and buttermilk. Using a wooden spoon, stir the waffle batter until just combined. It
should be sightly lumpy. If the batter appears to be too thick, add a little more of buttermilk and stir until
pouring consistency is reached.
Mix in the cooked chopped bacon, shredded cheddar cheese, and sliced green onions.
Lightly grease the waffle iron with cooking spray.
Pour in about ½ cup batter in each waffle cavity (more or less depending on size of waffle iron). Cook until the waffles are golden brown and crispy (my waffle iron took about 4-5min).
Place the cooked waffles on a cooling rack, set over a baking sheet. Place in a 200° F oven to keep the waffles warm until ready to eat.
Buttermilk Fried Chicken:
Pour canola oil into deep fryer and begin to heat up.
Place the chicken in a large bowl. Cover with buttermilk and add the hot sauce, if using.
Toss together until evenly mixed and all the chicken is submerged in the buttermilk. Cover with plastic
wrap and place in the fridge for at least 30 minutes (this is not a must if you don't have the time, but the
longer the chicken marinates in the buttermilk, the more tender and juicy it becomes!)
In a shallow dish combine the cornstarch, flour, salt, cayenne pepper, garlic powder, paprika, and black
pepper.
To coat the chicken, grab a piece from the buttermilk bowl, slightly drain off, and throw into the
cornstarch and flower mixture. Pat the mixture into the chicken, on both sides.
Return to the buttermilk bowl (with the rest of the chicken) and coat both sides again. Place the chicken
back into the flour, once more, and coat both sides.
Lay the coated chicken on a rack placed over a baking sheet.  Allow the coated chicken to rest for at least
10 minutes.
Place one piece of coated chicken into the heated deep fryer oil. (my deep fryer is pretty small so I had to
fry each piece of chicken one at a time.)
Fry for 7 min.  Remove from oil and allow to drain on a cooling rack.
Repeat process until all pieces of chicken have been fried.
The Sandwich:
Place a piece of cheddar cheese on the chicken and let melt in your already heated oven.
Take that piece of chicken and put it on one-quarter of a waffle.
Top with tomato and lettuce and whatever else your heart desires.
Spread the maple sriracha aioli on the other quarter of the waffle and put it on top!
Sandwich complete! Enjoy!