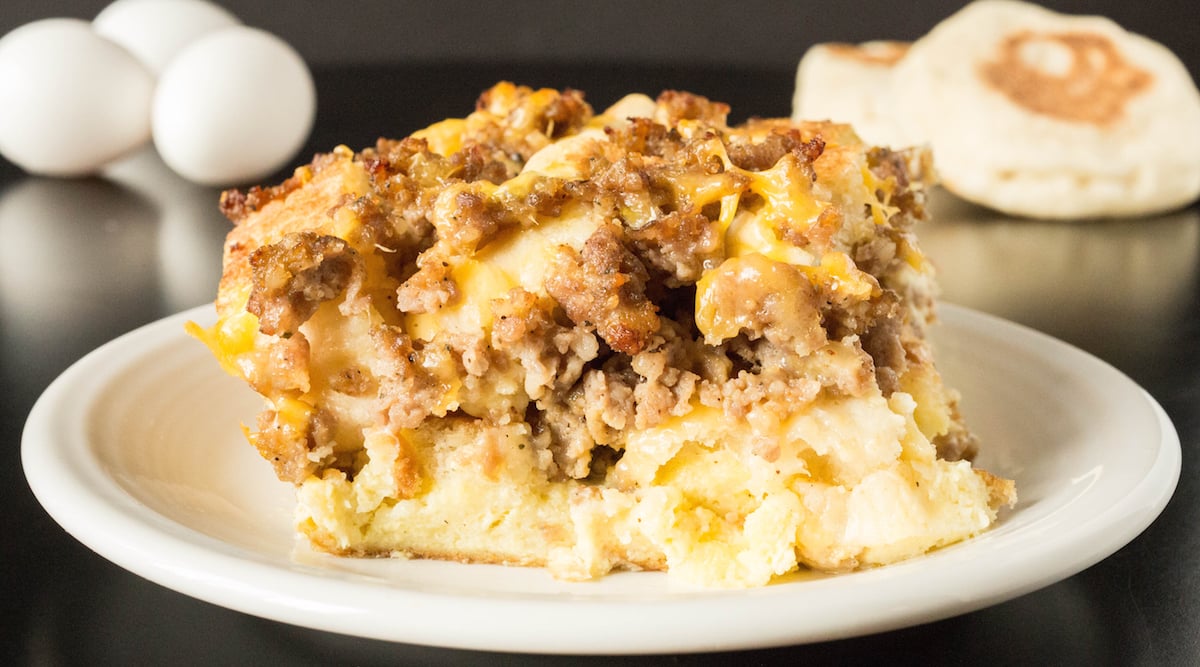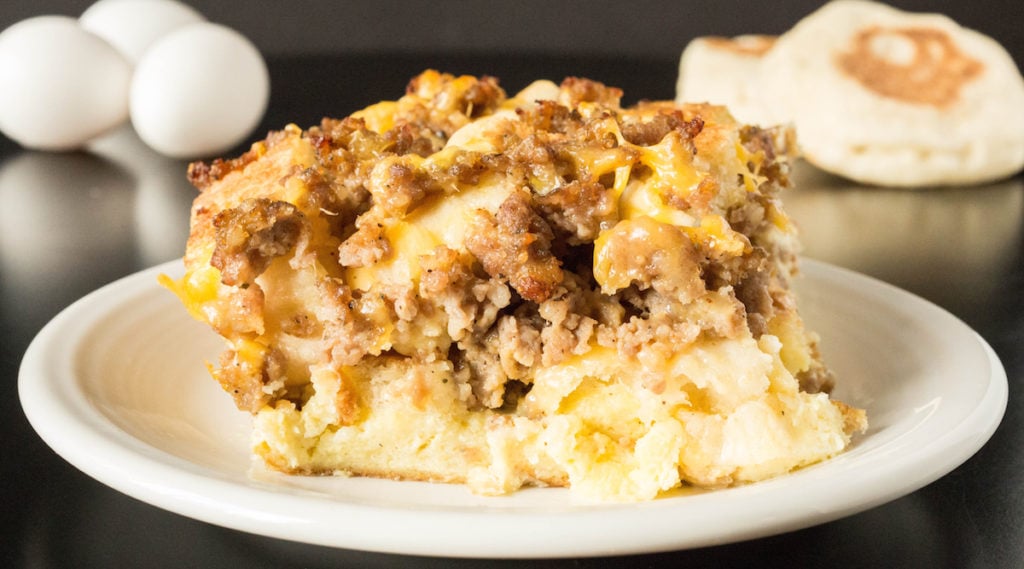 This breakfast recipe turns the classic flavors of a Sausage Egg McMuffin (sausage, egg, cheese, and English muffin) into a delicious breakfast casserole. You can prep the night before and toss in the oven the next morning for an easy breakfast.
The Sausage Egg McMuffin is undoubtedly one of the most iconic fast-food breakfasts of all time.
It's cost-efficient, has magical hangover-healing properties (allegedly), and the savory blend of flavors never fail to please.
The only thing that could take the Egg McMuffin to the next level is turning it into a breakfast casserole. Good news: I'm on it!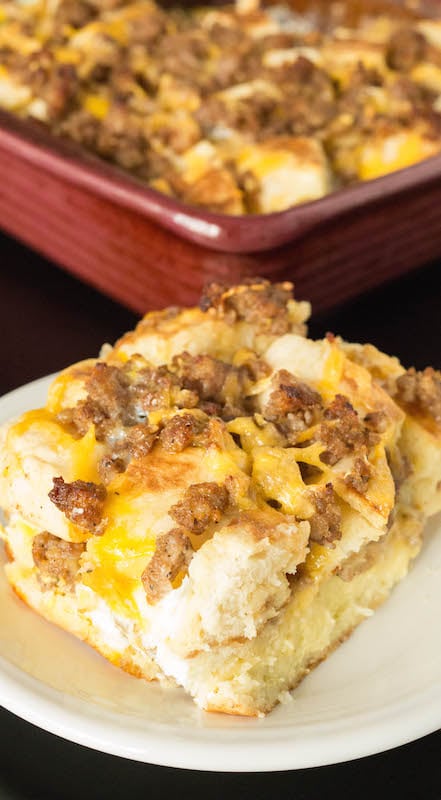 I made this Egg McMuffin Casserole the first time because some friends had rented a beach house down in Laguna for the weekend. They invited me to come under one condition: that I provide them with a super delicious breakfast.
Not too uncommon of a request when you're a food blogger.
I'd say it got the job done because there wasn't a single crumb left!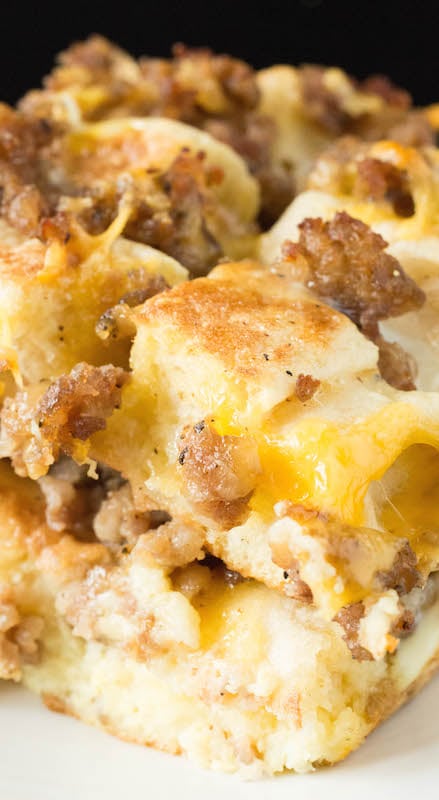 Breakfast casseroles are usually best if you prep them the night before, which works out great because in the morning all the work is already done! Just pop it into the oven and lounge on the couch drinking mimosas until it's ready.
To make the Egg McMuffin Casserole, layer cut English Muffins, cooked breakfast sausage, and cheddar cheese in a deep 8×8 baking dish.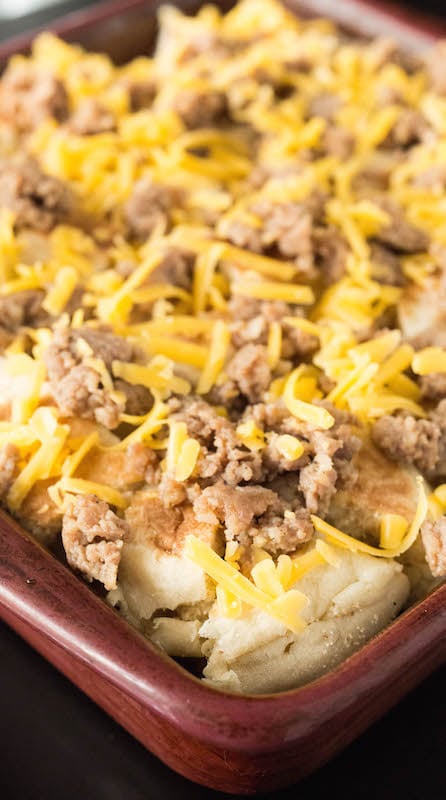 Then pour the egg and milk mixture evenly over the entire casserole.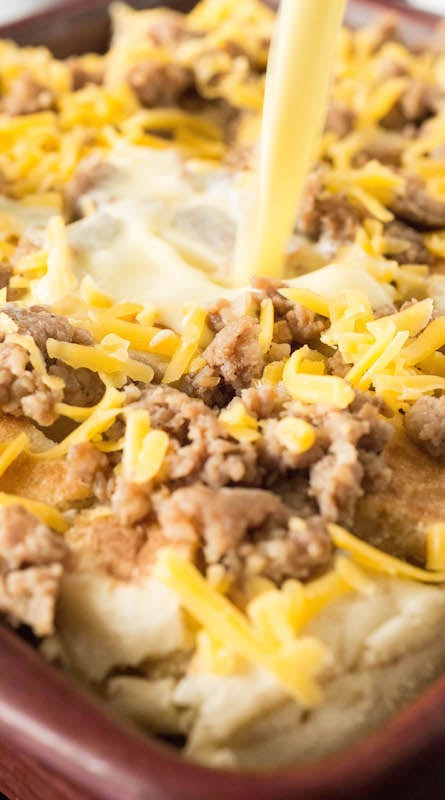 At this point, you want to cover the Sausage Egg McMuffin Casserole with saran wrap and store in the refrigerator for at least two hours. I prefer to let mine soak up the creamy egg mixture overnight.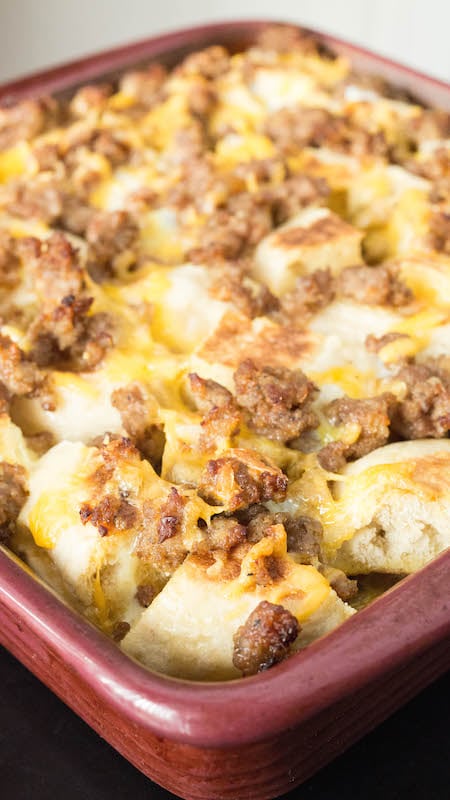 I like to top mine with maple syrup, which sort of turns it into a McGriddle. Janette prefers to douse hers in ketchup. This horrifies me but to each her own.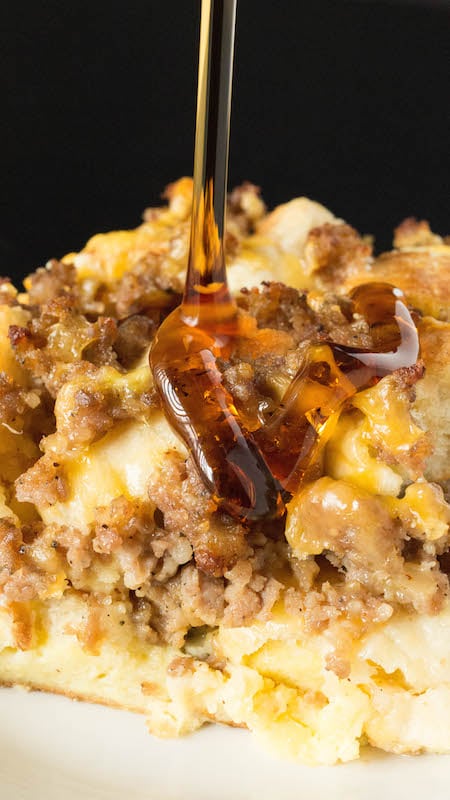 Whatever condiment you choose to adorn your McMuffin Casserole with, I hope you enjoy it as much as we do!
Print
Sausage Egg McMuffin Casserole Recipe
This breakfast recipe turns the classic flavors of a Sausage Egg McMuffin into a delicious casserole.
Author: Jessica Pinney
Prep Time: 15 mins
Cook Time: 45 mins
Total Time: 1 hour
Yield: 4-6 1x
Category: Breakfast
Cuisine: American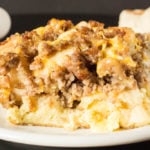 Ingredients
8 English Muffins, cut into sixths
8 oz Breakfast Sausage, cooked and crumbled
1 1/2 Cup Cheddar Cheese, Shredded
5 Eggs
1 1/4 Cup Milk
1.5 Tsp Salt
1/2 Tsp Pepper
Instructions
Preheat oven to 325 degrees F.
Grease an 8×8 baking dish with non-stick spray. Place half of your cut English muffins into the bottom of the dish in a single layer.
Cover then English muffins with half of the cooked breakfast sausage, then layer with half of the cheese.
Add one more layer of English muffins, another of sausage, then the cheese.
In a bowl, whisk together the eggs, milk, salt, and pepper. Pour evenly over the casserole.
Bake 40-50 minutes until center is cooked through.
Let cool 5 minutes, then cut and serve.