This creamy hash brown casserole, aka "funeral potatoes", is a delicious side dish that comes together quickly with minimal prep thanks to frozen hash browns.
This creamy hash brown casserole is one of my all-time favorite American side dishes.
In the Midwest, it is traditional to have a potluck reception after a funeral. This potato dish is very popular at these, they are often called "funeral potatoes".
It is also common to see this dish served in the Southern US states at church potlucks. However, it may be most popular with the Mormons, as it is a staple of their women's group, The Relief Society.
In my opinion, the best part of this recipe is how easy it is to make. Using frozen cubed hash browns means the prep time for this dish is less than 10 minutes. A busy woman's dream!
It also freezes and reheats well, so if you're a fan of big batch cooking and freezer meal prepping, be sure to add it to your list.
Ingredients
Hash Browns – I use frozen diced hash browns. You can also cut fresh potatoes into small cubes, if you'd prefer.
Cornflakes – This is the classic topping for this casserole, but feel free to experiment with other crunchy foods like chips or crackers.
Condensed Soup – I use cream of chicken cream but you can substitute cream of celery or cream of mushroom.
Velveeta Cheese – I buy a block of Velveeta and cube it. Monterey Jack cheese is a good substitute.
Sour Cream – For best results, use a full-fat sour cream.
Butter – I use unsalted butter in this recipe.
Onion – Diced onions add a lot of flavor to this casserole, but you can leave them out.
Seasonings – A little garlic powder and paprika is all the seasonings this dish needs.
This post contains affiliate links (when you buy we make a little money at no cost to you). See our disclosure for more information.
How To Make
Sautée onions in a saucepan with 1 tablespoon butter for 4 minutes.
Melt 1 tablespoon butter and toss with the cornflakes, set aside. Take the rest of the butter along with the soup, velveeta cheese, and seasonings and microwave for 3 minutes, stirring at 1 minute intervals.
Add the diced potatoes to the bottom of a casserole dish.
Pour the Velveeta soup mixture over the potatoes, then gently stir to combine.
Add the shredded cheese over the potatoes, then the evenly distribute the cornflakes across the top.
Bake at 350F for 45 minutes.
Tips
If the cornflakes start to brown too quickly, cover with tinfoil and continue baking.
No need to thaw the hash browns before cooking. If yours are thawed, the dish will be done cooking faster than the stated time.
Want to make them ahead of time? Prepare it up until the point you put the cornflakes on. Tightly wrap your casserole dish with foil or seran-wrap, and store in the freezer or fridge, then add cornflake topping when you're ready to bake.
Storage
Store leftovers in an airtight container in the refrigerator for up to 5 days.
Freeze up to 3 months.
Variations
We love the classic version of funeral potatoes, but there's many delicious variations you should try too.
Some of our favorites include topping it with Ritz crackers, Doritos, Panko, or even seasoned saltines instead of Cornflakes.
You could also try adding diced ham or shredded chicken to make this casserole a main dish.
Looking for a little extra spice? Try stirring in roasted hatch chiles to the Velveeta mixture.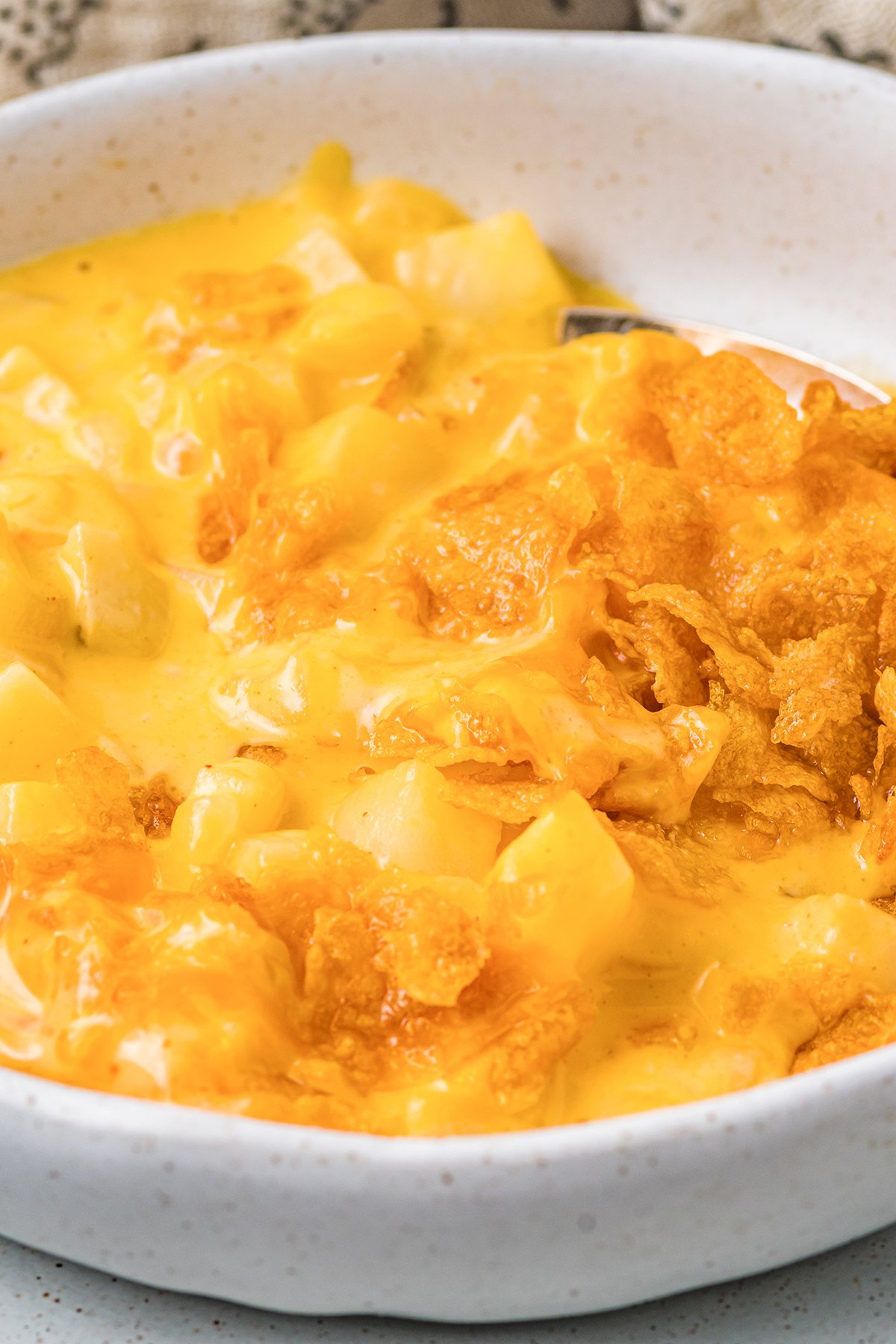 Should you cook them covered or uncovered?
You should cook funeral potatoes uncovered so that the Cornflake topping stays crunchy.
What to serve with funeral potatoes?
They pair great with ham, turkey, pork tenderloin, smoked chicken, and even seafood like hibachi shrimp.
Print
Funeral Potatoes
Creamy hash brown casserole topped with crunchy Cornflakes.
Author: Jessica Pinney
Prep Time: 10 minutes
Cook Time: 45 minutes
Total Time: 55 minutes
Yield: 6 1x
Category: Side Dish
Cuisine: American
Ingredients
3/4 cup butter, melted, divided
1/4 cup chopped onion
1 cup cubed Velveeta cheese
1 (16 oz.) container sour cream
1 (10 3/4 oz.) can condensed cream of chicken soup
1/2 teaspoon garlic powder
1/2 teaspoon smoked paprika
1 (32 oz.) package frozen cubed hash browns, thawed
2 cups Cornflakes, lightly crushed
Instructions
Heat the oven to 350° and spray a casserole dish with cooking spray.
Melt a tablespoon of butter in a pan and cook the onions for 4 minutes.
Melt a tablespoon of butter and stir into the cornflakes till well combined.
Combine the velveeta cheese, cream of chicken soup, remaining butter, garlic powder, and paprika in a bowl.  Melt in a microwave for 3 minutes, stirring every minute.
Stir the onions into the cheese sauce.
Place the hash browns in the casserole dish and pour the cheese sauce over the potatoes, stirring to combine.  Spread the shredded cheese over the potatoes.
Spread the cornflakes evenly over the cheese.
Place in the oven and bake for 45 minutes until bubbly and the topping is browned lightly.
Remove and let sit for 5 minutes before serving.