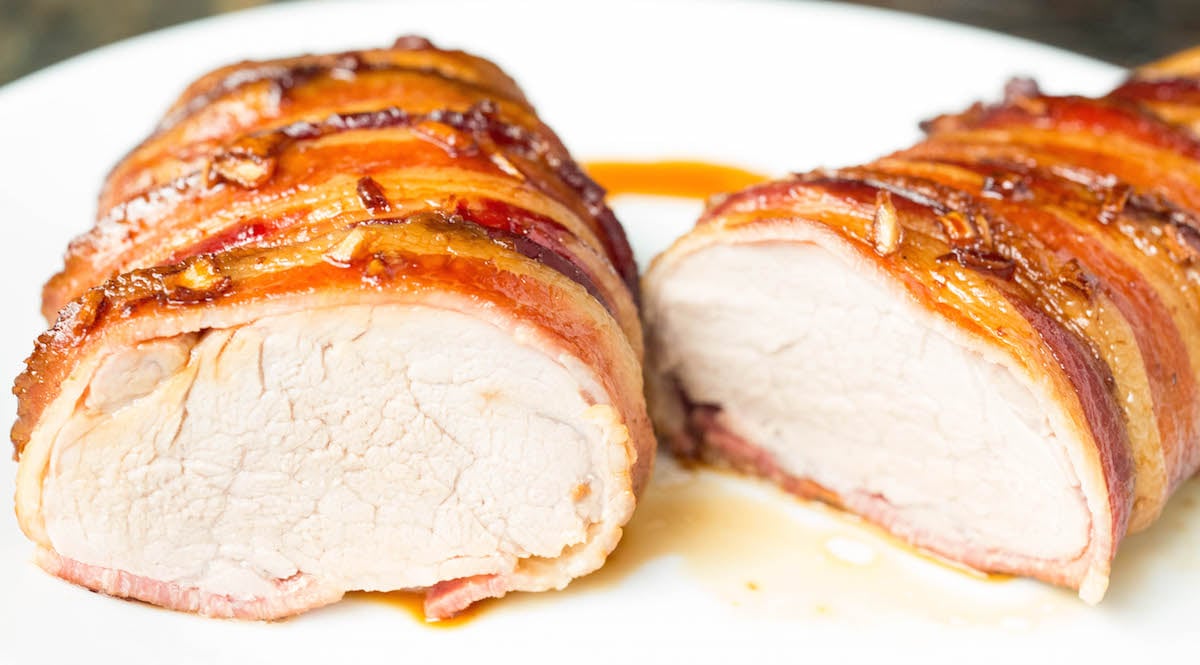 Update (11/7/16): This pork tenderloin recipe was originally published June 6th, 2015. It is one of our favorite dinner recipes, so we decided to update the post with new photos and a video. We hope you enjoy!
It's hard to believe that we've had this blog for almost 6 months now. Time flies when you're stuffing your face, apparently.
I was looking at our recipes and realized there was a severe lack of pork. I can take care of that, no problem! Let's put pork on some more pork!
This was my first time making pork tenderloin myself and I was overjoyed with how well it turned out. The marinade is the perfect mixture of tangy/sweet and when it combines with the salty, crispy bacon and the melt-in-your-mouth tenderloin, your taste buds will sing praises on high!
Though this marinade makes enough for three bacon wrapped pork tenderloins, I have sometimes only made one when it is just the two of us. If you do make extra, have no fear, this is one of the best and easiest recipes to reheat. Just put it back in the oven at 350 degrees for 10-15 minutes, or until the desired temperature is reached.
This post contains affiliate links (when you buy we make a little money at no cost to you). See our disclosure for more information.
Print
Bacon Wrapped Pork Tenderloin
This pork tenderloin is wrapped in bacon, then marinated for hours to make it one of the most juicy and flavorful ways to prepare this meat.
Author: Jessica Pinney
Prep Time: 3 hours
Cook Time: 3 hours
Total Time: 6 hours
Yield: 6-8 1x
Category: Dinner
Cuisine: American
Ingredients
3lbs of Pork Tenderloin (About 3 Tenderloins)
1.5 lbs Bacon
¾ cups Soy Sauce
1 Tablespoon Minced Onions
½ teaspoons Garlic Salt
1 Tablespoon White Vinegar
¼ teaspoons Salt
1 dash Pepper
¾ cups Brown Sugar
Instructions
Wrap the tenderloin pieces in bacon. Place in an 8 x 11 pan. Poke holes in meat with a fork.
Combine rest of ingredients in a small bowl. Stir well. Pour marinade over meat. Refrigerate, uncovered, 2 – 8 hours.
Bake in a 300 degree oven for 1.5 – 3 hours, until pork reaches 160 degrees in the thickest part. If the bacon begins to burn, place foil over the top.
Remove from oven, cut meat into small pieces and allow the meat to soak up the excess juices in the pan.
Serve immediately.