This creamy pumpkin hummus is a healthy fall snack. It only takes a few minutes to make, so you can whip it up anytime the cravings hit!
Homemade hummus does not last long in our house! Once you try it you'll never go back to store-bought.
During the fall, we love adding pumpkin to it. Not only does it add fall flavor, but it also makes the hummus healthier by adding extra fiber as well as vitamins, nutrients, and antioxidants.
Pumpkin hummus is always a beloved addition to Friendsgiving or as a Thanksgiving appetizer. It also makes a delicious spread for leftover Turkey sandwiches.
Ingredients
Pumpkin Puree – Be sure to use pumpkin puree, not pumpkin pie filling (the latter has spices and sugar added). You can use canned or homemade.
Chickpeas – You could substitute white beans, aka Cannellini beans.
Garlic – You can roast the garlic for a deeper flavor with less bite, or leave it out entirely, if you'd prefer.
Tahini -This is a paste made from hulled, toasted, and ground sesame seeds. It's one of the main components of hummus.
Olive Oil – You can use any olive oil you'd like. We've been loving Graza lately.
Lemon Juice – Use fresh squeezed lemon juice. Bottled has preservatives that negatively alter the flavor.
Seasoning – I use salt, cumin, and paprika, but this recipe works with other seasonings too.
This post contains affiliate links (when you buy we make a little money at no cost to you). See our disclosure for more information.
How To Make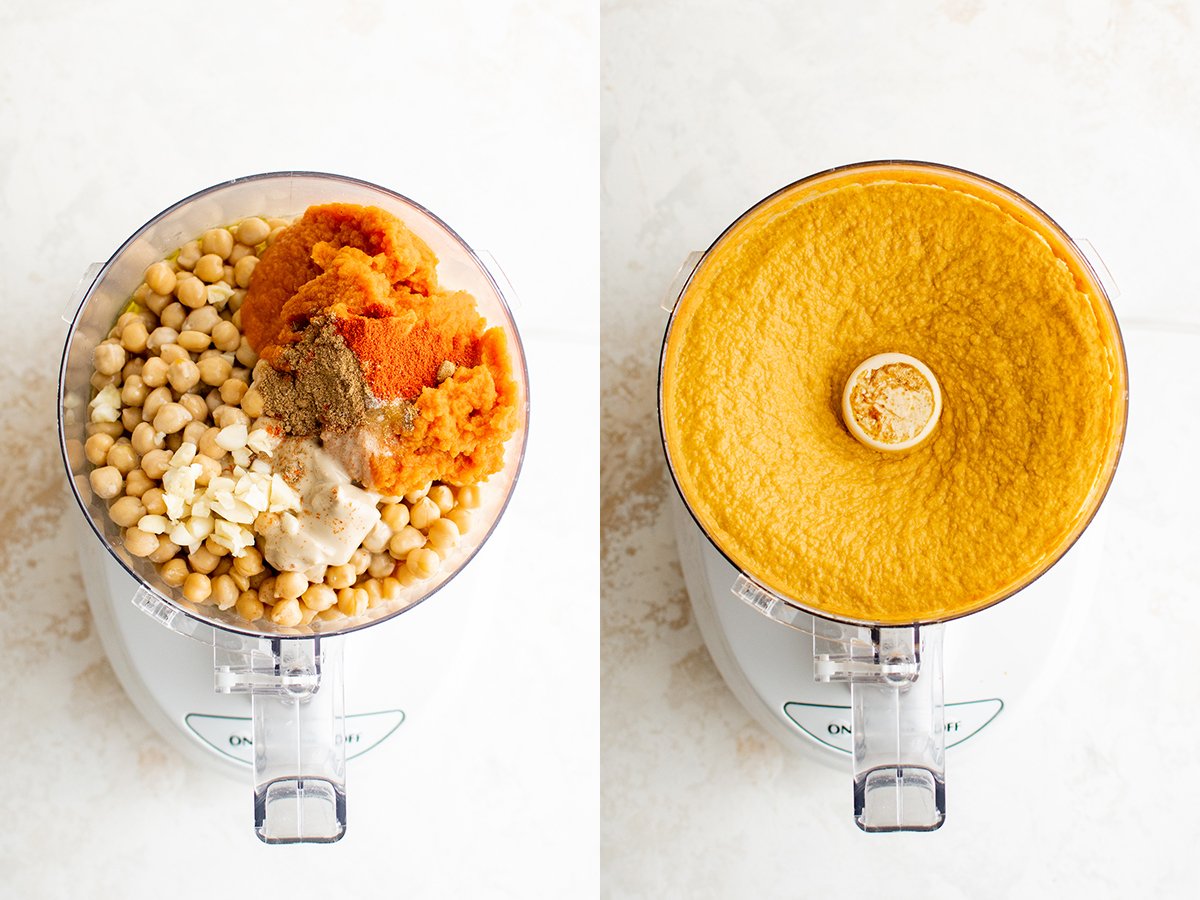 Add ingredients to a food processor.
Blend until smooth.
How To Eat
Wondering what to eat with your homemade pumpkin hummus?
We recommend dipping cinnamon sugar pita chips and gingersnaps in it, as well as fruits & vegetables like apples and bell peppers.
It also makes a wonderful spread on toast, turkey sandwiches, and vegetable wraps.
Storage
Store in an airtight container in the refrigerator for up to 7 days.
Tips
Try adding pumpkin spice flavors like ground cinnamon and allspice instead of the cumin and paprika.
For a different fall twist, substitute butternut squash puree for the pumpkin.
Garnish with a little bit of olive oil and pepitas.
Tastes bests after flavors have had a few hours to meld together.
We recommend pairing this hummus with our Thanksgiving cocktail for the perfect fall happy hour.
It also makes a modern and simple Thanksgiving menu when paired with our cranberry salsa and Turkey stuffing casserole.
Print
Pumpkin Hummus
Fall-inspired hummus made with pumpkin purée.
Author: Jessica Pinney
Prep Time: 5 minutes
Total Time: 5 minutes
Category: Appetizer
Cuisine: Middle-Eastern
Ingredients
2 (15.5-oz) cans of chickpeas, well drained
1 cup of pure canned pumpkin puree
3 cloves of garlic, peeled & roughly chopped
3 tablespoons of tahini
3 tablespoons of olive oil
2 tablespoons of lemon juice, freshly squeezed
½ teaspoon of salt
½ teaspoon of ground cumin
½ teaspoon of paprika powder
Water as needed
Instructions
Add all the ingredients except for the water to a food processor then blend until smooth, or 2-3 minutes.
Pour in 3-4 tablespoons of cold water at a time as needed until the hummus is smooth to your liking.
Serve in a large bowl and use the back of a spoon to make a signature hummus swirl.
Drizzle some extra virgin olive oil lightly around on top, careful not to overdo it.
Sprinkle some roasted pumpkin seeds or pepitas around on top for garnish if desired then serve immediately with pita chips.
Notes
This pumpkin hummus can be stored in an airtight container in the fridge for up to 1 week.