An upscale appetizer featuring roe and caviar on a waffle stick with crème fraîche and chives. The perfect fancy finger food for New Year's Eve parties!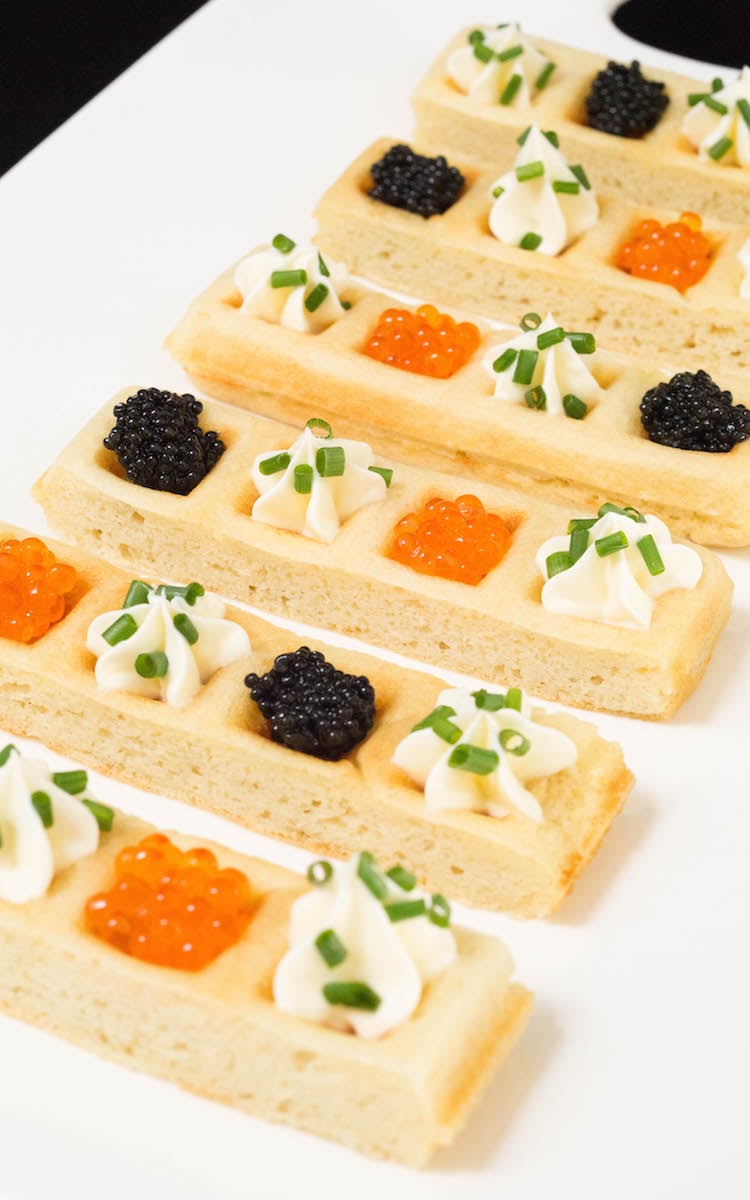 I love combining traditionally upscale things (like caviar), and classic comfort foods (like waffles). So, this New Year's Eve I just knew I had to serve up some caviar waffle sticks.
Caviar is often served with blinis, so pairing it with waffle sticks really isn't that crazy of an idea. In fact, it makes them so much easier to serve at parties because waffle sticks make excellent finger food.
Common caviar accouterments include crème fraîche, chives, red onions, and chopped egg. I wanted to keep this appetizer pretty simple, so I opted to add only the first two. Feel free to add all of them if you'd like. It would even be easy to set up a "make your own caviar waffle stick bar" so guests could choose whatever they'd like. Be sure to keep the caviar on ice if you decide to go this route.
I used two different types of fish eggs – sturgeon caviar (black) and rainbow trout roe (orange). You can really use whatever kinds you'd like, or even stick with just one. True caviar, like the sturgeon, is significantly more expensive than the roe, but I think it has a much more preferable flavor.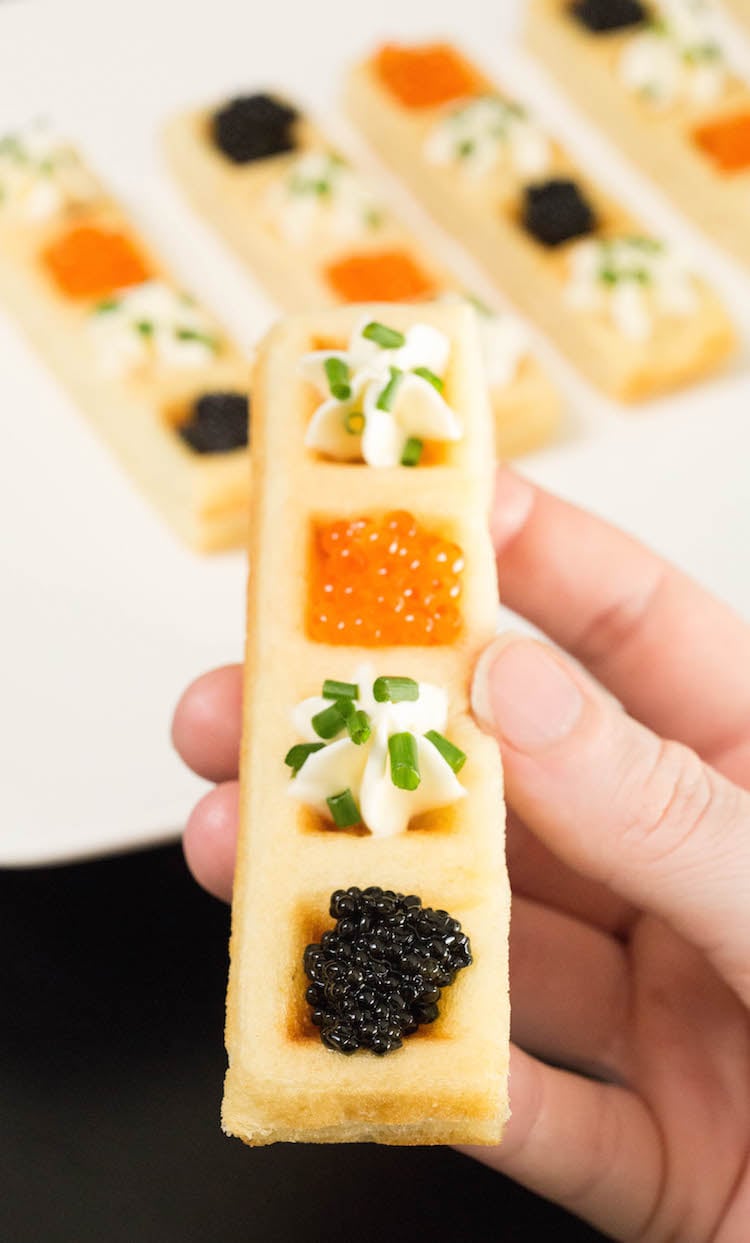 Other Recipes That Use Caviar
Print
Caviar Waffle Sticks Recipe
An upscale appetizer featuring caviar on a waffle stick with crème fraîche and chives
Author: Jessica Pinney
Prep Time: 15 minutes
Cook Time: 5 minutes
Total Time: 20 minutes
Yield: 4 1x
Category: Appetizers
Cuisine: American
Ingredients
1 1/2 Cup Flour
1 1/2 Tablespoons Sugar
2 Teaspoons Baking Powder
1 Teaspoon Baking Soda
1 Teaspoon Salt
1 1/2 Cups Buttermilk
1/2 Cup Butter, melted then cooled to room temperature
2 Eggs
1/2 oz Surgeon Caviar
1/2 oz Rainbow Trout Roe
Crème fraîche
Chives
Instructions
In a large bowl, whisk together the flour, sugar, baking powder, baking soda and salt.
In a medium bowl, In a medium bowl, whisk together the buttermilk, butter, eggs and vanilla extract.
Add half of the wet ingredients into the dry ingredients and mix together with a fork or whisk. Add the other half and gently mix it in with a spatula. Mix until batter is combined, but be sure not to over mix.
Preheat your waffle maker (I use this one). Once heated, spray with non-stick cooking spray then add the batter. Close the waffle maker and cook according to the manufacturer's instructions.
After the waffle is cooked, remove from the waffle maker and place on a wire rack to cool.
Once waffles have cooled, place on a cutting board and use a knife to trim the edges and cut into sticks.
Take each waffle stick and fill the pockets alternating between caviar and crème fraîche with chives.
Serve immediately.