Looking for an upscale party finger food? Try these deviled eggs that are topped with generous amounts of caviar. They are sure to impress your guests!
Growing up in the South, deviled eggs were a staple at almost every gathering. Whether it was a holiday, a church potluck, or a picnic, it would be a safe bet that at least one plate of deviled eggs would be served.
Back then I never even thought about there being different kinds of deviled eggs. As an adult, I've learned the joys of variety and found that I like to add something a little extra to mine.
Previously, I dropped my recipe for deviled eggs with fried chicken skin. They're always a crowd pleaser, but for my New Year's Eve get-together I want to serve something a bit more grand. Caviar topped with deviled eggs seemed like the logical way to go.
Ingredients
Hardboiled Eggs – I always use large eggs for deviled eggs. Older eggs peel best. If you have pressure cooker, the Instant Pot Hard Boiled Eggs method is easiest.
Caviar – There are many types of caviar that range from $ to $$$. The flavor also greatly varies. I went with some top tier Golden Osetra. It has a beautiful golden color and a very smooth, buttery like flavor. American Sturgeon would be another great choice, though it is saltier. For something more budget friendly, you could try lumpfish caviar (the most affordable variety).
Crème fraîche – This is a classic condiment to serve with caviar. It's like a sour cream without the tang. If you'd prefer, you can substitute a high-quality mayo. I recommend Duke's.
Mustard – Dijon mustard seems to pair best with the other flavors in this deviled egg. A course ground mustard would also be good.
Chives – Fresh chives bring a bit of needed acidity, which helps bring out the other flavors. Green onions aren't as dainty and elegant, but could be substituted in a pinch.
This post contains affiliate links (when you buy we make a little money at no cost to you). See our disclosure for more information.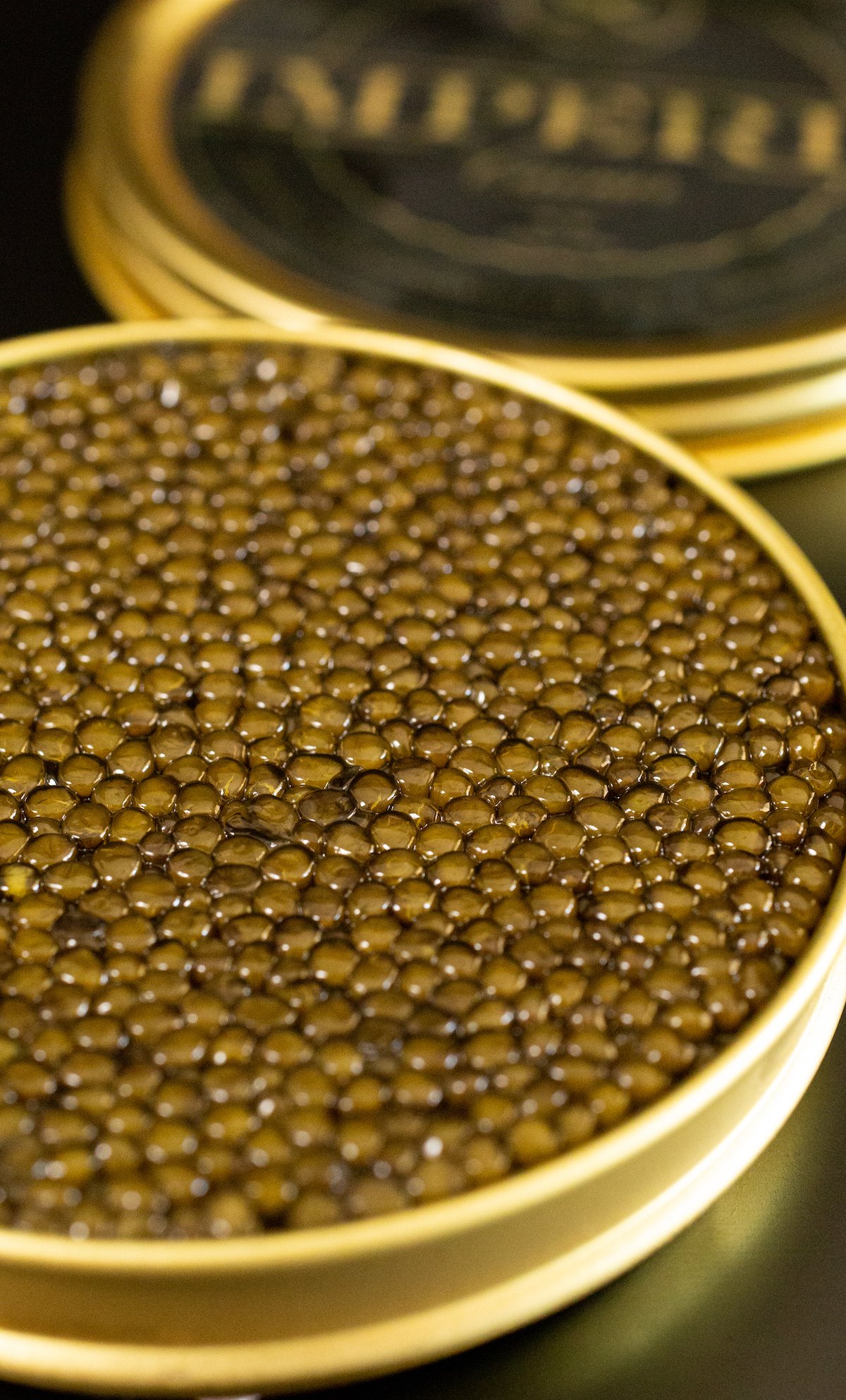 Where to get caviar
Many high-end grocery stores, like Whole Foods, carry caviar. Some Costcos also have it and I've heard you can even find it at Aldi's and Trader Joes. Fish markets are another good place to try. Be sure to call ahead and check inventory so you don't waste a trip.
If it's hard to find caviar in your area, I recommend ordering from Imperia Caviar. They deliver it straight to your door!
Tips
Make it ahead. It's easy to prep these deviled eggs ahead of time. Simply keep the whites in their own airtight container and the yolk mixture in it's own. Store them in the refrigerator, then pipe them and top with caviar right before serving.
Make it beautiful. For an elegant touch, I piped the yolk mixture into the whites. I used a decorator pro. You can also use a ziplock bag with a piping tip.
Make it different. Top with a small piece of smoked salmon, salmon roe, and fresh dill for a delicious variation.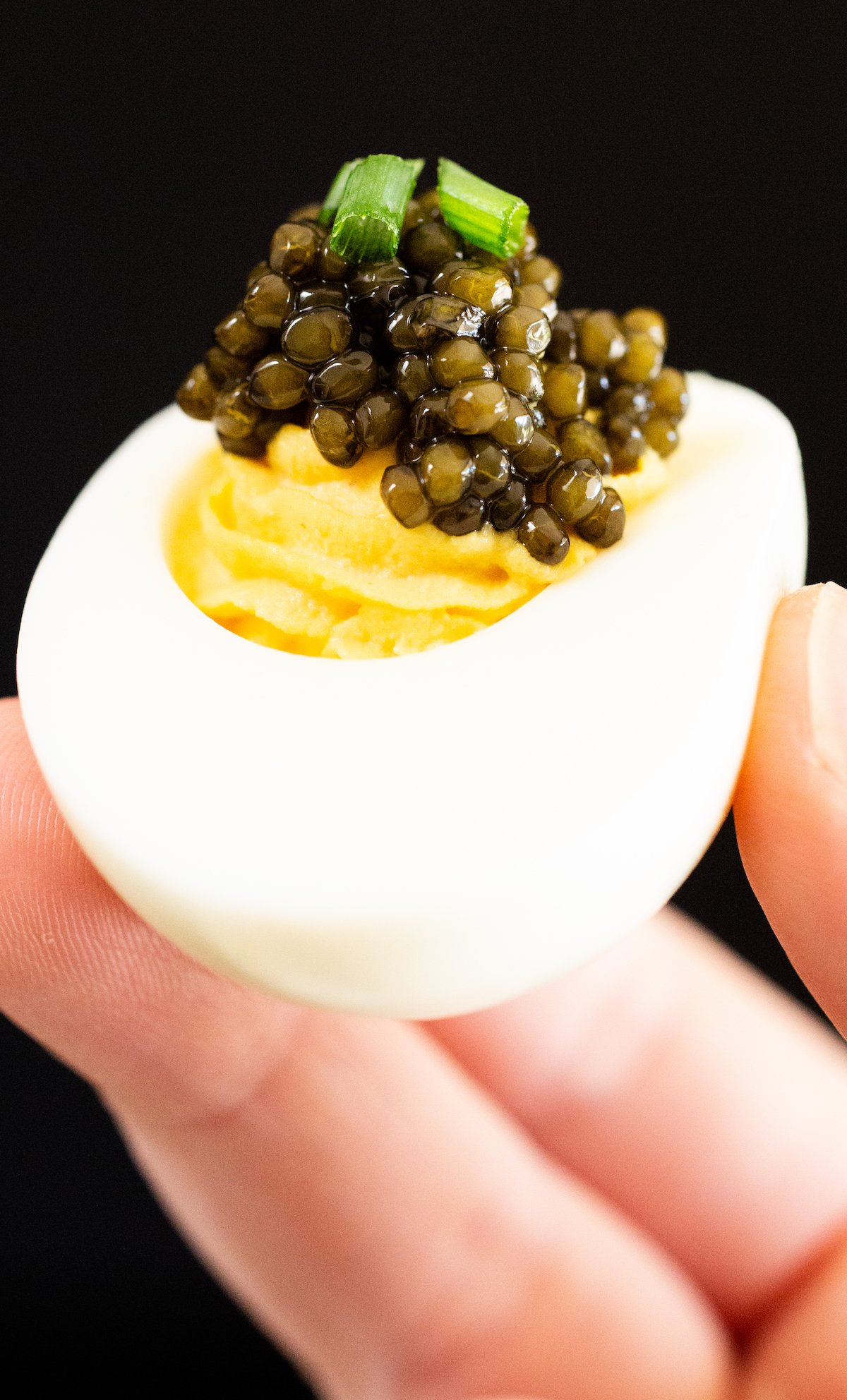 More Recipes with Caviar
Print
Caviar Deviled Eggs
Deviled eggs topped with generous amounts of caviar make a delicious upscale appetizer.
Author: Jessica Pinney
Prep Time: 20 minutes
Total Time: 20 minutes
Yield: 6 1x
Category: Appetizer
Cuisine: American
Ingredients
6 Hard-Boiled Eggs
3 Tablespoons Crème fraîche
1 Tablespoon Dijon Mustard
1/2 Teaspoon Salt
100 Grams Caviar
1/2 Tablespoon Chopped Chives
Instructions
Carefully peel your hard-boiled eggs, then slice them in half lengthwise.
Remove the yolks and place them in a medium-size bowl. Mash them with a fork until all that's left is a fine crumble.
Add the crème fraîche, mustard, and salt. Stir together until smooth.
Transfer the mixture to a piping bag fitted with a tip and pipe into the egg whites. Top with caviar and chives, then serve immediately.
Nutrition
Serving Size: 1
Calories: 133