Fresh shrimp breaded with Cinnamon Toast Crunch cereal, then deep-fried. Served with a strawberry habanero dipping sauce. A unique and fun brunch recipe that makes the crunchiest shrimp you've ever had!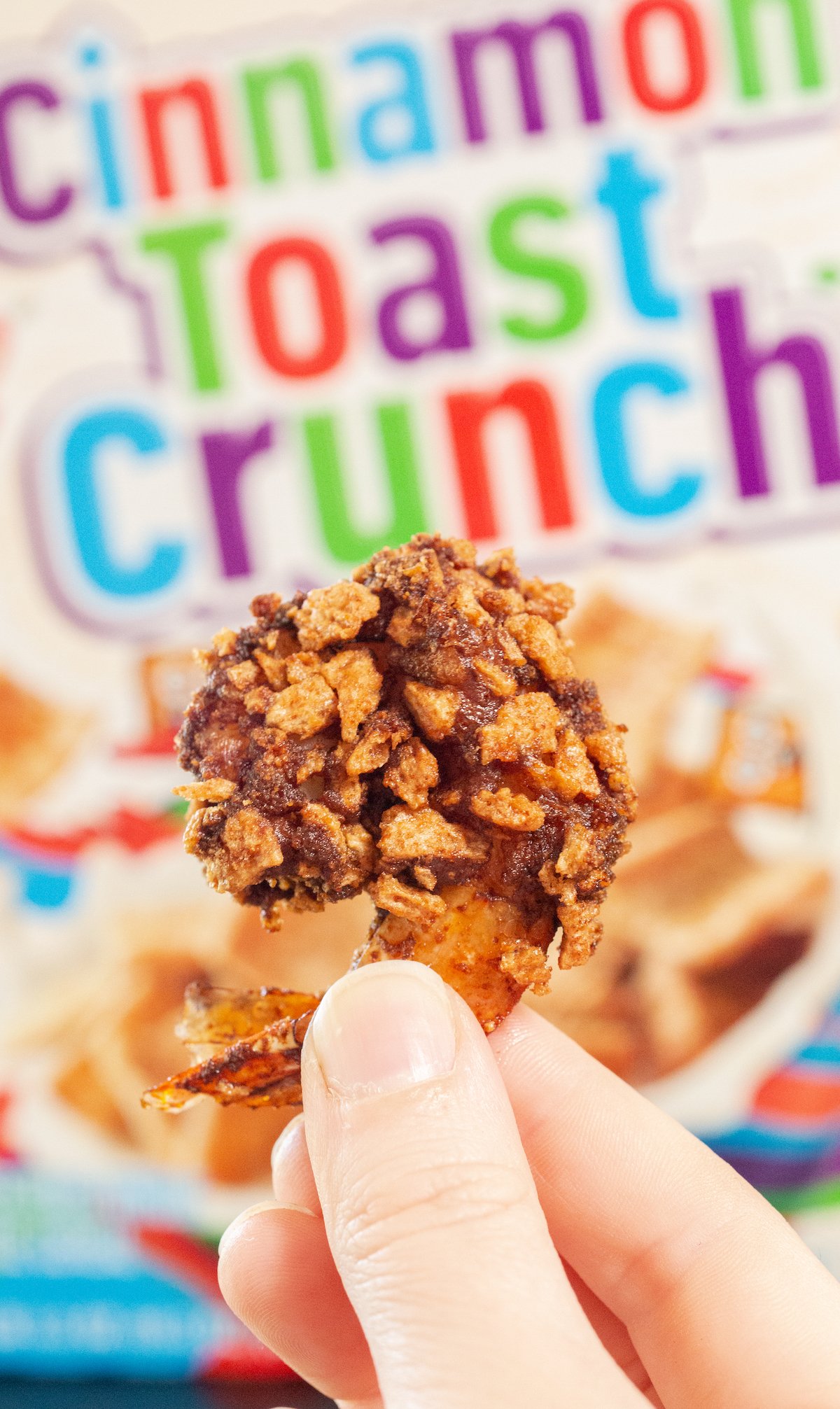 If you've been on the internet at all this past week you must have heard about the Cinnamon Toast Crunch shrimp saga.
Did you somehow miss it? A writer here in Los Angeles claims he found shrimp tails in his Cinnamon Toast Crunch and everything that happens after his discovery is hysterical. Read the twitter thread, it's the biggest laugh you'll have all year!
I was hungry while I was reading it and couldn't stop from thinking about what Cinnamon Toast Crunch shrimp would taste like. Coconut shrimp is sweet and one of my all-time favorite seafood dishes…could cereal crusted shrimp work too?? I busted out my beloved deep fryer and decided to find out for myself.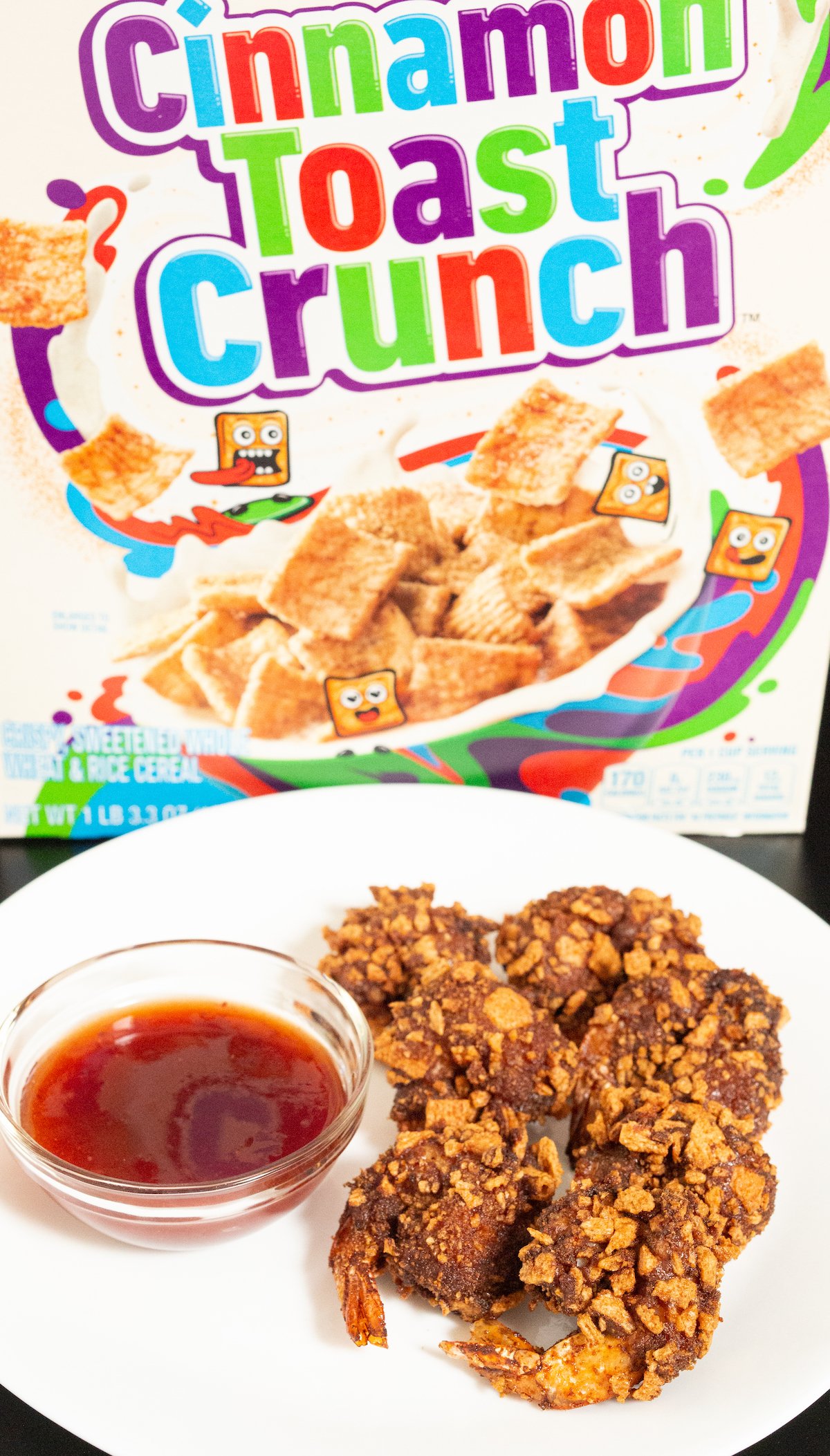 The result was actually surprisingly delicious! The cereal makes the crunchiest coating I've ever had, even crunchier than panko. Honestly, I'm thinking about exclusively battering all fried foods with cereal from now on.
If you want something to wash it down with, I highly recommend checking out Cinnamon Toast Crunch shots, which only take two ingredients to make!
Ingredient Notes
Shrimp – You can use fresh shrimp or frozen shrimp that has been completely thawed. I recommend buying peeled and deveined shrimp to save time.
Oil – You'll need some oil for frying. I prefer to use peanut or canola oil.
Strawberry Jam – Jam is the base for our dipping sauce. I used Bonne Maman strawberry preserves, but removed the chunks of strawberry.
Habanero Hot Sauce – I developed this recipe using Heartbeat hot sauce, which I highly recommend. Since all hot sauces have different flavor profiles and heat levels, using a different one means you may have to adjust the amount to your tastes.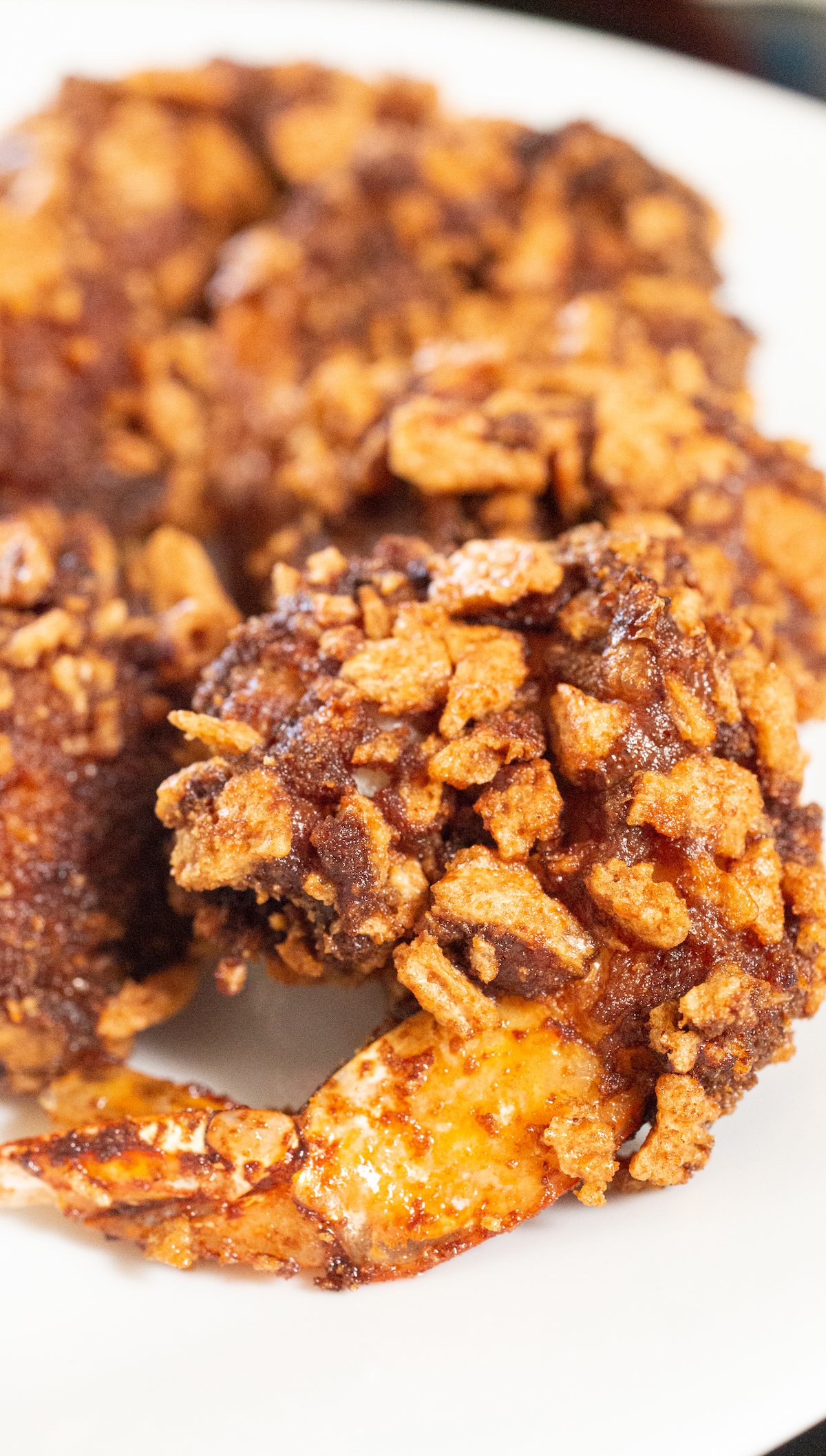 Tips
Frying temperature is key. If it's too hot, the coating will burn before the shrimp has cooked. If it isn't hot enough, the breading will absorb too much oil. I like to use my deep-fryer, because it regulates the temperature. If you're going to fry your shrimp in a cast-iron skillet make sure to use a thermometer.
Don't skip the sauce. The strawberry habanero dipping sauce really brings this dish together. It helps to cut through some of the sweetness of the shrimp. A spicy pineapple salsa could be a good substitute if you want to try something different.
Crush the cereal. How fine you crush the cereal will affect the batter. I wanted most of the cereal to be pretty fine with a few larger chunks. To accomplish this, I added it to a ziploc bag and hit with a meat tenderizer until I reached the desired consistency. You could use a rolling pin and roll it instead, if you have that handy.
More Deep Fried Recipes
Other Seafood Recipe Ideas
Print
Cinnamon Toast Crunch Shrimp
Fresh shrimp breaded with Cinnamon Toast Crunch cereal, then deep-fried. Served with a strawberry habanero dipping sauce.
Author: Jessica Pinney
Prep Time: 10 Minutes
Cook Time: 6 Minutes
Total Time: 16 minutes
Yield: 4 1x
Category: Main Dish
Cuisine: American
Ingredients
Shrimp
1lb Shrimp, peeled and deveined
2 Large Eggs
1.5 Cups Cinnamon Toast Crunch Cereal, crushed
Oil
Dipping Sauce
1/4 Cup Strawberry Jam
3 Tbsp Habanero Hot Sauce
1/2 Tbsp Soy Sauce
1 tsp Vinegar
Instructions
Shrimp
Add oil to the fill line on your deep fryer, or add 2″ to a deep cast-iron skillet. Preheat to 350F. 
Prepare two bowls. Add the eggs to one and beat them. Add the crushed cinnamon toast crunch to the other. 
Dredge each shrimp in the eggs, then place in the cinnamon toast crunch. Toss some over the top of the shrimp then gently press down so that it adheres. 
Once you have battered all the shrimp, gently add them to your preheated oil. Fry 3 minutes on each side. 
Remove from the batter and set on a cooling rack over a baking sheet to drain any excess oil.
Dipping Sauce
Add all ingredients to a small bowl and mix well. 
Nutrition
Serving Size: 1
Calories: 296