Deep-fried cookie dough is the ultimate dessert! Classic cookie dough is coated in pancake batter then fried to golden perfection. A great way to use up leftover cookie dough!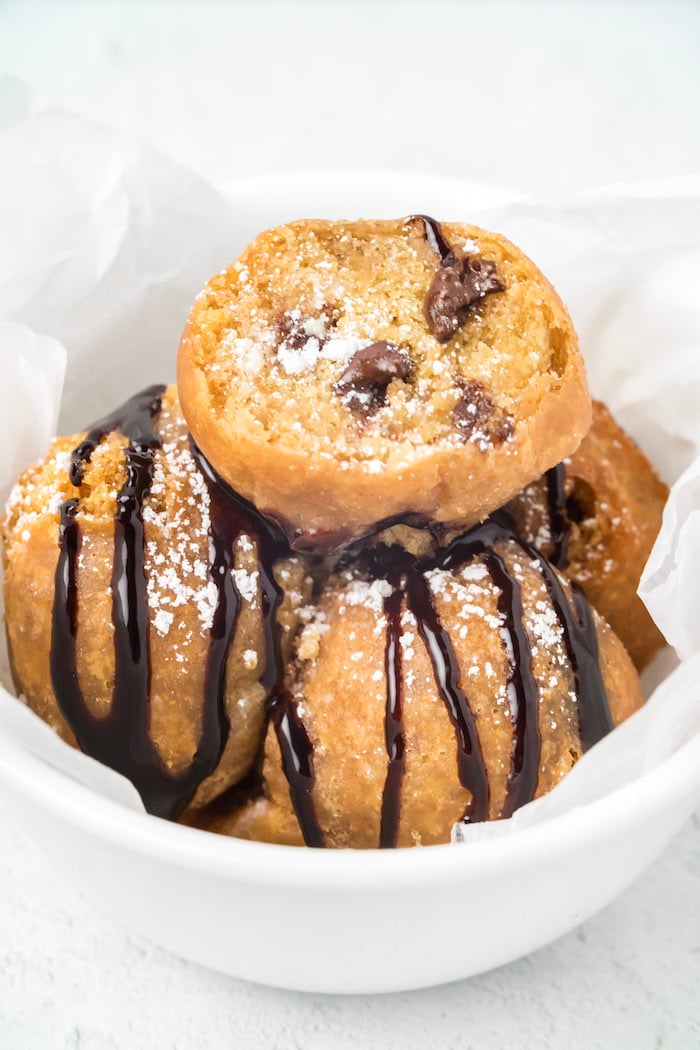 It seems like it's been too long since I've dropped a fried dessert recipe. Fried cookie dough has been on my "vision board" for years and I finally got around to making that dream come true. Let me tell you, I definitely regret waiting this long!
I've been making many batches of chocolate chip cookies this year (hey, we all get our comfort from somewhere…), and since it's just the two of us, we legitimately sometimes have the "problem" of leftover dough. Our go-to is just eating it by the spoonful when passing by the refrigerator after 10 PM, but deep frying it takes it to a whole 'nother level!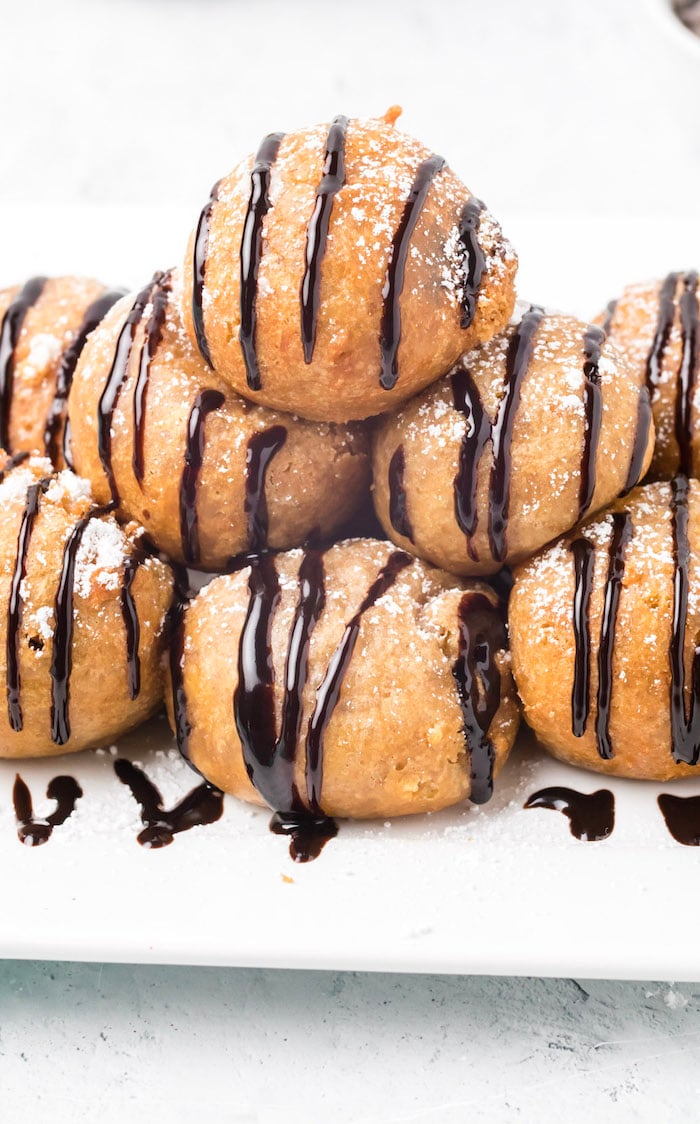 Ingredients
Cookie Dough
Flour – Regular all-purpose flour is needed for this cookie dough.
Salt – Make sure to use traditional table salt. If you use a larger grain of salt the measurement will be incorrect.
Baking Soda – Baking soda helps to leaven the dough, which makes for a softer, fluffier cookie.
Butter – Unsalted butter is used in this recipe. Be sure to set it out ahead of time so that it is room temperature.
Sugar – You'll need two sugars to make cookie dough: white sugar and brown sugar.
Vanilla – I use traditional vanilla extract in my cookie dough. If you want to get fancy you could use vanilla bean paste instead.
Egg – Large eggs are required for this recipe.
Chocolate Chips – You can use any kind of chocolate chip you'd like, or even a combination of a few. I like milk chocolate and bittersweet.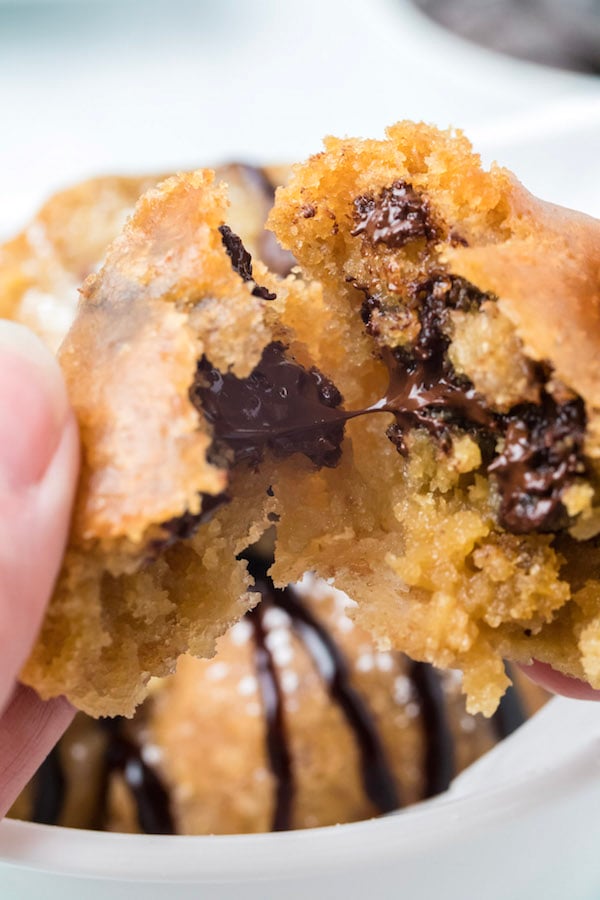 Pancake Batter
Bisquick – Bisquick is my go-to when making batter for frying desserts. You can make your own homemade version if you'd prefer.
Milk – You'll want to use cow's milk to make the batter, vegetarian substitutes don't work out well. Use whole milk for the best results.
Egg – You'll need a large egg, just like the ones used in the cookie dough recipe.
Other
Oil – Canola or peanut oil is ideal for frying.
Toppings – Toppings are optional, but highly recommended! We like to use chocolate sauce and powdered sugar. Strawberry sauce and whipped cream are also delicious.
Tips
I always recommended using a deep fryer when possible. They maintain the temperature much better than you can while cooking on a stovetop and are safer as well. (I use this one)
If you don't have a deep fryer, use a deep saucepan. Make sure you do not fill it above 1/3 full, as hot oil can expand and be extremely hazardous. Use a thermometer like this to measure the temperature.
More Fried Recipes
Print
Deep-Fried Cookie Dough
Cookie dough coated in pancake batter then deep-fried and covered in chocolate sauce and powdered sugar.
Author: Jessica Pinney
Prep Time: 60 minutes
Total Time: 1 hour
Yield: 6 1x
Category: Dessert
Cuisine: American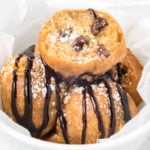 Ingredients
Cookie Dough Ingredients
1 3/4 Cups Flour
1/2 Tsp Salt
1/2 Tsp Baking Soda
8 Tablespoons Unsalted Butter, room temperature
1/2 Cup White Sugar
1/4 Cup Brown Sugar
1/2 Teaspoon Vanilla Extract
1 Egg
3/4 Cup Chocolate Chips
Other Ingredients
1 cup Bisquick
1 cup Milk
1 Egg
Oil, for frying
Powdered Sugar (optional)
Chocolate Sauce (optional)
Instructions
Cookie Dough
Using a stand or hand mixer beat together the butter and sugars until creamy. Add the vanilla and egg, then mix together on low speed for about 15-20 seconds.
Add flour, salt, and baking soda to a separate bowl and stir together to combine. Add to the bowl of creamed butter and sugar, then mix on low about 30 seconds until incorporated.
Add the chocolate chips and gently fold them in with a spatula.
Using a spoon or an ice cream scoop, form dough into 1" balls and place onto a parchment-lined cookie sheet.
Place dough balls into the fridge for 1 hour. 
Pancake Batter
Add the Bisquik, milk, and egg to a bowl. Mix together to form a batter.
Fried Cookie Dough
Add your oil to the deep fryer or a cast-iron skillet. Heat the oil to 350F.
Dip cookie dough balls into pancake batter. Carefully drop into oil, cooking 4 at a time. Fry for 4 minutes, turn over in oil halfway through.
Remove from oil and place on a paper towel-lined plate. Strain oil for crumbs before frying another batch.
Lightly dust with powdered sugar and drizzle with chocolate sauce. Enjoy warm!