If I had to choose between deviled and pickled eggs, I'm choosing pickled every time.
Every Easter there would be a crazy amount of pickled eggs around the Staub household, due to the insane amount of hard-boiled eggs we decorated and went hunting for. Mind you at the time, the idea of eating a beet made me gag, but the juice, man it made those eggs taste so sweet. Slather a little mayo on those suckers and we were good to go!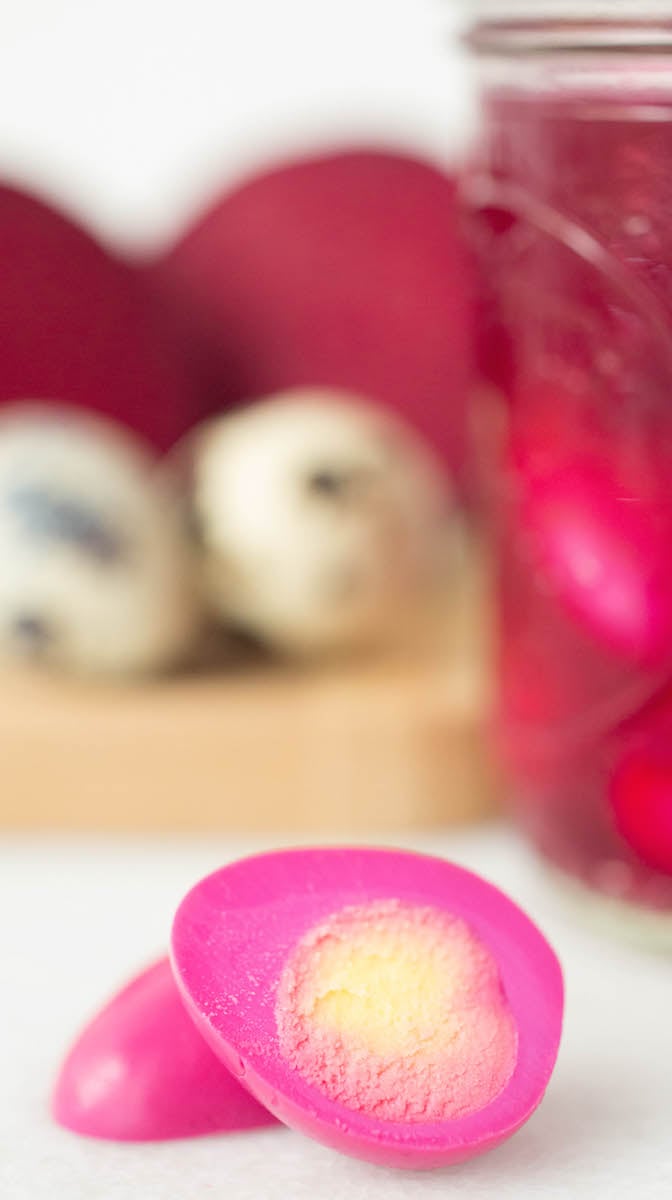 Never in my wildest dreams did I think to combine the two procedures of deviling and pickling an egg, let alone do it with quail eggs, but here we are ladies and gentlemen.
Jess and I went to our local farmers market and they had so many egg options. Not only were there regular chicken eggs, but also duck and quail eggs. The quail eggs were so cute, I couldn't not buy some and try to make something with them.
It was Jess's idea to top them with the caviar (because she's classy like that). The sweetness of the pickling, the tanginess of the deviling, and the saltiness of the caviar combined together to give you a super tasty treat.
I would highly recommend these for an appetizer or a nice snack for yourself once in a while.
Just be warned, once you start popping these, they'll be gone pretty quick!
This post contains affiliate links (when you buy we make a little money at no cost to you). See our disclosure for more information.
Print
Caviar Deviled Pickled Quail Eggs Recipe
Easy Easter appetizer – pickled quail eggs deviled, then topped with caviar. 
Author: Janette Staub
Prep Time: 24 hours
Cook Time: 10 minutes
Total Time: 24 hours 10 minutes
Yield: 4 1x
Category: Appetizer
Cuisine: American
Ingredients
Pickled eggs:
8 hard boiled quail eggs
1/2 cup apple cider vinegar
1/2 cup water
1/2 cup peeled and grated beet
4 tsp sugar
2 tsp salt
2 tsp pickling spice
Deviled eggs:
Yolks from your 8 hard-boiled quail eggs
3 tbsp mayonnaise
1/4–1/2 tsp of mustard (to taste)
Sprinkle of onion powder
Dollop of caviar
Instructions
Pickled Eggs:
First, boil your quail eggs. I put the eggs in a saucepan and covered them with water by 1 inch, brought the water to a boil, removed the eggs from the heat, let them sit covered for 3 min and then immersed them in an ice water bath for 5-10 min until cold. I ran them under cold water as I peeled them to help the shell come off a little easier.
Once you have hard boiled your quail eggs, combine your vinegar, water, beets, sugar, salt, and pickling spice into a saucepan. Bring to boil over medium-high heat, stirring the mixture until the salt and sugar dissolve.
Remove the pan from the heat and let sit until cooled to room temperature. About 30 min.
Pour the pickling mixture through a fine-mesh strainer to remove beets and pickling spice. Pour remaining liquid over eggs that have been placed in any airtight container (I used a small mason jar).
Let eggs sit in pickled mixture for at least 24 hours.
Deviled Eggs
Once eggs have been pickled, cut in half and remove yolk.
Mix yolk with mayonnaise, mustard, and onion powder.
Pipe the yolk mixture back into your halved eggs.
Top with a dollop of caviar and share with friends!