A fun Christmas cocktail featuring cranberry Red Bull, vodka, orange & allspice liqueurs, then topped with a marshmallow Rudolph the Red Nose Reindeer garnish.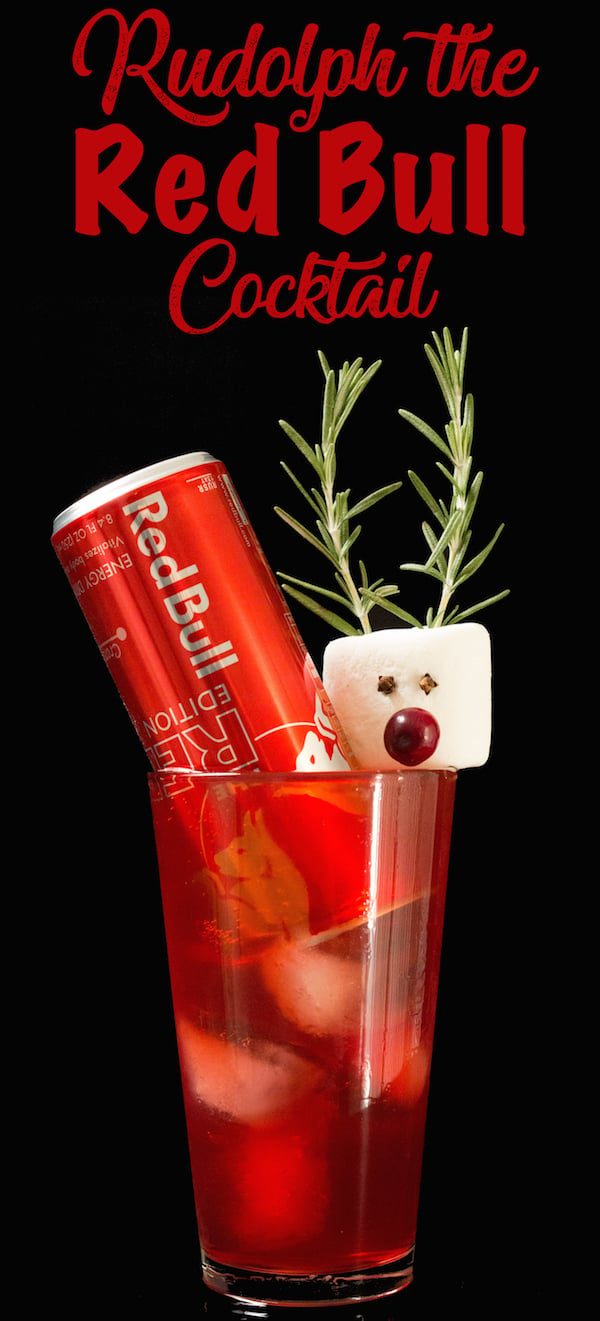 This time of year is filled with so many parties and get-togethers that I always feel challenged to come up with new seasonal cocktails. You guys liked my Irish Trash Can so much that I thought I'd put a Christmas spin on it with this Rudolph the Red Bull Cocktail.
It's a super fun drink that will help you rock around the Christmas tree all night long! The marshmallow Rudolph garnish is almost too adorable to eat.
Rudolph the Red Bull Cocktail Ingredients:
Cranberry Red Bull
Vodka
Orangecello
Allspice Liqueur
Marshmallows
Cloves
Rosemary
Cranberry
Cranberry and vodka are a common pairing, so it was easy to choose that as the base alcohol. To add some seasonal flair, I also used a little Orangecello and allspice liqueurs. If you don't have Orangecello and don't want to buy any, you could substitute something like Grand Marnier or triple sec.
A little of the allspice liqueur goes a long way, so make sure to measure it out. You want to add a subtle taste of it, not have it be the dominant flavor of your cocktail.
Other Christmas Cocktails
More Holiday Recipes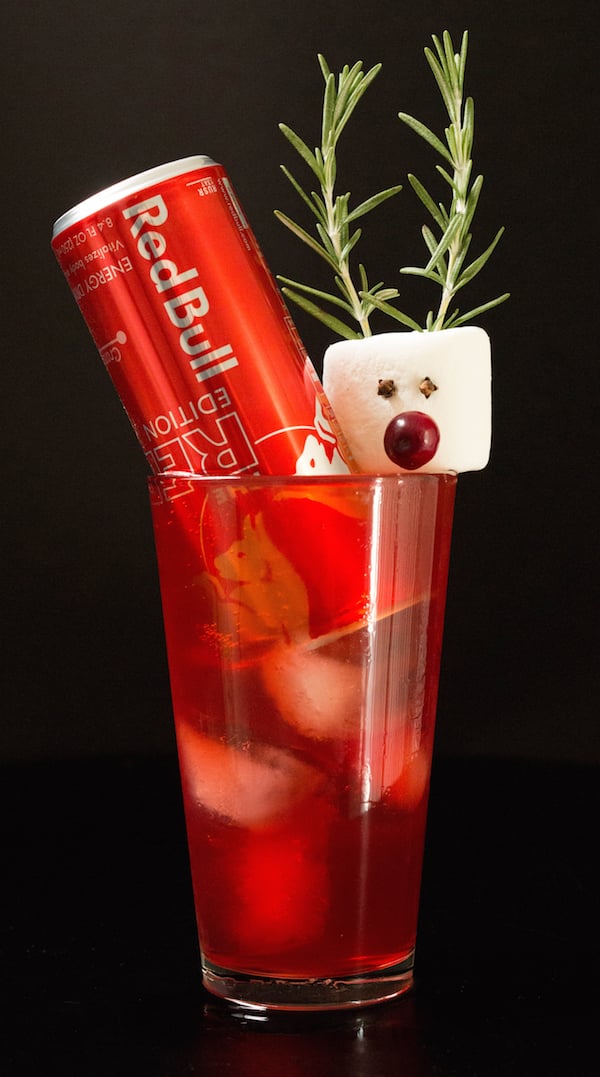 Print
Rudolph the Red Bull Cocktail Recipe
Christmas cocktail featuring cranberry Red Bull, vodka, orange & allspice liqueurs, and a marshmallow Rudolph garnish. 
Author: Jessica Pinney
Prep Time: 5 Minutes
Total Time: 5 minutes
Yield: 1 1x
Category: Cocktails
Cuisine: American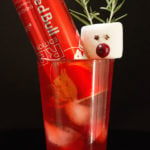 Ingredients
Garnish Ingredients
1 Jumbo Marshmallow
2 Stems of Rosemary
2 Cloves
1 Cranberry
Cocktail Ingredients
Ice
2 oz Vodka
1 oz Orangecello
1/2 oz Allspice Liqueur
1 Can Cranberry Red Bull
Instructions
Garnish Instructions
Take the jumbo marshmallow and stick the two rosemary stems in the top to resemble antlers.
To make his eyes, push the two cloves gently into the middle of the front of the marshmallow.
Cut a toothpick in half and stick one half into the cranberry, then push the other half into the marshmallow under the eyes to make his red nose. Set aside.
Cocktail Instructions
Wash and dry the Red Bull can. Set aside.
Add ice to a tall pint glass until it is about half full. Add the vodka, Orangecello, and allspice liqueur.
Crack open the Red Bull can, then quickly flip over and place it in the glass.
Add the marshmallow Rudolph garnish to the side of the glass and enjoy immediately.