Not only is this drink visually stunning, but it's also my favorite version of a matcha latte because it's sweetened with fresh strawberry puree.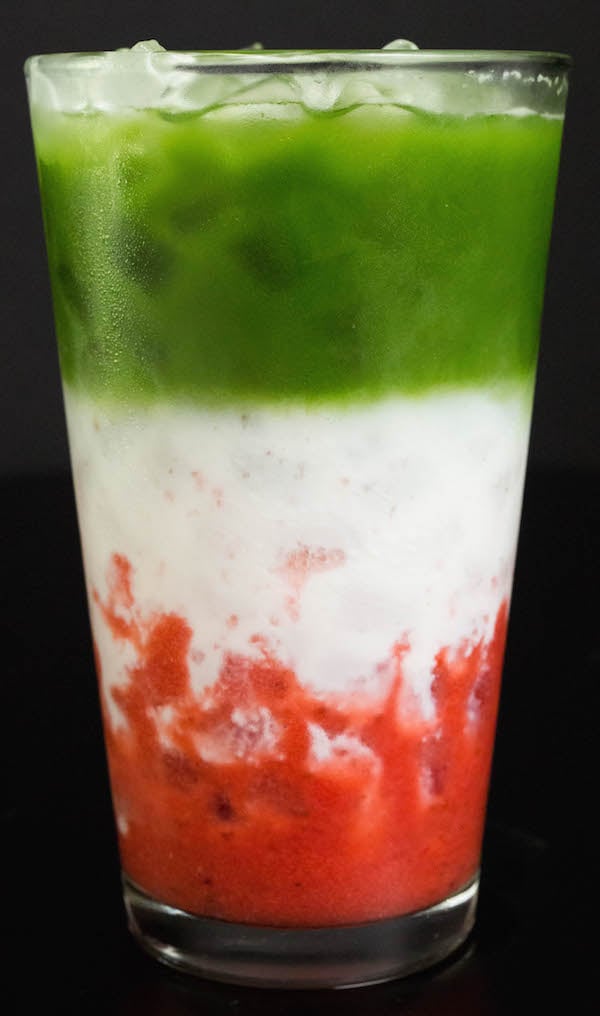 I started seeing layered matcha drinks on Instagram a few years ago and thought they were so beautiful. I immediately wanted to try my hand at it.
I assumed the layering would be difficult, but I was relieved to find out it's rather simple!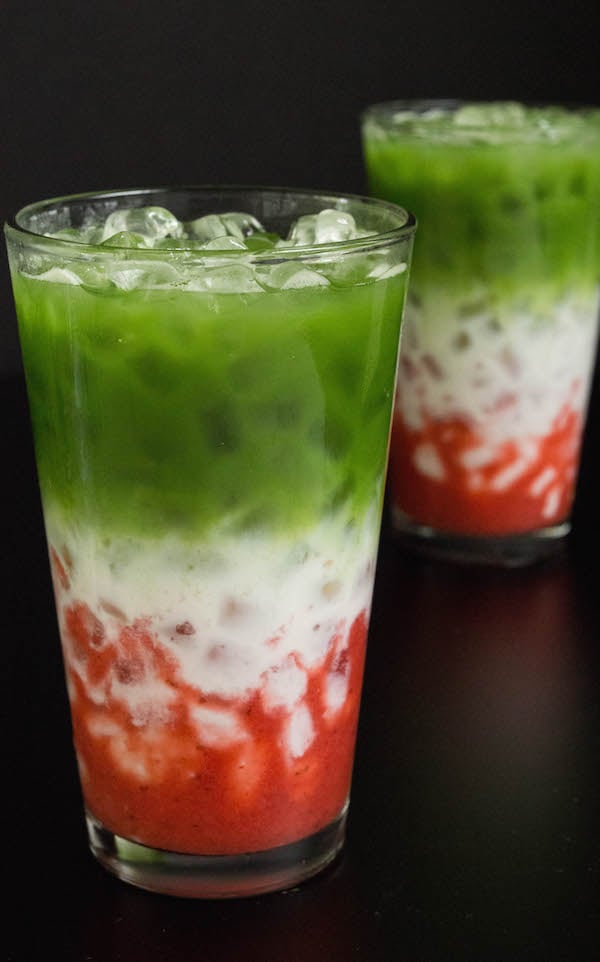 Layered drinks like this rely on the different density of each layer to stay separated. You do have to slowly pour each layer over ice to make it clean and pretty, but it is very easy to do.
Ingredients
Strawberries
Sugar
Water
Matcha
Milk
How To Make
The strawberry layer can be easily made on the stovetop. I like to keep some in my fridge at all times so that I can quickly put this latte together when I want one.
I just use fresh sliced strawberries, sugar, and a little water. Add them all to a saucepan and simmer for 15 minutes, then voila! You have your delicious strawberry puree.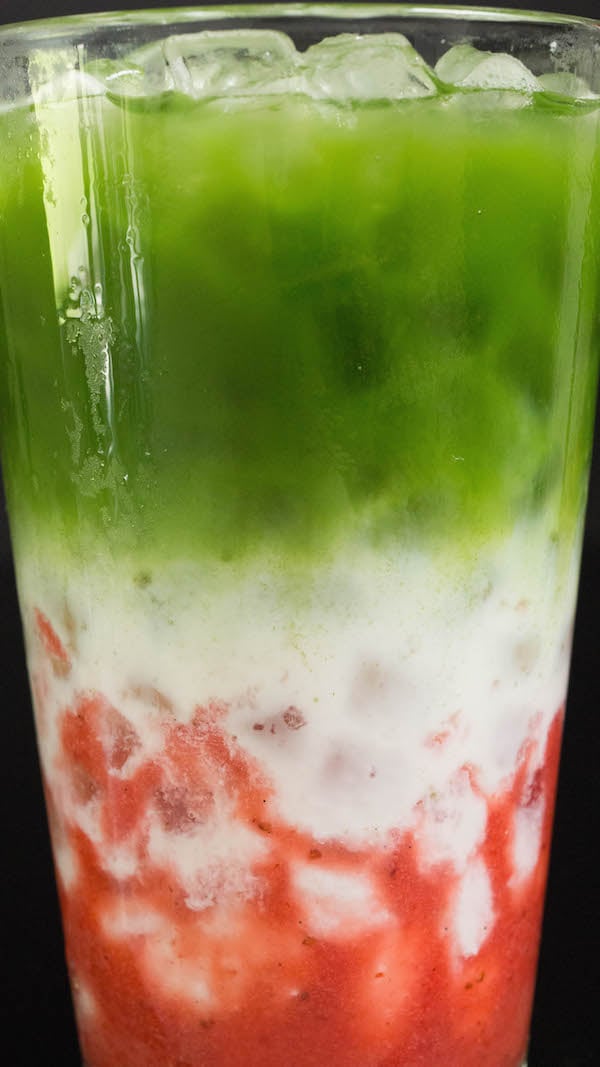 I generally usually whole milk in this recipe, but you can easily substitute oat, almond, soy, or whatever other "milk" you please.
The easiest way to prepare the matcha is to add it and water to a mason jar, then seal with the lid and shake vigorously for 1-2 minutes.
Snap a photo for the 'gram, then stir it up, drink, and enjoy!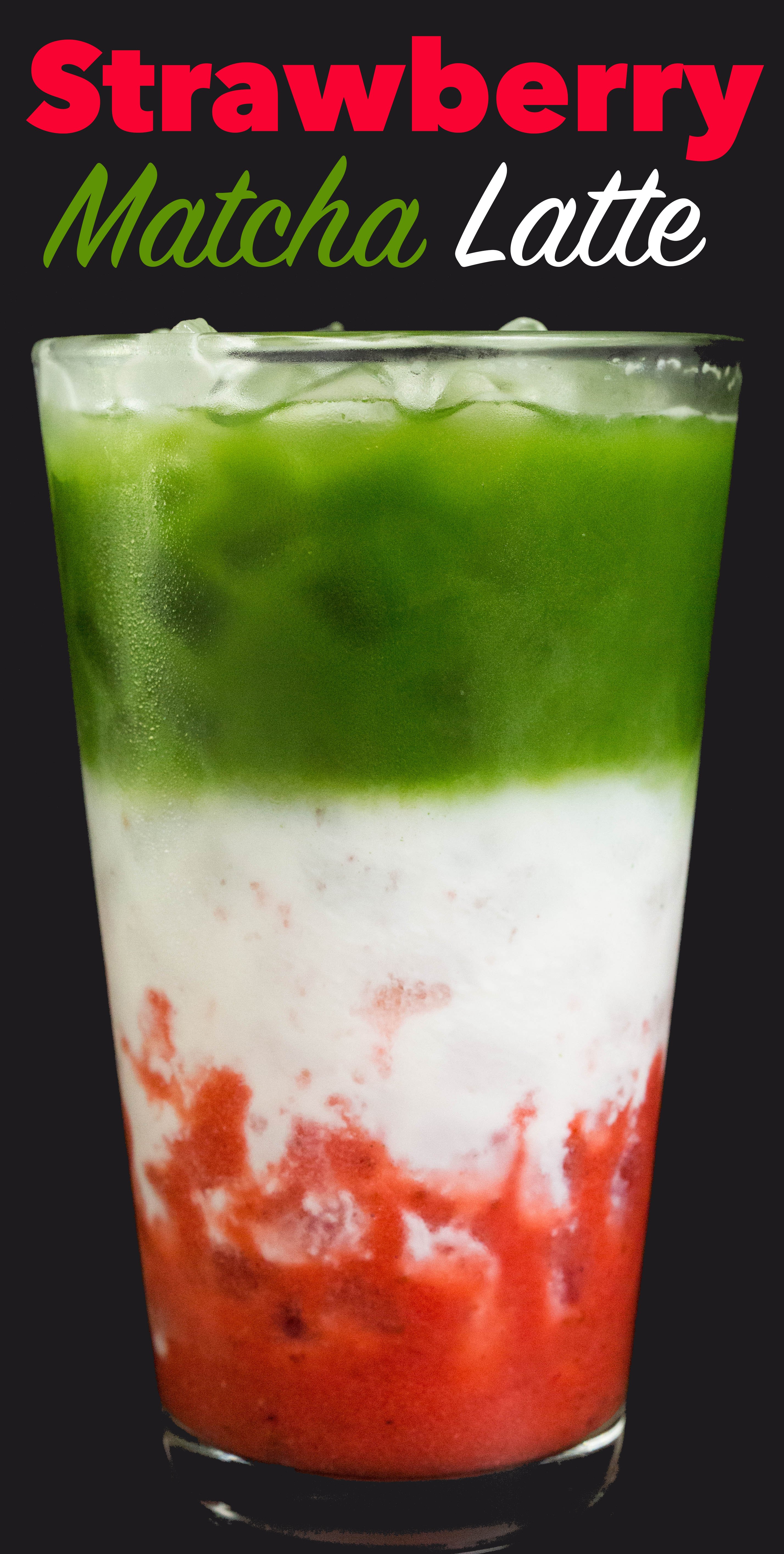 This post contains affiliate links (when you buy we make a little money at no cost to you). See our disclosure for more information.
Print
Strawberry Matcha Latte
This beautiful layered Iced Matcha Latte is sweetened with fresh strawberry puree.
Author: Jessica Pinney
Prep Time: 10 minutes
Cook Time: 15 minutes
Total Time: 25 minutes
Category: Drinks
Cuisine: Japanese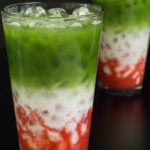 Ingredients
Strawberry Puree Ingredients
2 1/2 Cups Fresh Strawberries, sliced
1/3 Cup Sugar
1/8 Cup Water
Latte Ingredients
2–3 Tablespoons Strawberry Puree
1/3 Cup Milk
2 tsp Matcha
1/3 Cup Water
Instructions
Strawberry Puree Directions
Place strawberry slices, sugar, and water in a saucepan over medium-low heat. Simmer for 15 minutes. Set aside to cool.
Once it has cooled off slightly, add to your blender and puree. Transfer to an airtight container and place in the refrigerator until ready to use.
Latte Directions
Add the strawberry puree to the bottom of your glass. Add ice until the bottom two-thirds of the glass is full. Slowly pour the milk over the ice. Carefully add more ice until it reaches almost the top of your glass.
Add the water and matcha to a jar with a lid. Seal, then shake vigorously for 1-2 minutes until well combined. Slowly pour over the ice.
Snap a photo to share on the 'gram, then stir with your straw and enjoy!
Notes
This recipe makes enough strawberry puree for 4-6 drinks, depending on how much you use.