These Birthday Cake Spiked Cherry Bombs are the ultimate bite-sized, boozy birthday dessert.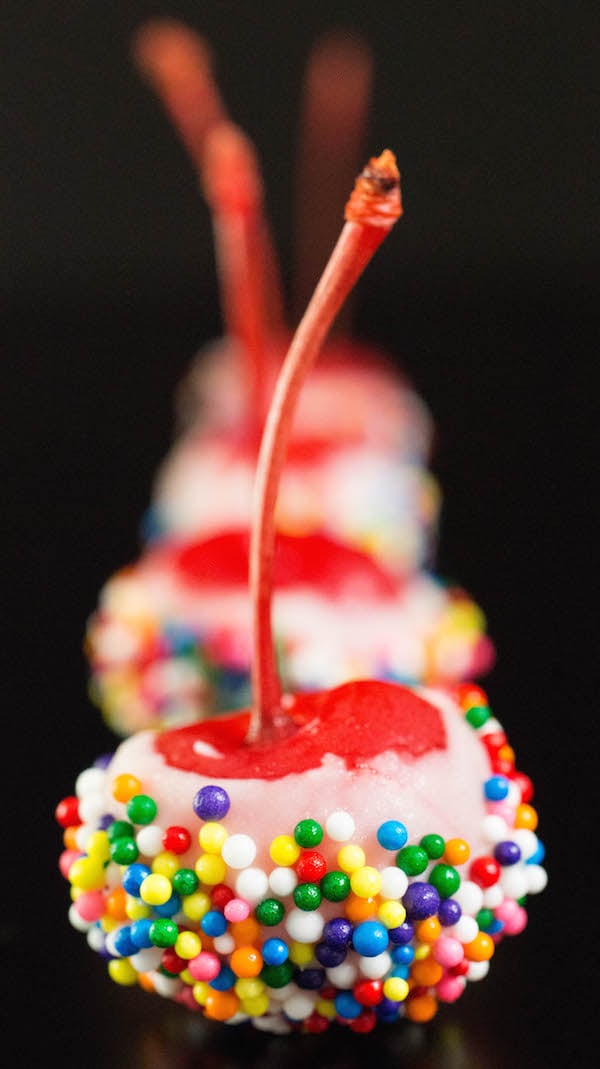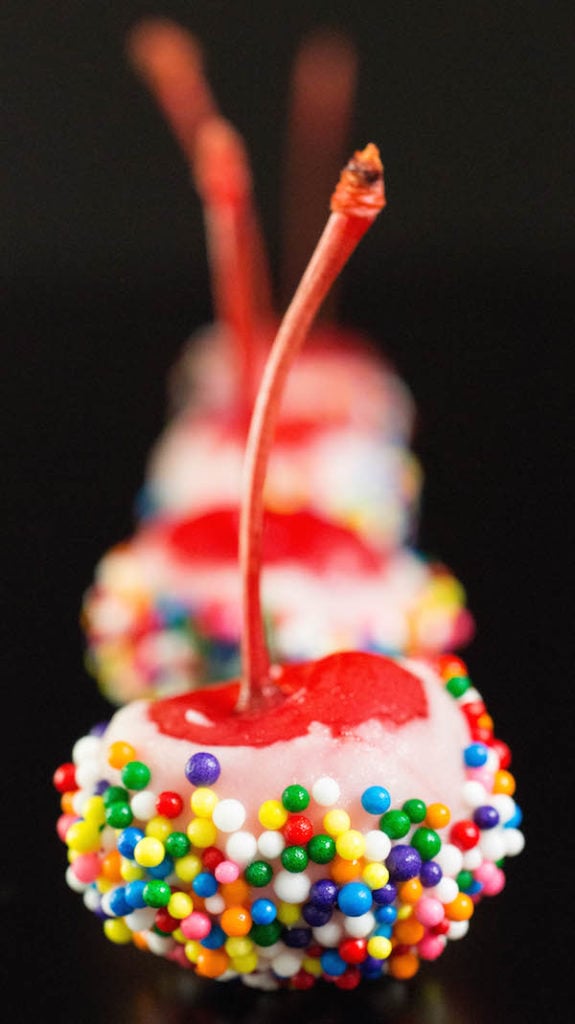 I'm not embarrassed to say that I've been eating maraschino cherries straight from the jar since I was a child.
I'm a life-long fanatic, so I loved the thought of making a dessert where they were the centerpiece, rather than just a garnish.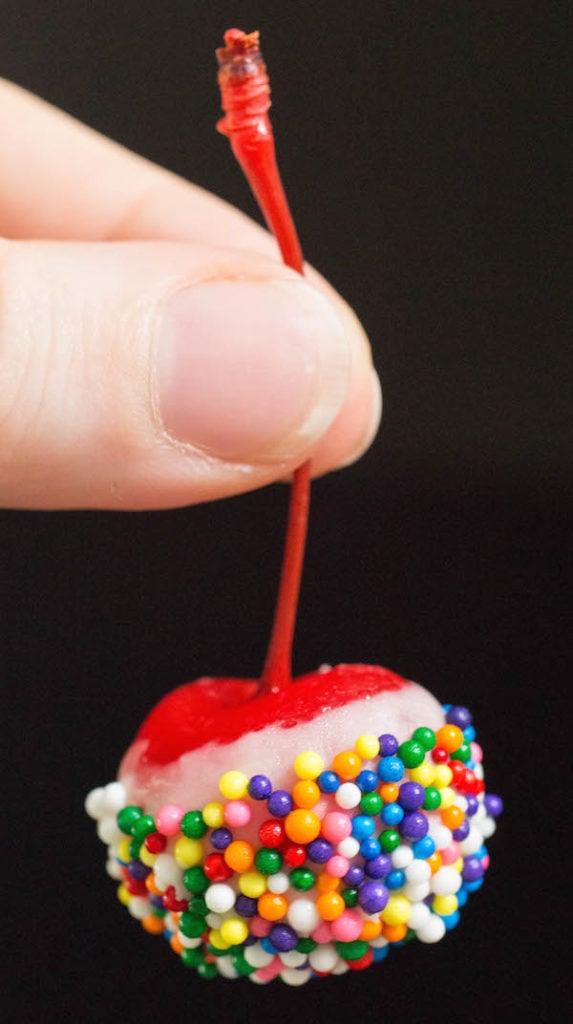 I've seen some versions of "spiked" cherries before, but never a "birthday cake" flavor. Sounds like a job for me!
Pinnacle's Cake flavored vodka seemed like a logical choice to me, but I think you could also use whipped cream or vanilla vodka in a pinch.
The longer you soak the cherries, the more potent they will be. I think around 6 – 8 hours is ideal. We did a batch for 24 hours and those tasted a little too strong…
I buy my maraschino cherries in bulk (I told you I was a fanatic!), so I put some in a mason jar to soak. If you're doing a whole jar of cherries, you can simply drain the cherry juice from the jar then replace with vodka.
I thought they turned out so adorable and they really do taste like a birthday cake shot! I foresee this recipe becoming a birthday tradition!
This post contains affiliate links (when you buy we make a little money at no cost to you). See our disclosure for more information.
Print
Birthday Cake Spiked Cherry Bombs Recipe
Maraschino cherries are soaked in cake flavored vodka, then dipped in white chocolate and sprinkles for the ultimate boozy birthday dessert!
Author: Jessica Pinney
Prep Time: 24 hours
Total Time: 24 hours
Category: Dessert
Cuisine: American
Instructions
Drain liquid from the cherry jar. (You can save this for cocktails or Shirley temples.)
Fill the cherry jar to the top with cake flavored vodka. Screw the lid back on and let it soak for 8 – 24 hours. The longer you soak, the more potent the cherries will be in both taste and alcohol. (We prefer ours around the 8-hour mark.)
Once the cherries have soaked for the desired length, drain the cherries, then place on a paper towel lined baking sheet and gently pat dry with more paper towels. (This is important! If the cherries are wet the chocolate in the next step will seize up.)
Place your white chocolate melts in a microwave safe bowl, then microwave for 30-second increments, stirring in between, until chocolate is melted and smooth.
Dip each cherry in the chocolate and then in the sprinkles. Set on a parchment paper lined baking sheet and place in the refrigerator to allow chocolate to set.
Serve immediately or store in the refrigerator for up to 48 hours.