This simple syrup tastes like a pumpkin pie! It's the easiest way to infuse fall flavor into coffee drinks and cocktails.
When the first leaf of fall hits the ground, I immediately whip up a batch of pumpkin spice syrup. It's the perfect way to inject fall flavor into anything – especially drinks.
If you're into pumpkin spice frappuccinos, pumpkin spice lattes, or any of those drinks then you're going to want to keep some on hand at all times! This syrup is the basis for those drinks.
It's so easy to make! I guarantee once you do you'll be hooked because of all the money and time you save by not hitting up the coffee shop every day!
Ingredients
Sugar – This recipe uses common white granulated sugar. Brown sugar could be substituted.
Spices – You'll need traditional pumpkin spices like ground cloves, ground ginger, and ground nutmeg. Be sure to use spices that have been opened no longer than six months ago for optimal flavor.
Cinnamon Sticks – Simmering the sticks in the syrup instead of using ground cinnamon yields a smoother, more pleasant taste. If you only have ground cinnamon you can substitute it by using two teaspoons in place of the sticks.
Pumpkin – Be sure to use 100% pure canned pumpkin puree, not pumpkin pie filling.
This post contains affiliate links (when you buy we make a small commission). See our disclosure for more information.
Tips
You need cheesecloth to strain the pumpkin puree from the syrup. Nut milk bags make a great substitute. Coffee filters can work in a pinch.
If you already have a pumpkin pie spice blend, you can substitute two tablespoons of it instead of the ground spices and cinnamon sticks. The flavor may be slightly different than this recipe, depending on the blend.
You'll need an airtight container for storage. Mason jars work and so do these beverage bottles I used.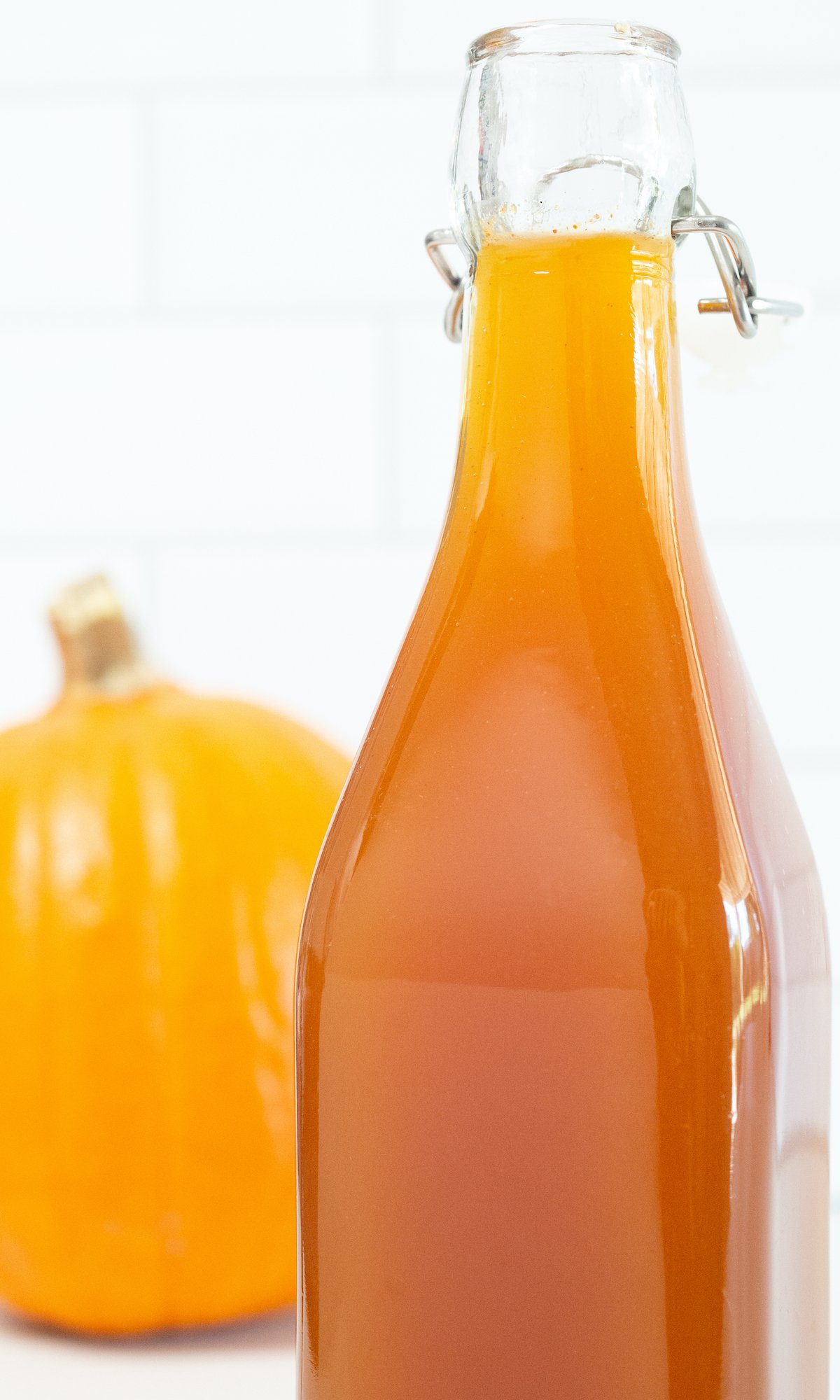 How to use pumpkin spice syrup
Add to cocktails instead of simple syrup for a fall twist.
Use with coffee to make pumpkin spice lattes, pumpkin frappuccinos, and pumpkin cold brew.
Drizzle over pancakes to add a seasonal flair to your breakfast.
FAQs
What is pumpkin spice syrup?
It's a simple syrup that's infused with all the traditional pumpkin spices – cinnamon, nutmeg, ginger, and cloves as well as a little pumpkin puree.
How do you store it?
You'll want to keep it in an airtight container in the refrigerator.
How long does it last?
When sealed and stored in the fridge it can last up to 1 month.
Can you freeze it?
Yes, you can store it in your freezer in a freezer-safe airtight container for up to 6 months.
Can you buy it?
Yes, you can buy it instead of making it. There are many brands that all differ in flavor, I prefer this pumpkin spice syrup.
How much do you use in a latte?
Add three tablespoons of this syrup to make a pumpkin spice latte.
Is it gluten free and dairy free?
Yes, this pumpkin spice syrup is gluten free and dairy free.
More Pumpkin Recipes
Print
Pumpkin Spice Syrup
The pumpkin spice infused simple syrup infuses fall flavor into drinks.
Author: Jessica Pinney
Prep Time: 5 minutes
Cook Time: 20 minutes
Total Time: 25 minutes
Category: Syrups
Cuisine: American
Ingredients
1.5 cups sugar
1.5 cups water
6 cinnamon sticks
1 teaspoon ground cloves
1 teaspoon ground ginger
2 teaspoon ground nutmeg
1/4 cup pumpkin puree 
Instructions
Add sugar & water to the saucepan.
Bring to a simmer and stir for a minute or two until the sugar is dissolved. 
Add the other ingredients and simmer for 20 minutes.
Strain through cheesecloth. 
Place in an airtight container and store in the refrigerator until ready to use.