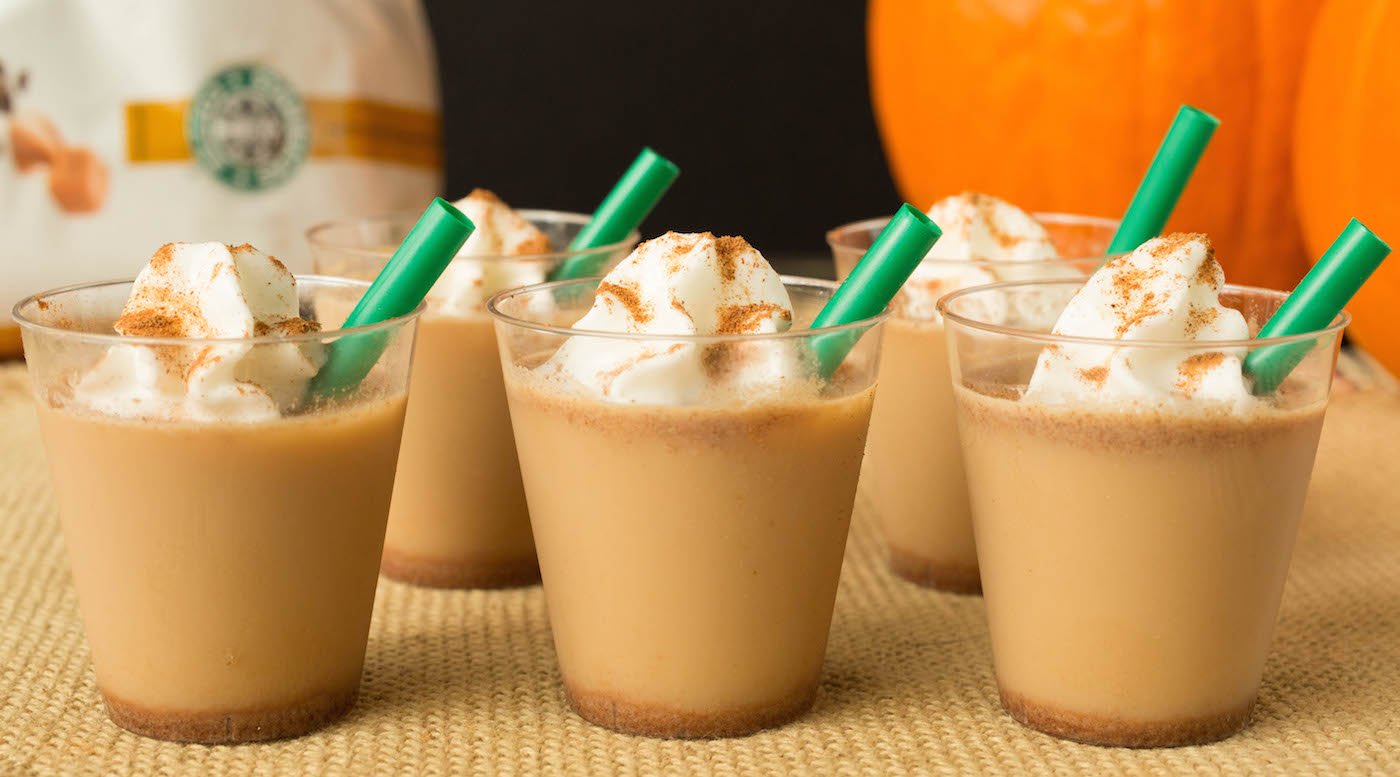 If there was an official fall food or beverage, we all know it would undoubtedly be the Pumpkin Spice Latte.
If there was an official food of my life, it would be jello shots.
Put the two together and you have a spectacularly tasty, fall-themed way to get drunk. Perfect for college parties, girl's night get-togethers, and chilly nights sitting on a porch swing by yourself while wrapped in your favorite sweater.
To make these Pumpkin Spice Latte jello shots extra tasty, I used caramel flavored coffee and whipped cream vodka. I think vanilla coffee or vanilla vodka would also compliment the pumpkin spice flavor really well.
Everyone I've let test them out has done nothing but rave about the delicious flavor, so I'm pretty sure anywhere you bring these, they'll be a hit!
This post contains affiliate links (when you buy we make a little money at no cost to you). See our disclosure for more information.
Print
Pumpkin Spice Latte Jello Shots Recipe
We turn the Pumpkin Spice Latte into a delicious fall jello shot with this easy to follow recipe. Perfect for Thanksgiving!
Ingredients
1 Cup Caramel Coffee, prepared
1 Tablespoon Gelatin (this is NOT Jell-O, if you use Jello this recipe will not work out)
3 Tablespoons Sweetened Condensed Milk
2 Tsp Pumpkin Pie Spice
1 Cup Whipped Cream Vodka
Whipped Cream, for garnish
Instructions
Pour the caramel coffee into a medium saucepan over medium-high heat. Add in the gelatin and whisk until dissolved.
Add the sweetened condensed milk and whisk until combined.
Add the pumpkin pie spice and whisk until combined.
Bring to a low boil, then remove from heat.
Add the whipped cream vodka. Mix to combine.
Pour the pumpkin spice latte jello shot mixture into plastic shot glasses. Add green straws.
Place in refrigerator for at least 4 hours, until jello is firm.
Top with whipped cream & pumpkin pie spice. Serve immediately.