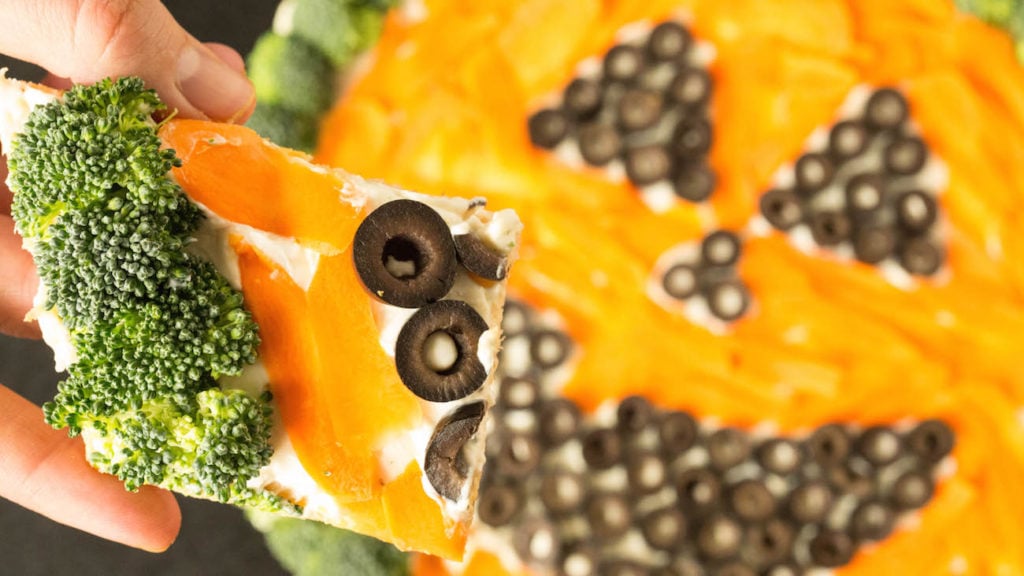 If you have kept up with previous posts, you know I have a thing for holiday vegetable platters. Last year, my veggie skeleton killed…pun intended!!! This year, I decided to do something a little different, but just as easy.
Sometimes you are invited to a party, or throw one yourself and you don't have a lot of time to spend on making an appetizer. Or maybe you don't want to slave over a stove, only for the food to get cold by the time you get to your destination. Enter this Halloween Vegetable Pizza….
I ate vegetable pizzas quite a bit as a kid. It was my mom's go-to for a party or just a snack for us kids around the house every once in a while.
The best thing about them? The crust is made out of Pillsbury Cresent roll dough! You just roll out two cans beside each other and pinch together the seams. I have used both the regular ones and the buttery ones. I have to say, both Jess and I agree, the buttery ones are just plain tastier!
The dough is the only thing that needs to be baked. Once the dough is cool, cut into your favorite Halloween shape. I chose a pumpkin. It's a classic. To make this easy, place a plate or a pot lid on top of the cresecent rolls and cut around to get a perfect circle shape.
After that, all you need are three easy ingredients and three of your favorite vegetables. The pizza 'sauce' consists of cream cheese, mayo, and ranch dressing powdered mix. Spread that all around the surface of the dough, then it's toppings time.
I used broccoli for the stem and outline of the pumpkin, olives for the eyes, nose and mouth, and shaved carrots for the pumpkin itself.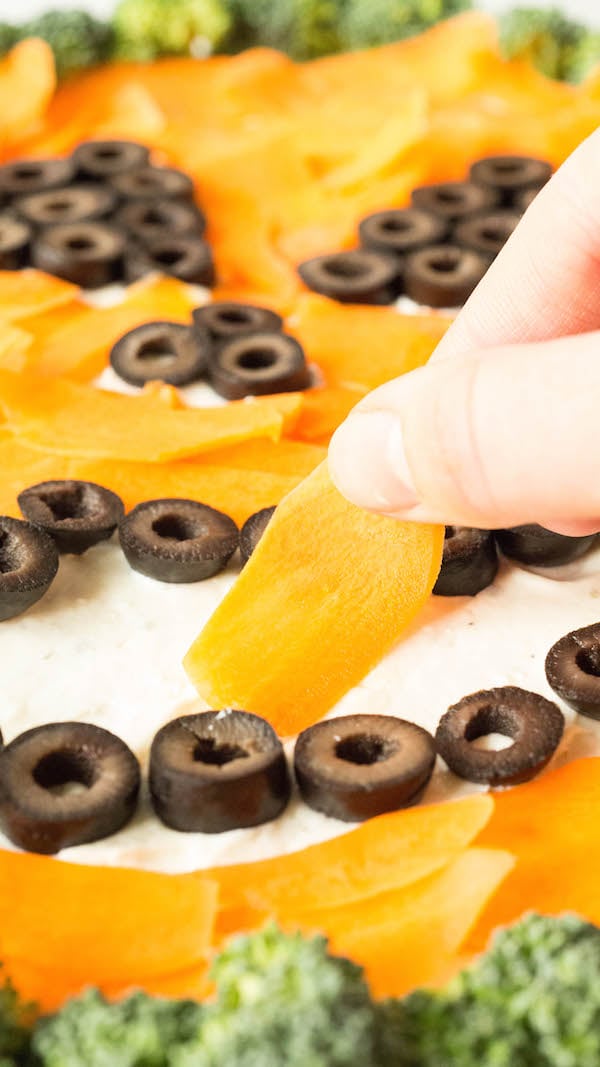 Cut into smaller pieces and I bet this pumpkin disappears in an instant at any party.
That's IT! One of the easiest recipes you will ever make and so festive.
If you experiment with any other Halloween themed shapes please let us know!
Print
Halloween Pumpkin Vegetable Pizza Recipe
This cream cheese vegetable Halloween pizza has a crescent roll crust. 
Author: Jessica Pinney
Prep Time: 15 mins
Cook Time: 15 mins
Total Time: 30 mins
Yield: 6 1x
Category: Entrée
Cuisine: American
Ingredients
2 8oz cans of regular or buttered Pillsbury Crescent dinner roll dough
8 oz softened cream cheese
1/2 cup mayonnaise
4 tsp Hidden Valley Ranch dressing mix (powdered)
2–3 cups of broccoli chopped into small florets with very little stem
2 large carrots, shaved
1 can of sliced olives
Instructions
Preheat oven to 375 degrees.
Press both cans of crescent rolls together on a greased 15x10x1 baking pan to form the crust.
Bake crust for 13-17 min or until crust is golden brown. Let cool.
Place a plate, or I used a cooking pan lid, place over the top of the cooled crust, leaving about two inches at the top to cut out stem of pumpkin. Cut around the plate with a pizza cutter. Discard scraps (or in my case, snack on said scraps).
In a bowl, combine the cream cheese, mayonnaise, and ranch dressing mix until smooth.
Spread mixture across crust evenly.
Outline the pumpkin with the broccoli florets and fill in the stem.
Use the sliced olives as the eyes, nose, and mouth.
Fill in the rest of the pumpkin with the shaved carrots.
Cut into pieces.